Research article | 23 Jun 2022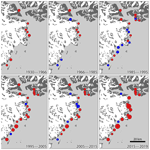 1

Department of Environment and Geography, University of York, York, UK

2

Department of Computer Science, University of York, York, UK

3

Scott Polar Research Institute, University of Cambridge, Cambridge, UK
Correspondence: David M. Rippin (david.rippin@york.ac.uk)
Received: 17 Aug 2021 – Discussion started: 22 Sep 2021 – Revised: 11 May 2022 – Accepted: 25 May 2022 – Published: 23 Jun 2022
We present an approach for extracting quantifiable information from archival aerial photographs to extend the temporal record of change over a region of the central eastern Greenland Ice Sheet. The photographs we use were gathered in the 1930s as part of a surveying expedition, and so they were not acquired with photogrammetric analysis in mind. Nevertheless, we are able to make opportunistic use of this imagery, as well as additional, novel datasets, to explore changes at ice margins well before the advent of conventional satellite technology. The insights that a longer record of ice margin change bring is crucial for improving our understanding of how glaciers are responding to the changing climate. In addition, our work focuses on a series of relatively small and little studied outlet glaciers from the eastern margin of the ice sheet. We show that whilst air and sea surface temperatures are important controls on the rates at which these ice masses change, there is also significant heterogeneity in their responses, with non-climatic controls (such as the role of bathymetry in front of calving margins) being extremely important. In general, there is often a tendency to focus either on changes of the Greenland Ice Sheet as a whole, or on regional variations. Here, we suggest that even this approach masks important variability, and full understanding of the behaviour and response of the ice sheet requires us to consider changes that are taking place at the scale of individual glaciers.
The Greenland Ice Sheet (GrIS) is the world's second largest ice mass and contains enough fresh water to raise sea level by 7.2 m (Hofer et al., 2020). Two decades ago, the GrIS was considered to exist in a state of quasi-stability with its regional climate, but recent climatic warming trends have resulted in it becoming by far the largest contributor to global sea level rise (Hanna et al., 2012; Van den Broeke et al., 2016). Between 1992 and 2018, 3902±342 Gt of ice was lost from the GrIS (Shepherd and IMBIE Team, 2020), but this has accelerated to an annual loss of 375 Gt per year of ice (on average) in the last decade (Enderlin et al., 2014; Van den Broeke et al., 2016). In 2021, surface melting across large parts of the southern and coastal regions of the GrIS was observed, with 2021 being the joint 14th highest melt year to date, with volumes substantially greater than the 1981–2021 average (http://nsidc.org/greenland-today/, last access: 4 June 2021). The most recent publication by the Intergovernmental Panel on Climate Change (IPCC) reported that it is very likely that the Arctic has warmed at a rate that is more than twice that experienced globally over the past 50 years, and that it is virtually certain that future warming will be greater than the global average (IPCC, 2021). This accelerated retreat is a direct response to climatic warming, with an increase in mean surface air temperatures of 0.8 ∘C between 2001 and 2011 (Hanna et al., 2012). These temperatures are significantly higher than any period in the last 100 years (Hanna et al., 2012).
The losses that are driven by these increased temperatures take place as both an increase in melting (i.e. surface mass balance changes) and an increase in ice discharge (e.g. Enderlin et al., 2014; Van den Broeke et al., 2016; Wood et al., 2021). Precise estimates of the relative contribution of each component vary, but Mouginot et al. (2019) estimate that over the 46 year period between 1972 and 2018, glacier dynamic processes contributed 66±8 % to mass loss, with surface mass balance changes constituting 34±8 %. In recent years though, an increasingly negative mass balance has taken on a greater contribution to mass loss (Wood et al., 2021). Of the important dynamic processes, almost all of the increased ice discharge is considered to have come about through the retreat of ice fronts rather than processes that take place inland within the ice sheet (King et al., 2020). This has been partially attributed to warming ocean waters and increased surface runoff which result in a destabilization of the marine termini and thus increased retreat rate and ice flow acceleration (Howat et al., 2008; Moon and Joughin, 2008; Seale et al., 2011; Murray et al., 2015; Wood et al., 2018, 2021).
Investigations of the GrIS and the changes that have gone on there are now extensive and well-documented (e.g. Enderlin et al., 2014; Van den Broeke et al., 2016; Goelzer et al., 2020; Hofer et al., 2020; Shepherd and IMBIE Team, 2020). Such investigations offer ice sheet-wide assessments of change which are regularly revised and updated. There are also multiple studies that are more focussed on individual ice streams and outlet glaciers, but such research tends to focus on the largest and most intensively investigated of these outlet glaciers, particularly, Jakobshavn Isbræ, Kangerlussuaq Glacier, and Helheim Glacier (Khan et al., 2020). Until recently there had been very few focussed studies of many of the hundreds of other smaller Greenlandic outlet glaciers, and so based on ice sheet wide analyses, it had been tempting to infer that change in this multitude of relatively poorly studied smaller outlets was homogeneous, in line with wider ice sheet behaviour (Moon et al., 2020). This, however, is a significant oversight since ice dynamics (and the now recognized importance of such dynamic processes in mass loss) makes studying and understanding the heterogeneous behaviour of all GrIS glaciers vital (King et al., 2020).
This is, of course, important because glaciers are key indicators of a changing climate (Haeberli, 2000; Holmlund et al., 2005). In direct response to global warming, the vast majority of the world's ice masses are in retreat (IPCC, 2019) and there is very high confidence that melting will continue for decades or centuries (IPCC, 2021). However, despite continuing improvements in the understanding of the links between climate warming and the cryospheric response, there are still uncertainties surrounding the precise relationship between changes in an individual glacier area and volume and the climatic forces which drive them. This largely arises because glaciers are complex and because of a lack of available data. Greater understanding arises from longer-term time series of data from more ice bodies, and so, consequently, developing and expanding such datasets on changing glacier dimensions, both spatially and temporally, is a key objective of much glaciological research, and arguably nowhere is this more important than in Greenland.
In this respect, satellite technology (Raup et al., 2006) has proved to be an extremely important and powerful tool for the monitoring and measurement of glacier change. Since the launch of the first Earth Resources Technology Satellite (ERTS1; now known as Landsat-1) in 1972 (Ives, 2011), it has been possible to use satellites to regularly track the changes experienced in the cryosphere. Such abilities are important in our efforts to investigate the links between climate and glacier change, and variations in how glaciers respond to climate change across the world. Despite the undeniable value of satellite observations, and the insights they have afforded into cryospheric change, the period prior to the launch of ERTS1 is characterized by relative data sparseness (Goliber et al., 2021). In light of this, significant advances would be gained from further expansion of the record of glacier change into the past.
Here, we exploit a series of images gathered obliquely along the east coast of Greenland between Kangerdlugssuak and Umivik, along a ca. 260 km-long section of coastline between 66.3 and 68.4∘ N, taken for surveying purposes. These images were gathered between 1930 and 1931 as part of the British Arctic Air Route Expedition (BAARE), which was carried out in an effort to discover the possibility of a new and shorter transit route between the UK and Canada. This route, in part, passes over Greenland, and one of the mission's aims was to survey the eastern and central parts of Greenland – the section of the proposed route that was least well known. The BAARE survey team did this using a ship and sea-plane, in an effort to photograph and map the coastline (The SPRI Picture Library, 1999).
The imagery that we utilize here provides oblique views of a number of outlet glaciers in two nearby regions. The focus of our study is the opportunistic "snapshot" that these images provide of the state of these glaciers during the BAARE survey in 1930 (Shepherd and IMBIE Team, 2020). In this paper, we utilize Structure from Motion (SfM) approaches to build georeferenced orthophotos of the terrain within the BAARE imagery, so as to extract information about glacier extent from over 90 years ago.
This provides an exceptional and important additional key to understanding ice mass change in this region way before the advent of satellite technology. To further supplement our investigations, we also add in additional steps between 1930 and the start of the Landsat record with orthophotos that we generate from imagery of the region from the now-declassified 1960s CORONA satellite mission (Shin, 2003), and similarly from aerial photography from the 1980s (Bjørk et al., 2012). Finally, we also explore the Landsat record from 1985 up to the present day. Overall, this suite of data provides unprecedented insights into the changes that have taken place over >90 years in this relatively poorly studied region of East Greenland, where important changes are nevertheless known to have taken place. To investigate this further, we also explore changes in air temperature, sea surface temperature, and mass balance in an effort to identify the drivers of glacier change here.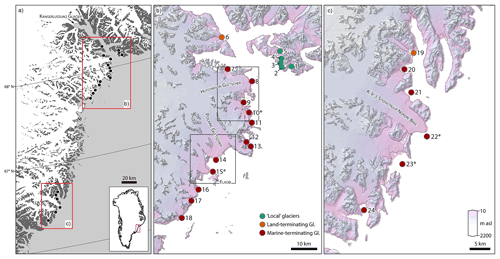 Study area
Some of the imagery acquired during the BAARE expedition covered a part of eastern Greenland that approximately corresponds to the "Central Eastern Region" (CE) as defined by Mouginot et al. (2019) in their delineation of Greenland into seven discrete regions. Other, more recent work, by King et al. (2020) divided the GrIS up into just four regions, with the BAARE sector under investigation here corresponding to the "Southeast Region" (SE). This SE region is of great interest because whilst in all other parts of Greenland, glacier thinning is due (at least in part) to glacier discharge being greater than the balance flux (indicating dynamic disequilibrium), in this SE region, the primary cause of thinning prior to 2000 was increased surface melt, indicating that this region responds more rapidly to climatic forcing, reinforcing observations made by Hugonnet et al. (2021) of glacier fluctuations in agreement with precipitation and temperature fluctuations. Dividing the ice sheet into discrete regions like this has proved to be a powerful approach for exploring broad-scale patterns.
Figure 1 shows the study location in East Greenland. Whilst there are some large and well-studied outlet glaciers in this region (e.g. Kangerlussuaq (mean mass balance over the period 2000–2017 of −8.52 Gt per year; Mouginot et al., 2019) and Helheim (mean mass balance over the period 2000–2017 of −6.4 Gt per year; Mouginot et al., 2019)), the area in general (and particularly its smaller glaciers) is relatively little studied. The biggest glaciers in the area are Hutchinson Gletscher, Polaric Gletscher and KVJ Steenstruup Nordre Brae, but the region is a mountainous and dense fjord and valley system and so glacier outflow is primarily dominated by relatively small outlet glaciers. The vast majority of the glaciers in our study are outlets of the GrIS but, as shown in Fig. 1, a small number are identified as being smaller local glaciers and ice caps (GICs) peripheral to the margins of the main GrIS (Rastner et al., 2012). As a consequence of the mountainous terrain, as well as its climatology, this area has much higher accumulation rates compared to the rest of the GrIS (and surface mass balance remains positive, which is discussed subsequently, see Fig. 7c).
4.1

 Outlet response to regional climatic trends

Our work with archival imagery has enabled us to extend the record of glacier frontal change beyond the limits of the satellite record. We have also been able to do this in a region of Greenland that is relatively poorly studied. We have shown that glacier frontal positions varied over this time period, alongside limited measurements of surface mass balance. These varying glacier extents occur in response to changes in both air temperatures and SSTs, which fluctuate between cool-warm-cool-warm conditions (around our baseline). This suggests that the underlying drivers of these changes are air and ocean temperatures. In general, in our data we see that the overall (regional) trends in glacier change (as observed in the box plots of Fig. 6) do track the prevailing climatic forcing. Greater rates of retreat take place during the warmer period (approximately 1925–1964), with a more subtle slowing of this response during the cooler periods (approximately 1905–1925 and 1964–1996), and a faster retreat/collapse in the contemporary period (approximately 1996 onwards) (Hanna et al., 2012; Van den Broeke et al., 2016). Hanna et al. (2021) suggest that Greenlandic air temperature trends are generally flat since 2001. Taking this period in isolation, although there is some clear variability, our data also shows that the overall trend is flat or at least subdued. However, considering the contemporary period as a whole, we believe that temperature trends do show an overall increasing trend. This is particularly so in the record of minimum air temperature, which may be significant when considering the role of elevated minimum temperatures on the net amount of melt that takes place. In the contemporary period, we also see warmer seas, as well as a larger increase in positive degree days. There is considerable variability from year to year in the positive degree days during this period, which perhaps reflects the compensating short-term warming and cooling events referred to by Hanna et al. (2021).

Our observations in relation to SST are in close keeping with recent work by Wood et al. (2021). This shows that the speed up and mass loss of Greenlandic glaciers since the mid-1990s has been as a consequence of warm Atlantic ocean waters intruding into fjords. They conclude that nearly one- third of their sample of 226 marine-terminating glaciers owe nearly half of their mass loss to these warming waters. We hypothesize that warming ocean waters may well play an important role in the mass loss we observe. It is, however, important to note that the focus of Wood et al. (2021) is on subsurface water temperatures that occurred as a result of the spreading of ocean heat caused by changes in the North Atlantic Oscillation (NAO). We do not have data that enables us to explore subsurface temperatures in this way.

However, glacier frontal response to these climatic drivers is more complex and time-lagged. Of course, not all glaciers respond in the same way, with the same magnitude or at the same rate. This indicates that there are additional controls too. Figure 6 demonstrates this significant heterogeneity. Here we have subdivided the glaciers in our study area according to type. We see that glaciers of a different type respond differently to external drivers. The marine-terminating glaciers in our study region are (a) more dynamic, (b) show more retreat, and (c) show more varied behaviour than land terminating glaciers. Such behaviour is well-documented (Moon and Joughin, 2008; Murray et al., 2015), and highlights that the oceans (currents, tides, and bathymetry) and SST changes (as well as subsurface temperature changes) have a vital role in the stability of these ice masses.

Such complexity of response, and variability amongst marine-terminating glaciers is also an observation reported recently by Wood et al. (2021), and which is discussed in more detail below. For local glaciers and land terminating glaciers, we observe that whilst in earlier periods, changes in these glaciers were relatively small, larger changes have become more apparent recently. We propose that this "switch" could be representative of SMB becoming an increasingly important driver of change in recent years, as has been documented elsewhere (cf. Wood et al., 2021).
4.2

 Local heterogeneity in glacier response

As well as differing behaviour of different types of ice mass, we also observe significant local heterogeneity in glacier response – i.e. glaciers that are close neighbours and are of the same type can also show very different behaviour. This is an important observation, since neighbouring glaciers are subject to the same external drivers. Therefore differing responses implies there are significant additional processes in operation. Such observations suggest that glacier response is defined not only by climatic variables (e.g. air temperature, SST) but also by (a) ice velocity (and changes in this over time; King et al., 2020), (b) ocean circulation at a calving front (Wood et al., 2018), (c) underlying topography (i.e. bed elevation beneath an ice mass) and bathymetry (Catania et al., 2018), (d) the presence, concentration and role of sea ice (Carr et al., 2013), and (e) ice thickness (Bahr et al., 1998). Of course, the role of SST, ocean circulation, bathymetry, and sea ice are only relevant controls with respect to marine-terminating glaciers.

Figures 8 and 9 focus on the two sub-areas of our northern region (see Fig. 1), and in particular two sets of glaciers (Glaciers 7, 8, 9 and 10 in Fig. 8, and Glaciers 14 and 15 in Fig. 9) which show significantly different behaviour despite being proximally located. In Fig. 8, it is apparent that many glaciers in the region show considerable consistency of behaviour, with little frontal change over the study period. Of particular note is the stability of many of the outlets, such that over the ∼90 year period of investigation, only relatively small amounts of retreat have manifested. This is despite it being recognized that there have been significant mass losses to the oceans in recent decades. The most significant mass loss has been since 1998. Since this date there has been annual mass loss from Greenland in every year (Kjeldsen et al., 2015; Mouginot et al., 2019). The recent investigation of Wood et al. (2021) explores the role of ocean forcing in Greenlandic glacier retreat. The study attempts to categorize glaciers according to their geometry and water-depth. In the area covered by our study, the vast majority of glaciers (in fact all but one) are described by Wood et al. (2021) as "noncategorized", which means that the bathymetry and water properties are unknown. Our long-term investigation of these glaciers and the observation of their apparent stability, suggests these glaciers may sit in relatively shallow water on shallow ridges. This prevents the intrusion of warm deep water which would further enhance mass loss (Wood et al., 2021). Although their bathymetry is currently entirely unknown (Wood et al., 2021), it is possible that in the future these glaciers may pass a tipping point when they retreat off their pinning ridge into deeper waters. This would see a switch from their current status of having little frontal change, to a phase with much more rapid retreat. At present this is very much speculative, but ongoing monitoring of these outlets is therefore of great importance.

In addition to these previously discussed outlets in which frontal change is minimal, there are three outlets that in particular show 2–3 times more retreat than these. Two of these are part of Glacier 8 (see Fig. 8) which has several outlets. The two southernmost ones showed rapid and large-scale retreat between 1930 and 1966, but then displayed very little change over the years since then. In contrast, Glacier 10 showed relatively modest retreat from 1930 to 2015, but then large-scale and rapid retreat in the 4 years to 2019 (Fig. 8). Figure 9 shows similar behaviour. Here, Glacier 14 appears to be very stable, with minimal fluctuation around its terminus over the duration of the study period, albeit with an overall trend towards modest retreat. However, there is some complexity within this glacier alone. This is due to the fact that the eastern side of this very wide marine-terminating outlet shows more consistent and substantial retreat. Glacier 15 shows much more retreat with several large retreat "steps", but with the most significant retreat step being between 2015 and 2019.

Wood et al. (2021) similarly reported that many of Greenland's marine-terminating glaciers have sped-up and lost mass as a consequence of warming ocean waters, but that there are some glaciers that have exhibited small or no retreat. The explanation presented by them for this minimal retreat is that this is a result of water being shallow or outlets resting on shallow ridges. It may well be that this also helps to explain the diversity of behaviour we identify. Many of our study glaciers show little retreat over the 90 year study period and although we do not have bathymetry data, we propose that these understudied glaciers also sit on ridges and/or in shallow water. Where our glaciers have shown periods of more significant retreat for some part of the 90 year investigation, we propose that these periods of change indicate when glaciers move off pinning ridges into deeper water, even though they then may subsequently become grounded again and thus their retreat slows.

With regards to the differing behaviour of the two parts of the front of Glacier 14 (see Fig. 9), we are fortunate to have bathymetry data (Anders Bjørk, personal communication, January 2021) for the region directly abutting the ice front (Fig. 9b). This reveals starkly different topography, with that in front of the more stable region being significantly deeper than that in front of the more changeable region. However, on closer inspection of the bathymetry data it is apparent that directly in front of the western part of this glacier, there is a subtle shallowing of the bed. This could suggest the presence of a ridge which pins the glacier and thus explains why it appears to have a stable front. We do see higher ice velocities here (see Fig. 9b) and so it is also possible that the apparent relative stability of the western outlet arises because comparatively high calving rates are offset by higher ice velocities delivering ice more rapidly to the ice front. Conversely, the eastern outlet lies in shallower water but retreat is nevertheless more substantial. Ice velocities are lower here and so calving and/or melting is not countered by ice flow from inland (i.e. lower velocities than in the west; Fig. 9b).

Finally, Glacier 15 shows significant frontal retreat and high surface velocities. Following the thinking described above, we propose that this suggests that despite the delivery of large amounts of ice to the calving front from inland, significant retreat is still occurring, and so this glacier may be losing the greatest amount of mass overall.

Such diverse observations highlight how even dividing the ice sheet up into regions masks the complexity that is inherent in individual glacier behaviour. Even glaciers that exist adjacent to each other can show markedly differing patterns of retreat. Significant variability in the behaviour of Greenlandic outlet glaciers has been identified previously (McFadden et al., 2011; Twila et al., 2012; Csatho et al., 2014; Porter et al., 2018b), whereby variations in rates of frontal retreat, surface thinning and velocity may be apparent even when a region as a whole is losing mass. An individual glacier has a unique mixture of processes that might control its rate of retreat and thus it is oversimplistic just to state that mass balance or dynamic changes dominate in a region. In particular, we propose that our long-term study of multiple glaciers suggests a very important role for subglacial and submarine topography and in particular the importance of shallow ridges that dictate the retreat rates of marine-terminating glaciers. Porter et al. (2018b) used a statistical approach to explore the spatial correlation in the behaviour of adjacent Greenlandic glaciers and showed that local controls are more important than regional influences. They also found that there was a good correlation between rate of thinning and ocean heat content, and also that glaciers grounded in deeper water were more sensitive to oceanic controls on mass loss. Similar to our findings, they also showed that taking account of the presence of shallow sills was important, and further called for an improved understanding of bathymetry. Catania et al. (2018) also revealed how fjord geometry is an important control on how glaciers respond to climate. However, their work was focussed in West Greenland and explored changes over the past 30 years. The novelty of our work is not only the exploration of previously unstudied, smaller outlets in East Greenland, but also that we are able to identify such processes taking place over a timescale that is three times as long, thanks to the data we are able to extract from archival imagery. This greater length means that we can see that there was an earlier and a later warmer period, and that the glaciers responded differently in each, such that much more retreat took place in the later period. If topography is indeed the control on this, then it demonstrates the significance and ability to be a major moderator of climate-driven changes.
Our investigation has shown the potential of archival imagery that was not originally (and thus not optimally) collected for the purpose of photogrammetric investigations of glacier change. It is thus an important demonstration of the powerful quantitative data that resides in such imagery. This archival imagery has enabled us to extend the record of change of a number of little studied glaciers that reside in the central-eastern part of Greenland (Mouginot et al., 2019), back by several decades beyond the beginnings of the satellite record. Being able to do this is of great benefit since a longer time series of glacier change enables a better understanding of how ice masses have responded to climate to be developed (Dyurgerov and Meier, 2000).
Our focus here has been on a series of outlet glaciers from the Greenland Ice Sheet, and an investigation of how these have varied alongside a number of other controlling environmental parameters for which we also have long-term records. Our study covers ∼90 years and is the first such dedicated study in this region and over this duration. It deals with changes of a number of previously poorly studied glaciers that have perhaps been largely overlooked. One of our key findings is that climate forcing exhibits strong controls on glaciers in the region generally, and that there is a very close link between air temperatures and SSTs. Arguably, SSTs are more important as we see larger scale significant retreat of outlets terminating in water as the oceans have warmed.
However, our study region contains a number of different types of glacier. We observe that it is the marine-terminating glaciers that show the greatest mass loss, particularly in the more recent period. Aside from our observation of the importance of climatic forcing, we also highlight significant local variations and the potential importance of non-climate-related factors. Above all, one of our primary conclusions is that there is enormous variability in how glaciers respond to the climatic and non-climatic drivers. In particular, we propose that the great variability in the retreat of marine-terminating glaciers (both in terms of the magnitude and timing of retreat) may be controlled by the presence or lack of shallow ridges which act to pin glaciers as they retreat. In our interpretation, we envisage an undulating submarine/subglacial topography which has meant that some glaciers have showed periods of much greater or lesser retreat, and some are apparently stable in their position. Such a situation, if accurate, would lend itself to the possibility of future periods of comparatively rapid retreat of glaciers that appear to be stable, and likewise future stabilization of other glaciers that may currently (or in the past) have shown more significant retreat. Catania et al. (2018) also provided such insights for western Greenland and so we have greater confidence in our interpretation here. The novelty of our investigation is not only that we have shown such behaviour in a previously unstudied region of eastern Greenland, but also that our use of archival imagery allows us to identify that such behaviour has been occurring over a longer time period than it has been previously able to show. This helps to demonstrate the rich insights that can be gained from the processing pipeline we demonstrate here. In the past, regional investigations across the Greenland Ice Sheet have been key (e.g. Mouginot et al., 2019; King et al., 2020). This has been important for exploring broad scale regional behaviour and responses. However, our work here, in which we have focused on glacier-to-glacier heterogeneity, shows that within regions there is great complexity, with even adjacent glaciers behaving very differently. In our efforts to better understand the complexity of the response of the Greenland Ice Sheet to a warming climate, we propose that it is increasingly important to consider the variability between outlet glaciers because of the variation in responses that we have identified here. We also support, and further stress, the need for much improved knowledge of fjord geometry, as initially called for by Porter et al. (2018b) because of its probable importance in controlling the heterogeneity in glacier behaviour. In addition, our work has also highlighted how difficult it is to analyse overall glacier response from investigations of frontal variations alone. An important future direction would be to focus on surface elevation change and also to explore the subglacial topography of these outlets to predict likely future "jumping" periods of retreat, or indeed stabilization.
There is no specific code to be made available, but we will happily discuss our approach on request.
Data is available in the Pangea open access data repository
Archival data sets are available through there respected curators:
MAC and PL carried out the vast majority of the data processing, with additional guidance and contributions from WAPS, ERH and DMR. DMR and PL wrote most of the text, with additional contributions from WAPS, ERH and MAC. JAD provided important additional insights and contributions.
The contact author has declared that neither they nor their co-authors have any competing interests.
Publisher's note: Copernicus Publications remains neutral with regard to jurisdictional claims in published maps and institutional affiliations.
This work is funded by a Leverhulme Trust Research Grant entitled: 'Archival Polar Photography – Unearthing the Forgotten Record of Glacier Change' (reference: RPG-2017-346). Historical imagery was provided by the Picture Library at the Scott Polar Research Institute, University of Cambridge, through Julian A. Dowdeswell and Lucy Martin. We acknowledge the Danish Meteorological Institute, the Bolin Centre for Climate Research at Stockholm University and the Met Office Marine Data Bank (MDB) as sources of other data-sets, and also gratefully acknowledge the assistance of Anders Bjørk in gaining access to several datasets. The CORONA dataset was obtained via USGS EarthExplorer from the US Geological Survey (Declassified Satellite Imagery – 1 Digital Object Identifier (DOI) number: https://doi.org/10.5066/F78P5XZM; Earth Resources Observation and Science Center, 2018). Finally, we thank the editor, Etienne Berthier, and Anders Bjork and two anonymous reviewers for their insightful comments that have helped to improve this manuscript. We also thank the Polar Geospatial Center for use of ArcticDEM, and the National Oceanographic Centre British Oceanographic Data Centre (BODC).
This research has been supported by the Leverhulme Trust (grant no. RPG-2017-346).
This paper was edited by Etienne Berthier and reviewed by Anders Bjork and two anonymous referees.
Agisoft Metashape: Agisoft Metashape User Manual, Professional Edition, Version 1.7, https://www.agisoft.com/pdf/metashape-pro_1_7_en.pdf (last access: 30 April 2021), 2020. a, b
Aviation Safety Network: G-AAZR de Havilland DH.60G Moth, https://aviation-safety.net/wikibase/202285 (last access: 30 April 2021), 1999. a
Bahr, D. B., Pfeffer, W. T., Sassolas, C., and Meier, M. F.: Response time of glaciers as a function of size and mass balance: 1. Theory, J. Geophys. Res.-Sol. Ea., 103, 9777–9782, https://doi.org/10.1029/98JB00507, 1998. a
Barr, I. D., Dokukin, M. D., Kougkoulos, I., Livingstone, S. J., Lovell, H., Małecki, J., and Muraviev, A. Y.: Using ArcticDEM to Analyse the Dimensions and Dynamics of Debris-Covered Glaciers in Kamchatka, Russia, Geosciences, 8, 216, https://doi.org/10.3390/geosciences8060216, 2018. a
Bjørk, A. A., Kjær, K. H., Korsgaard, N. J., Khan, S. A., Kjeldsen, K. K., Andresen, C. S., Box, J. E., Larsen, N. K., and Funder, S.: An aerial view of 80 years of climate-related glacier fluctuations in southeast Greenland , Nat. Geosci., 5, 427–432, 2012. a, b, c, d
Box, J., Yang, L., Bromwich, D., and Bai, L.-S.: Greenland Ice Sheet Surface Air Temperature Variability: 1840–2007, J. Climate, 22, 4029–4049, https://doi.org/10.1175/2009JCLI2816.1, 2009. a, b, c, d, e, f, g, h
Box, J. E. and Colgan, W.: Greenland Ice Sheet Mass Balance Reconstruction. Part III: Marine Ice Loss and Total Mass Balance (1840–2010), J. Climate, 26, 6990–7002, https://doi.org/10.1175/JCLI-D-12-00546.1, 2013. a, b
Błaszczyk, M., Ignatiuk, D., Grabiec, M., Kolondra, L., Laska, M., Decaux, L., Jania, J., Berthier, E., Luks, B., Barzycka, B., and Czapla, M.: Quality Assessment and Glaciological Applications of Digital Elevation Models Derived from Space-Borne and Aerial Images over Two Tidewater Glaciers of Southern Spitsbergen, Remote Sens., 11, 1121, https://doi.org/10.3390/rs11091121, 2019. a
Cappelen, J. (Ed.): Greenland – DMI Historical Climate Data Collection 1784–2019, Danish Meteorological Institute [data set], https://www.dmi.dk/fileadmin/Rapporter/2020/DMIRep20-04.pdf (last access: 4 June 2021), 2020. a
Carr, J. R., Vieli, A., and Stokes, C.: Influence of sea ice decline, atmospheric warming, and glacier width on marine-terminating outlet glacier behavior in northwest Greenland at seasonal to interannual timescales, J. Geophys. Res.-Earth Surf., 118, 1210–1226, https://doi.org/10.1002/jgrf.20088, 2013. a
Casana, J. and Cothren, J.: Stereo analysis, DEM extraction and orthorectification of CORONA satellite imagery: Archaeological applications from the Near East, Antiquity, 82, 732–749, https://doi.org/10.1017/S0003598X00097349, 2015. a
Catania, G. A., Stearns, L. A., Sutherland, D. A., Fried, M. J., Bartholomaus, T. C., Morlighem, M., Shroyer, E., and Nash, J.: Geometric Controls on Tidewater Glacier Retreat in Central Western Greenland, J. Geophys. Res.-Earth Surf., 123, 2024–2038, https://doi.org/10.1029/2017JF004499, 2018. a, b, c
Crosby, B. T.: Comparing ArcticDEM against LiDAR in Alaska: Tests of uncertainty in elevation and hydrologic delineation, in: AGU Fall Meeting Abstracts, vol. 2016, pp. EP21D–0914, 2016. a
Csatho, B. M., Schenk, A. F., van der Veen, C. J., Babonis, G., Duncan, K., Rezvanbehbahani, S., van den Broeke, M. R., Simonsen, S. B., Nagarajan, S., and van Angelen, J. H.: Laser altimetry reveals complex pattern of Greenland Ice Sheet dynamics, P. Natl. Acad. Sci. USA, 111, 18478–18483, https://doi.org/10.1073/pnas.1411680112, 2014. a
Dyurgerov, M. B. and Meier, M. F.: Twentieth century climate change: Evidence from small glaciers, P. Natl. Acad. Sci. USA, 97, 1406–1411, https://doi.org/10.1073/pnas.97.4.1406, 2000. a
Earth Resources Observation and Science Center: USGS EROS Archive – Declassified Data – Declassified Satellite Imagery – 1, USGS [data set], https://doi.org/10.5066/F78P5XZM, 2018. a, b, c
Enderlin, E., Howat, I., Jeong, S., Noh, M.-J., van angelen, J., and Van den Broeke, M.: An Improved Mass Budget for the Greenland Ice Sheet, Geophys. Res. Lett., 41, 866–872, https://doi.org/10.1002/2013GL059010, 2014. a, b, c
Galiatsatos, N.: Assessment of satellite imagery in Landscape Archaeology applications: Case study from Orontes valley, Syria, PhD thesis, Durham University, http://etheses.dur.ac.uk/281/ (last access: 4 June 2021), 2005. a, b, c
Goelzer, H., Nowicki, S., Payne, A., Larour, E., Seroussi, H., Lipscomb, W. H., Gregory, J., Abe-Ouchi, A., Shepherd, A., Simon, E., Agosta, C., Alexander, P., Aschwanden, A., Barthel, A., Calov, R., Chambers, C., Choi, Y., Cuzzone, J., Dumas, C., Edwards, T., Felikson, D., Fettweis, X., Golledge, N. R., Greve, R., Humbert, A., Huybrechts, P., Le clec'h, S., Lee, V., Leguy, G., Little, C., Lowry, D. P., Morlighem, M., Nias, I., Quiquet, A., Rückamp, M., Schlegel, N.-J., Slater, D. A., Smith, R. S., Straneo, F., Tarasov, L., van de Wal, R., and van den Broeke, M.: The future sea-level contribution of the Greenland ice sheet: a multi-model ensemble study of ISMIP6, The Cryosphere, 14, 3071–3096, https://doi.org/10.5194/tc-14-3071-2020, 2020. a
Goliber, S., Black, T., Catania, G., Lea, J. M., Olsen, H., Cheng, D., Bevan, S., Bjørk, A., Bunce, C., Brough, S., Carr, J. R., Cowton, T., Gardner, A., Fahrner, D., Hill, E., Joughin, I., Korsgaard, N., Luckman, A., Moon, T., Murray, T., Sole, A., Wood, M., and Zhang, E.: TermPicks: A century of Greenland glacier terminus data for use in machine learning applications, The Cryosphere Discuss. [preprint], https://doi.org/10.5194/tc-2021-311, in review, 2021. a
Goossens, R., DeWulf, A., Bourgeois, J., Gheyle, W., and Willems, T.: Satellite imagery and archaeology: the example of CORONA in the Altai Mountains, J. Archaeol. Sci., 33, 745–755, https://doi.org/10.1016/j.jas.2005.10.010, 2006. a
Haeberli, W.: Modern Research Perspectives Relating to Permafrost Creep and Rock Glaciers: A Discussion, Permafrost Perigl. Process., 11, 290–293, https://doi.org/10.1002/1099-1530(200012)11:4<290::AID-PPP372>3.0.CO;2-0, 2000. a
Hanna, E., Mernild, S., Cappelen, J., and Steffen, K.: Recent warming in Greenland in a long-term instrumental (1881-2012) climatic context: I. Evaluation of surface air temperature records, Environ. Res. Lett., 7, 045404, https://doi.org/10.1088/1748-9326/7/4/045404, 2012. a, b, c, d
Hanna, E., Cappelen, J., Fettweis, X., Mernild, S. H., Mote, T. L., Mottram, R., Steffen, K., Ballinger, T. J., and Hall, R. J.: Greenland surface air temperature changes from 1981 to 2019 and implications for ice-sheet melt and mass-balance change, Int. J. Climatol., 41, E1336–E1352, https://doi.org/10.1002/joc.6771, 2021. a, b
Hofer, S., Lang, C., Amory, C., Kittel, C., Delhasse, A., Tedstone, A., and Fettweis, X.: Greater Greenland Ice Sheet contribution to global sea level rise in CMIP6, Nat. Commun., 11, 6289, https://doi.org/10.1038/s41467-020-20011-8, 2020. a, b
Holmlund, P., Jansson, P., and Pettersson, R.: A re-analysis of the 58 year mass-balance record of Storglaciären, Sweden, Ann. Glaciol., 42, 389–394, https://doi.org/10.3189/172756405781812547, 2005. a
Howat, I. M., Joughin, I., Fahnestock, M., Smith, B. E., and Scambos, T. A.: Synchronous retreat and acceleration of southeast Greenland outlet glaciers 2000–06: ice dynamics and coupling to climate, J. Glaciol., 54, 646–660, https://doi.org/10.3189/002214308786570908, 2008. a
Hugonnet, R., McNabb, R., Berthier, E., Menounos, B., Nuth, C., Girod, L., Farinotti, D., Huss, M., Dussaillant, I., Brun, F., and Kääb, A.: Accelerated global glacier mass loss in the early twenty-first century, Nature, 592, 726–731, https://doi.org/10.1038/s41586-021-03436-z, 2021. a
IPCC: Summary for Policymakers, in: IPCC Special Report on the Ocean and Cryosphere in a Changing Climate, edited by: Pörtner, H.-O., Roberts, D. C. Masson-Delmotte,, V., Zhai, P., Tignor, M., Poloczanska, E., Mintenbeck, K. Alegría,, A., Nicolai, M., Okem, A., Petzold, J., Rama, B., and Weyer, N. M., Cambridge University Press, Cambridge, UK and New York, NY, USA, 3–35, https://doi.org/10.1017/9781009157964.001, 2019. a
IPCC: Summary for Policymakers, in: Climate Change 2021: The Physical Science Basis. Contribution of Working Group I to the Sixth Assessment Report of the Intergovernmental Panel on Climate Change, edited by: Masson-Delmotte, V., Zhai, P., Pirani, A., Connors, S. L., Péan, C., Berger, S., Caud, N., Chen, Y., Goldfarb, L., Gomis, M. I., Huang, M., Leitzell, K., Lonnoy, E., Matthews, J. B. R., Maycock, T. K., Waterfield, T., Yelekçi, O., Yu, R., and Zhou, B., Cambridge University Press, Cambridge, United Kingdom and New York, NY, USA, 3–32, https://doi.org/10.1017/9781009157896.001, 2021. a, b
Ives, J.: Satellite Image Atlas of Glaciers of the World: Asia, edited by: Williams Jr., R. S. and Ferrigno, J. G., ARCTIC, 64, 269–398, https://doi.org/10.14430/arctic4129, 2011. a
Joughin, I., Smith, B., Howat, I., Scambos, T., and Moon, T.: Greenland flow variability from ice-sheet-wide velocity mapping, J. Glaciol., 56, 415–430, 2010. a, b
Khan, S., Bjørk, A., Bamber, J., Morlighem, M., Bevis, M., Kjær, K., Mouginot, J., Løkkegaard, A., Holland, D., Aschwanden, A., Bao, Z., Helm, V., Korsgaard, N., Colgan, W., Larsen, N., Liu, L., Hansen, K., Barletta, V., Dahl-Jensen, T., and Schenk, T.: Centennial response of Greenland's three largest outlet glaciers, Nat. Commun., 11, 5718, https://doi.org/10.1038/s41467-020-19580-5, 2020. a
King, M., Howat, I., Candela, S., Noh, M.-J., Jeong, S., Noël, B., Van den Broeke, M., Wouters, B., and Negrete, A.: Dynamic ice loss from the Greenland Ice Sheet driven by sustained glacier retreat, Commun. Earth & Environ., 1, 1, https://doi.org/10.1038/s43247-020-0001-2, 2020. a, b, c, d, e
Kjeldsen, K. K., Korsgaard, N. J., Bjørk, A. A., Khan, S. A., Box, J. E., Funder, S., Larsen, N. K., Bamber, J. L., Colgan, W., van den Broeke, M., Siggaard-Andersen, M.-L., Nuth, C., Schomacker, A., Andresen, C. S., Willerslev, E., and Kjær, K. H.: Spatial and temporal distribution of mass loss from the Greenland Ice Sheet since AD 1900, Nature, 528, 396–400, https://doi.org/10.1038/nature16183, 2015. a
Korsgaard, N., Nuth, C., Khan, S., Kjeldsen, K., Bjørk, A., Schomacker, A., and Kjaer, K.: Digital elevation model and orthophotographs of Greenland based on aerial photographs from 1978–1987, Sci. Data, 3, 1–15, https://doi.org/10.1038/sdata.2016.32, 2016. a
Lamsters, K., Karušs, J., Krievāns, M., and Ješkins, J.: High-resolution orthophoto map and digital surface models of the largest Argentine Islands (the Antarctic) from unmanned aerial vehicle photogrammetry, J. Maps, 16, 335–347, https://doi.org/10.1080/17445647.2020.1748130, 2020. a
Lewińska, P., Rippin, D. M., Smith, W. A. P., Hancock, E., and Cooper, M. A.: Orthophotomaps of East Greenland, in particular of the 260 km-long section of coastline between 66.3 and 68.4∘ N, PANGAEA [data set], https://doi.org/10.1594/PANGAEA.942134, 2022. a
McFadden, E. M., Howat, I. M., Joughin, I., Smith, B. E., and Ahn, Y.: Changes in the dynamics of marine terminating outlet glaciers in west Greenland (2000–2009), J. Geophys. Res.-Earth Surf., 116, 16, https://doi.org/10.1029/2010JF001757, 2011. a
Meddens, A., Vierling, L. A., Eitel, J., Jennewein, J., White, J., and Wulder, M.: Developing 5 m resolution canopy height and digital terrain models from WorldView and ArcticDEM data, Remote Sens. Environ., 218, 174–188, https://doi.org/10.1016/j.rse.2018.09.010, 2018. a, b
Mernild, S. H., Knudsen, N. T., Lipscomb, W. H., Yde, J. C., Malmros, J. K., Hasholt, B., and Jakobsen, B. H.: Increasing mass loss from Greenland's Mittivakkat Gletscher, The Cryosphere, 5, 341–348, https://doi.org/10.5194/tc-5-341-2011, 2011. a, b
Moon, T. and Joughin, I.: Changes in ice front position on Greenland's outlet glaciers from 1992 to 2007, J. Geophys. Res.-Earth Surf., 113, 10, https://doi.org/10.1029/2007JF000927, 2008. a, b
Moon, T. A., Gardner, A. S., Csatho, B., Parmuzin, I., and Fahnestock, M. A.: Rapid Reconfiguration of the Greenland Ice Sheet Coastal Margin, J. Geophys. Res.-Earth Surf., 125, e2020JF005585, https://doi.org/10.1029/2020JF005585, 2020. a
Morin, P., Porter, C., Cloutier, M., Howat, I., Noh, M.-J., Willis, M., Bates, B., Willamson, C., and Peterman, K.: ArcticDEM; a publically available, high resolution elevation model of the Arctic, in: EGU general assembly conference abstracts, pp. EPSC2016–8396, 2016. 
Morin, P., Porter, C., Cloutier, M., Ian, H., Noh, M., Willis, M., Williamson, C., Bauer, G., Kramer, W., Bates, B., and Williamson, C.: ArcticDEM Year 3; Improving Coverage, Repetition and Resolution, in: AGU Fall Meeting Abstracts, vol. 2017, pp. C51A–0964, 2017. a
Morlighem, M., Wood, M., Seroussi, H., Choi, Y., and Rignot, E.: Modeling the response of northwest Greenland to enhanced ocean thermal forcing and subglacial discharge, The Cryosphere, 13, 723–734, https://doi.org/10.5194/tc-13-723-2019, 2019. a
Mouginot, J., Rignot, E., Bjørk, A. A., van den Broeke, M., Millan, R., Morlighem, M., Noël, B., Scheuchl, B., and Wood, M.: Forty-six years of Greenland Ice Sheet mass balance from 1972 to 2018, P. Natl. Acad. Sci. USA, 116, 9239–9244, https://doi.org/10.1073/pnas.1904242116, 2019. a, b, c, d, e, f, g
Murray, T., Scharrer, K., Selmes, N., Booth, A. D., James, T. D., Bevan, S. L., Bradley, J., Cook, S., Llana, L. C., Drocourt, Y., Dyke, L., Goldsack, A., Hughes, A. L., Luckman, A. J., and McGovern, J.: Extensive retreat of Greenland tidewater glaciers, 2000-2010, Arctic, Antarctic, and Alpine Research, 47, 427–447, https://doi.org/10.1657/AAAR0014-049, 2015. a, b
National Oceanography Centre: BODC Cruise Metadata Report for RRS James Clark Ross (74JC) cruise JR20040813 (JR106), Autosub under Arctic Sea Ice, National Oceanography Centre [data set], https://www.bodc.ac.uk/data/documents/cruise/6722/ (last access: 4 June 2021), 2004. a
Noh, M.-J. and Howat, I. M.: Automated stereo-photogrammetric DEM generation at high latitudes: Surface Extraction with TIN-based Search-space Minimization (SETSM) validation and demonstration over glaciated regions, GIScience & Remote Sensing, 52, 198–217, https://doi.org/10.1080/15481603.2015.1008621, 2015. a
Park, H. and Lee, D. K.: Comparison Between Point Cloud and Mesh Models Using Images from an Unmanned Aerial Vehicle, Measurement, 138, https://doi.org/10.1016/j.measurement.2019.02.023, 2019. a
Paul, F., Bolch, T., Briggs, K., Kääb, A., McMillan, M., McNabb, R., Nagler, T., Nuth, C., Rastner, P., Strozzi, T., and Wuite, J.: Error sources and guidelines for quality assessment of glacier area, elevation change, and velocity products derived from satellite data in the Glaciers_cci project, Remote Sens. Environ., 203, 256–275, https://doi.org/10.1016/j.rse.2017.08.038, 2017. a
Pieczonka, T., Bolch, T., and Buchroithner, M.: Generation and evaluation of multitemporal digital terrain models of the Mt. Everest area from different optical sensors, ISPRS J. Photogramm. Remote Sens., 66, https://doi.org/10.1016/j.isprsjprs.2011.07.003, 2011. a
Porter, C., Morin, P., Howat, I., Noh, M.-J., Bates, B., Peterman, K., Keesey, S., Schlenk, M., Gardiner, J., Tomko, K., Willis, M., Kelleher, C., Cloutier, M., Husby, E., Foga, S., Nakamura, H., Platson, M., Wethington Jr., M., Williamson, C., Bauer, G., Enos, J., Arnold, G., Kramer, W., Becker, P., Doshi, A., D'Souza, C. Cummens, P., Laurier, F., and Bojesen, M.: ArcticDEM, Harvard Dataverse, V1 [data set], https://doi.org/10.7910/DVN/OHHUKH, 2018a. a
Porter, D. F., Tinto, K. J., Boghosian, A. L., Csatho, B. M., Bell, R. E., and Cochran, J. R.: Identifying Spatial Variability in Greenland's Outlet Glacier Response to Ocean Heat, Front. Earth Sci., 6, 90, https://doi.org/10.3389/feart.2018.00090, 2018b. a, b, c
Rastner, P., Bolch, T., Mölg, N., Machguth, H., Le Bris, R., and Paul, F.: The first complete inventory of the local glaciers and ice caps on Greenland, The Cryosphere, 6, 1483–1495, https://doi.org/10.5194/tc-6-1483-2012, 2012. a
Raup, B., Khalsa, S. J., and Armstrong, R.: Creating improved ASTER DEMs over glacierized terrain, AGU Fall Meeting Abstracts, 2006. a
Rayner, N. A., Parker, D. E., Horton, E. B., Folland, C. K., Alexander, L. V., Rowell, D. P., Kent, E. C., and Kaplan, A.: Global analyses of sea surface temperature, sea ice, and night marine air temperature since the late nineteenth century, J. Geophys. Res.-Atmos., 108, 22, https://doi.org/10.1029/2002JD002670, 2003. a, b
Rippin, D. M., Sharp, M., Van Wychen, W., and Zubot, D.: `Detachment' of icefield outlet glaciers: catastrophic thinning and retreat of the Columbia Glacier (Canada), Earth Surf. Process. Landf., 45, 459–472, https://doi.org/10.1002/esp.4746, 2020. a
Rippin, D. M., Smith, W. A. P.; Cooper, M. A., Hancock, E., and Lewińska, P.: East Greenland (66.3 and 68.4∘ N) glacier front position shape files, PANGAEA [data set], https://doi.org/10.1594/PANGAEA.941995, 2022. a
Ryan, J. C., Hubbard, A. L., Box, J. E., Todd, J., Christoffersen, P., Carr, J. R., Holt, T. O., and Snooke, N.: UAV photogrammetry and structure from motion to assess calving dynamics at Store Glacier, a large outlet draining the Greenland ice sheet, The Cryosphere, 9, 1–11, https://doi.org/10.5194/tc-9-1-2015, 2015. a
Seale, A., Christoffersen, P., Mugford, R. I., and O'Leary, M.: Ocean forcing of the Greenland Ice Sheet: Calving fronts and patterns of retreat identified by automatic satellite monitoring of eastern outlet glaciers, J. Geophys. Res.-Earth Surf., 116, 16, https://doi.org/10.1029/2010JF001847, 2011. a
Shepherd, A. and IMBIE Team: Mass balance of the Greenland Ice Sheet from 1992 to 2018, Nature, 579, 233, https://doi.org/10.1038/s41586-019-1855-2, 2020. a, b, c, d
Shin, S. W.: Rigorous Model of Panoramic Cameras, PhD thesis, The Ohio State University, https://etd.ohiolink.edu/apexprod/rws_etd/send_file/send?accession=osu1048869881&disposition=inline (last access: 4 June 2021), 2003. a, b, c, d
Stephenson, A.: Kangerdlugsuak and Mount Forel: Two Journeys on the British Arctic Air Route Expedition, The Geographical Journal, 80, 1–12, 1932. a
The SPRI Picture Library: Picture Library catalogue: British Arctic Air Route Expedition 1930–31, https://www.spri.cam.ac.uk/archives/ (last access: 30 April 2021), 1999.  a, b
Twila, M., Joughin, I., Smith, B., and Howat, I.: 21st-Century Evolution of Greenland Outlet Glacier Velocities, Science, 336, 576–578, https://doi.org/10.1126/science.1219985, 2012. a
US Geological Survey USGS: EarthExploler, USGS [data set], https://earthexplorer.usgs.gov/ (last access: 30 April 2021), 1995. a, b
van den Broeke, M. R., Enderlin, E. M., Howat, I. M., Kuipers Munneke, P., Noël, B. P. Y., van de Berg, W. J., van Meijgaard, E., and Wouters, B.: On the recent contribution of the Greenland ice sheet to sea level change, The Cryosphere, 10, 1933–1946, https://doi.org/10.5194/tc-10-1933-2016, 2016. a, b, c, d, e
Wake, L., Huybrechts, P., Box, J., Hanna, E., Janssens, I., and Milne, G.: Surface mass-balance changes of the Greenland ice sheetc since 1866, Ann. Glaciol., 50, 178–184, https://doi.org/10.3189/172756409787769636, 2009. a, b
Watkins, H. G.: The British Arctic Air Route Expedition, The Geographical Journal, 76, 426–427, 1930. a
Watkins, H. G., H., D. N., Quintin, R., R., W. L., A., S., and Spencer, C. F.: The British Arctic Air Route Expedition (Continued), The Geographical Journal, 76, 466–496, 1932. a, b
Wood, M., Rignot, E., Fenty, I., Menemenlis, D., Millan, R., Morlighem, M., Mouginot, J., and Seroussi, H.: Ocean-Induced Melt Triggers Glacier Retreat in Northwest Greenland, Geophys. Res. Lett., 45, 8334–8342, https://doi.org/10.1029/2018GL078024, 2018. a, b
Wood, M., Rignot, E., Fenty, I., An, L., Bjørk, A., van den Broeke, M., Cai, C., Kane, E., Menemenlis, D., Millan, R., Morlighem, M., Mouginot, J., Noël, B., Scheuchl, B., Velicogna, I., Willis, J. K., and Zhang, H.: Ocean forcing drives glacier retreat in Greenland, Sci. Adv., 7, 10, https://doi.org/10.1126/sciadv.aba7282, 2021. a, b, c, d, e, f, g, h, i, j, k, l
Yurtseven, H., Akgul, M., Coban, S., and Gulci, S.: Determination and accuracy analysis of individual tree crown parameters using UAV based imagery and OBIA techniques, Measurements, 145, 651–664, https://doi.org/10.1016/j.measurement.2019.05.092, 2019. a