Research article | 07 Jun 2022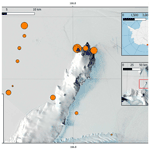 1

School of Physical and Chemical Sciences, University of Canterbury, Christchurch, New Zealand

2

Gateway Antarctica, School of Earth and Environment, University of Canterbury, Christchurch, New Zealand
Correspondence: Alex R. Aves (alexandra.aves@pg.canterbury.ac.nz)
Received: 17 Dec 2021 – Discussion started: 04 Jan 2022 – Revised: 19 Apr 2022 – Accepted: 06 May 2022 – Published: 07 Jun 2022
In recent years, airborne microplastics have been identified in a range of remote environments. However, data throughout the Southern Hemisphere, in particular Antarctica, are largely absent to date. We collected snow samples from 19 sites across the Ross Island region of Antarctica. Suspected microplastic particles were isolated and their composition confirmed using micro-Fourier transform infrared spectroscopy (µFTIR). We identified microplastics in all Antarctic snow samples at an average concentration of 29 particles L−1, with fibres the most common morphotype and polyethylene terephthalate (PET) the most common polymer. To investigate sources, backward air mass trajectories were run from the time of sampling. These indicate potential long-range transportation of up to 6000 km, assuming a residence time of 6.5 d. Local sources were also identified as potential inputs into the environment as the polymers identified were consistent with those used in clothing and equipment from nearby research stations. This study adds to the growing body of literature regarding microplastics as a ubiquitous airborne pollutant and establishes their presence in Antarctica.
Over the last century plastics have become one of the most ubiquitous synthetic materials in the world due to their versatility and durability. Despite their longevity, plastics degrade over time to produce microplastics (plastic particles < 5 mm in diameter), and when present in the environment, they have the potential to cause significant ecological damage (MacLeod et al., 2021). Microplastics have negative effects on marine organisms (Wright et al., 2013) and act as vectors for persistent organic pollutants and other toxic substances (Mato et al., 2001; Rios et al., 2007), which are harmful to marine environments and organisms (Hermabessiere et al., 2017). Microplastics have been recognized as widespread pollutants in the marine environment (Ryan, 2015) and are known to be damaging to terrestrial ecosystems (de Souza Machado et al., 2018), while their small size and relatively low density also allow them to become airborne and transported over large distances (Evangeliou et al., 2020).
Airborne microplastics have been identified in atmospheric fallout in a range of urban (Dris et al., 2015, 2016; Cai et al., 2017; Klein and Fischer, 2019; Knobloch et al., 2021) and remote regions worldwide (Allen et al., 2019; Bergmann et al., 2019; Brahney et al., 2020). It is now understood that microplastics transition between marine environments, terrestrial environments and the atmosphere via the plastic cycle (Horton and Dixon, 2018; Brahney et al., 2021). This allows microplastics to reach locations far from anthropogenic sources, such as the Arctic (Bergmann et al., 2019), the Tibetan Plateau (Zhang et al., 2021), European alpine regions (Allen et al., 2019; Bergmann et al., 2019; Materić et al., 2020, 2021) and conservation areas across the continental United States (Brahney et al., 2020). Deposited microplastics may accelerate melting of the cryosphere when present on snow and ice in alpine or polar regions (Evangeliou et al., 2020). Microplastics may further influence climate by acting as cloud ice nuclei in the atmosphere (Ganguly and Ariya, 2019) and through their minor contribution to global radiative forcing (Revell et al., 2021).
With a few exceptions, such as lead pollution in the late 19th century (McConnell et al., 2014), Antarctica was generally thought to be largely untouched by humans until the early 20th century due to its inaccessibility, extreme environmental conditions and barriers such as the Antarctic Circumpolar Current (Tin et al., 2014; Gordon, 1971). While the human footprint has increased over the last century, Antarctica is still a place of peace and science and is thought of as the last remaining true wilderness on earth (Tin et al., 2016). Due to this, Antarctica can act as an indicator of physical, chemical and biological effects caused by anthropogenic stresses (Huiskes et al., 2006). Research on microplastics in the Antarctic has focused on the marine environment, where particles have been detected in deep sea sediments in the Weddell Sea (Van Cauwenberghe et al., 2013), marine sediments from the western Antarctic Peninsula (Reed et al., 2018) and the Ross Sea (Munari et al., 2017), south of the Polar Front (Cózar et al., 2014), and in the surface waters of the Southern Ocean and Antarctic Peninsula (Absher et al., 2019; Cincinelli et al., 2017; Isobe et al., 2017; Suaria et al., 2020; Waller et al., 2017; Lacerda et al., 2019). Microplastics were recently identified for the first time in a freshwater Antarctic Specially Protected Area (ASPA) on Livingston Island, which is used for long-term ecological monitoring due to its pristine nature and use as a reference for inland water research (González-Pleiter et al., 2020).
To date there is little information available regarding the presence of airborne microplastics in Antarctica. We collected freshly fallen snow samples from the Ross Island region of Antarctica in late 2019 and analysed them to quantify the presence and abundance of microplastics. Samples were collected close to two scientific research stations (Scott Base and McMurdo Station) and from 13 field sites up to 20 km from the research stations. We identified polymer composition using micro-Fourier transform infrared spectroscopy (µFTIR) and analysed air mass back trajectories to identify the potential origins of sampled air masses. Further, we catalogued the composition of field equipment to understand local polymer sources.
This study confirms the presence of microplastics in Antarctic snow. Microplastics were identified on the Ross Ice Shelf and near Scott Base and McMurdo Station at an average concentration of 29 particles L−1. Fibres were the most common morphotype identified, and PET was the most common polymer found. Outdoor clothing and other equipment used at the nearby research stations was catalogued to understand local inputs of microplastics while also assessing the potential for long-range transport through back-trajectory modelling. Back trajectories indicated that microplastics may have travelled a distance of up to 6000 km, depending on the residence time. Given that air masses passed over the bases prior to sampling and that the polymers we identified are consistent with those catalogued, it is likely that local inputs were a contributor to the microplastic pollution identified. Our results highlight the importance of further monitoring – both in Antarctica and in surrounding waters – to develop our understanding of the microplastic footprint in Antarctica and the threat it may pose to the Antarctic environment.
The microplastic data generated in this study are provided in the Appendix of this paper, including microplastic counts, sample volume, particle size, shape and polymer type. Relevant data to evaluate the conclusions of this paper are present in either the main paper, the Appendix or the Supplement.
Conceptualization of the study was completed by LER and SG. Methodology development was undertaken by LER, HR and SG. Field sampling was completed by ARA, ML and AJM. Investigation was undertaken by ARA, NEW and AS. Visualization was completed by ARA, NEW, ML and AS. Supervision of study was led by LER and SG. The original draft was completed by ARA and LER with review and editing completed by all authors.
The contact author has declared that neither they nor their co-authors have any competing interests.
Publisher's note: Copernicus Publications remains neutral with regard to jurisdictional claims in published maps and institutional affiliations.
The authors thank Nicole Lauren-Manuera, Alex Nicholls, Paula Brooksby, Justin Harrison, Antarctica New Zealand, staff and students from Gateway Antarctica, and the Postgraduate Certificate of Antarctic Studies 2019 group. Alex R. Aves was supported by Gateway Antarctica's Ministry of Foreign Affairs and Trade Scholarship in Antarctic and Southern Ocean Studies. We acknowledge mana whenua, Ngāi Tūāhuriri, on whose lands our analysis and writing took place.
This research has been supported by the Marsden Fund (grant no. MFP-UOC1903).
This paper was edited by Kaitlin Keegan and reviewed by two anonymous referees.
Absher, T. M., Ferreira, S. L., Kern, Y., Ferreira, A. L., Christo, S. W., and Ando, R. A.: Incidence and identification of microfibers in ocean waters in Admiralty Bay, Antarctica, Environ. Sci. Pollut. Res., 26, 292–298, 2019. a
Acharya, S., Rumi, S. S., Hu, Y., and Abidi, N.: Microfibers from synthetic textiles as a major source of microplastics in the environment: A review, Text. Res. J., 91, 2136–2156, 2021. a
Allen, S., Allen, D., Phoenix, V. R., Roux, G. L., Jiménez, P. D., Simonneau, A., Binet, S., and Galop, D.: Atmospheric transport and deposition of microplastics in a remote mountain catchment, Nat. Geosci., 12, 339–344, https://doi.org/10.1038/s41561-019-0335-5, 2019. a, b, c
Allen, S., Allen, D., Moss, K., Le Roux, G., Phoenix, V. R., and Sonke, J. E.: Examination of the ocean as a source for atmospheric microplastics, PloS one, 15, e0232746, https://doi.org/10.1371/journal.pone.02327, 2020. a, b
Ambrosini, R., Azzoni, R. S., Pittino, F., Diolaiuti, G., Franzetti, A., and Parolini, M.: First evidence of microplastic contamination in the supraglacial debris of an alpine glacier, Environ. Pollut., 253, 297–301, 2019. a, b
Aronson, R. B., Thatje, S., McClintock, J. B., and Hughes, K. A.: Anthropogenic impacts on marine ecosystems in Antarctica, Ann. NY Acad. Sci., 1223, 82–107, 2011. a
Barnes, D. K., Walters, A., and Gonçalves, L.: Macroplastics at sea around Antarctica, Mar. Environ. Res., 70, 250–252, 2010. a
Bergami, E., Rota, E., Caruso, T., Birarda, G., Vaccari, L., and Corsi, I.: Plastics everywhere: first evidence of polystyrene fragments inside the common Antarctic collembolan Cryptopygus antarcticus, Biol. Lett., 16, 20200093, https://doi.org/10.1098/rsbl.2020.0093, 2020. a
Bergmann, M., Mützel, S., Primpke, S., Tekman, M. B., Trachsel, J., and Gerdts, G.: White and wonderful? Microplastics prevail in snow from the Alps to the Arctic, Sci. Adv., 5, eaax1157, https://doi.org/10.1126/sciadv.aax1157, 2019. a, b, c, d, e, f
Brahney, J., Hallerud, M., Heim, E., Hahnenberger, M., and Sukumaran, S.: Plastic rain in protected areas of the United States, Science, 368, 1257–1260, https://doi.org/10.1126/science.aaz5819, 2020. a, b
Brahney, J., Mahowald, N., Prank, M., Cornwell, G., Klimont, Z., Matsui, H., and Prather, K. A.: Constraining the atmospheric limb of the plastic cycle, P. Natl. Acad. Sci. USA, 118, e2020719118, https://doi.org/10.1073/pnas.2020719118, 2021. a, b, c, d, e, f
Brander, S. M., Renick, V. C., Foley, M. M., Steele, C., Woo, M., Lusher, A., Carr, S., Helm, P., Box, C., and Cherniak, S.: Sampling and quality assurance and quality control: a guide for scientists investigating the occurrence of microplastics across matrices, Appl. Spectrosc., 74, 1099–1125, 2020. a
Brett, G., Irvin, A., Rack, W., Haas, C., Langhorne, P., and Leonard, G.: Variability in the distribution of fast ice and the sub-ice platelet layer near McMurdo Ice Shelf, J. Geophys. Res.-Ocean., 125, e2019JC015678, https://doi.org/10.1029/2019JC015678, 2020. a
Bridson, J. H., Patel, M., Lewis, A., Gaw, S., and Parker, K.: Microplastic contamination in Auckland (New Zealand) beach sediments, Mar. Pollut. Bull., 151, 110867, https://doi.org/10.1016/j.marpolbul.2019.110867, 2020. a
Browne, M. A., Crump, P., Niven, S. J., Teuten, E., Tonkin, A., Galloway, T., and Thompson, R.: Accumulation of microplastic on shorelines worldwide: sources and sinks, Environ. Sci. Technol., 45, 9175–9179, 2011. a
Bullard, J. E., Ockelford, A., O'Brien, P., and Neuman, C. M.: Preferential transport of microplastics by wind, Atmos. Environ., 245, 118038, https://doi.org/10.1016/j.atmosenv.2020.118038, 2021. a
Cai, L., Wang, J., Peng, J., Tan, Z., Zhan, Z., Tan, X., and Chen, Q.: Characteristic of microplastics in the atmospheric fallout from Dongguan city, China: preliminary research and first evidence, Environ. Sci. Pollut. Res., 24, 24928–24935, https://doi.org/10.1007/s11356-017-0116-x, 2017. a
Cincinelli, A., Scopetani, C., Chelazzi, D., Lombardini, E., Martellini, T., Katsoyiannis, A., Fossi, M. C., and Corsolini, S.: Microplastic in the surface waters of the Ross Sea (Antarctica): occurrence, distribution and characterization by FTIR, Chemosphere, 175, 391–400, 2017. a, b, c, d, e, f
Coggins, J. H., McDonald, A. J., and Jolly, B.: Synoptic climatology of the Ross Ice Shelf and Ross Sea region of Antarctica: k‐means clustering and validation, Int. J. Climatol., 34, 2330–2348, 2014. a
Cole, M., Lindeque, P., Fileman, E., Halsband, C., Goodhead, R., Moger, J., and Galloway, T. S.: Microplastic ingestion by zooplankton, Environ. Sci. Technol., 47, 6646–6655, 2013. a
COMNAP: Antarctic Station Catalogue, COMNAP, https://static1.squarespace.com/static/ (last access: 20 March 2022), 2017. a
Convey, P. and Peck, L. S.: Antarctic environmental change and biological responses, Sci. Adv., 5, eaaz0888, https://doi.org/10.1126/sciadv.aaz0888, 2019. a
Cózar, A., Echevarría, F., González-Gordillo, J. I., Irigoien, X., Úbeda, B., Hernández-León, S., Palma, Á. T., Navarro, S., García-de Lomas, J., Ruiz, A., Fernández-de Puelles, M. L., and Duarte, C. M.: Plastic debris in the open ocean, P. Natl. Acad. Sci. USA, 111, 10239–10244, 2014. a
Croxall, J., Rodwell, S., and Boyd, I.: Entanglement in man‐made debris of Antarctic fur seals at Bird Island, South Georgia, Mar. Mammal Sci., 6, 221–233, 1990. a
Dale, E. R., McDonald, A. J., Coggins, J. H. J., and Rack, W.: Atmospheric forcing of sea ice anomalies in the Ross Sea polynya region, The Cryosphere, 11, 267–280, https://doi.org/10.5194/tc-11-267-2017, 2017. a
De Frond, H., Rubinovitz, R., and Rochman, C. M.: µATR-FTIR Spectral Libraries of Plastic Particles (FLOPP and FLOPP-e) for the Analysis of Microplastics, Anal. Chem., 93, 15878–15885, 2021. a
de Souza Machado, A. A., Kloas, W., Zarfl, C., Hempel, S., and Rillig, M. C.: Microplastics as an emerging threat to terrestrial ecosystems, Glob. Change Biol., 24, 1405–1416, 2018. a
Dris, R., Gasperi, J., Rocher, V., Saad, M., Renault, N., and Tassin, B.: Microplastic contamination in an urban area: a case study in Greater Paris, Environ. Chem., 12, 592–599, https://doi.org/10.1071/EN14167, 2015. a
Dris, R., Gasperi, J., Saad, M., Mirande, C., and Tassin, B.: Synthetic fibers in atmospheric fallout: a source of microplastics in the environment?, Mar. Pollut. Bull., 104, 290–293, 2016. a, b
Evangeliou, N., Grythe, H., Klimont, Z., Heyes, C., Eckhardt, S., Lopez-Aparicio, S., and Stohl, A.: Atmospheric transport is a major pathway of microplastics to remote regions, Nat. Commun., 11, 1–11, 2020. a, b, c, d
Foley, C. J., Feiner, Z. S., Malinich, T. D., and Höök, T. O.: A meta-analysis of the effects of exposure to microplastics on fish and aquatic invertebrates, Sci. Total Environ., 631, 550–559, 2018. a
Fragão, J., Bessa, F., Otero, V., Barbosa, A., Sobral, P., Waluda, C. M., Guímaro, H. R., and Xavier, J. C.: Microplastics and other anthropogenic particles in Antarctica: using penguins as biological samplers, Sci. Total Environ., 788, 147698, https://doi.org/10.1016/j.scitotenv.2021.147698, 2021. a
Fraser, C. I., Morrison, A. K., Hogg, A. M., Macaya, E. C., van Sebille, E., Ryan, P. G., Padovan, A., Jack, C., Valdivia, N., and Waters, J. M.: Antarctica's ecological isolation will be broken by storm-driven dispersal and warming, Nat. Clim. Change, 8, 704–708, 2018. a
Ganguly, M. and Ariya, P. A.: Ice Nucleation of Model Nanoplastics and Microplastics: A Novel Synthetic Protocol and the Influence of Particle Capping at Diverse Atmospheric Environments, ACS Earth Space Chem., 3, 1729–1739, 2019. a
Geilfus, N.-X., Munson, K., Sousa, J., Germanov, Y., Bhugaloo, S., Babb, D., and Wang, F.: Distribution and impacts of microplastic incorporation within sea ice, Mar. Pollut. Bull., 145, 463–473, 2019. a
González-Pleiter, M., Edo, C., Velázquez, D., Casero-Chamorro, M. C., Leganés, F., Quesada, A., Fernández-Piñas, F., and Rosal, R.: First detection of microplastics in the freshwater of an Antarctic Specially Protected Area, Mar. Pollut. Bull., 161, 111811, https://doi.org/10.1016/j.marpolbul.2020.111811, 2020. a
Gordon, A. L.: Antarctic polar front zone, Antarctic Oceanology I, Antarctic Res. Ser., 15, 205–221, 1971. a
Gröndahl, F., Sidenmark, J., and Thomsen, A.: Survey of waste water disposal practices at Antarctic research stations, Polar Res., 28, 298–306, 2009. a
Hermabessiere, L., Dehaut, A., Paul-Pont, I., Lacroix, C., Jezequel, R., Soudant, P., and Duflos, G.: Occurrence and effects of plastic additives on marine environments and organisms: A review, Chemosphere, 182, 781–793, 2017. a
Hill, S., Murphy, E., Reid, K., Trathan, P., and Constable, A.: Modelling Southern Ocean ecosystems: krill, the food-web, and the impacts of harvesting, Biol. Rev., 81, 581–608, 2006. a
Horton, A. A. and Dixon, S. J.: Microplastics: An introduction to environmental transport processes, WIRES Water, 5, e1268, https://doi.org/10.1002/wat2.1268, 2018. a
Huiskes, A., Convey, P., and Bergstrom, D.: Trends in Antarctic Terrestrial and Limnetic Ecosystems: Antarctica as a Global Indicator, in: Trends in Antarctic Terrestrial and Limnetic Ecosystems, edited by: Bergstrom, D. M., Convey, P., and Huiskes, A. H. L., Springer, Dordrecht, https://doi.org/10.1007/1-4020-5277-4_1, 2006. a
Isobe, A., Uchiyama-Matsumoto, K., Uchida, K., and Tokai, T.: Microplastics in the Southern Ocean, Mar. Pollut. Bull., 114, 623–626, 2017. a, b
Jenouvrier, S., Holland, M., Iles, D., Labrousse, S., Landrum, L., Garnier, J., Caswell, H., Weimerskirch, H., LaRue, M., and Ji, R.: The Paris Agreement objectives will likely halt future declines of emperor penguins, Glob. Change Biol., 26, 1170–1184, 2019. a
Ji, L. N.: Study on preparation process and properties of polyethylene terephthalate (PET), Appl. Mech. Mater. Trans. Tech. Publ., 312, 406–410, 2013. a
Jolly, B., Kuma, P., McDonald, A., and Parsons, S.: An analysis of the cloud environment over the Ross Sea and Ross Ice Shelf using CloudSat/CALIPSO satellite observations: the importance of synoptic forcing, Atmos. Chem. Phys., 18, 9723–9739, https://doi.org/10.5194/acp-18-9723-2018, 2018. a
Kallenborn, R., Breivik, K., Eckhardt, S., Lunder, C. R., Manø, S., Schlabach, M., and Stohl, A.: Long-term monitoring of persistent organic pollutants (POPs) at the Norwegian Troll station in Dronning Maud Land, Antarctica, Atmos. Chem. Phys., 13, 6983–6992, https://doi.org/10.5194/acp-13-6983-2013, 2013. a
Kelly, A., Lannuzel, D., Rodemann, T., Meiners, K., and Auman, H.: Microplastic contamination in east Antarctic sea ice, Mar. Pollut. Bull., 154, 111130, https://doi.org/10.1016/j.marpolbul.2020.111130, 2020. a
Klein, M. and Fischer, E. K.: Microplastic abundance in atmospheric deposition within the Metropolitan area of Hamburg, Germany, Sci. Total Environ., 685, 96–103, https://doi.org/10.1016/j.scitotenv.2019.05.405, 2019. a
Knobloch, E., Ruffell, H., Aves, A., Pantos, O., Gaw, S., and Revell, L. E.: Comparison of Deposition Sampling Methods to Collect Airborne Microplastics in Christchurch, New Zealand, Water Air Soil Pollut., 232, 133, https://doi.org/10.1007/s11270-021-05080-9, 2021. a, b
Kroon, F., Motti, C., Talbot, S., Sobral, P., and Puotinen, M.: A workflow for improving estimates of microplastic contamination in marine waters: A case study from North-Western Australia, Environ. Pollut., 238, 26–38, 2018. a
Lacerda, A. L. d. F., Rodrigues, L. d. S., Van Sebille, E., Rodrigues, F. L., Ribeiro, L., Secchi, E. R., Kessler, F., and Proietti, M. C.: Plastics in sea surface waters around the Antarctic Peninsula, Sci. Rep., 9, 1–12, 2019. a, b
Lacerda, A. L. d. F., Proietti, M. C., Secchi, E. R., and Taylor, J. D.: Diverse groups of fungi are associated with plastics in the surface waters of the Western South Atlantic and the Antarctic Peninsula, Mol. Ecol., 29, 1903–1918, https://doi.org/10.1111/mec.15444, 2020. a
Le Guen, C., Suaria, G., Sherley, R. B., Ryan, P. G., Aliani, S., Boehme, L., and Brierley, A. S.: Microplastic study reveals the presence of natural and synthetic fibres in the diet of King Penguins (Aptenodytes patagonicus) foraging from South Georgia, Environ. Int., 134, 105303, https://doi.org/10.1016/j.envint.2019.105303, 2020. a
Lee, J. R., Raymond, B., Bracegirdle, T. J., Chades, I., Fuller, R. A., Shaw, J. D., and Terauds, A.: Climate change drives expansion of Antarctic ice-free habitat, Nature, 547, 49–54, 2017. a
Levermore, J. M., Smith, T. E., Kelly, F. J., and Wright, S. L.: Detection of microplastics in ambient particulate matter using Raman spectral imaging and chemometric analysis, Anal. Chem., 92, 8732–8740, 2020. a
Li, F., Ginoux, P., and Ramaswamy, V.: Distribution, transport, and deposition of mineral dust in the Southern Ocean and Antarctica: Contribution of major sources, J. Geophys. Res.-Atmos., 113, D10207, https://doi.org/10.1029/2007JD009190, 2008. a
Liu, K., Wang, X., Fang, T., Xu, P., Zhu, L., and Li, D.: Source and potential risk assessment of suspended atmospheric microplastics in Shanghai, Sci. Total Environ., 675, 462–471, 2019a. a, b
Liu, K., Wu, T., Wang, X., Song, Z., Zong, C., Wei, N., and Li, D.: Consistent transport of terrestrial microplastics to the ocean through atmosphere, Environ. Sci. Technol., 53, 10612–10619, 2019b. a, b
MacLeod, M., Arp, H. P. H., Tekman, M. B., and Jahnke, A.: The global threat from plastic pollution, Science, 373, 61–65, 2021. a
Masura, J., Baker, J. E., Foster, G. D., Arthur, C., and Herring, C.: Laboratory methods for the analysis of microplastics in the marine environment: recommendations for quantifying synthetic particles in waters and sediments, Siver Spring, MD, NOAA Marine Debris Division, 31 pp., NOAA Technical Memorandum NOS-OR&R-48, https://doi.org/10.25607/OBP-604, 2015. a
Materić, D., Kasper-Giebl, A., Kau, D., Anten, M., Greilinger, M., Ludewig, E., van Sebille, E., Röckmann, T., and Holzinger, R.: Micro- and Nanoplastics in Alpine Snow: A New Method for Chemical Identification and (Semi)Quantification in the Nanogram Range, Environ. Sci. Technol., 54, 2353–2359, https://doi.org/10.1021/acs.est.9b07540, 2020. a
Materić, D., Ludewig, E., Brunner, D., Röckmann, T., and Holzinger, R.: Nanoplastics transport to the remote, high-altitude Alps, Environ. Pollut., 288, 117697, https://doi.org/10.1016/j.envpol.2021.117697, 2021. a
Mato, Y., Isobe, T., Takada, H., Kanehiro, H., Ohtake, C., and Kaminuma, T.: Plastic resin pellets as a transport medium for toxic chemicals in the marine environment, Environ. Sci. Technol., 35, 318–324, 2001. a
Matsuoka, K., Skoglund, A., Roth, G., de Pomereu, J., Griffiths, H., Headland, R., Herried, B., Katsumata, K., Le Brocq, A., Licht, K., Morgan, F., Neff, P. D., Ritz, C., Scheinert, M., Tamura, T., Van de Putte, A., van den Broeke, M., von Deschwanden, A., Deschamps-Berger, C., Van Liefferinge, B., Tronstad, S., and Melvær, Y.: Quantarctica, an integrated mapping environment for Antarctica, the Southern Ocean, and sub-Antarctic islands, Environ. Model. Softw., 140, 105015, https://doi.org/10.1016/j.envsoft.2021.105015, 2021. a, b
McConnell, J. R., Maselli, O. J., Sigl, M., Vallelonga, P., Neumann, T., Anschütz, H., Bales, R. C., Curran, M. A. J., Das, S. B., Edwards, R., Kipfstuhl, S., Layman, L., and Thomas, E. R.: Antarctic-wide array of high-resolution ice core records reveals pervasive lead pollution began in 1889 and persists today, Sci. Rep., 4, 1–5, 2014. a
Mountford, A. S. and Maqueda, M. M.: Modelling the accumulation and transport of microplastics by sea ice, J. Geophys. Res.-Ocean., 126, e2020JC016826, https://doi.org/10.1029/2020JC016826, 2020. a
Munari, C., Infantini, V., Scoponi, M., Rastelli, E., Corinaldesi, C., and Mistri, M.: Microplastics in the sediments of Terra Nova Bay (Ross Sea, Antarctica), Mar. Pollut. Bull., 122, 161–165, 2017. a, b, c
Napper, I. E. and Thompson, R. C.: Release of synthetic microplastic plastic fibres from domestic washing machines: Effects of fabric type and washing conditions, Mar. Pollut. Bull., 112, 39–45, 2016. a
Neff, P. D. and Bertler, N. A.: Trajectory modeling of modern dust transport to the Southern Ocean and Antarctica, J. Geophys. Res.-Atmos., 120, 9303–9322, 2015. a
Parish, T. R., Cassano, J. J., and Seefeldt, M. W.: Characteristics of the Ross Ice Shelf air stream as depicted in Antarctic Mesoscale Prediction System simulations, J. Geophys. Res.-Atmos., 111, D12109, https://doi.org/10.1029/2005JD006185, 2006. a
Peck, L. S.: Antarctic marine biodiversity: adaptations, environments and responses to change, in: Oceanography and Marine Biology, edited by: Hawkins, S. J., Evans, A. J., Dale, A. C., Firth, L. B., and Smith, I. P., 1st Edn., CRC Press, https://doi.org/10.1201/9780429454455, 2018. a
Primpke, S., Wirth, M., Lorenz, C., and Gerdts, G.: Reference database design for the automated analysis of microplastic samples based on Fourier transform infrared (FTIR) spectroscopy, Anal. Bioanal. Chem., 410, 5131–5141, 2018. a
Reed, S., Clark, M., Thompson, R., and Hughes, K. A.: Microplastics in marine sediments near Rothera research station, Antarctica, Mar. Pollut. Bull., 133, 460–463, 2018. a
Revell, L. E., Kuma, P., Le Ru, E. C., Somerville, W. R. C., and Gaw, S.: Direct radiative effects of airborne microplastics, Nature, 598, 462–467, https://doi.org/10.1038/s41586-021-03864-x, 2021. a, b
Rios, L. M., Moore, C., and Jones, P. R.: Persistent organic pollutants carried by synthetic polymers in the ocean environment, Mar. Pollut. Bull., 54, 1230–1237, 2007. a
Ryan, P. G.: A Brief History of Marine Litter Research, in: Marine Anthropogenic Litter, edited by: Bergmann, M., Gutow, L., and Klages, M., Springer, Cham, https://doi.org/10.1007/978-3-319-16510-3_1, 2015. a
Seefeldt, M. W. and Cassano, J. J.: A description of the Ross Ice Shelf air stream (RAS) through the use of self‐organizing maps (SOMs), J. Geophys. Res.-Atmos., 117, D09112, https://doi.org/10.1029/2011JD016857, 2012. a
Shim, W. J., Hong, S. H., and Eo, S. E.: Identification methods in microplastic analysis: a review, Anal. Method., 9, 1384–1391, 2017. a
Stark, J. S., Corbett, P. A., Dunshea, G., Johnstone, G., King, C., Mondon, J. A., Power, M. L., Samuel, A., Snape, I., and Riddle, M.: The environmental impact of sewage and wastewater outfalls in Antarctica: An example from Davis station, East Antarctica, Water Res., 105, 602–614, 2016. a
Stein, A., Draxler, R. R., Rolph, G. D., Stunder, B. J., Cohen, M., and Ngan, F.: NOAA's HYSPLIT atmospheric transport and dispersion modeling system, Bull. Am. Meteorol. Soc., 96, 2059–2077, 2015. a, b
Suaria, G., Perold, V., Lee, J. R., Lebouard, F., Aliani, S., and Ryan, P. G.: Floating macro-and microplastics around the Southern Ocean: Results from the Antarctic Circumnavigation Expedition, Environ. Int., 136, 105494, https://doi.org/10.1016/j.envint.2020.105494, 2020. a
Tao, D., Zhang, K., Xu, S., Lin, H., Liu, Y., Kang, J., Yim, T., Giesy, J. P., and Leung, K. M.: Microfibers Released into the Air from a Household Tumble Dryer, Environ. Sci. Tech. Let., 9, 120–126, https://doi.org/10.1021/acs.estlett.1c00911, 2022. a
Tin, T., Lamers, M., Liggett, D., Maher, P. T., and Hughes, K. A.: Setting the Scene: Human Activities, Environmental Impacts and Governance Arrangements in Antarctica, in: Antarctic Futures, edited by: Tin, T., Liggett, D., Maher, P., and Lamers, M., Springer, Dordrecht, https://doi.org/10.1007/978-94-007-6582-5_1, 2014. a
Tin, T., Summerson, R., and Yang, H. R.: Wilderness or pure land: tourists' perceptions of Antarctica, Polar J., 6, 307–327, 2016. a
Van Cauwenberghe, L., Vanreusel, A., Mees, J., and Janssen, C. R.: Microplastic pollution in deep-sea sediments, Environ. Pollut., 182, 495–499, 2013. a, b
Vandermeersch, G., Van Cauwenberghe, L., Janssen, C.R., Marques, A., Granby, K., Fait, G., Kotterman, M.J., Diogène, J., Bekaert, K., Robbens, J. and Devriese, L.: A critical view on microplastic quantification in aquatic organisms, Environ. Res., 143, 46–55, 2015. a
Waller, C. L., Griffiths, H. J., Waluda, C. M., Thorpe, S. E., Loaiza, I., Moreno, B., Pacherres, C. O., and Hughes, K. A.: Microplastics in the Antarctic marine system: an emerging area of research, Sci. Total Environ., 598, 220–227, 2017. a, b
Williamson, C. E., Neale, P. J., Hylander, S., Rose, K. C., Figueroa, F. L., Robinson, S. A., Häder, D.-P., Wängberg, S., and Worrest, R. C.: The interactive effects of stratospheric ozone depletion, UV radiation, and climate change on aquatic ecosystems, Photochem. Photobiol. Sci., 18, 717–746, 2019. a
Wright, S. L., Thompson, R. C., and Galloway, T. S.: The physical impacts of microplastics on marine organisms: a review, Environ. Pollut., 178, 483–492, 2013.  a
Zhang, Y., Gao, T., Kang, S., Allen, S., Luo, X., and Allen, D.: Microplastics in glaciers of the Tibetan Plateau: Evidence for the long-range transport of microplastics, Sci. Total Environ., 758, 143634, https://doi.org/10.1016/j.scitotenv.2020.143634, 2021. a