Articles | Volume 15, issue 12
https://doi.org/10.5194/tc-15-5717-2021
© Author(s) 2021. This work is distributed under
the Creative Commons Attribution 4.0 License.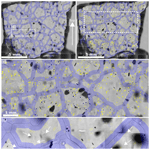 Microstructure, micro-inclusions, and mineralogy along the EGRIP ice core – Part 1: Localisation of inclusions and deformation patterns
Impurities deposited in polar ice enable the reconstruction of the atmospheric aerosol concentration of the past. At the same time they impact the physical properties of the ice itself such as its deformation behaviour. Impurities are thought to enhance ice deformation, but observations are ambiguous due to a shortage of comprehensive microstructural analyses. For the first time, we systematically analyse micro-inclusions in polar fast flowing ice, i.e. from the East Greenland Ice Core Project ice core drilled through the Northeast Greenland Ice Stream. In direct relation to the inclusions we derive the crystal preferred orientation, fabric, grain size, and microstructural features at 10 depths, covering the Holocene and Late Glacial. We use optical microscopy to create microstructure maps to analyse the in situ locations of inclusions in the polycrystalline, solid ice samples. Micro-inclusions are more variable in spatial distribution than previously observed and show various distributional patterns ranging from centimetre-thick layers to clusters and solitary particles, independent of depth. In half of all samples, micro-inclusions are more often located at or close to the grain boundaries by a slight margin (in the areas occupied by grain boundaries). Throughout all samples we find strong indications of dynamic recrystallisation, such as grain islands, bulging grains, and different types of sub-grain boundaries. We discuss the spatial variability in micro-inclusions, the link between spatial variability and mineralogy, and possible effects on the microstructure and deformation behaviour of the ice. Our results emphasise the need for holistic approaches in future studies, combining microstructure and impurity analysis.
Received: 23 Jun 2021 – Discussion started: 06 Jul 2021 – Revised: 17 Oct 2021 – Accepted: 07 Nov 2021 – Published: 20 Dec 2021
Polar ice sheets are key elements of our climate system, and deep ice cores from these regions are used for, but not limited to, the reconstruction of the palaeoclimate (e.g. Lorius et al., 1985; Petit et al., 1999; Watanabe et al., 2003; EPICA Community Members, 2004; Dahl-Jensen et al., 2013) and the investigation of the dynamics of ice in ice sheets (e.g. Alley, 1988; Weikusat et al., 2017a). The atmospheric aerosol concentration is partly imprinted in the snow at the surface. As the snow transforms to ice, the deposited aerosols either dissolve in the ice structure or form micro-inclusions. With time they get transported into deeper regions in the ice sheet. As ice crystals are separated by dynamically changing interfaces, i.e. grain boundaries, they undergo constant changes in response to stress and strain resulting in different crystal shapes, sizes, and orientations. Therefore ice cores enable the gathering of information about the internal deformation of polar ice and its mechanisms as the localised characteristics determine the large-scale deformation behaviour.
The deformation characteristics of ice strongly impact the flow of ice sheets. The quality of future projections of the ice sheets and their ice flow under changing climate conditions strongly depends on the understanding of ice dynamics on all scales. Especially the mechanisms controlling fast flowing ice stream dynamics and the relation to the slow-moving ice outside the ice streams are insufficient (Minchew et al., 2018, 2019; Stearns and van der Veen, 2019).
To improve the understanding of large-scale ice dynamics, processes in the microstructure of ice, i.e. on the millimetre and centimetre scale, have to be understood as they control the strain rate. The main deformation process of ice crystals is dislocation creep, which describes the movement of dislocations in the basal plane in combination with climb (Glen and Jones, 1967; Weertman, 1973; Hobbs, 1974; Petrenko and Whitworth, 1999). The preferred orientation of crystals plays an important role for the deformation of ice; however, under certain boundary conditions, it is further impacted by other properties such as grain size (e.g. Goldsby and Kohlstedt, 1997; Cuffey et al., 2000; Kuiper et al., 2020b), crystal preferred orientation (CPO), and also impurity content (e.g. Glen and Jones, 1967; Jones and Glen, 1969; Fisher and Koerner, 1986). The relationship between CPO, grain size, and impurity content and how they impact deformation is still under debate (Stoll et al., 2021a). Nevertheless, the impact of impurities on the microstructural deformation has been shown to play a significant role and needs further investigation.
In this study, we define impurities as extrinsic chemical compounds found in the ice which can be separated into soluble and insoluble impurities. They were deposited on the ice sheet and originated from a variety of atmospheric aerosols with unique transport histories (Legrand and Mayewski, 1997; Weiss et al., 2002). Soluble impurities dissolve in the lattice and originate from dissolved gases or from salts dissociated into ions (Legrand and Mayewski, 1997; Della Lunga et al., 2014). Those impurities are chemical compounds and elements of diverse origin (marine, terrestrial, biological, atmospheric). Insoluble impurities consist of lattice-incoherent phases and are rejected from the ice lattice (Ashby, 1969; Alley et al., 1986a). They are often from terrestrial origin, such as dust, and vary in size, ranging from micrometre-sized "micro-inclusions" to large dust particles (Steffensen, 1997; Wegner et al., 2015; Simonsen et al., 2019).
Impurities impact the physical properties of snow, firn, and ice at all depths, ranging from permittivity (Wilhelms et al., 1998) to electrical conductivity (Alley and Woods, 1996; Wolff et al., 1997), and mechanical properties (Dahl-Jensen and Gundestrup, 1987; Paterson, 1991; Weiss et al., 2002; Hörhold et al., 2012; Fujita et al., 2014; Moser et al., 2020). Especially the impact of impurities on the deformation of ice has been investigated for decades (e.g. Jones and Glen, 1969; Petit et al., 1987; Fukazawa et al., 1998; Iliescu and Baker, 2008; Eichler et al., 2019; Stoll et al., 2021a). Impurities can have indirect effects on the deformation of ice; i.e. they affect stress-accommodating mechanisms such as recrystallisation. In this case, the microstructure (grain shape and size) is impacted by impurities which control grain boundary mobility, energy, and length by, for example, dragging of grain boundaries (Alley et al., 1986a, 1989) or Zener pinning (Smith, 1948; Humphreys and Hatherly, 2004). Impurities can have a direct impact by multiplying dislocations or increasing their mobility. This happens when there are obstacles, such as micro-inclusions, in the ice matrix which produce strain localisation, and thus new dislocation lines (Weertman and Weertman, 1992), or occupy lattice sites introducing protonic defects (Glen, 1968).
Thus, understanding the microstructural impurity localisation is significant regarding dielectric properties (Stillman et al., 2013), the stratigraphic integrity of impurity records in deep polar ice (Faria et al., 2014a; Ng, 2021), and deformational properties (e.g. Dahl-Jensen et al., 1997; Barnes et al., 2002a; Della Lunga et al., 2014; Eichler et al., 2017; Shigeyama et al., 2019). Ice core impurity content in ice cores is often measured by meltwater analysis such as continuous melt water analysis (CFA) (e.g. Röthlisberger et al., 2000; McConnell et al., 2002; Kaufmann et al., 2008) and/or ion chromatography (e.g. Cole-Dai et al., 2006; Severi et al., 2014). However the information on the in situ microstructural localisation, composition, and form of impurities is lost.
Samples from several ice cores have been analysed with methods enabling the location of impurities, such as optical microscopy (e.g. Kipfstuhl et al., 2006; Faria et al., 2010; Eichler et al., 2017), scanning electron microscope (SEM) coupled with energy dispersive X-ray spectroscopy (EDS) (e.g. Cullen and Baker, 2000; Barnes et al., 2002a; Obbard and Baker, 2007), LA-ICP-MS (e.g. Reinhardt et al., 2001; Della Lunga et al., 2014; Spaulding et al., 2017; Bohleber et al., 2020), and Raman spectroscopy (e.g. Ohno et al., 2005; Sakurai et al., 2011; Ohno et al., 2014; Eichler et al., 2019). Results were diverse, and often ambiguous, and were recently summarised by Stoll et al. (2021a). A major impediment is the often small number of analysed samples and limited amounts of measured impurities. Furthermore, samples often originate from more or less arbitrary depths, allowing glimpses into specific depth regimes with highly variable boundary conditions (e.g. age, bulk impurity content). Discussed generalisations of spatial distribution and the conclusions drawn on deformation effects were seldom based on systematic analyses, i.e. along a specific section of an ice core. Furthermore, the large variety in applied methods, sample origins, and analysed impurity forms (soluble, insoluble, elements, compounds) impede the drawing of reliable conclusions for polar ice in general. Stoll et al. (2021a) concluded that, among others, structured methodological approaches are needed to enhance our understanding of the role of impurities regarding the deformation of ice. One promising approach is a systematic high-resolution analysis of one deep ice core combining methods from microstructure and impurity research.
Even though impurities do play a significant role in ice deformation, the specific species or processes are not understood also due to limitations by measurement techniques or previous measurement set-ups. Which minerals are found throughout polar ice? In which state are impurities found and does their state influence their location in respect to grain boundaries and the crystal lattice? Finally, which of these (and probably many others) properties impact the deformation rate of ice and are they vice versa affected by deforming ice? The ongoing East Greenland Ice Core Project (EGRIP) located on the Northeast Greenland Ice Stream (NEGIS) is a chance to address these questions. The EGRIP core is the first deep ice core from an ice stream and thus a unique possibility to study ice dynamics in detail as displayed in recent CPO and visual stratigraphy data (Westhoff et al., 2020).
Addressing these interdisciplinary questions is extensive work and is thus presented in two companion papers. In this study we investigate the localisation of visible micro-inclusions and deformation patterns along the EGRIP ice core, while Stoll et al. (2021b) analyse the mineralogy of these micro-inclusions. Here we apply optical microscopy and automated fabric analyser measurements with related statistical analyses of the microstructure on 10 samples covering Holocene and Late Glacial ice. We aim to give a systematic overview of the microstructural locations of micro-inclusions and of the evolution of the microstructure and discuss mineralogy-dependent spatial patterns. Finally, we elaborate on the effects of micro-inclusions on the deformation behaviour as seen in the microstructure of the EGRIP ice core.
We here derive the first systematic analysis of the microstructural location of micro-inclusions in Holocene and Late Glacial ice from the EGRIP ice core, the first deep ice core from a fast flowing ice stream. The analysis of grain size, CPO, and microstructural features along the core was accompanied by an investigation of the locations of micro-inclusions with respect to grain boundaries. The spatial distribution of micro-inclusions is highly diverse and strongly depends on the applied scale. Micro-inclusions are found in centimetre-thick layers, in local clusters and rows, and alone. We quantify the relationship between micro-inclusions and grain boundaries and show that roughly two-thirds of all micro-inclusions are located in the grain interior. However, in half of all samples, grain boundaries are slightly more preferred locations than presumed from the grain boundary area. No significant relationship between depth and micro-inclusion distribution in relation to the microstructure was found. The combination of optical microscopy and cryo-Raman spectroscopy shows that minerals, such as feldspar, seem to be more likely located in the vicinity of grain boundaries which could be caused by the interface properties due to their crystallographic structures, inclusion–ice interface properties, or the structure of grain boundaries in ice.
Extensional deformation is the dominant deformation regime in our samples. However, no direct effects of micro-inclusions on the microstructure, such as typical local pinning microstructures, were observed. Observed clustering of micro-inclusions could indicate post-depositional movement of micro-inclusions, which would imply possible effects on ice crystals already at shallow depths. All samples showed extensive implications of dynamic recrystallisation, such as bulging grains, grain islands, and different types of sub-grain boundaries, implying high internal strains and stresses but no direct link to the location of the micro-inclusions. Grain boundary mobility is possibly reduced (overall not locally) by dissolved impurities, changing interface properties, or the grain boundary structure impacted by impurities. Observing and defining the impact of impurities on the deformation of ice continues to be a challenge which might need new methodological approaches. Our systematic overview of micro-inclusions throughout a large part of one ice core is a step forward towards more holistic impurity and microstructure studies and thus a better understanding of the physical properties of polar ice.
The study was conceptualised by NiS, IW, and MH. Microstructure mapping and Raman methodology were developed by NiS, JE, and IW. Microstructure and Raman measurements were conducted by NiS. CFA micro-particle data were provided by CJ and TE. Investigation and data curation were done by NiS. Data analysis was done by NiS, TE, and CJ. Interpretation of the data was done by NiS, JE, TE, MH, and IW. Funding acquisition for NiS was done by IW. The manuscript was written by NiS with assistance from all co-authors.
The contact author has declared that neither they nor their co-authors have any competing interests.
Publisher's note: Copernicus Publications remains neutral with regard to jurisdictional claims in published maps and institutional affiliations.
This work was carried out as part of the Helmholtz Junior Research group "The effect of deformation mechanisms for ice sheet dynamics" (VH-NG-802). We especially thank the EGRIP physical properties team, for example, Johanna Kerch, Ina Kleitz, Daniela Jansen, Sebastian Hellmann, Wataru Shigeyama, Julien Westhoff, Ernst-Jan Kuiper, Tomoyuki Homma, Steven Franke, and David Wallis. We also thank all other EGRIP participants for logistical support, ice processing, and fruitful discussions. EGRIP is directed and organised by the Centre for Ice and Climate at the Niels Bohr Institute, University of Copenhagen. It is supported by funding agencies and institutions in Denmark (A. P. Møller Foundation, University of Copenhagen), USA (US National Science Foundation, Office of Polar Programs), Germany (Alfred Wegener Institute, Helmholtz Centre for Polar and Marine Research), Japan (National Institute of Polar Research and Arctic Challenge for Sustainability), Norway (University of Bergen and Trond Mohn Foundation), Switzerland (Swiss National Science Foundation), France (French Polar Institute Paul-Emile Victor, Institute for Geosciences and Environmental research), Canada (University of Manitoba), and China (Chinese Academy of Sciences and Beijing Normal University). Tobias Erhardt and Camilla Jensen gratefully acknowledge the long-term financial support of ice core research at the University of Bern by the Swiss National Science Foundation (grant nos. 200020_172506 (iCEP) and 20FI21_164190 (EGRIP).
This research has been supported by the Helmholtz Association (grant no. VH-NG-802) and the Schweizerischer Nationalfonds zur Förderung der Wissenschaftlichen Forschung (grant nos. 200020_172506 (iCEP) and 20FI21_164190 (EGRIP)).

The article processing charges for this open-access publication were covered by the Alfred Wegener Institute, Helmholtz Centre for Polar and Marine Research (AWI).
This paper was edited by Melody Sandells and reviewed by Zoe Courville and Maurine Montagnat.
Ahmad, S., Ohtomo, M., and Whitworth, R. W.: Observation of a dislocation source in ice by synchrotron radiation topography, Nature, 319, 659–660, https://doi.org/10.1038/319659a0, 1986. a
Alley, R., Perepezko, J., and Bentley, C. R.: Grain Growth in Polar Ice: I. Theory, J. Glaciol., 32, 415–424, https://doi.org/10.3189/S0022143000012132, 1986a. a, b, c
Alley, R. B.: Fabrics in polar ice sheets: Development and prediction, Science, 240, 493–495, https://doi.org/10.1126/science.240.4851.493, 1988. a
Alley, R. B. and Woods, G. A.: Impurity influence on normal grain growth in the GISP2 ice core, Greenland, J. Glaciol., 42, 255–260, 1996. a, b
Alley, R. B., Blankenship, D. D., Bentley, C. R., and Rooney, S. T.: Deformation of till beneath ice stream B, West Antarctica, Nature, 322, 57, https://doi.org/10.1038/322057a0, 1986. a, b
Alley, R. B., Blankenship, D. D., Rooney, S. T., and Bentley, C. R.: Water-pressure coupling of sliding and bed deformation: III. Application to Ice Stream B, Antarctica, J. Glaciol., 35, 130–139, 1989. a
Ashby, M. F.: Boundary defects and the mechanism of particle movement through crystals, Scripta Metall. Mater., 3, 843–848, https://doi.org/10.1016/0036-9748(69)90192-6, 1969. a
Azuma, N., Miyakoshi, T., Yokoyama, S., and Takata, M.: Impeding effect of air bubbles on normal grain growth of ice, J. Struct. Geol., 42, 184–193, https://doi.org/10.1016/j.jsg.2012.05.005, 2012. a, b, c
Baccolo, G., Cibin, G., Delmonte, B., Hampai, D., Marcelli, A., Stefano, E. D., Macis, S., and Maggi, V.: The Contribution of Synchrotron Light for the Characterization of Atmospheric Mineral Dust in Deep Ice Cores: Preliminary Results from the Talos Dome Ice Core ( East Antarctica ), Condensed Matter, 3, 25, https://doi.org/10.3390/condmat3030025, 2018. a
Baker, I. and Cullen, D.: SEM/EDS observations of impurities in polar ice: artifacts or not?, J. Glaciol., 49, 184–190, 2003. a
Barnes, P. R. F. and Wolff, E. W.: Distribution of soluble impurities in cold glacial ice, J. Glaciol., 50, 311–324, https://doi.org/10.3189/172756504781829918, 2004. a
Barnes, P. R. F., Mulvaney, R., Robinson, K., and Wolff, E. W.: Observations of polar ice from the Holocene and the glacial period using the scanning electron microscope, Ann. Glaciol., 35, 559–566, 2002a. a, b
Barnes, P. R. F., Mulvaney, R., Wolff, E. W., and Robinson, K.: A technique for the examination of polar ice using the scaning electron microscope, J. Microsc., 205, 118–124, 2002b. a
Barnes, P. R. F., Wolff, E. W., Mader, H. M., Udisti, R., Castellano, E., and Röthlisberger, R.: Evolution of chemical peak shapes in the Dome C, Antarctica, ice core, J. Geophys. Res., 108, 4126, https://doi.org/10.1029/2002JD002538, 2003. a
Bayer-Giraldi, M., Sazaki, G., Nagashima, K., Kipfstuhl, S., Vorontsov, D. A., and Furukawa, Y.: Growth suppression of ice crystal basal face in the presence of a moderate ice-binding protein does not confer hyperactivity, P. Natl. Acad. Sci. USA, 115, 7479–7484, https://doi.org/10.1073/pnas.1807461115, 2018. a
Bohleber, P., Roman, M., Šala, M., and Barbante, C.: Imaging the impurity distribution in glacier ice cores with LA-ICP-MS, J. Analyt. Atomic Spectrom., https://doi.org/10.1039/d0ja00170h, 2020. a, b, c, d, e, f
Bohleber, P., Roman, M., Šala, M., Delmonte, B., Stenni, B., and Barbante, C.: Two-dimensional impurity imaging in deep Antarctic ice cores: snapshots of three climatic periods and implications for high-resolution signal interpretation, The Cryosphere, 15, 3523–3538, https://doi.org/10.5194/tc-15-3523-2021, 2021. a, b
Chauve, T., Montagnat, M., Piazolo, S., Journaux, B., Wheeler, J., Barou, F., Mainprice, D., and Tommasi, A.: Non-basal dislocations should be accounted for in simulating ice mass flow, Earth Planet. Sc. Lett., 473, 247–255, https://doi.org/10.1016/j.epsl.2017.06.020, 2017. a
Cole-Dai, J., Budner, D. M., and Ferris, D. G.: High Speed, High Resolution, and Continuous Chemical Analysis of Ice Cores Using a Melter and Ion Chromatography, Environ. Sci. Technol., 40, 6764–6769, https://doi.org/10.1021/es061188a, 2006. a
Cuffey, K. M., Conway, H., Gades, A., Hallet, B., Raymond, C. F., and Whitlow, S.: Deformation properties of subfreezing glacier ice: Role of crystal size , chemical impurities , and rock particles inferred from in situ measurements, J. Geophys. Res., 105, 27895–27915, 2000. a, b
Cullen, D. and Baker, I.: The chemistry of grain boundaries in Greenland ice, J. Glaciol., 46, 703–706, 2000. a, b
Cullen, D. and Baker, I.: Observation of Impurities in Ice, Microsc. Res. Tech., 207, 198–207, 2001. a
Dahl-Jensen, D. and Gundestrup, N. S.: Constitutive properties of ice at Dye 3, Greenland, International Association of Hydrological Sciences Publication, 31–43, available at: http://hydrologie.org/redbooks/a170/iahs_170_0031.pdf (last access: 2 June 2021), 1987. a
Dahl-Jensen, D., Thorsteinsson, T., Alley, R., and Shoji, H.: Flow properties of the ice from the Greenland Ice Core Project ice core: The reason for folds?, J. Geophys. Res.-Oceans, 102, 26831–26840, https://doi.org/10.1029/97JC01266, 1997. a, b
Dahl-Jensen, D., Albert, M. R., Aldahan, A., Azuma, N., Balslev-Clausen, D., Baumgartner, M., Berggren, A. M., Bigler, M., Binder, T., Blunier, T., Bourgeois, J. C., Brook, E. J., Buchardt, S. L., Buizert, C., Capron, E., Chappellaz, J., Chung, J., Clausen, H. B., Cvijanovic, I., Davies, S. M., Ditlevsen, P., Eicher, O., Fischer, H., Fisher, D. A., Fleet, L. G., Gfeller, G., Gkinis, V., Gogineni, S., Goto-Azuma, K., Grinsted, A., Gudlaugsdottir, H., Guillevic, M., Hansen, S. B., Hansson, M., Hirabayashi, M., Hong, S., Hur, S. D., Huybrechts, P., Hvidberg, C. S., Iizuka, Y., Jenk, T., Johnsen, S. J., Jones, T. R., Jouzel, J., Karlsson, N. B., Kawamura, K., Keegan, K., Kettner, E., Kipfstuhl, S., Kjær, H. A., Koutnik, M., Kuramoto, T., Köhler, P., Laepple, T., Landais, A., Langen, P. L., Larsen, L. B., Leuenberger, D., Leuenberger, M., Leuschen, C., Li, J., Lipenkov, V., Martinerie, P., Maselli, O. J., Masson-Delmotte, V., McConnell, J. R., Miller, H., Mini, O., Miyamoto, A., Montagnat-Rentier, M., Mulvaney, R., Muscheler, R., Orsi, A. J., Paden, J., Panton, C., Pattyn, F., Petit, J. R., Pol, K., Popp, T., Possnert, G., Prié, F., Prokopiou, M., Quiquet, A., Rasmussen, S. O., Raynaud, D., Ren, J., Reutenauer, C., Ritz, C., Röckmann, T., Rosen, J. L., Rubino, M., Rybak, O., Samyn, D., Sapart, C. J., Schilt, A., Schmidt, A. M., Schwander, J., Schüpbach, S., Seierstad, I., Severinghaus, J. P., Sheldon, S., Simonsen, S. B., Sjolte, J., Solgaard, A. M., Sowers, T., Sperlich, P., Steen-Larsen, H. C., Steffen, K., Steffensen, J. P., Steinhage, D., Stocker, T. F., Stowasser, C., Sturevik, A. S., Sturges, W. T., Sveinbjörnsdottir, A., Svensson, A., Tison, J. L., Uetake, J., Vallelonga, P., Van De Wal, R. S., Van Der Wel, G., Vaughn, B. H., Vinther, B., Waddington, E., Wegner, A., Weikusat, I., White, J. W., Wilhelms, F., Winstrup, M., Witrant, E., Wolff, E. W., Xiao, C., and Zheng, J.: Eemian interglacial reconstructed from a Greenland folded ice core, Nature, 493, 489–494, https://doi.org/10.1038/nature11789, 2013. a
de Angelis, M., Morel-Fourcade, M.-C., Barnola, J.-M., Susini, J., and Duval, P.: Brine micro-droplets and solid inclusions in accreted ice from Lake Vostok (East Antarctica), Geophys. Res. Lett., 32, L12501, https://doi.org/10.1029/2005GL022460, 2005. a
de Angelis, M., Tison, J. L., Morel-Fourcade, M. C., and Susini, J.: Micro-investigation of EPICA Dome C bottom ice: Evidence of long term in situ processes involving acid-salt interactions, mineral dust, and organic matter, Quaternary Sci. Rev., 78, 248–265, https://doi.org/10.1016/j.quascirev.2013.08.012, 2013. a, b, c, d
Della Lunga, D., Müller, W., Rasmussen, S. O., and Svensson, A.: Location of cation impurities in NGRIP deep ice revealed by cryo-cell UV-laser-ablation ICPMS, J. Glaciol., 60, 970–988, https://doi.org/10.3189/2014JoG13J199, 2014. a, b, c
Della Lunga, D., Müller, W., Rasmussen, S. O., Svensson, A., and Vallelonga, P.: Calibrated cryo-cell UV-LA-ICPMS elemental concentrations from the NGRIP ice core reveal abrupt, sub-annual variability in dust across the GI-21.2 interstadial period, The Cryosphere, 11, 1297–1309, https://doi.org/10.5194/tc-11-1297-2017, 2017. a
Drury, M. R. and Urai, J. L.: Deformation-related recrystalization processes, Tectonophysics, 172, 235–253, 1990. a
Durand, G., Gagliardini, O., Thorsteinsson, T., Svensson, A., Kipfstuhl, S., and Dahl-Jensen, D.: Ice microstructure and fabric: an up-to-date approach for measuring textures, J. Glaciol., 52, 619–630, 2006. a
Durand, G., Persson, A., Samyn, D., and Svensson, A.: Relation between neighbouring grains in the upper part of the NorthGRIP ice core – Implications for rotation recrystallization, Earth Planet. Sc. Lett., 265, 666–671, https://doi.org/10.1016/j.epsl.2007.11.002, 2008. a
Eichler, J.: C-axis analysis of the NEEM ice core: an approach based on digital image processing, PhD thesis, Freie Universität Berlin, Berlin, 2013. a, b
Eichler, J., Kleitz, I., Bayer-Giraldi, M., Jansen, D., Kipfstuhl, S., Shigeyama, W., Weikusat, C., and Weikusat, I.: Location and distribution of micro-inclusions in the EDML and NEEM ice cores using optical microscopy and in situ Raman spectroscopy, The Cryosphere, 11, 1075–1090, https://doi.org/10.5194/tc-11-1075-2017, 2017. a, b, c, d, e, f, g, h, i, j, k, l
Eichler, J., Weikusat, C., Wegner, A., Twarloh, B., Behrens, M., Fischer, H., Hörhold, M., Jansen, D., Kipfstuhl, S., Ruth, U., Wilhelms, F., and Weikusat, I.: Impurity Analysis and Microstructure Along the Climatic Transition From MIS 6 Into 5e in the EDML Ice Core Using Cryo-Raman Microscopy, Front. Earth Sci., 7, 1–16, https://doi.org/10.3389/feart.2019.00020, 2019. a, b, c, d, e, f, g
EPICA Community Members: Eight glacial cycles from an Antarctic ice core EPICA community members, Nature, 429, 623–628, 2004. a
Fahnestock, M., Abdalati, W., Joughin, I., Brozena, J., and Gogineni, P.: High Geothermal Heat Flow, Basal Melt, and the Origin of Rapid Ice Flow in Central Greenland, Science, 294, 2338–2342, https://doi.org/10.1126/science.1065370, 2001. a
Faria, S. H., Freitag, J., and Kipfstuhl, S.: Polar ice structure and the integrity of ice-core paleoclimate records, Quaternary Sci. Rev., 29, 338–351, https://doi.org/10.1016/j.quascirev.2009.10.016, 2010. a, b, c, d
Faria, S. H., Weikusat, I., and Azuma, N.: The microstructure of polar ice. Part I: Highlights from ice core research, J. Struct. Geol., 61, 2–20, https://doi.org/10.1016/j.jsg.2013.09.010, 2014a. a
Faria, S. H., Weikusat, I., and Azuma, N.: The microstructure of polar ice. Part II: State of the art, J. Struct. Geol., 61, 21–49, https://doi.org/10.1016/j.jsg.2013.11.003, 2014b. a, b, c, d, e, f
Fenter, P., Teng, H., Geissbühler, P., Hanchar, J., Nagy, K., and Sturchio, N.: Atomic-scale structure of the orthoclase (001)–water interface measured with high-resolution X-ray reflectivity, Geochim. Cosmochim. Ac., 64, 3663–3673, https://doi.org/10.1016/S0016-7037(00)00455-5, 2000. a
Fisher, B. D. A. and Koerner, R. M.: On The special Rheological Properties of ancient Microparticles-laden Northern Hemisphere Ice as derived from Borehole and Core Measurements, J. Glaciol., 32, 501–510, 1986. a, b, c, d
Fitzpatrick, J. J., Voigt, D. E., Fegyveresi, J. M., Stevens, N. T., Spencer, M. K., Cole-Dai, J., Alley, R. B., Jardine, G. E., Cravens, E. D., Wilen, L. A., Fudge, T., and Mcconnell, J. R.: Physical properties of the WAIS Divide ice core, J. Glaciol., 60, 1181–1198, https://doi.org/10.3189/2014JoG14J100, 2014. a
Frank, F. C. and Read, W. T.: Multiplication Processes for Slow Moving Dislocations, Phys. Rev., 79, 722–723, https://doi.org/10.1103/PhysRev.79.722, 1950. a
Fujita, S., Hirabayashi, M., Goto-Azuma, K., Dallmayr, R., Satow, K., Zheng, J., and Dahl-Jensen, D.: Densification of layered firn of the ice sheet at NEEM, Greenland, J. Glaciol., 60, 905–921, https://doi.org/10.3189/2014JoG14J006, 2014. a
Fukazawa, H., Sugiyama, K., Shinji, M., Narita, H., and Hondoh, T.: Acid ions at triple junction of Antarctic ice observed by Raman scattering, Geophys. Res. Lett., 25, 2845–2848, 1998. a
Glen, J. W.: The Effect of Hydrogen Disorder on Dislocation Movement and Plastic Deformation of Ice, Physik der kondensierten Materie, 7, 43–51, 1968. a
Glen, J. W. and Jones, S. J.: The Deformation of Ice Single Crystals at Low Temperatures, Phys. Snow Ice: proceedings, 1, 267–275, 1967. a, b
Goldsby, D. L. and Kohlstedt, D. L.: Grain Boundary Sliding in Fine-grained Ice I, Scripta Mater., 37, 1399–1406, 1997. a, b
Gow, A. J. and Williamson, T.: Volcanic ash in the Antarctic Ice Sheet and its possible climatic implications, Earth Planet. Sc. Lett., 13, 210–218, 1971. a
Hobbs, P. V.: Ice physics, Oxford: Clarendon Press, Oxford, 1 edn., 1974. a, b
Hörhold, M. W., Laepple, T., Freitag, J., Bigler, M., Fischer, H., and Kipfstuhl, S.: On the impact of impurities on the densification of polar firn, Earth Planet. Sci. Lett., 325–326, 93–99, https://doi.org/10.1016/j.epsl.2011.12.022, 2012. a
Hudson Institute of Mineralogy: mindat.org, available at: https://www.mindat.org/ (last access: 5 May 2021), 2021. a
Humphreys, F. and Hatherly, M.: Recrystallization and Related Annealing Phenomena, Elsevier, https://doi.org/10.1016/B978-0-08-044164-1.X5000-2, 2004. a, b
Hvidberg, C. S., Grinsted, A., Dahl-Jensen, D., Khan, S. A., Kusk, A., Andersen, J. K., Neckel, N., Solgaard, A., Karlsson, N. B., Kjær, H. A., and Vallelonga, P.: Surface velocity of the Northeast Greenland Ice Stream (NEGIS): assessment of interior velocities derived from satellite data by GPS, The Cryosphere, 14, 3487–3502, https://doi.org/10.5194/tc-14-3487-2020, 2020. a, b
Iliescu, D. and Baker, I.: Effects of impurities and their redistribution during recrystallization of ice crystals, J. Glaciol., 54, 362–370, 2008. a, b
Jacka, T. and Li, J.: The steady-state crystal size of deforming ice, Ann. Glaciol., 20, 13–18, https://doi.org/10.1017/S0260305500016165, 1994. a
Jones, S. J. and Glen, J. W.: The effect of dissolved impurities on the mechanical properties of ice crystals, Philos. Mag., 19, 13–24, https://doi.org/10.1080/14786436908217758, 1969. a, b
Joughin, I., Smith, B. E., Howat, I. M., Scambos, T., and Moon, T.: Greenland flow variability from ice-sheet-wide velocity mapping, J. Glaciol., 56, 415–430, https://doi.org/10.3189/002214310792447734, 2010. a
Joughin, I., Smith, B. E., and Howat, I. M.: A complete map of Greenland ice velocity derived from satellite data collected over 20 years, J. Glaciol., 64, 1–11, https://doi.org/10.1017/jog.2017.73, 2017. a
Karato, S.-i., Toriumi, M., and Fujii, T.: Dynamic recrystallization of olivine single crystals during high-temperature creep, Geophys. Res. Lett., 7, 649–652, https://doi.org/10.1029/GL007i009p00649, 1980. a
Kaufmann, P. R., Federer, U., Hutterli, M. A., Bigler, M., Schüpbach, S., Ruth, U., Schmitt, J., and Stocker, T. F.: An Improved Continuous Flow Analysis System for High-Resolution Field Measurements on Ice Cores, Environ. Sci. Technol., 42, 8044–8050, https://doi.org/10.1021/es8007722, 2008. a
Kipfstuhl, Sepp, Hamann, Ilka, Lambrecht, Anja, Freitag, Johannes, Faria, Sergio, H., Grigoriev, Dimitri, Azuma, and Nobuhiko: Microstructure mapping: a new method for imaging deformation-induced microstructural features of ice on the grain scale, J. Glaciol., 52, 398–406, 2006. a, b, c, d
Kuiper, E.-J. N., de Bresser, J. H. P., Drury, M. R., Eichler, J., Pennock, G. M., and Weikusat, I.: Using a composite flow law to model deformation in the NEEM deep ice core, Greenland – Part 2: The role of grain size and premelting on ice deformation at high homologous temperature, The Cryosphere, 14, 2449–2467, https://doi.org/10.5194/tc-14-2449-2020, 2020a. a
Kuiper, E.-J. N., Weikusat, I., de Bresser, J. H. P., Jansen, D., Pennock, G. M., and Drury, M. R.: Using a composite flow law to model deformation in the NEEM deep ice core, Greenland – Part 1: The role of grain size and grain size distribution on deformation of the upper 2207 m, The Cryosphere, 14, 2429–2448, https://doi.org/10.5194/tc-14-2429-2020, 2020b. a, b
Legrand, M. and Mayewski, P.: Glaciochemistry of polar ice cores: A review, Rev. Geophys., 35, 219–243, https://doi.org/10.1029/96RG03527, 1997. a, b
Li, J., Jacka, T. H., and Morgan, V.: Crystal-size and microparticle record in the ice core from Dome Summit South, Law Dome, East Antarctica, Ann. Glaciol., 27, 343–348, 1998. a
Lorius, C. J., Jouzel, C., Ritz, C., Merlivat, L., Barkov, N. I., Korotkevitch, Y. S., and Kotlyakov, V. M.: A 150 000 years climatic record from Antarctica, Nature, 316, 591–596, 1985. a
Mader, H. M.: The thermal behaviour of the water-vein system in polyrystalline ice, J. Glaciol., 38, 359–374, 1992. a
Masson-Delmotte, V., Stenni, B., Pol, K., Braconnot, P., Cattani, O., Falourd, S., Kageyama, M., Jouzel, J., Landais, A., Minster, B., Barnola, J. M., Chappellaz, J., Krinner, G., Johnsen, S., Röthlisberger, R., Hansen, J., Mikolajewicz, U., and Otto-Bliesner, B.: EPICA Dome C record of glacial and interglacial intensities, Quaternary Sci. Rev., 29, 113–128, https://doi.org/10.1016/j.quascirev.2009.09.030, 2010. a
McConnell, J. R., Lamorey, G. W., Lambert, S. W., and Taylor, K. C.: Continuous Ice-Core Chemical Analyses Using Inductively Coupled Plasma Mass Spectrometry, Environ. Sci. Technol., 36, 7–11, https://doi.org/10.1021/es011088z, 2002. a
Minchew, B. M., Meyer, C. R., Robel, A. A., Gudmundsson, G. H., and Simons, M.: Processes controlling the downstream evolution of ice rheology in glacier shear margins: case study on Rutford Ice Stream, West Antarctica, J. Glaciol., 64, 583–594, https://doi.org/10.1017/jog.2018.47, 2018. a
Minchew, B. M., Meyer, C. R., Pegler, S. S., Lipovsky, B. P., Rempel, A. W., Gudmundsson, G. H., and Iverson, N. R.: Comment on "Friction at the bed does not control fast glacier flow", Science, 363, eaau6055, https://doi.org/10.1126/science.aau6055, 2019. a
Mojtabavi, S., Wilhelms, F., Cook, E., Davies, S. M., Sinnl, G., Skov Jensen, M., Dahl-Jensen, D., Svensson, A., Vinther, B. M., Kipfstuhl, S., Jones, G., Karlsson, N. B., Faria, S. H., Gkinis, V., Kjær, H. A., Erhardt, T., Berben, S. M. P., Nisancioglu, K. H., Koldtoft, I., and Rasmussen, S. O.: A first chronology for the East Greenland Ice-core Project (EGRIP) over the Holocene and last glacial termination, Clim. Past, 16, 2359–2380, https://doi.org/10.5194/cp-16-2359-2020, 2020. a, b, c, d
Montagnat, M., Azuma, N., Dahl-Jensen, D., Eichler, J., Fujita, S., Gillet-Chaulet, F., Kipfstuhl, S., Samyn, D., Svensson, A., and Weikusat, I.: Fabric along the NEEM ice core, Greenland, and its comparison with GRIP and NGRIP ice cores, The Cryosphere, 8, 1129–1138, https://doi.org/10.5194/tc-8-1129-2014, 2014. a, b, c
Montagnat, M., Löwe, H., Calonne, N., Schneebeli, M., Matzl, M., and Jaggi, M.: On the Birth of Structural and Crystallographic Fabric Signals in Polar Snow: A Case Study From the EastGRIP Snowpack, Front. Earth Sci., 8, 1–23, https://doi.org/10.3389/feart.2020.00365, 2020. a
Moser, D. E., Hörhold, M., Kipfstuhl, S., and Freitag, J.: Microstructure of Snow and Its Link to Trace Elements and Isotopic Composition at Kohnen Station, Dronning Maud Land, Antarctica, Front. Earth Sci., 8, 23, https://doi.org/10.3389/feart.2020.00023, 2020. a
Nedelcu, A. F., Faria, S. H., and Kuhs, W. F.: Raman spectra of plate-like inclusions in the EPICA-DML (Antarctica) ice core, J. Glaciol., 55, 183–184, https://doi.org/10.3189/002214309788609010, 2009. a
Ng, F. S. L.: Pervasive diffusion of climate signals recorded in ice-vein ionic impurities, The Cryosphere, 15, 1787–1810, https://doi.org/10.5194/tc-15-1787-2021, 2021. a
Obbard, R. and Baker, I.: The microstructure of meteoric ice from Vostok , Antarctica, J. Glaciol., 53, 41–62, 2007. a
Ohno, H., Igarashi, M., and Hondoh, T.: Salt inclusions in polar ice core: Location and chemical form of water-soluble impurities, Earth Planet. Sc. Lett., 232, 171–178, https://doi.org/10.1016/j.epsl.2005.01.001, 2005. a, b, c, d, e
Ohno, H., Igarashi, M., and Hondoh, T.: Characteristics of salt inclusions in polar ice from Dome Fuji, East Antarctica, Geophys. Res. Lett., 33, L08501, https://doi.org/10.1029/2006GL025774, 2006. a, b
Ohno, H., Lipenkov, V. Y., and Hondoh, T.: Formation of air clathrate hydrates in polar ice sheets: heterogeneous nucleation induced by micro-inclusions, J. Glaciol., 56, 917–921, https://doi.org/10.3189/002214310794457317, 2010. a
Ohno, H., Iizuka, Y., Horikawa, S., Sakurai, T., Hondoh, T., and Motoyama, H.: Potassium alum and aluminum sulfate micro-inclusions in polar ice from Dome Fuji, East Antarctica, Polar Sci., 8, 1–9, https://doi.org/10.1016/j.polar.2013.11.003, 2014. a, b
Passchier, C. W. and Trouw, R. A. J.: Microtectonics, Springer-Verlag, Berlin/Heidelberg, 2 edn., https://doi.org/10.1007/3-540-29359-0, 2005. a, b
Paterson, W. S. B.: Why ice-age ice is sometimes "soft", Cold Reg. Sci. Technol., 20, 75–98, 1991. a, b, c, d, e
Petit, J. R., Duval, P., and Lorius, C.: Long-term climatic changes indicated by crystal growth in polar ice, Nature, 326, 62–64, 1987. a
Petit, J. R., Jouzel, J., Raynaud, D., Barkov, N. I., Barnola, J.-M., Basile, I., Bender, M., Chappellaz, J., Davisk, M., Delaygue, G., Delmotte, M., Kotlyakov, V. M., Legrand, M., Lipenkov, V. Y., Lorius, C., Pépin, L., Ritz, C., Saltzmank, E., and Stievenard, M.: Climate and atmospheric history of the past 420,000 years from the Vostok ice core, Antarctica The recent completion of drilling at Vostok station in East, Nature, 399, 429–436, 1999. a
Petrenko, V. F. and Whitworth, R. W.: Physics of ice, Clarendon Press, London, 1999. a, b
Piazolo, S., Montagnat, M., and Blackford, J. R.: Sub-structure characterization of experimentally and naturally deformed ice using cryo-EBSD, J. Microsc., 230, 509–519, https://doi.org/10.1111/j.1365-2818.2008.02014.x, 2008. a
Poirier, J.-P.: Creep of Crystals, Cambridge University Press, https://doi.org/10.1017/CBO9780511564451, 1985. a
Rasmussen, S. O., Abbott, P. M., Blunier, T., Bourne, A. J., Brook, E., Buchardt, S. L., Buizert, C., Chappellaz, J., Clausen, H. B., Cook, E., Dahl-Jensen, D., Davies, S. M., Guillevic, M., Kipfstuhl, S., Laepple, T., Seierstad, I. K., Severinghaus, J. P., Steffensen, J. P., Stowasser, C., Svensson, A., Vallelonga, P., Vinther, B. M., Wilhelms, F., and Winstrup, M.: A first chronology for the North Greenland Eemian Ice Drilling (NEEM) ice core, Clim. Past, 9, 2713–2730, https://doi.org/10.5194/cp-9-2713-2013, 2013. a
Reinhardt, H., Kriews, M., Miller, H., Schrems, O., Lüdke, C., Hoffmann, E., and Skole, J.: Laser ablation inductively coupled plasma mass spectrometry: a new tool for trace element analysis in ice cores, Fresenius' J. Anal. Chem., 370, 629–636, https://doi.org/10.1007/s002160100853, 2001. a
Röthlisberger, R., Bigler, M., Hutterli, M., Sommer, S., Stauffer, B., Junghans, H. G., and Wagenbach, D.: Technique for continuous high-resolution analysis of trace substances in firn and ice cores, Environ. Sci. Technol., 34, 338–342, https://doi.org/10.1021/es9907055, 2000. a
Ruth, U., Wagenbach, D., Steffensen, J. P., and Bigler, M.: Continuous record of microparticle concentration and size distribution in the central Greenland NGRIP ice core during the last glacial period, J. Geophys. Res.-Atmos., 108, 4098, https://doi.org/10.1029/2002JD002376, 2003. a
Rutter, E. H.: Experimental study of the influence of stress, temperature, and strain on the dynamic recrystallization of Carrara marble, J. Geophys. Res.-Sol. Ea., 100, 24651–24663, https://doi.org/10.1029/95JB02500, 1995. a
Sakurai, T., Ilzuka, Y., Horlkawa, S., Johnsen, S., Dahl-Jensen, D., Steffensen, J. P., and Hondoh, T.: Direct observation of salts as micro-inclusions in the Greenland GRIP ice core, J. Glaciol., 55, 777–783, https://doi.org/10.3189/002214309790152483, 2009. a, b
Sakurai, T., Ohno, H., Genceli, F. E., Horikawa, S., Iizuka, Y., Uchida, T., and Hondoh, T.: Magnesium methanesulfonate salt found in the Dome Fuji (Antarctica) ice core, J. Glaciol., 56, 837–842, https://doi.org/10.3189/002214310794457335, 2010. a
Sakurai, T., Ohno, H., Horikawa, S., Iizuka, Y., Uchida, T., Hirakawa, K., and Hondoh, T.: The chemical forms of water-soluble microparticles preserved in the Antarctic ice sheet during Termination I, J. Glaciol., 57, 1027–1032, https://doi.org/10.3189/002214311798843403, 2011. a, b
Severi, M., Becagli, S., Frosini, D., Marconi, M., Traversi, R., and Udisti, R.: A Novel Fast Ion Chromatographic Method for the Analysis of Fluoride in Antarctic Snow and Ice, Environ. Sci. Technol., 48, 1795–1802, https://doi.org/10.1021/es404126z, 2014. a
Shigeyama, W., Nagatsuka, N., Homma, T., Takata, M., Goto-Azuma, K., Weikusat, I., Drury, M. R., Kuiper, E. J. N., Mateiu, R. V., Azuma, N., Dahl-Jensen, D., and Kipfstuhl, S.: Microstructural analysis of Greenland ice using a cryogenic scanning electron microscope equipped with an electron backscatter diffraction detector, B. Glaciol. Res., 37, 31–45, https://doi.org/10.5331/BGR.19R01, 2019. a
Simonsen, M. F., Baccolo, G., Blunier, T., Borunda, A., Delmonte, B., Frei, R., Goldstein, S., Grinsted, A., Kjær, H. A., Sowers, T., Svensson, A., Vinther, B., Vladimirova, D., Winckler, G., Winstrup, M., and Vallelonga, P.: East Greenland ice core dust record reveals timing of Greenland ice sheet advance and retreat, Nat. Commun., 10, https://doi.org/10.1038/s41467-019-12546-2, 2019. a
Smith, C. S.: Grains, phases, and interfaces: An introduction of microstructure, Trans. AIME, 175, 15–51, 1948. a, b
Spaulding, N. E., Sneed, S. B., Handley, M. J., Bohleber, P., Kurbatov, A. V., Pearce, N. J., Erhardt, T., and Mayewski, P. A.: A New Multielement Method for LA-ICP-MS Data Acquisition from Glacier Ice Cores, Environ. Sci. Technol., 51, 13282–13287, https://doi.org/10.1021/acs.est.7b03950, 2017. a
Stearns, L. A. and van der Veen, C.: Response to Comment on "Friction at the bed does not control fast glacier flow", Science, 363, eaau8375, https://doi.org/10.1126/science.aau8375, 2019. a
Steffensen, J. P.: The size distribution of microparticles from selected segments of the Greenland Ice Core Project ice core representing different climatic periods, J. Geophys. Res., 102, 755–2, 1997. a
Steinbach, F., Kuiper, E.-J. N., Eichler, J., Bons, P. D., Drury, M. R., Griera, A., Pennock, G. M., and Weikusat, I.: The Relevance of Grain Dissection for Grain Size Reduction in Polar Ice: Insights from Numerical Models and Ice Core Microstructure Analysis, Front. Earth Sci., 5, https://doi.org/10.3389/feart.2017.00066, 2017. a
Stillman, D. E., MacGregor, J. A., and Grimm, R. E.: The role of acids in electrical conduction through ice, J. Geophys. Res.-Earth Surf., 118, 1–16, https://doi.org/10.1029/2012JF002603, 2013. a
Stipp, M. and Tullis, J.: The recrystallized grain size piezometer for quartz, Geophys. Res. Lett., 30, 2088, https://doi.org/10.1029/2003GL018444, 2003. a
Stoll, N., Eichler, J., Hörhold, M., Shigeyama, W., and Weikusat, I.: A Review of the Microstructural Location of Impurities and Their Impacts on Deformation, Front. Earth Sci., 8, 615613, https://doi.org/10.3389/feart.2020.615613, 2021a. a, b, c, d, e, f, g, h, i
Stoll, N., Hörhold, M., Erhardt, T., Eichler, J., Jensen, C., and Weikusat, I.: Microstructure, Micro-inclusions and Mineralogy along the EGRIP ice core – Part 2: Implications for paleo-mineralogy, The Cryosphere Discuss. [preprint], https://doi.org/10.5194/tc-2021-190, in review, 2021b. a, b, c, d, e, f, g, h
Stoll, N., Weikusat, I., and Eichler, J.: Microstructure maps with indicated micro-inclusions and grain boundaries (GB) of eleven samples (138–1340) m from the EastGRIP ice core, PANGAEA [data set], https://doi.org/10.1594/PANGAEA.933045, 2021c. a
Svensson, A., Nielsen, S. W., Kipfstuhl, S., Johnsen, S. J., Steffensen, J. P., Bigler, M., Ruth, U., and Röthlisberger, R.: Visual stratigraphy of the North Greenland Ice Core Project (NorthGRIP) ice core during the last glacial period, J. Geophys. Res., 110, 1–11, https://doi.org/10.1029/2004JD005134, 2005. a, b
Thorsteinsson, T., Kipfstuhl, J., and Miller, H.: Textures and fabrics in the GRIP ice core, J. Geophys. Res.-Oceans, 102, 26583–26599, https://doi.org/10.1029/97JC00161, 1997. a, b
Treverrow, A., Budd, W. F., Jacka, T. H., and Warner, R. C.: The tertiary creep of polycrystalline ice: experimental evidence for stress-dependent levels of strain-rate enhancement, J. Glaciol., 58, 301–314, https://doi.org/10.3189/2012JoG11J149, 2012. a
Vallelonga, P., Christianson, K., Alley, R. B., Anandakrishnan, S., Christian, J. E. M., Dahl-Jensen, D., Gkinis, V., Holme, C., Jacobel, R. W., Karlsson, N. B., Keisling, B. A., Kipfstuhl, S., Kjær, H. A., Kristensen, M. E. L., Muto, A., Peters, L. E., Popp, T., Riverman, K. L., Svensson, A. M., Tibuleac, C., Vinther, B. M., Weng, Y., and Winstrup, M.: Initial results from geophysical surveys and shallow coring of the Northeast Greenland Ice Stream (NEGIS), The Cryosphere, 8, 1275–1287, https://doi.org/10.5194/tc-8-1275-2014, 2014. a
Walker, M., Head, M. J., Berkelhammer, M., Björck, S., Cheng, H., Cwynar, L., Fisher, D., Gkinis, V., Long, A., Lowe, J., Newnham, R., Rasmussen, S. O., and Weiss, H.: Formal ratification of the subdivision of the Holocene Series/Epoch (Quaternary System/Period): two new Global Boundary Stratotype Sections and Points (GSSPs) and three new stages/subseries, Episodes, 41, 213–223, https://doi.org/10.18814/epiiugs/2018/018016, 2018. a
Wang, Y., Thorsteinsson, T., Kipfstuhl, J., Miller, H., Dahl-Jensen, D., and Shoji, H.: A vertical girdle fabric in the NorthGRIP deep ice core, North Greenland, Ann. Glaciol., 35, 515–520, https://doi.org/10.3189/172756402781817301, 2002. a
Watanabe, O., Jouzel, J., Johnsen, S., Parrenin, F., Shoji, H., and Yoshida, N.: Homogeneous climate variability across East Antarctica over the past three glacial cycles, Nature, 422, 509–512, https://doi.org/10.1038/nature01525, 2003. a
Weertman, J.: Creep of Ice, in: Physics and Chemistry of Ice, edited by: Whalley, E., Jones, S. W., and Gold, L. W., Royal Society of Canada, Ottawa, 320–37, 1973. a
Weertman, J. and Weertman, J. R.: Elementary Dislocation Theory, Oxford University Press, Oxford, 1992. a, b, c
Wegner, A., Fischer, H., Delmonte, B., Petit, J.-R., Erhardt, T., Ruth, U., Svensson, A., Vinther, B., and Miller, H.: The role of seasonality of mineral dust concentration and size on glacial/interglacial dust changes in the EPICA Dronning Maud Land ice core, J. Geophys. Res.-Atmos., 120, 9916–9931, https://doi.org/10.1002/2015JD023608, 2015. a, b, c
Weikusat, C., Freitag, J., and Kipfstuhl, S.: Raman spectroscopy of gaseous inclusions in EDML ice core: first results – microbubbles, J. Glaciol., 58, 761–766, https://doi.org/10.3189/2012JoG11J222, 2012. a
Weikusat, I., Kipfstuhl, S., Faria, S. H., Azuma, N., and Miyamoto, A.: Subgrain boundaries and related microstructural features in EDML (Antarctica) deep ice core, J. Glaciol., 55, 461–472, https://doi.org/10.3189/002214309788816614, 2009.  a, b, c
Weikusat, I., Miyamoto, A., Faria, S. H., Kipfstuhl, S., Azuma, N., and Hondoh, T.: Subgrain boundaries in Antarctic ice quantified by X-ray Laue diffraction, J. Glaciol., 57, 111–120, https://doi.org/10.3189/002214311795306628, 2011. a
Weikusat, I., Jansen, D., Binder, T., Eichler, J., Faria, S. H., Wilhelms, F., Kipfstuhl, S., Sheldon, S., Miller, H., Dahl-Jensen, D., and Kleiner, T.: Physical analysis of an Antarctic ice core – towards an integration of micro- and macrodynamics of polar ice, Philos. T. Roy. Soc. A, 375, 20150347, https://doi.org/10.1098/rsta.2015.0347, 2017a. a, b
Weikusat, I., Kuiper, E.-J. N., Pennock, G. M., Kipfstuhl, S., and Drury, M. R.: EBSD analysis of subgrain boundaries and dislocation slip systems in Antarctic and Greenland ice, Solid Earth, 8, 883–898, https://doi.org/10.5194/se-8-883-2017, 2017.b. a
Weikusat, I., Westhoff, J., Kipfstuhl, S., and Jansen, D.: Visual stratigraphy of the EastGRIP ice core (14 m–2021 m depth, drilling period 2017–2019), PANGAEA, https://doi.org/10.1594/PANGAEA.925014, 2020. a
Weikusat, I., Stoll, N., Eichler, J., Kerch, J., Jansen, D., and Kipfstuhl, S.: Grain size section mean data for the upper 1340 m of the EGRIP ice core and eleven c-axes stereo plots (all derived with the Fabric Analyzer G50), PANGAEA [data set], https://doi.org/10.1594/PANGAEA.933049, 2021. a
Weiss, J., Vidot, J., Gay, M., Arnaud, L., Duval, P., and Petit, J. R.: Dome Concordia ice microstructure: impurities effect on grain growth, Ann. Glaciol., 35, 552–558, https://doi.org/10.3189/172756402781816573, 2002. a, b, c
Westhoff, J., Stoll, N., Franke, S., Weikusat, I., Bons, P., Kerch, J., Jansen, D., Kipfstuhl, S., and Dahl-Jensen, D.: A stratigraphy-based method for reconstructing ice core orientation, Ann. Glaciol., 62, 191–202, https://doi.org/10.1017/aog.2020.76, 2020. a, b, c, d
Wilhelms, F., Kipfstuhl, J., Miller, H., Heinloth, K., and Firestone, J.: Precise dielectric profiling of ice cores: a new device with improved guarding and its theory, J. Glaciol., 44, 171–174, 1998. a
Wilson, C. J., Russell-Head, D. S., and Sim, H. M.: The application of an automated fabric analyzer system to the textural evolution of folded ice layers in shear zones, Ann. Glaciol., 37, 7–17, https://doi.org/10.3189/172756403781815401, 2003. a
Wolff, E. W., Miners, W. D., Moore, J. C., and Paren, J. G.: Factors Controlling the Electrical Conductivity of Ice from the Polar Regions-A Summary, J. Phys. Chem. B, 101, 6090–6094, https://doi.org/10.1021/jp9631543, 1997. a
Yakobi-Hancock, J. D., Ladino, L. A., and Abbatt, J. P. D.: Feldspar minerals as efficient deposition ice nuclei, Atmos. Chem. Phys., 13, 11175–11185, https://doi.org/10.5194/acp-13-11175-2013, 2013. a