Articles | Volume 14, issue 12
https://doi.org/10.5194/tc-14-4581-2020
© Author(s) 2020. This work is distributed under
the Creative Commons Attribution 4.0 License.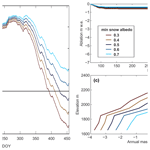 Measurements and modeling of snow albedo at Alerce Glacier, Argentina: effects of volcanic ash, snow grain size, and cloudiness
The impact of volcanic ash on seasonal snow and glacier mass balance has been much less studied than that of carbonaceous particles and mineral dust. We present here the first field measurements on the Argentinian Andes, combined with snow albedo and glacier mass balance modeling. Measured impurity content (1.1 mg kg−1 to 30 000 mg kg−1) varied abruptly in snow pits and snow and firn cores, due to high surface enrichment during the ablation season and possibly local or regional wind-driven resuspension and redeposition of dust and volcanic ash. In addition, we observed high spatial heterogeneity, due to glacier topography and the prevailing wind direction. Microscopic characterization showed that the major component was ash from recent Calbuco (2015) and Cordón Caulle (2011) volcanic eruptions, with a minor presence of mineral dust and black carbon. We also found a wide range of measured snow albedo (0.26 to 0.81), which reflected mainly the impurity content and the snow and firn grain size (due to aging). We updated the SNow, ICe, and Aerosol Radiation (SNICAR) albedo model to account for the effect of cloudiness on incident radiation spectra, improving the match of modeled and measured values. We also ran sensitivity studies considering the uncertainty in the main measured parameters (impurity content and composition, snow grain size, layer thickness, etc.) to identify the field measurements that should be improved to facilitate the validation of the snow albedo model. Finally, we studied the impact of these albedo reductions on Alerce Glacier using a spatially distributed surface mass balance model. We found a large impact of albedo changes on glacier mass balance, and we estimated that the effect of observed ash concentrations can be as high as a 1.25 m water equivalent decrease in the annual surface mass balance (due to a 34 % increase in the melt during the ablation season).
Received: 03 Apr 2020 – Discussion started: 29 Apr 2020 – Revised: 15 Sep 2020 – Accepted: 29 Oct 2020 – Published: 16 Dec 2020
Since glaciers are highly sensitive to climate fluctuations, their unprecedented rates of retreat observed during the last few decades represent one of the most unambiguous signals of climate change (Zemp et al., 2015; IPCC, 2019). Along the Wet Andes (below 35∘ S latitude), both precipitation decrease and air surface temperature increase have been pointed out as the drivers of the shrinkage of glaciers in the last few decades (Dussaillant et al., 2019). Although some processes, like sublimation at the high and cold Dry Andes (37 to 20∘ S) or the calving at the outlet glaciers of the Patagonian ice fields (south of 45∘ S), could contribute to or be even more critical than melt for the shrinkage of glaciers in some particular cases, ablation is mainly ruled by melt. Along the Southern Andes, melt is driven by shortwave radiation and sensible turbulent flux (Schaefer et al., 2020). Shortwave radiation absorption increases significantly during summer, due to the exposure of low-albedo areas in their ablation zones, which causes strong, positive feedback that enhances surface melt significantly and shapes the spatial ablation pattern (Brock et al., 2000). Furthermore, deposition of light-absorbing particles (LAPs – mineral dust, volcanic ash, and black carbon) have a fundamental impact on the melting of glaciers and snow-covered areas (Warren and Wiscombe, 1980; Bond et al., 2013; Molina et al., 2015). LAPs decrease snow albedo, increasing solar radiation absorption and thus producing a direct effect on snow melting. But, in addition, the snowpack temperature increase due to the direct effect accelerates the growth of snow grains, which produces a further albedo decrease (and thus an additional, indirect impact on snow melting) (Bond et al., 2013; Flanner et al., 2007). While LAPs control the snow albedo mainly in the visible wavelengths (since ice is relatively transparent in the visible band), the snow grain size affects the albedo in the near-infrared (e.g., Hadley and Kirchstetter, 2012; Pirazzini et al., 2015; He and Flanner, 2020). Recently it has been highlighted that the growth of glacier algae could also decrease the albedo (Williamson et al., 2019).
Atmospheric particulate matter (PM) is diverse in size, chemical composition, and optical properties; while most PM reflects a large fraction of the incoming radiation and thus has a cooling effect on the atmosphere, other particles absorb a significant fraction of the visible radiation (depending on the ratio of their absorption and scattering coefficients) and have a heating effect (Bond et al., 2013). In snow, the term LAP is used to refer to black carbon (BC), mineral dust, volcanic ash, and all other particles that totally or partially absorb incident light and hence increase the snow energy absorption. Different snow albedo models have been developed to include the direct effect of BC and other LAPs as well as several positive feedbacks (Flanner et al., 2007; Koch et al., 2009; Krinner et al., 2006), such as the increase in surface concentration of impurities due to enhanced snow melting or the albedo reduction due to the growth of snow grains by accelerated snow aging (Bond et al., 2013). More recently, models have included the effects of non-spherical snow grains (Libois et al., 2013; He et al., 2017) and external or internal mixing of impurities with snow grains (He et al., 2018). Although some snow albedo models have been successfully validated for laboratory conditions (Brandt et al., 2011; Hadley and Kirchstetter, 2012), the prediction of snow spectral albedo in environmental conditions is still challenging. When the snow has been undergoing heavy metamorphosis processes, a single snow grain size distribution is not enough to reproduce the snow spectral albedo due to the fact that the largest particles and the thinnest protrusions of the irregular crystals have contributions to the snow reflectance that depend on the wavelength (Carmagnola et al., 2013; Pirazzini et al., 2015). Notably, it has been shown that taking into account the quantity of LAPs in the snow reduces the difference between simulated and measured albedo, especially in the visible range (Zhang et al., 2018).
Different studies have considered the effect of LAPs on snow and ice albedo and their impact on glaciers mass balance or seasonal snow cover and estimated their radiative forcing (Qian et al., 2015; Skiles et al., 2018). Some studies have used point measurements of LAP content (ice cores) together with a snow albedo model to estimate potential melting, using a radiative transfer model to calculate the additional absorbed energy by BC and mineral dust (Ginot et al., 2014; Zhang et al., 2018) or perturbing a glacier mass balance model to include BC forcing (Painter et al., 2013). "Online" coupling of snow albedo models in global or regional atmospheric chemistry models (where both models are run simultaneously allowing two-way feedback) has been applied to study snow and glaciers interaction with the climate around the globe (Hansen et al., 2005; Flanner, 2013; Ménégoz et al., 2014). Although these global or regional atmospheric studies are useful to identify LAP sources and dispersion patterns and to compare snow–atmosphere feedback in different regions, the spatial resolution can be inadequate to obtain accurate results in mountain regions (Ménégoz et al., 2014; Qian et al., 2015).
Even though most studies focus on the effect of BC, some include the effect of mineral dust (e.g., Ginot et al., 2014; Skiles and Painter, 2017; Zhang et al., 2018) or even concentrate on mineral dust due to local or regional relevance (e.g., Krinner et al., 2006; Painter et al., 2012; Wittmann et al., 2017). Studies on the effect of volcanic ash concentration on snow albedo are scarcer (e.g., Conway et al., 1996; Brock et al., 2007; Young et al., 2014).
In recent years there has been an increase in the measurement and modeling of albedo along the Southern Andes (Rowe et al., 2019). A 3-year study (Schmitt et al., 2015) showed that glaciers closer to population centers in the Cordillera Blanca, Peru, have higher surface content of equivalent black carbon (EBC – BC plus other LAPs, especially dust in this case): up to 70 ng g−1 EBC, as compared with remote glaciers (with surface content as low as 2.0 ng g−1 EBC). A 1-week study successfully connected the decreases in snow broadband albedo with heavy-traffic days in the nearby road that connects Argentina and Chile (Cereceda-Balic et al., 2018). A more recent study along the Southern Andes of Chile found a mean albedo reduction due to light-absorbing particles in the snow, with its corresponding mean radiative forcing increase (Rowe et al., 2019). They conclude that in the north (dusty, vegetation-sparse Atacama Desert), BC plays a smaller role than non-BC, whereas near Santiago and in the south (vegetation-rich), the BC contribution is higher. For example, the albedo reduction due to BC alone in the north was estimated to be only about 43 % of that for all light-absorbing particles (assuming spherical 100 µm radii snow grains). By comparison, these albedo reductions are 53 % and 82 % near Santiago and in southern Chile, where a greater share of light absorption is due to BC. In the Southern Andes of Argentina, the only available information on snow albedo is due to remote sensing (Malmros et al., 2018), and up to now, the impact of volcanic ash and other LAPs on the mass balance of Argentinian glaciers has not been evaluated either.
Here we present the results from two field campaigns developed on Alerce Glacier during April 2016 and April 2017 to assess the bounds the of the PM deposition impact on the Alerce Glacier mass balance. We show in situ albedo measurements and PM concentration values measured on surface and sub-surface snow and firn samples in accumulation and ablation zones of the glacier. Albedo in situ measurements are compared with results from the SNow, ICe, and Aerosol Radiation (SNICAR) albedo model (Flanner et al., 2007; He et al., 2018), using measured snow properties and LAP content as input data. We present here an improvement of SNICAR's incident radiation spectra (presented as SNICARv2.1), to take into account changes in direct and diffuse solar radiation for partly cloudy skies. We study the effect of volcanic events that have occurred in recent years (Cordón Caulle in 2011 and Calbuco in 2015). Finally, the influence of LAPs on snow and ice albedo on the annual surface mass balance of Alerce Glacier is assessed using an enhanced temperature index melt model (Oerlemans, 2001). This study is not only the first field study of the impact of LAPs on Argentinian glaciers but also one of the few studies of the long-term impact of volcanic ash on snow albedo.
2
 Site description and experimental methods
Alerce is a small (2.2 km2), debris-free mountain glacier located at Mount Tronador (41.15∘ S, 71.88∘ W), in the northern Patagonian Andes. The climate in this region is primarily modulated by the weather disturbance embedded in the mid-latitude westerlies (Garreaud et al., 2009). Weather disturbances and prevailing winds coming from the Pacific Ocean are more frequent and stronger in winter. However, associated frontal precipitation system move over the Patagonian Andes all year round. In this region, the hydrological year begins on 1 April with the accumulation season. The accumulation season lasts until 31 October, which marks the beginning of the ablation season.
Alerce Glacier has an elevation range of between 1650 and 2400  (above sea level), has a gentle slope (mean of 10∘), and is exposed to the southeast. Since 2013 it has been the focus of a glacier mass balance monitoring program by the IANIGLA (Instituto Argentino de Nivología, Glaciología y Ciencias Ambientales;  Ruiz et al., 2015, 2017). Seasonal mass balance has been studied every year using the traditional glaciological method of stakes and snow pits. An enhanced temperature index mass balance model has been developed (Huss et al., 2008; Huss, 2010) to study the surface mass balance of the glacier. This model is used here to analyze the influence of LAPs, through glacier albedo changes, over the mass balance of Alerce Glacier.
In recent years Mount Tronador glaciers have been reached by volcanic ash derived from two volcanic events: (i) the Cordón Caulle fissure system, which had a long eruption between June 2011 and January 2012, and (ii) Volcán Calbuco, which commenced on 23 April 2015.
Our study combines field measurements and modeling to analyze the role of PM in the albedo of Alerce Glacier in Mount Tronador. PM content of the samples varied in a wide range, from lowest to highest in fresh snow, 1.1 to 21.9 mg kg−1; in old winter snow and firn, 4.9 to 51 mg kg−1 (except for some samples from ablation zone); in thin, darker layers with a contribution of local and regional resuspension of dust and ash, 365 to 410 mg kg−1; or with high PM enrichment due to spring and summer ablation, 339 to 9040 mg kg−1 (reaching even 12 250 to 30 000 mg kg−1 in the ablation zone). Microscopic characterization of PM showed that the major component on snow and firn layers after 2014 and also on the glacier ice surface is volcanic ash, not only from the recent Calbuco eruption (2015) but also from the Cordón Caulle eruption (2011). Minor contributions of mineral dust and black carbon were also detected.
The fact that volcanic ash represents the largest fraction of the collected PM in all studied samples indicates that the effect of volcanic eruptions is expected not only immediately after direct deposition but also many years later, due to surface enrichment and wind resuspension and redeposition. The spatial and temporal distribution of PM is highly heterogeneous, due both to seasonality and to the combination of glacier topography and the prevailing wind direction. These facts need to be accounted for when studying the effect of snow albedo on glacier mass balance. While the albedo parametrization used in the mass balance model partially accounts for the spatial heterogeneity of PM surface concentration (implicitly), we suggest that in the future it would be useful to couple our mass balance model with an atmospheric model which provides prognosis of PM content and a snow albedo model that includes LAP effects explicitly.
The measured snow albedo also varied in a wide range (0.26 to 0.81), similar to that of other glaciers with dust or volcanic ash concentration on the same order of magnitude. We found that for our setup (where the pyranometer must be inverted sequentially to measure upwelling and downwelling radiation) rapid changes in cloudiness hinder the repeatability of albedo measurements and may degrade the comparison with modeled albedo. Nevertheless, comparison of measured and modeled snow albedo showed a good match and illustrates the effect of PM content and composition (i.e., BC versus dust or volcanic ash), snow grain size, layer thickness, and cloudiness on snow albedo. To evaluate the latter, we updated the SNICAR snow albedo model to accurately represent the effect of cloudiness on direct and diffuse solar spectra (SNICARv2.1). This update improved considerably the match of measured and modeled albedo for partially cloudy sky conditions. The effect of uncertainties in field measurements was evaluated for different types of samples, suggesting strategies to reduce uncertainty in snow albedo modeling or in retrieval of snow properties from measured albedo. We found that snow grain size must be measured more carefully in samples with low volcanic ash content and that the accuracy of layer thickness can be relevant not only for very thin layers (0.1 cm) but also for thicker layers (6 cm) with low ash content. The accuracy of ash content was found to be good enough to reproduce our albedo measurements. However, it was remarked that the presence of small amounts of BC can affect the albedo significantly in samples with low ash content.
We showed that surface mass balance is highly sensitive to the parametrization of aged snow albedo. We find a glacier-wide albedo change sensitivity of around −0.6 , mostly due to higher ablation during spring and summer. Finally, we suggest that the effect of volcanic ash in Alerce Glacier can be as high as a 1.25  decrease in the glacier annual mass balance or a 34 % increase in the melt during the ablation season, considering a surface volcanic ash content compatible with that measured in sites Acc3-2016, Abl3-2017, and Abl4-2017. Nevertheless, a more accurate calculation of volcanic ash impact would take into account the quantity of other regional or local sources of PM present on the glacier in absence of such volcanic eruptions, which cannot be estimated with the results of the field campaigns reported in this article.
To the best of our knowledge, this work is the first study of PM content and snow albedo on Argentinian glaciers. Our results highlight the need for appropriately considering the effect of volcanic eruptions on snow albedo and glacier mass balance even years after the eruption events. We suggest possible future steps to improve prognosis ability and mass balance accuracy, using a combination of measurements and modeling.
Code and data availability
JGC, LD, and LR designed the field campaigns. HB designed and built the mounting stands for albedo measurements. JGC and FNB collected and filtered the snow samples and performed the albedo measurements, with the assistance of LR and his team. JGC performed the gravimetry of filters and corrected albedo measurements. JGC updated SNICAR code in collaboration with CH. JGC performed modeling related to solar incident spectra and SNICAR snow albedo. VO and GV characterized PM on the filters by binocular microscopy, SEM, and EDS. LR performed the modeling of glacier mass balance. JGC, LD and LR prepared the manuscript, with contributions from VO, GV, and CH.
The authors declare that they have no conflict of interest.
Julián Gelman Constantin, Lucas Ruiz, Valeria Outes, and Gustavo Villarosa are members of Consejo Nacional de Investigaciones Científicas y Técnicas (CONICET). This material is based upon work supported by the National Center for Atmospheric Research, which is a major facility sponsored by the National Science Foundation under Cooperative Agreement No. 1852977. The authors thank Claudio Bolzi and their team (DES, CAC-CNEA) for sharing their equipment for albedo measurements. The authors are also grateful for the valuable field knowledge and collaboration provided by Hernan Gargantini, Mariano Castro, Ernesto Corvalán, Valentina Zorzut, and Inés Dussaillant. The authors acknowledge Dario R. Gómez for their valuable comments and contributions to the manuscript. The authors thank Adriana Dominguez and Lucia Marzocca (Laboratorio de Microscopía Electrónica, G. Materiales, CAC-CNEA) for SEM images and EDS analysis. Administración de Parques Nacionales kindly provided permission and logistical assistance to work at Cerro Tronador inside Parque Nacional Nahuel Huapi.
This research has been supported by the Agencia Nacional de Promoción Científica y Tecnológica, Fondo para la Investigación Científica y Tecnológica (grant no. PICT 2016-3590).
This paper was edited by Benjamin Smith and reviewed by Marius Schaefer and one anonymous referee.
Aas, K. S., Dunse, T., Collier, E., Schuler, T. V., Berntsen, T. K., Kohler, J., and Luks, B.: The climatic mass balance of Svalbard glaciers: a 10-year simulation with a coupled atmosphere–glacier mass balance model, The Cryosphere, 10, 1089–1104, https://doi.org/10.5194/tc-10-1089-2016, 2016. a
Alloway, B. V., Pearce, N. J. G., Villarosa, G., Outes, V., and Moreno, P. I.: Multiple melt bodies fed the AD 2011 eruption of Puyehue-Cordón Caulle, Chile, Scientific Reports, 5, 17589, https://doi.org/10.1038/srep17589, 2015. a, b, c
Bond, T. C., Doherty, S. J., Fahey, D. W., Forster, P. M., Berntsen, T., Deangelo, B. J., Flanner, M. G., Ghan, S., Kärcher, B., Koch, D. M., Kinne, S., Kondo, Y., Quinn, P. K., Sarofim, M. C., Schultz, M. G., Schulz, M., Venkataraman, C., Zhang, H., Zhang, S., Bellouin, N., Guttikunda, S. K., Hopke, P. K., Jacobson, M. Z., Kaiser, J. W., Klimont, Z., Lohmann, U., Schwarz, J. P., Shindell, D. T., Storelvmo, T., Warren, S. G., and Zender, C. S.: Bounding the role of black carbon in the climate system: A scientific assessment, J. Geophys. Res.-Atmos., 118, 5380–5552, https://doi.org/10.1002/jgrd.50171, 2013. a, b, c, d
Brandt, R. E., Warren, S. G., and Clarke, A. D.: A controlled snowmaking experiment testing the relation between black carbon content and reduction of snow albedo, J. Geophys. Res., 116, D08109, https://doi.org/10.1029/2010JD015330, 2011. a
Brock, B., Rivera, A., Casassa, G., Bown, F., and Acuña, C.: The surface energy balance of an active ice-covered volcano: Villarrica Volcano, southern Chile, Ann. Glaciol., 45, 104–114, https://doi.org/10.3189/172756407782282372, 2007. a, b
Brock, B. W., Willis, I. C., and Sharp, M. J.: Measurement and parameterisation of albedo variations at Haut Glacier d 'Arolla, Switzerland, J. Glaciol., 46, 675–688, https://doi.org/10.3189/172756506781828746, 2000. a, b, c
Carmagnola, C. M., Domine, F., Dumont, M., Wright, P., Strellis, B., Bergin, M., Dibb, J., Picard, G., Libois, Q., Arnaud, L., and Morin, S.: Snow spectral albedo at Summit, Greenland: measurements and numerical simulations based on physical and chemical properties of the snowpack, The Cryosphere, 7, 1139–1160, https://doi.org/10.5194/tc-7-1139-2013, 2013. a, b, c, d
Cereceda-Balic, F., Vidal, V., Moosmüller, H., and Lapuerta, M.: Reduction of snow albedo from vehicle emissions at Portillo, Chile, Cold Reg. Sci. Technol., 146, 43–52, https://doi.org/10.1016/j.coldregions.2017.11.008, 2018. a, b
Collier, E., Mölg, T., Maussion, F., Scherer, D., Mayer, C., and Bush, A. B. G.: High-resolution interactive modelling of the mountain glacier–atmosphere interface: an application over the Karakoram, The Cryosphere, 7, 779–795, https://doi.org/10.5194/tc-7-779-2013, 2013. a
Conway, H., Gades, A., and Raymond, C. F.: Albedo of dirty snow during conditions of melt, Water Resour. Res., 32, 1713–1718, https://doi.org/10.1029/96WR00712, 1996. a, b
Córdoba, G., Villarosa, G., Sheridan, M. F., Viramonte, J. G., Beigt, D., and Salmuni, G.: Secondary lahar hazard assessment for Villa la Angostura, Argentina, using Two-Phase-Titan modelling code during 2011 Cordón Caulle eruption, Nat. Hazards Earth Syst. Sci., 15, 757–766, https://doi.org/10.5194/nhess-15-757-2015, 2015. a
Cuffey, K. M. and Paterson, W. S. B.: The physics of glaciers, Academic Press, 4th editio edn., ISBN 9780123694614, 2010. a
Doherty, S. J., Grenfell, T. C., Forsström, S., Hegg, D. L., Brandt, R. E., and Warren, S. G.: Observed vertical redistribution of black carbon and other insoluble light-absorbing particles in melting snow, J. Geophys. Res.-Atmos., 118, 5553–5569, https://doi.org/10.1002/jgrd.50235, 2013. a
Doherty, S. J., Hegg, D. A., Johnson, J. E., Quinn, P. K., Schwarz, J. P., Dang, C., and Warren, S. G.: Causes of variability in light absorption by particles in snow at sites in Idaho and Utah, J. Geophys. Res., 121, 4751–4768, https://doi.org/10.1002/2015jd024375, 2016. a
Dussaillant, I., Berthier, E., Brun, F., Masiokas, M., Hugonnet, R., Favier, V., Rabatel, A., Pitte, P., and Ruiz, L.: Two decades of glacier mass loss along the Andes, Nature Geosci., 12, 802–808, https://doi.org/10.1038/s41561-019-0432-5, 2019. a
Ernst, M., Holst, H., Winter, M., and Altermatt, P. P.: SunCalculator: A program to calculate the angular and spectral distribution of direct and diffuse solar radiation, Solar Energy Materials and Solar Cells, 157, 913–922, https://doi.org/10.1016/J.SOLMAT.2016.08.008, 2016. a, b
Flanner, M. G.: Arctic climate sensitivity to local black carbon, J. Geophys. Res.-Atmos., 118, 1840–1851, https://doi.org/10.1002/jgrd.50176, 2013. a
Flanner, M. G. and Zender, C. S.: Linking snowpack microphysics and albedo evolution, J. Geophys. Res., 111, D12208, https://doi.org/10.1029/2005JD006834, 2006. a
Flanner, M. G., Zender, C. S., Randerson, J. T., and Rasch, P. J.: Present-day climate forcing and response from black carbon in snow, J. Geophys. Res.-Atmos., 112, D11202, https://doi.org/10.1029/2006JD008003, 2007. a, b, c, d, e
Garreaud, R. D., Vuille, M., Compagnucci, R., and Marengo, J.: Present-day South American climate, Palaeogeogr. Palaeoclimatol. Palaeoecol., 281, 180–195, https://doi.org/10.1016/j.palaeo.2007.10.032, 2009. a
Ginot, P., Dumont, M., Lim, S., Patris, N., Taupin, J.-D., Wagnon, P., Gilbert, A., Arnaud, Y., Marinoni, A., Bonasoni, P., and Laj, P.: A 10 year record of black carbon and dust from a Mera Peak ice core (Nepal): variability and potential impact on melting of Himalayan glaciers, The Cryosphere, 8, 1479–1496, https://doi.org/10.5194/tc-8-1479-2014, 2014. a, b, c, d, e, f
Gueymard, C.: Une paramétrisation de la luminance énergétique du ciel clair en fonction de la turbidité, Atmosphere-Ocean, 24, 1–15, https://doi.org/10.1080/07055900.1986.9649237, 1986. a
Gueymard, C.: An anisotropic solar irradiance model for tilted surfaces and its comparison with selected engineering algorithms, Sol. Energ., 38, 367–386, https://doi.org/10.1016/0038-092X(87)90009-0, 1987. a
Gueymard, C. A.: Parameterized transmittance model for direct beam and circumsolar spectral irradiance, Sol. Energ., 71, 325–346, https://doi.org/10.1016/S0038-092X(01)00054-8, 2001. a
Hadley, O. L. and Kirchstetter, T. W.: Black-carbon reduction of snow albedo, Nature Climate Change, 2, 437–440, https://doi.org/10.1038/nclimate1433, 2012. a, b, c
Hansen, J., Sato, M., Ruedy, R., Nazarenko, L., Lacis, A., Schmidt, G. A., Russell, G., Aleinov, I., Bauer, M., Bauer, S., Bell, N., Cairns, B., Canuto, V., Chandler, M., Cheng, Y., Genio, A. D., Faluvegi, G., Fleming, E., Friend, A., Hall, T., Jackman, C., Kelley, M., Kiang, N., Koch, D., Lean, J., Lerner, J., Lo, K., Menon, S., Miller, R., Minnis, P., Novakov, T., Oinas, V., Perlwitz, J., Perlwitz, J., Rind, D., Romanou, A., Shindell, D., Stone, P., Sun, S., Tausnev, N., Thresher, D., Wielicki, B., Wong, T., Yao, M., and Zhang, S.: Efficacy of climate forcings, J. Geophys. Res., 110, D18104, https://doi.org/10.1029/2005JD005776, 2005. a
He, C.: EarthSciCode/SNICARv2: Release of SNICARv2.1 (Version v2.1), Zenodo, https://doi.org/10.5281/zenodo.4319016, 2020. a
He, C. and Flanner, M.: Snow Albedo and Radiative Transfer: Theory, Modeling, and Parameterization, in: Springer Series in Light Scattering (Volume 5), edited by: Kokhanovsky, A. A., pp. 67–133, Springer, Cham, https://doi.org/10.1007/978-3-030-38696-2_3, 2020. a
He, C., Takano, Y., Liou, K.-N., Yang, P., Li, Q., and Chen, F.: Impact of Snow Grain Shape and Black Carbon–Snow Internal Mixing on Snow Optical Properties: Parameterizations for Climate Models, J. Climate, 30, 10019–10036, https://doi.org/10.1175/JCLI-D-17-0300.1, 2017. a, b, c, d
He, C., Flanner, M. G., Chen, F., Barlage, M., Liou, K.-N., Kang, S., Ming, J., and Qian, Y.: Black carbon-induced snow albedo reduction over the Tibetan Plateau: uncertainties from snow grain shape and aerosol–snow mixing state based on an updated SNICAR model, Atmos. Chem. Phys., 18, 11507–11527, https://doi.org/10.5194/acp-18-11507-2018, 2018. a, b, c, d
Hock, R.: A distributed temperature-index ice- and snowmelt model including potential direct solar radiation, J. Glaciol., 45, 101–111, https://doi.org/10.3189/s0022143000003087, 1999. a, b
Huss, M.: Mass balance of Pizolgletscher, Geogr. Helv., 65, 80–91, https://doi.org/10.5194/gh-65-80-2010, 2010. a
Huss, M., Bauder, A., Funk, M., and Hock, R.: Determination of the seasonal mass balance of four Alpine glaciers since 1865, J. Geophys. Res., 113, F01015, https://doi.org/10.1029/2007JF000803, 2008. a, b, c
IPCC: IPCC Special Report on the Ocean and Cryosphere in a Changing Climate, available at: https://www.ipcc.ch/report/srocc/ (last access: 15 September 2020), 2019. a
Kasten, F. and Czeplak, G.: Solar and terrestrial radiation dependent on the amount and type of cloud, Sol. Energ., 24, 177–189, https://doi.org/10.1016/0038-092X(80)90391-6, 1980. a
Koch, D. M., Menon, S., Del Genio, A., Ruedy, R., Alienov, I., and Schmidt, G. A.: Distinguishing Aerosol Impacts on Climate over the Past Century, J. Climate, 22, 2659–2677, https://doi.org/10.1175/2008JCLI2573.1, 2009. a
Krinner, G., Boucher, O., and Balkanski, Y.: Ice-free glacial northern Asia due to dust deposition on snow, Climate Dyn., 27, 613–625, https://doi.org/10.1007/s00382-006-0159-z, 2006. a, b, c
Le Bas, M. J., Le Maitre, R. W., Streckeisen, A., and Zanettin, B.: A chemical classification of volcanic rocks based on the total alkali-silica diagram, J. Petrol., 27, 745–750, https://doi.org/10.1093/petrology/27.3.745, 1986. a
Li, X., Kang, S., He, X., Qu, B., Tripathee, L., Jing, Z., Paudyal, R., Li, Y., Zhang, Y., Yan, F., Li, G., and Li, C.: Light-absorbing impurities accelerate glacier melt in the Central Tibetan Plateau, Sci. Total Environ., 587–588, 482–490, https://doi.org/10.1016/j.scitotenv.2017.02.169, 2017. a
Libois, Q., Picard, G., France, J. L., Arnaud, L., Dumont, M., Carmagnola, C. M., and King, M. D.: Influence of grain shape on light penetration in snow, The Cryosphere, 7, 1803–1818, https://doi.org/10.5194/tc-7-1803-2013, 2013. a, b
Malmros, J. K., Mernild, S. H., Wilson, R., Tagesson, T., and Fensholt, R.: Snow cover and snow albedo changes in the central Andes of Chile and Argentina from daily MODIS observations (2000–2016), Remote Sens. Environ., 209, 240–252, https://doi.org/10.1016/J.RSE.2018.02.072, 2018. a
Ménégoz, M., Krinner, G., Balkanski, Y., Boucher, O., Cozic, A., Lim, S., Ginot, P., Laj, P., Gallée, H., Wagnon, P., Marinoni, A., and Jacobi, H. W.: Snow cover sensitivity to black carbon deposition in the Himalayas: from atmospheric and ice core measurements to regional climate simulations, Atmos. Chem. Phys., 14, 4237–4249, https://doi.org/10.5194/acp-14-4237-2014, 2014. a, b, c, d, e
Molina, L. T., Gallardo, L., Andrade, M., Baumgardner, D., Borbor-Córdova, M., Bórquez, R., Casassa, G., Cereceda-Balic, F., Dawidowski, L., Garreaud, R., Huneeus, N., Lambert, F., McCarty, J., Mc Phee, J., Mena-Carrasco, M., Raga, G. B., Schmitt, C. G., and Schwarz, J. P.: Pollution and its impacts on the South American Cryosphere (PISAC), Earth's Future, 3, 345–369, https://doi.org/10.1002/2015EF000311, 2015. a
Oerlemans, J.: Glaciers & Climate Change, CRC Press, Exton (PA), 1 edition edn., 2001. a, b
Oerlemans, J. and Knap, W. H.: A 1 year record of global radiation and albedo in the ablation zone of Morteratschgletscher, Switzerland, J. Glaciol., 44, 231–238, https://doi.org/10.3189/s0022143000002574, 1998. a, b
Painter, T. H., Skiles, S. M., Deems, J. S., Bryant, A. C., and Landry, C. C.: Dust radiative forcing in snow of the Upper Colorado River Basin: 1. A 6 year record of energy balance, radiation, and dust concentrations, Water Resour. Res., 48, W07521, https://doi.org/10.1029/2012WR011985, 2012. a, b, c
Painter, T. H., Flanner, M. G., Kaser, G., Marzeion, B., VanCuren, R. A., and Abdalati, W.: End of the Little Ice Age in the Alps forced by industrial black carbon, P. Natl. Acad. Sci., 110, 15216–15221, https://doi.org/10.1073/pnas.1302570110, 2013. a, b
Pirazzini, R., Räisänen, P., Vihma, T., Johansson, M., and Tastula, E.-M.: Measurements and modelling of snow particle size and shortwave infrared albedo over a melting Antarctic ice sheet, The Cryosphere, 9, 2357–2381, https://doi.org/10.5194/tc-9-2357-2015, 2015. a, b, c, d, e
Qian, Y., Yasunari, T. J., Doherty, S. J., Flanner, M. G., Lau, W. K. M., Jing, M., Wang, H., Wang, M., Warren, S. G., and Zhang, R.: Light-absorbing Particles in Snow and Ice: Measurement and Modeling of Climatic and Hydrological impact, Adv. Atmos. Sci., 32, 64–91, https://doi.org/10.1007/s00376-014-0010-0, 2015. a, b, c
Reckziegel, F., Bustos, E., Mingari, L., Báez, W., Villarosa, G., Folch, A., Collini, E., Viramonte, J., Romero, J., and Osores, S.: Forecasting volcanic ash dispersal and coeval resuspension during the April–May 2015 Calbuco eruption, J. Volcanol. Geoth. Res., 321, 44–57, https://doi.org/10.1016/j.jvolgeores.2016.04.033, 2016. a, b, c
Romero, J. E., Morgavi, D., Arzilli, F., Daga, R., Caselli, A., Reckziegel, F., Viramonte, J., Díaz-Alvarado, J., Polacci, M., Burton, M., and Perugini, D.: Eruption dynamics of the 22–23 April 2015 Calbuco Volcano (Southern Chile): Analyses of tephra fall deposits, J. Volcanol. Geoth. Res., 317, 15–29, https://doi.org/10.1016/j.jvolgeores.2016.02.027, 2016. a
Rowe, P. M., Cordero, R. R., Warren, S. G., Stewart, E., Doherty, S. J., Pankow, A., Schrempf, M., Casassa, G., Carrasco, J., Pizarro, J., MacDonell, S., Damiani, A., Lambert, F., Rondanelli, R., Huneeus, N., Fernandoy, F., and Neshyba, S.: Black carbon and other light-absorbing impurities in snow in the Chilean Andes, Scientific Reports, 9, 4008, https://doi.org/10.1038/s41598-019-39312-0, 2019. a, b, c
Ruiz, L., Berthier, E., Masiokas, M., Pitte, P., and Villalba, R.: First surface velocity maps for glaciers of Monte Tronador, North Patagonian Andes, derived from sequential Pléiades satellite images, J. Glaciol., 61, 908–922, https://doi.org/10.3189/2015JoG14J134, 2015. a, b
Ruiz, L., Berthier, E., Viale, M., Pitte, P., and Masiokas, M. H.: Recent geodetic mass balance of Monte Tronador glaciers, northern Patagonian Andes, The Cryosphere, 11, 619–634, https://doi.org/10.5194/tc-11-619-2017, 2017. a
Schaefer, M., Fonseca-Gallardo, D., Farías-Barahona, D., and Casassa, G.: Surface energy fluxes on Chilean glaciers: measurements and models, The Cryosphere, 14, 2545–2565, https://doi.org/10.5194/tc-14-2545-2020, 2020. a
Schmitt, C. G., All, J. D., Schwarz, J. P., Arnott, W. P., Cole, R. J., Lapham, E., and Celestian, A.: Measurements of light-absorbing particles on the glaciers in the Cordillera Blanca, Peru, The Cryosphere, 9, 331–340, https://doi.org/10.5194/tc-9-331-2015, 2015. a
Schneider, C. A., Rasband, W. S., and Eliceiri, K. W.: NIH Image to ImageJ: 25 years of image analysis, Nature Methods, 9, 671–675 , https://doi.org/10.1038/nmeth.2089, 2012. a
Sicart, J. E., Ribstein, P., Wagnon, P., and Brunstein, D.: Clear-sky albedo measurements on a sloping glacier surface: A case study in the Bolivian Andes, J. Geophys. Res., 106, 31729–31737, https://doi.org/10.1029/2000JD000153, 2001. a
Skiles, S. M. and Painter, T. H.: Daily evolution in dust and black carbon content, snow grain size, and snow albedo during snowmelt, Rocky Mountains, Colorado, J. Glaciol., 63, 118–132, https://doi.org/10.1017/jog.2016.125, 2017. a, b
Skiles, S. M., Flanner, M., Cook, J. M., Dumont, M., and Painter, T. H.: Radiative forcing by light-absorbing particles in snow, Nat. Clim. Change, 8, 964–971, https://doi.org/10.1038/s41558-018-0296-5, 2018. a
Sold, L., Huss, M., Machguth, H., Joerg, P. C., Leysinger Vieli, G., Linsbauer, A., Salzmann, N., Zemp, M., and Hoelzle, M.: Mass Balance Re-analysis of Findelengletscher, Switzerland; Benefits of Extensive Snow Accumulation Measurements, Front. Earth Sci., 4, 18, https://doi.org/10.3389/feart.2016.00018, 2016. a
Toyos, G., Mingari, L., Pujol, G., and Villarosa, G.: Investigating the nature of an ash cloud event in Southern Chile using remote sensing: volcanic eruption or resuspension?, Remote Sens. Lett., 8, 146–155, https://doi.org/10.1080/2150704X.2016.1239281, 2017. a
Tuzet, F., Dumont, M., Lafaysse, M., Picard, G., Arnaud, L., Voisin, D., Lejeune, Y., Charrois, L., Nabat, P., and Morin, S.: A multilayer physically based snowpack model simulating direct and indirect radiative impacts of light-absorbing impurities in snow, The Cryosphere, 11, 2633–2653, https://doi.org/10.5194/tc-11-2633-2017, 2017. a
Villarosa, G., Outes, V., Delménico, A., Beigt, D., Cottet, J., Toyos, G., Horwell, C. J., Damby, D. E., Najorka, J., Arretche, M., Wilson, T., and Stewart, C.: Impacts after the 2015 Calbuco eruption in Argentina and their relation to tephra deposit characteristics and climatic variables, in: Cities on Volcanoes 9, Puerto Varas, Chile, 2016. a, b
Vionnet, V., Brun, E., Morin, S., Boone, A., Faroux, S., Le Moigne, P., Martin, E., and Willemet, J.-M.: The detailed snowpack scheme Crocus and its implementation in SURFEX v7.2, Geosci. Model Dev., 5, 773–791, https://doi.org/10.5194/gmd-5-773-2012, 2012. a, b, c
Warren, S. G. and Wiscombe, W. J.: A Model for the Spectral Albedo of Snow. II: Snow Containing Atmospheric Aerosols, J. Atmos. Sci., 37, 2734–2745, https://doi.org/10.1175/1520-0469(1980)037<2734:AMFTSA>2.0.CO;2, 1980. a
Williamson, C. J., Cameron, K. A., Cook, J. M., Zarsky, J. D., Stibal, M., and Edwards, A.: Glacier Algae: A Dark Past and a Darker Future, Front. Microbiol., 10, 524, https://doi.org/10.3389/fmicb.2019.00524, 2019. a
Wiscombe, W. J. and Warren, S. G.: A Model for the Spectral Albedo of Snow. I: Pure Snow, J. Atmos. Sci., 37, 2712–2733, https://doi.org/10.1175/1520-0469(1980)037<2712:AMFTSA>2.0.CO;2, 1980. a
Wittmann, M., Groot Zwaaftink, C. D., Steffensen Schmidt, L., Guðmundsson, S., Pálsson, F., Arnalds, O., Björnsson, H., Thorsteinsson, T., and Stohl, A.: Impact of dust deposition on the albedo of Vatnajökull ice cap, Iceland, The Cryosphere, 11, 741–754, https://doi.org/10.5194/tc-11-741-2017, 2017. a, b, c
Wright, P., Bergin, M., Dibb, J., Lefer, B., Domine, F., Carman, T., Carmagnola, C., Dumont, M., Courville, Z., Schaaf, C., and Wang, Z.: Comparing MODIS daily snow albedo to spectral albedo field measurements in Central Greenland, Remote Sens. Environ., 140, 118–129, https://doi.org/10.1016/j.rse.2013.08.044, 2014. a, b
Xu, B., Cao, J., Joswiak, D. R., Liu, X., Zhao, H., and He, J.: Post-depositional enrichment of black soot in snow-pack and accelerated melting of Tibetan glaciers, Environ. Res. Lett., 7, 014022, https://doi.org/10.1088/1748-9326/7/1/014022, 2012. a
Young, C. L., Sokolik, I. N., Flanner, M. G., and Dufek, J.: Surface radiative impacts of ash deposits from the 2009 eruption of Redoubt volcano, J. Geophys. Res.-Atmos., 119, 11387–11397, https://doi.org/10.1002/2014JD021949, 2014. a, b, c
Zemp, M., Frey, H., Gärtner-Roer, I., Nussbaumer, S. U., Hoelzle, M., Paul, F., Haeberli, W., Denzinger, F., Ahlstrøm, A. P., Anderson, B., Bajracharya, S., Baroni, C., Braun, L. N., Cáceres, B. E., Casassa, G., Cobos, G., Dávila, L. R., Delgado Granados, H., Demuth, M. N., Espizua, L. E., Fischer, A., Fujita, K., Gadek, B., Ghazanfar, A., Hagen, J. O., Holmlund, P., Karimi, N., Li, Z., Pelto, M., Pitte, P., Popovnin, V. V., Portocarrero, C. a., Prinz, R., Sangewar, C. V., Severskiy, I., Sigurðsson, O., Soruco, A., Usubaliev, R., and Vincent, C.: Historically unprecedented global glacier decline in the early 21st century, J. Glaciol., 61, 745–762, https://doi.org/10.3189/2015JoG15J017, 2015.  a
Zhang, Y., Kang, S., Sprenger, M., Cong, Z., Gao, T., Li, C., Tao, S., Li, X., Zhong, X., Xu, M., Meng, W., Neupane, B., Qin, X., and Sillanpää, M.: Black carbon and mineral dust in snow cover on the Tibetan Plateau, The Cryosphere, 12, 413–431, https://doi.org/10.5194/tc-12-413-2018, 2018. a, b, c, d, e, f
Zhuravleva, T. B. and Kokhanovsky, A. A.: Influence of surface roughness on the reflective properties of snow, J. Quant. Spectrosc. Ra., 112, 1353–1368, https://doi.org/10.1016/J.JQSRT.2011.01.004, 2011. a