Articles | Volume 14, issue 12
https://doi.org/10.5194/tc-14-4507-2020
© Author(s) 2020. This work is distributed under
the Creative Commons Attribution 4.0 License.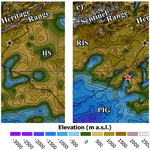 Subglacial lakes and hydrology across the Ellsworth Subglacial Highlands, West Antarctica
Subglacial water plays an important role in ice sheet dynamics and stability. Subglacial lakes are often located at the onset of ice streams and have been hypothesised to enhance ice flow downstream by lubricating the ice–bed interface. The most recent subglacial-lake inventory of Antarctica mapped nearly 400 lakes, of which ∼ 14 % are found in West Antarctica. Despite the potential importance of subglacial water for ice dynamics, there is a lack of detailed subglacial-water characterisation in West Antarctica. Using radio-echo sounding data, we analyse the ice–bed interface to detect subglacial lakes. We report 33 previously uncharted subglacial lakes and present a systematic analysis of their physical properties. This represents a ∼ 40 % increase in subglacial lakes in West Antarctica. Additionally, a new digital elevation model of basal topography of the Ellsworth Subglacial Highlands was built and used to create a hydropotential model to simulate the subglacial hydrological network. This allows us to characterise basal hydrology, determine subglacial water catchments and assess their connectivity. We show that the simulated subglacial hydrological catchments of the Rutford Ice Stream, Pine Island Glacier and Thwaites Glacier do not correspond to their ice surface catchments.
Received: 28 Feb 2020 – Discussion started: 20 Mar 2020 – Revised: 11 Sep 2020 – Accepted: 25 Sep 2020 – Published: 10 Dec 2020
Subglacial water is important for ice sheet flow, with the potential to control the location of ice stream onset (e.g. Siegert and Bamber, 2000; Vaughan et al., 2007; Winsborrow et al., 2010; Wright and Siegert, 2012) by lubricating the ice base and reducing basal friction (Bell et al., 2011; Pattyn, 2010; Pattyn et al., 2016; Gudlaugsson et al., 2017). Some studies have reported acceleration of ice velocity in response to varying of basal hydrologic conditions (e.g. Stearns et al., 2008). Subglacial water piracy has been invoked to explain the switching on and off of ice streams (e.g. Vaughan et al., 2008; Anandakrishnan and Alley, 1997; Diez et al., 2018). Other studies have demonstrated the potential variability in subglacial flow routing and that many subglacial lakes form part of a dynamic drainage network (e.g. Siegert, 2000; Fricker et al., 2014; Pattyn et al., 2016). For example, there is evidence of a well-organised and dynamic subglacial hydrological system which formed palaeochannels and basins on the seafloor of the present Amundsen Sea Embayment (ASE; Kirkham et al., 2019). This subglacial hydrological system was hypothesised to be caused by episodic releases of meltwater trapped in upstream subglacial lakes (Kirkham et al., 2019). Additionally, small changes in the ice sheet surface or ice thickness can lead to large-scale changes in basal hydrology, causing water flow to change direction (Wright et al., 2008). Significant glaciological change is known to have taken place in West Antarctica since the Last Glacial Maximum (LGM; Siegert et al., 2004b, 2019). However, changes to subglacial hydrology associated with post-LGM ice surface elevation changes have not been identified across the Ellsworth Subglacial Highlands (ESH), which are located within the Ellsworth–Whitmore Mountain (EWM) block (Fig. 1). Ross et al. (2011) demonstrated that the ice divide and ice flow across the ESH have been stable for more than 10 kyr. At present our understanding of the subglacial hydrology in the ESH is relatively limited. Understanding the current hydrological network, as well as assessing its evolution and sensitivity through time, is important for an improved understanding of Antarctic ice sheet dynamics. A better understanding of the relationship between subglacial hydrology and ice dynamics is important for studies of ice sheet mass balance and supplies of water to the ocean, where meltwater can affect circulation and nutrient productivity (Ashmore and Bingham, 2014).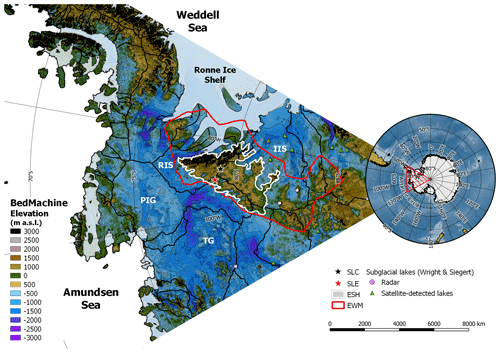 The most recent inventory identified ∼ 400 subglacial lakes across Antarctica (Wright and Siegert, 2012; Fig. 1), ∼ 14 % of which are located beneath the West Antarctic Ice Sheet (WAIS). Some of these subglacial lakes are connected (Wingham et al., 2006; Fricker et al., 2014) and drain and refill dynamically (e.g. Fricker et al., 2007, 2014). Active subglacial lakes have been identified using a range of techniques including satellite measurements of ice surface elevation changes (e.g. Wingham et al., 2006; Smith et al., 2009). Stable deep-water subglacial lakes have been identified using airborne radio-echo sounding (RES; e.g. Robin et al., 1970; Popov and Masolov, 2003) and/or ground-based RES (e.g. Rivera et al., 2015).
Previous work in the ESH area identified Subglacial Lake Ellsworth (SLE) and Subglacial Lake CECs (SLC; Fig. 1) by interpreting specular basal reflections in RES data as an indicator of deep (> 10 m) subglacial water (e.g. Siegert et al., 2004a; Rivera et al., 2015), and although Vaughan et al. (2007) identified other potential subglacial lakes near SLE, none of these candidates were quantitatively confirmed and they were not included in the last subglacial-lake inventory (Wright and Siegert, 2012). Subglacial Lake Ellsworth's water depth, geometry and lake floor sediments were characterised using seismic reflection surveys (Woodward et al., 2010; Smith et al., 2018). SLE and SLC are components of a subglacial hydrological network in the upper reaches of multiple West Antarctic ice streams (e.g. Vaughan et al., 2007). However, despite the evidence of subglacial water, as well as a potential subglacial network connecting multiple subglacial water bodies, many hypotheses remain untested in terms of subglacial hydrological dynamics (e.g. channelised and/or distributed subglacial drainage). Given that this region is located up-ice of the fastest-changing ice streams in the world (i.e. Pine Island Glacier and Thwaites Glacier) and that these are some of the most vulnerable glaciers to ongoing climate change (e.g. Rignot et al., 2014, 2019; Joughin et al., 2014), a more detailed study of the subglacial hydrological system using RES data is justified. Our aim is to produce an inventory of subglacial lakes for the ESH and to model the modern subglacial hydrology in the ESH draining towards the ASE. We then assess the connectivity of these new subglacial lakes and the potential flow paths of basal water from the ice sheet interior to the edge of the grounded ice sheet.
During the 2004/05 austral summer the British Antarctic Survey collected ∼35 000 km of airborne RES data (Vaughan et al., 2006), mostly over the catchment of Pine Island Glacier (PIG; Fig. 5), during the Basin Balance and Synthesis (BBAS) aerogeophysical survey (Vaughan et al., 2006). The survey aircraft was equipped with dual-frequency carrier-phase GPS for navigation, a radar altimeter for surface mapping, magnetometers and a gravimeter for potential field measurements, and the Polarimetric radar Airborne Science Instrument (PASIN) ice-sounding radar system (Vaughan et al., 2006, 2007; Corr et al., 2007). The radar system was configured to operate with a transmit power of 4 kW around a central frequency of 150 MHz. A 10 MHz chirp pulse was used to successfully obtain bed echoes through ice more than 4200 m thick (Vaughan et al., 2006). Here, we use the radar data processed as a combination of coherent and incoherent summation without synthetic-aperture radar (SAR) processing to obtain ice–bed interface information (Vaughan et al., 2006). We analyse the available BBAS data from 2004/05 to characterise the bed conditions of the northern margin of the ESH. We focus on three main tasks: first, identifying subglacial water at the ice base; second, defining and characterising the modern subglacial hydrological network; and third, simulating the subglacial flow routing. We identify subglacial lakes by analysing the power of the reflected energy from the ice–bed interface (Gades et al., 2000), i.e. bed reflection power (BRP), using four steps:
We used RES data from the 2004/05 BBAS survey to locate subglacial lakes within the ESH region of West Antarctica. This analysis allowed us to identify 33 new subglacial lakes to add to the existing inventory (Wright and Siegert, 2012). We then classified these subglacial lakes according to how confident we are in their detection. Using this classification, we identify 7 subglacial lakes with a very high degree of confidence. A further 5 dim subglacial lakes, 20 fuzzy lakes and 1 indistinct subglacial lake were also identified.

We observed that a majority (28) of the subglacial lakes are situated underneath or close to (< 40 km) the modern ice divide between the Institute Ice Stream and the Rutford Ice Stream, Pine Island Glacier and Thwaites Glacier. Furthermore, we also detected that slow ice flow is associated with these lakes and that there are always low-gradient ice surfaces above them.

We developed a new bed DEM based on recently collected radar survey data that were not previously incorporated into Antarctic topographic models. This allowed us to recognise new topographic features such as the long and linear subglacial trough systems (i.e. CT and ET) which connect to multiple sub-catchments and which therefore may play an important role in the basal hydrology and dynamics of the West Antarctic Ice Sheet.

Using the new DEM and the up-to-date surface elevation model from CryoSat-2 (Slater et al., 2018), we analysed the subglacial hydraulic network. We identified the potential for connection between the subglacial lakes and the wider subglacial hydrological system, thus providing a mechanism for cascading and active lake drainage. Most importantly, however, we show that the hydrological catchments of RIS, PIG and TG do not correspond precisely with glaciological catchments. Indeed, TG's hydrological catchment appears larger than previously thought, capturing basal water from the upper region of PIG.
The study was conceived by FN, MB, SJ, NR and AS. BBAS RES data were originally collected and provided by DV, NR and MS. CECs RES data were collected and provided by AR, RZ and JAU. RES processing was undertaken by FN, NR, GG and JAU. The DEM was created by FN and GP. RES analysis was undertaken by FN, NR, SJ and MB. The manuscript was written by FN with input from all authors.
The authors declare that they have no conflict of interest.
We acknowledge the British Antarctic Survey (BAS) and Centro de Estudios Científicos (CECs) for providing their radar data for analysis. FN acknowledges support from the Agencia Nacional de Investigación y Desarrollo (ANID) Programa Becas de Doctorado en el Extranjero, Beca Chile, for a doctoral scholarship. We acknowledge the Norwegian Polar Institute's Quantarctica package.
This research has been supported by the Natural Environment Research Council (NERC) UK (grant no. NE/J008176/1) and by the Agencia Nacional de Investigación y Desarrollo (ANID) Programa Becas de Doctorado en el Extranjero, Beca Chile (número folio 72180535).
This paper was edited by Etienne Berthier and reviewed by Lucas Beem and one anonymous referee.
An, M., Wiens, D. A., Zhao, Y., Feng, M., Nyblade, A., Kanao, M., Li, Y., Maggi, A., and Lévêque, J.-J.: Temperature, lithosphere-asthenosphere boundary, and heat flux beneath the Antarctic Plate inferred from seismic velocities, J. Geophys. Res.-Sol. Ea., 120, 8720–8742, https://doi.org/10.1002/2015JB011917, 2015. a
Anandakrishnan, S. and Alley, R. B.: Stagnation of ice stream C, West Antarctica by water piracy, Geophys. Res. Lett., 24, 265–268, 1997. a
Ashmore, D. W. and Bingham, R. G.: Antarctic subglacial hydrology: current knowledge and future challenges, Antarc. Sci., 26, 758–773, https://doi.org/10.1017/S0954102014000546, 2014. a
Bell, R. E., Ferraccioli, F., Creyts, T. T., Braaten, D., Corr, H., Das, I., Damaske, D., Frearson, N., Jordan, T., Rose, K., Studinger, M., and Wolovick, M.: Widespread Persistent Thickening of the East Antarctic Ice Sheet by Freezing from the Base, Science, 331, 1592–1595, https://doi.org/10.1126/science.1200109, 2011. a
Bentley, C. R., Lord, N., and Liu, C.: Radar reflections reveal a wet bed beneath stagnant Ice Stream C and a frozen bed beneath ridge BC, West Antarctica, J. Glaciol., 44, 149–156, https://doi.org/10.3189/S0022143000002434, 1998. a
Burton-Johnson, A., Halpin, J. A., Whittaker, J. M., Graham, F. S., and Watson, S. J.: A new heat flux model for the Antarctic Peninsula incorporating spatially variable upper crustal radiogenic heat production, Geophys. Res. Lett., 44, 5436–5446, https://doi.org/10.1002/2017GL073596, 2017. a
Carter, S. P., Blankenship, D. D., Peters, M. E., Young, D. A., Holt, J. W., and Morse, D. L.: Radar-based subglacial lake classification in Antarctica, Geochem. Geophy. Geosy., 8, 1–20, https://doi.org/10.1029/2006GC001408, 2007. a, b, c, d, e, f, g, h, i
Carter, S. P., Fricker, H. A., and Siegfried, M. R.: Antarctic subglacial lakes drain through sediment-floored canals: theory and model testing on real and idealized domains, The Cryosphere, 11, 381–405, https://doi.org/10.5194/tc-11-381-2017, 2017. a
Corr, H., Moore, J. C., and Nicholls, K. W.: Radar absorption due to impurities in Antarctic ice, Geophys. Res. Lett., 20, 1071–1074, 1993. a
Corr, H. F., Ferraccioli, F., Frearson, N., Jordan, T., Robinson, C., Armadillo, E., Caneva, G., Bozzo, E., and Tabacco, I.: Airborne radio-echo sounding of the Wilkes Subglacial Basin, the Transantarctic Mountains and the Dome C region, Terra Antartica Reports, 13, 55–63, 2007. a, b
Cuffey, K. M. and Paterson, W. S. B.: The physics of glaciers, Academic Press, 2010. a
Diez, A., Matsuoka, K., Ferraccioli, F., Jordan, T. A., Corr, H. F., Kohler, J., Olesen, A. V., and Forsberg, R.: Basal Settings Control Fast Ice Flow in the Recovery/Slessor/Bailey Region, East Antarctica, Geophys. Res. Lett., 45, 2706–2715, https://doi.org/10.1002/2017GL076601, 2018. a
Dowdeswell, J. A. and Siegert, M. J.: The dimensions and topographic setting of Antarctic subglacial lakes and implications for large-scale water storage beneath continental ice sheets, Geol. Soc. Am. Bull., 111, 254–263, 1999. a, b
Dowdeswell, J. A. and Siegert, M. J.: The physiography of modern Antarctic subglacial lakes, Global Planet. Change, 35, 221–236, https://doi.org/10.1016/S0921-8181(02)00128-5, 2003. a
Fretwell, P., Pritchard, H. D., Vaughan, D. G., Bamber, J. L., Barrand, N. E., Bell, R., Bianchi, C., Bingham, R. G., Blankenship, D. D., Casassa, G., Catania, G., Callens, D., Conway, H., Cook, A. J., Corr, H. F. J., Damaske, D., Damm, V., Ferraccioli, F., Forsberg, R., Fujita, S., Gim, Y., Gogineni, P., Griggs, J. A., Hindmarsh, R. C. A., Holmlund, P., Holt, J. W., Jacobel, R. W., Jenkins, A., Jokat, W., Jordan, T., King, E. C., Kohler, J., Krabill, W., Riger-Kusk, M., Langley, K. A., Leitchenkov, G., Leuschen, C., Luyendyk, B. P., Matsuoka, K., Mouginot, J., Nitsche, F. O., Nogi, Y., Nost, O. A., Popov, S. V., Rignot, E., Rippin, D. M., Rivera, A., Roberts, J., Ross, N., Siegert, M. J., Smith, A. M., Steinhage, D., Studinger, M., Sun, B., Tinto, B. K., Welch, B. C., Wilson, D., Young, D. A., Xiangbin, C., and Zirizzotti, A.: Bedmap2: improved ice bed, surface and thickness datasets for Antarctica, The Cryosphere, 7, 375–393, https://doi.org/10.5194/tc-7-375-2013, 2013. a, b
Fricker, H. A., Scambos, T., Bindschadler, R., and Padman, L.: An Active Subglacial Water System in West Antarctica Mapped from Space, Science, 315, 1544–1548, https://doi.org/10.1126/science.1136897, 2007. a
Fricker, H. A., Carter, S. P., Bell, R. E., and Scambos, T.: Active lakes of Recovery Ice Stream, East Antarctica: a bedrock-controlled subglacial hydrological system, J. Glaciol., 60, 1015–1030, https://doi.org/10.3189/2014JoG14J063, 2014. a, b, c
Gacitúa, G., Uribe, J. A., Wilson, R., Loriaux, T., Hernández, J., and Rivera, A.: 50 MHz helicopter-borne radar data for determination of glacier thermal regime in the central Chilean Andes, Ann. Glaciol., 56, 193–201, https://doi.org/10.3189/2015AoG70A953, 2015. a, b
Gades, A. M., Raymond, C. F., Conway, H., and Jagobel, R. W.: Bed properties of Siple Dome and adjacent ice streams, West Antarctica, inferred from radio-echo sounding measurements, J. Glaciol., 46, 88–94, https://doi.org/10.3189/172756500781833467, 2000. a, b
Glen, J. W. and Paren, J. G.: The Electrical Properties of Snow and Ice, J. Glaciol., 15, 15–38, https://doi.org/10.3189/S0022143000034249, 1975. a
Gorman, M. R. and Siegert, M. J.: Penetration of Antarctic subglacial lakes by VHF electromagnetic pulses: Information on the depth and electrical conductivity of basal water bodies, J. Geophys. Res.-Sol. Ea., 104, 29311–29320, https://doi.org/10.1029/1999JB900271, 1999. a, b
Gudlaugsson, E., Humbert, A., Andreassen, K., Clason, C. C., Kleiner, T., and Beyer, S.: Eurasian ice-sheet dynamics and sensitivity to subglacial hydrology, J. Glaciol., 63, 556–564, 2017. a
Gudmandsen, P.: Electromagnetic Probing of Ice, in: Electromagnetic probing in geophysics, edited by: Wait, J. R., Golem Press, Boulder, Colorado, USA, 321–348, 1971. a, b
Heliere, F., Lin, C., Corr, H., and Vaughan, D.: Radio Echo Sounding of Pine Island Glacier, West Antarctica: Aperture Synthesis Processing and Analysis of Feasibility From Space, IEEE T. Geosci. Remote, 45, 2573–2582, https://doi.org/10.1109/TGRS.2007.897433, 2007. a
Jamieson, S. S., Stokes, C. R., Ross, N., Rippin, D. M., Bingham, R. G., Wilson, D. S., Margold, M., and Bentley, M. J.: The glacial geomorphology of the Antarctic ice sheet bed, Antarc. Sci., 26, 724–741, https://doi.org/10.1017/S0954102014000212, 2014. a, b
Jordan, T. A., Ferraccioli, F., Ross, N., Corr, H. F., Leat, P. T., Bingham, R. G., Rippin, D. M., le Brocq, A., and Siegert, M. J.: Inland extent of the Weddell Sea Rift imaged by new aerogeophysical data, Tectonophysics, 585, 137–160, 2013. a
Joughin, I., Smith, B. E., and Medley, B.: Marine Ice Sheet Collapse Potentially Under Way for the Thwaites Glacier Basin, West Antarctica, Science, 344, 735–738, https://doi.org/10.1126/science.1249055, 2014. a
Kapitsa, A. P., Ridley, J. K., de Q. Robin, G., Siegert, M. J., and Zotikov, I. A.: A large deep freshwater lake beneath the ice of central East Antarctica, Nature, 381, 684–686, https://doi.org/10.1038/381684a0, 1996. a
Kirkham, J. D., Hogan, K. A., Larter, R. D., Arnold, N. S., Nitsche, F. O., Golledge, N. R., and Dowdeswell, J. A.: Past water flow beneath Pine Island and Thwaites glaciers, West Antarctica, The Cryosphere, 13, 1959–1981, https://doi.org/10.5194/tc-13-1959-2019, 2019. a, b, c
Leat, P. T., Jordan, T. A., Flowerdew, M. J., Riley, T. R., Ferraccioli, F., and Whitehouse, M. J.: Jurassic high heat production granites associated with the Weddell Sea rift system, Antarctica, Tectonophysics, 722, 249–264, 2018. a
Livingstone, S. J., Clark, C. D., Woodward, J., and Kingslake, J.: Potential subglacial lake locations and meltwater drainage pathways beneath the Antarctic and Greenland ice sheets, The Cryosphere, 7, 1721–1740, https://doi.org/10.5194/tc-7-1721-2013, 2013. a, b, c
Lythe, M. B. and Vaughan, D. G.: BEDMAP: A new ice thickness and subglacial topographic model of Antarctica, J. Geophys. Res.-Sol. Ea., 106, 11335–11351, 2001. a
MacGregor, J. A., Winebrenner, D. P., Conway, H., Matsuoka, K., Mayewski, P. A., and Clow, G. D.: Modeling englacial radar attenuation at Siple Dome, West Antarctica, using ice chemistry and temperature data, J. Geophys. Res. Earth, 112, 1–14, https://doi.org/10.1029/2006JF000717, 2007. a
Martos, Y. M., Catalán, M., Jordan, T. A., Golynsky, A., Golynsky, D., Eagles, G., and Vaughan, D. G.: Heat Flux Distribution of Antarctica Unveiled, Geophys. Res. Lett., 44, 11417–11426, https://doi.org/10.1002/2017GL075609, 2017. a
Matsuoka, K., MacGregor, J. A., and Pattyn, F.: Predicting radar attenuation within the Antarctic ice sheet, Earth Planet. Sci. Lett., 359, 173–183, 2012. a
Maule, C. F., Purucker, M. E., Olsen, N., and Mosegaard, K.: Heat flux anomalies in Antarctica revealed by satellite magnetic data, Science, 309, 464–467, 2005. a
Morlighem, M., Rignot, E., Binder, T., Blankenship, D., Drews, R., Eagles, G., Eisen, O., Ferraccioli, F., Forsberg, R., Fretwell, P., et al.: Deep glacial troughs and stabilizing ridges unveiled beneath the margins of the Antarctic ice sheet, Nat. Geosci., 13, 1–6, 2019. a, b, c
Mouginot, J., Scheuchl, B., and Rignot, E.: MEaSUREs Antarctic boundaries for IPY 2007–2009 from satellite radar, version 2, Boulder, CO: NASA National Snow and Ice Data Center Distributed Active Archive Center, https://doi.org/10.5067/AXE4121732AD, 2017. a
Mouginot, J., Rignot, E., and Scheuchl, B.: Continent-Wide, Interferometric SAR Phase, Mapping of Antarctic Ice Velocity, Geophys. Res. Lett., 0, 9710–9718, https://doi.org/10.1029/2019GL083826, 2019. a, b, c, d
Napoleoni, F., Jamieson, S. S. R., Ross, N., Bentley, M., Rivera, A., Smith, A., Siegert, M., Paxman, G., Gacitúa, G., Uribe, J., Zamora, R., Brisbourne, A., and Vaughan, D.: Subglacial lakes and hydrology across the Ellsworth Subglacial Highlands, West Antarctica, 1977–2017 (Version 1.0), UK Polar Data Centre, Natural Environment Research Council, available at: https://data.bas.ac.uk/full-record.php?id=GB/NERC/BAS/PDC/01401, last access: 16 November 2020. a
Oswald, G. and Robin, G.: Lakes Beneath the Antarctic Ice Sheet, Nature, 245, 251–254, https://doi.org/10.1038/245251a0, 1973. a, b
Pattyn, F.: Antarctic subglacial conditions inferred from a hybrid ice sheet/ice stream model, Earth Planet. Sci. Lett., 295, 451–461, https://doi.org/10.1016/j.epsl.2010.04.025, 2010. a, b, c, d
Pattyn, F., Carter, S. P., and Thoma, M.: Advances in modelling subglacial lakes and their interaction with the Antarctic ice sheet, Philos. T. Roy. Soc. A, 374, 20140296, https://doi.org/10.1098/rsta.2014.0296, 2016. a, b
Paxman, G., Jamieson, S., Ferraccioli, F., Bentley, M., Forsberg, R., Ross, N., Watts, A., F.J. Corr, H., and Jordan, T.: Uplift and tilting of the Shackleton Range in East Antarctica driven by glacial erosion and normal faulting: Flexural Uplift of the Shackleton Range, J. Geophys. Res.-Sol. Ea., 122, 2390–2408, https://doi.org/10.1002/2016JB013841, 2017. a
Paxman, G. J., Jamieson, S. S., Hochmuth, K., Gohl, K., Bentley, M. J., Leitchenkov, G., and Ferraccioli, F.: Reconstructions of Antarctic topography since the Eocene–Oligocene boundary, Palaeogeography, Palaeoclimatology, Palaeoecology, 535, 109346, https://doi.org/10.1016/j.palaeo.2019.109346, 2019. a
Peters, M. E., Blankenship, D. D., and Morse, D. L.: Analysis techniques for coherent airborne radar sounding: Application to West Antarctic ice streams, J. Geophys. Res.-Sol. Ea., 110, 1–17, https://doi.org/10.1029/2004JB003222, 2005. a, b, c, d
Popov, S. and Masolov, V.: Novye dannye o podlednikovih ozerah tsentral'noy chasty Vostochnoy Antarktidy [New data on subglacial lakes in central part of Eastern Antarctica], Materialy Glatsiologicheskikh Issledovaniy, 95, 161–167, 2003. a, b
Rignot, E., Mouginot, J., Morlighem, M., Seroussi, H., and Scheuchl, B.: Widespread, rapid grounding line retreat of Pine Island, Thwaites, Smith, and Kohler glaciers, West Antarctica, from 1992 to 2011, Geophys. Res. Lett., 41, 3502–3509, https://doi.org/10.1002/2014GL060140, 2014. a
Rignot, E., Mouginot, J., Scheuchl, B., van den Broeke, M., van Wessem, M. J., and Morlighem, M.: Four decades of Antarctic Ice Sheet mass balance from 1979–2017, P. Natl. Acad. Sci. USA, 116, 1095–1103, https://doi.org/10.1073/pnas.1812883116, 2019. a
Rivera, A., Uribe, J., Zamora, R., and Oberreuter, J.: Subglacial Lake CECs: Discovery and in situ survey of a privileged research site in West Antarctica, Geophys. Res. Lett., 42, 3944–3953, https://doi.org/10.1002/2015GL063390, 2015. a, b, c, d, e
Robin, G. de Q., Swithinbank, C., Smith, B. M. E.: Radio echo exploration of the Antarctic ice sheet, in: International Symposium on Antarctic Glaciological Exploration (ISAGE), edited by: Gow, A. J., Keeler, C., Langway, C. C., Weeks, W. F., Hanover, New Hampshire, 3–7 September 1968, Gentbrugge, International Association of Scientific Hydrology, (IASH Publication, 86), 97–115, 1970. a, b
Ross, N. and Siegert, M.: Basal melting over Subglacial Lake Ellsworth and its catchment: insights from englacial layering, Ann. Glaciol., 1–8, https://doi.org/10.1017/aog.2020.50, 2020. a, b
Ross, N., Siegert, M., Woodward, J., Smith, A., Corr, H., Bentley, M., Hindmarsh, R., King, E., and Rivera, A.: Holocene stability of the Amundsen-Weddell ice divide, West Antarctica, Geology, 39, 935–938, https://doi.org/10.1130/G31920.1, 2011. a
Ross, N., Jordan, T. A., Bingham, R. G., Corr, H. F., Ferraccioli, F., Le Brocq, A., Rippin, D. M., Wright, A. P., and Siegert, M. J.: The Ellsworth subglacial highlands: inception and retreat of the West Antarctic Ice Sheet, Bulletin, 126, 3–15, 2014. a, b
Schroeder, D. M., Blankenship, D. D., and Young, D. A.: Evidence for a water system transition beneath Thwaites Glacier, West Antarctica, P. Natl. Acad. Sci. USA, 110, 12225–12228, 2013. a
Schroeder, D. M., Seroussi, H., Chu, W., and Young, D. A.: Adaptively constraining radar attenuation and temperature across the Thwaites Glacier catchment using bed echoes, J. Glaciol., 62, 1075–1082, 2016. a
Schwanghart, W. and Scherler, D.: Short Communication: TopoToolbox 2 – MATLAB-based software for topographic analysis and modeling in Earth surface sciences, Earth Surf. Dynam., 2, 1–7, https://doi.org/10.5194/esurf-2-1-2014, 2014. a, b
Shapiro, N. M. and Ritzwoller, M. H.: Inferring surface heat flux distributions guided by a global seismic model: particular application to Antarctica, Earth Planet. Sci. Lett., 223, 213–224, 2004. a
Shreve, R. L.: Movement of Water in Glaciers, J. Glaciol., 11, 205–214, https://doi.org/10.3189/S002214300002219X, 1972. a, b, c, d
Siegert, M., Dowdeswell, J., Gorman, M., and McIntyre, N.: An inventory of Antarctic sub-glacial lakes, Antarc. Sci., 8, 281–286, https://doi.org/10.1017/S0954102096000405, 1996. a
Siegert, M. J.: Radar evidence of water-saturated sediments beneath the East Antarctic Ice Sheet, Geological Society, London, Special Publications, 176, 217–229, https://doi.org/10.1144/GSL.SP.2000.176.01.17, 2000. a, b, c
Siegert, M. J.: Lakes Beneath the Ice Sheet: The Occurrence, Analysis, and Future Exploration of Lake Vostok and Other Antarctic Subglacial Lakes, Annu. Rev. Earth Pl. Sc., 33, 215–245, https://doi.org/10.1146/annurev.earth.33.092203.122725, 2005. a, b, c
Siegert, M. J. and Bamber, J. L.: Subglacial water at the heads of Antarctic ice-stream tributaries, J. Glaciol., 46, 702–703, 2000. a
Siegert, M. J., Hindmarsh, R., Corr, H., Smith, A., Woodward, J., King, E. C., Payne, A. J., and Joughin, I.: Subglacial Lake Ellsworth: A candidate for in situ exploration in West Antarctica, Geophys. Res. Lett., 31, 1–4, https://doi.org/10.1029/2004GL021477, 2004a. a
Siegert, M. J., Welch, B., Morse, D., Vieli, A., Blankenship, D. D., Joughin, I., King, E. C., Vieli, G. J.-M. C. L., Payne, A. J., and Jacobel, R.: Ice Flow Direction Change in Interior West Antarctica, Science, 305, 1948–1951, https://doi.org/10.1126/science.1101072, 2004b. a
Siegert, M. J., Clarke, R. J., Mowlem, M., Ross, N., Hill, C. S., Tait, A., Hodgson, D., Parnell, J., Tranter, M., Pearce, D., Bentley, M. J., Cockell, C., Tsaloglou, M.-N., Smith, A., Woodward, J., Brito, M. P., and Waugh, E.: Clean access, measurement, and sampling of Ellsworth Subglacial Lake: A method for exploring deep Antarctic subglacial lake environments, Rev. Geophys., 50, 1–40, https://doi.org/10.1029/2011RG000361, 2012. a, b, c
Siegert, M. J., Kingslake, J., Ross, N., Whitehouse, P. L., Woodward, J., Jamieson, S. S. R., Bentley, M. J., Winter, K., Wearing, M., Hein, A. S., Jeofry, H., and Sugden, D. E.: Major Ice Sheet Change in the Weddell Sea Sector of West Antarctica Over the Last 5000 Years, Rev. Geophys., 57, 1197–1223, https://doi.org/10.1029/2019RG000651, 2019. a
Slater, T., Shepherd, A., McMillan, M., Muir, A., Gilbert, L., Hogg, A. E., Konrad, H., and Parrinello, T.: A new digital elevation model of Antarctica derived from CryoSat-2 altimetry, The Cryosphere, 12, 1551–1562, https://doi.org/10.5194/tc-12-1551-2018, 2018. a, b, c
Smith, A. M., Woodward, J., Ross, N., Bentley, M. J., Hodgson, D. A., Siegert, M. J., and King, E. C.: Evidence for the long-term sedimentary environment in an Antarctic subglacial lake, Earth Planet. Sci. Lett., 504, 139–151, https://doi.org/10.1016/j.epsl.2018.10.011, 2018. a
Smith, B. E., Fricker, H. A., Joughin, I. R., and Tulaczyk, S.: An inventory of active subglacial lakes in Antarctica detected by ICESat (2003–2008), J. Glaciol., 55, 573–595, https://doi.org/10.3189/002214309789470879, 2009. a
Smith, B. E., Gourmelen, N., Huth, A., and Joughin, I.: Connected subglacial lake drainage beneath Thwaites Glacier, West Antarctica, The Cryosphere, 11, 451–467, https://doi.org/10.5194/tc-11-451-2017, 2017. a, b
Stearns, L. A., Smith, B. E., and Hamilton, G. S.: Increased flow speed on a large East Antarctic outlet glacier caused by subglacial floods, Nat. Geosci., 1, 827, https://doi.org/10.1038/ngeo356, 2008. a
Stenoien, M. D. and Bentley, C. R.: Pine Island Glacier, Antarctica: A study of the catchment using interferometric synthetic aperture radar measurements and radar altimetry, J. Geophys. Res.-Sol. Ea., 105, 21761–21779, 2000. a
Sugden, D. E., Hein, A. S., Woodward, J., Marrero, S. M., Ángel Rodés, Dunning, S. A., Stuart, F. M., Freeman, S. P., Winter, K., and Westoby, M. J.: The million-year evolution of the glacial trimline in the southernmost Ellsworth Mountains, Antarctica, Earth Planet. Sci. Lett., 469, 42–52, https://doi.org/10.1016/j.epsl.2017.04.006, 2017. a, b
Uribe, J., Zamora, R., Pulgar, S., Oberreuter, J., and Rivera, A.: Overview of the low-frequency ice penetrating radar system survey conducted to Subglacial Lake CECs, West Antarctica, available at: https://www.igsoc.org/symposia/2019/stanford/proceedings/procsfiles/procabstracts_75.html#A2948 (last access: 12 November 2020), 2019. a
van der Veen, C. J., Leftwich, T., von Frese, R., Csatho, B. M., and Li, J.: Subglacial topography and geothermal heat flux: Potential interactions with drainage of the Greenland ice sheet, Geophys. Res. Lett., 34, https://doi.org/10.1029/2007GL030046, 2007. a
Vaughan, D. G., Corr, H. F. J., Ferraccioli, F., Frearson, N., O'Hare, A., Mach, D., Holt, J. W., Blankenship, D. D., Morse, D. L., and Young, D. A.: New boundary conditions for the West Antarctic ice sheet: Subglacial topography beneath Pine Island Glacier, Geophys. Res. Lett., 33, 1–4, https://doi.org/10.1029/2005GL025588, 2006. a, b, c, d, e, f, g
Vaughan, D. G., Rivera, A., Woodward, J., Corr, H. F. J., Wendt, J., and Zamora, R.: Topographic and hydrological controls on Subglacial Lake Ellsworth, West Antarctica, Geophys. Res. Lett., 34, L18501, https://doi.org/10.1029/2007GL030769, 2007. a, b, c, d, e, f, g, h, i
Vaughan, D. G., Corr, H. F., Smith, A. M., Pritchard, H. D., and Shepherd, A.: Flow-switching and water piracy between Rutford ice stream and Carlson inlet, West Antarctica, J. Glaciol., 54, 41–48, 2008. a
Wessel, P., Smith, W. H. F., Scharroo, R., Luis, J., and Wobbe, F.: Generic Mapping Tools: Improved Version Released, Eos, Transactions American Geophysical Union, 94, 409–410, https://doi.org/10.1002/2013EO450001, 2013. a
Winebrenner, D. P., Smith, B. E., Catania, G. A., Conway, H. B., and Raymond, C. F.: Radio-frequency attenuation beneath Siple Dome, West Antarctica, from wide-angle and profiling radar observations, Ann. Glaciol., 37, 226–232, 2003. a
Wingham, D. J., Siegert, M. J., Shepherd, A., and Muir, A. S.: Rapid discharge connects Antarctic subglacial lakes, Nature, 440, https://doi.org/10.1038/nature04660, 2006. a, b
Winsborrow, M. C., Clark, C. D., and Stokes, C. R.: What controls the location of ice streams?, Earth-Sci. Rev., 103, 45–59, 2010. a
Winter, K., Woodward, J., Ross, N., Dunning, S. A., Bingham, R. G., Corr, H. F., and Siegert, M. J.: Airborne radar evidence for tributary flow switching in Institute Ice Stream, West Antarctica: Implications for ice sheet configuration and dynamics, J. Geophys. Res.-Earth, 120, 1611–1625, 2015.  a
Woodward, J., Smith, A. M., Ross, N., Thoma, M., Corr, H. F. J., King, E. C., King, M. A., Grosfeld, K., Tranter, M., and Siegert, M. J.: Location for direct access to subglacial Lake Ellsworth: An assessment of geophysical data and modeling, Geophys. Res. Lett., 37, 1–5, https://doi.org/10.1029/2010GL042884, 2010. a
Wright, A. and Siegert, M.: A fourth inventory of Antarctic subglacial lakes, Antarc. Sci., 24, 659–664, https://doi.org/10.1017/S095410201200048X, 2012. a, b, c, d, e, f
Wright, A. and Siegert, M. J.: The Identification and Physiographical Setting of Antarctic Subglacial Lakes: An Update Based on Recent Discoveries, American Geophysical Union (AGU), 9–26, https://doi.org/10.1002/9781118670354.ch2, 2011. a, b
Wright, A. P., Siegert, M. J., Le Brocq, A. M., and Gore, D. B.: High sensitivity of subglacial hydrological pathways in Antarctica to small ice-sheet changes, Geophys. Res. Lett., 35, 1–5, https://doi.org/10.1029/2008GL034937, 2008. a
Zamora, R., Uribe, J., Pulgar, S., Oberreuter, J., and Rivera, A.: Ground penetrating radar system for measuring deep ice in Antarctica using software-defined radio approach, available at: https://www.igsoc.org/symposia/2019/stanford/proceedings/procsfiles/procabstracts_75.html#A2968 (last access: 12 November 2020), 2019. a