Articles | Volume 12, issue 5
https://doi.org/10.5194/tc-12-1745-2018
© Author(s) 2018. This work is distributed under
the Creative Commons Attribution 4.0 License.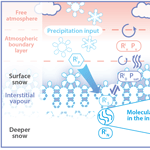 Archival processes of the water stable isotope signal in East Antarctic ice cores
The oldest ice core records are obtained from the East Antarctic Plateau. Water isotopes are key proxies to reconstructing past climatic conditions over the ice sheet and at the evaporation source. The accuracy of climate reconstructions depends on knowledge of all processes affecting water vapour, precipitation and snow isotopic compositions. Fractionation processes are well understood and can be integrated in trajectory-based Rayleigh distillation and isotope-enabled climate models. However, a quantitative understanding of processes potentially altering snow isotopic composition after deposition is still missing. In low-accumulation sites, such as those found in East Antarctica, these poorly constrained processes are likely to play a significant role and limit the interpretability of an ice core's isotopic composition.
By combining observations of isotopic composition in vapour, precipitation, surface snow and buried snow from Dome C, a deep ice core site on the East Antarctic Plateau, we found indications of a seasonal impact of metamorphism on the surface snow isotopic signal when compared to the initial precipitation. Particularly in summer, exchanges of water molecules between vapour and snow are driven by the diurnal sublimation–condensation cycles. Overall, we observe in between precipitation events modification of the surface snow isotopic composition. Using high-resolution water isotopic composition profiles from snow pits at five Antarctic sites with different accumulation rates, we identified common patterns which cannot be attributed to the seasonal variability of precipitation. These differences in the precipitation, surface snow and buried snow isotopic composition provide evidence of post-deposition processes affecting ice core records in low-accumulation areas.
Received: 31 Oct 2017 – Discussion started: 03 Nov 2017 – Revised: 20 Apr 2018 – Accepted: 21 Apr 2018 – Published: 24 May 2018
Ice is a natural archive of past climate variations. Its physicochemical composition, including trapped air bubbles, is used as paleoclimate proxies (Jouzel and Masson-Delmotte, 2010, and references therein). The water isotopes in ice cores collected over large ice sheets permit reconstructions of past temperatures as far back as the last glacial period in West Antarctica (up to 60 000 years ago) (WAIS Divide Project members, 2013) and the last interglacial period in Greenland (120 000 years ago) (NEEM Community members, 2013; North Greenland Ice Core Project members, 2004). In East Antarctica, low accumulation rates permit past climate reconstructions spanning several interglacial periods, e.g. 420 000 years at Vostok (Petit et al., 1999), 720 000 years at Dome F (Kawamura et al., 2017) and 800 000 years at Dome C (EPICA, 2004, 2006). While reconstructions from ice cores from Greenland and West Antarctica may not extend as far into the past as from East Antarctica, high-resolution analyses of the Greenland and West Antarctica cores provide very fine temporal resolution from which the seasonal cycle can be resolved (Markle et al., 2017; Vinther et al., 2010). Seasonal variations can also be retrieved from snow isotopic compositions at high-accumulation sites in Antarctica's coastal areas (Küttel et al., 2012; Masson-Delmotte et al., 2003; Morgan, 1985). In contrast, the academic community is still debating whether data from low-accumulation sites on the East Antarctic Plateau can ever yield temporal resolutions finer than multidecadal (Baroni et al., 2011; Ekaykin et al., 2002; Münch et al., 2016; Pol et al., 2014). Ekaykin et al. (2002) analysed multiple pits from Vostok and identified large spatiotemporal variations caused by post-deposition processes associated with surface topography and wind interactions. Such phenomena create a degree of noise that is unrelated to past climatic conditions and could be alleviated by stacking different isotopic composition profiles from several snow pits to reveal the underlying climatic signal. Nevertheless, isotopic analyses of both the precipitation and surface snow data from the East Antarctic Plateau revealed a clear seasonal cycle (Fujita and Abe, 2006; Landais et al., 2012; Stenni et al., 2016; Touzeau et al., 2016). Thus an important open question that needs to be addressed is whether this seasonal cycle is indeed archived in buried snow and whether stacking an array of snow pits sufficiently increases the signal-to-noise ratio to finally resolve those intra-annual timescales (Altnau et al., 2015; Ekaykin et al., 2014; Münch et al., 2016, 2017).
Several studies examined how the climatic signal is archived in the isotopic composition of snow and ice from the East Antarctic Plateau. Since the early works of Dansgaard (1964) and Lorius et al. (1969), the relationship between ice isotopic composition and local temperature has been attributed to distillation as an integrative process associated with successive condensation events occurring between the initial evaporation site and the deposition site (Criss, 1999). Nevertheless, the relationship between isotopic composition and surface temperature is not constant through time and space, due notably to processes within the local boundary layer (Krinner et al., 1997), the seasonality of the precipitation between glacial and interglacial periods (Sime et al., 2009) and variations in air mass transport trajectories (Delaygue et al., 2000; Schlosser et al., 2004) and in the source evaporation conditions (Vimeux et al., 1999). For East Antarctica, the glacial–interglacial isotope–temperature relationship appears quite close to the spatial gradient, but its validity for interannual variations (Schmidt et al., 2007) and warmer than present-day conditions (Sime et al., 2009) is unclear.
In addition, under the exceptionally cold and dry conditions of East Antarctic drilling sites, contributions of post-deposition processes to the snow isotopic composition cannot be neglected at the atmosphere–snow interface (Sokratov and Golubev, 2009; Town et al., 2008). Indeed, the relationship between temperature and isotopic composition of surface snow is different from the one found in precipitation (Touzeau et al., 2016). It has been recently evidenced that summer exchanges between snow and water vapour significantly affect the isotopic composition of the snow both in Greenland (Steen-Larsen et al., 2014) and on the East Antarctic Plateau (Ritter et al., 2016). In this study, we intend to evaluate the different contributions to the snow isotopic composition signal in order to explain how the climatic signal gets archived. We chose Dome C as an open-air laboratory to study the different contributions to the surface snow isotopic composition, including (1) direct precipitation input, (2) blowing snow, (3) exchanges with atmospheric vapour and (4) exchanges with the firn below the surface (Fig. 1). Point (3) includes both sublimation and condensation (both liquid and solid condensation). The term "deposition" will refer to the deposition of precipitation and rime at the snow surface leading to accumulation. Point (4) includes several processes such as sublimation in warmer areas of the firn, molecular diffusion in the porosity sometimes enhanced by wind pumping and solid condensation in colder areas of the firn. Point (4) can also be associated with metamorphism (coarsening of the snow grains as a result of temperature gradients in the firn), in which case the impact on the isotopic signal is similar to "isotopic diffusion" such as described by Johnsen (1977). Throughout the paper, the notations used in Fig. 1 will be used to describe the isotopic composition of which type of snow is described.
Since Dome C is far along the distillation path, only small amounts of precipitable water are available (Ricaud et al., 2014), leading to sparse and irregular precipitation events (Genthon et al., 2015). As a result, snow does not accumulate homogeneously at Dome C, but the deposition is patchy and strongly dependent on the surface roughness (Groot Zwaaftink et al., 2013; Libois et al., 2014; Picard et al., 2016a). A small but significant contribution to the annual mass balance thus comes from sublimation–condensation directly at the surface (Genthon et al., 2017). While negative sublimation fluxes up to −0.3 mm w.e. month−1 are observed during the austral summer, in the austral winter fluxes are positive with up to 0.1 mm w.e. month−1 and are associated with condensation (vapour–ice phase transitions with or without a liquid intermediary). At Dome C, these contributions constitute up to 10 % of the total annual accumulation; while this may appear small, we expect a significant impact on the snow isotopic budget. Indeed, the alternation of negative and positive fluxes would overall have a small mass budget (symmetric mass balance). However, as the temperature is lower during the austral winter when positive fluxes are observed than during the austral summer when the negative fluxes are observed, the isotopic budget is affected by different isotopic fractionation for positive–negative flux periods (asymmetric mass balance).
A diurnal temperature asymmetry is also observed in summer with differentials reaching up to 16 ∘C and vapour isotopic composition is directly affected by this differential impacting the (nighttime) condensation and (daytime) sublimation cycle (Casado et al., 2016; Ritter et al., 2016). As the sublimation phase is characterised with higher temperature than the condensation phase, the diurnal cycle also results in an asymmetric isotopic budget. In addition, atmospheric boundary layer dynamics differ between day and night with active daytime convection, leading to turbulence mixing throughout the boundary layer while boundary layer is more stably stratified at night (Casado et al., 2016; Vignon et al., 2017).
Isotope exchanges during snow metamorphism and diffusion within the porous matrix of the subsurface snowpack additionally affect snow isotopic composition (Calonne et al., 2015; Ebner et al., 2017; Johnsen, 1977; Langway, 1970; Whillans and Grootes, 1985) and the diffusion length depends on the firn ventilation, the snow density, porosity and tortuosity and the exchange rate between the atmospheric water vapour and the surface snow (Gkinis et al., 2014; Johnsen et al., 2000). This large variety of processes hampers isotopic signal interpretation. In particular, the degree to which the original signal acquired during the evaporation at the moisture source and the formation of the precipitation is preserved during the burial of the snow is unknown (Münch et al., 2017).
Recent studies on the East Antarctic Plateau focused on (1) monitoring the isotopic composition of the snowpack (Touzeau et al., 2016), the precipitation (Fujita and Abe, 2006; Landais et al., 2012; Stenni et al., 2016) and the atmospheric water vapour (Casado et al., 2016; Ritter et al., 2016) and (2) exploring their links to climatic parameters and snow isotopic composition. This study examines the isotopic composition along the continuum such as atmospheric vapour, precipitation, surface and buried snow. By combining existing and new datasets from Dome C on the East Antarctic Plateau, we performed qualitative characterisation of the different processes affecting surface snow isotope composition on timescales that range from diurnal to annual.
3
Results and discussions
This study explored post-deposition processes at the East Antarctic Plateau low-accumulation site Dome C, and how they affect the archiving of water isotopic composition from precipitation to the snow pack.
We demonstrated that atmosphere–snowpack exchanges at Dome C produce a seasonal signal of surface snow isotopic composition that is different from what would be expected from precipitation. The amplitude of the snow isotopic composition signal appears to be linked to the strength of surface metamorphism, a post-deposition effect that influences the relationship between δ18O and temperature, which in turn affects deep ice core water isotope ratios.
We also showed that depth variations in δ18O in shallow firn cores did not correspond to past climatic seasonal variations. The typical length scales associated with these variations or "apparent cycles" were of the order of 20 cm and thus significantly different from the expected seasonal cycles at these low-accumulation sites.
In addition, by plotting surface snow–precipitation isotopic composition versus temperature, we could show that the slopes obtained for surface snow differed from the slopes for precipitation, which we attributed to the different inputs that affect surface snow isotopic composition among which precipitation and various post-deposition processes.
This study qualitatively demonstrated the importance of post-deposition effects for the interpretation of isotopic signals in the surface and subsurface snow. More quantitative results could be obtained through controlled laboratory experiments, further field studies and use of snow models equipped with water isotopes. Combining several water isotopes (d excess or 17O excess) may provide substantial added value due to their different relative sensitivity to equilibrium and kinetic fractionation.
The dataset has been included in the Supplement of the manuscript.
Appendix A:
Simulation of the precipitation isotopic composition
The precipitation isotopic composition is simulated from the ERA-Interim temperature and snowfall products and the relationship between precipitation isotopic composition and temperature (Sect. 3.1.1) is given by
By comparing the simulated precipitation isotopic composition to field measurements (Fig. A1), we observe that the simulated precipitation content matches observations at the seasonal scale, except for the very low values of isotopic composition during winter. This is particularly obvious in the winter 2010 where the modelled δ18Op does not go below −65 ‰ while observations contain several values below −70 ‰. The simulated amplitudes only capture 85 % of the observed ranges and a correlation analysis yielded R2=0.66 (n=500), which is mainly explained by the correlation of 0.63 between the temperature and the precipitation isotopic composition (see Sect. 3.1.1). The root mean square difference between the two time series is 3.5 ‰.
During winter, the modelled precipitation was able to capture the impact of high values of δ18Op associated with warm synoptic events, but not in summer.
Overall, the simulated isotopic composition signal captured most of the seasonal cycle. It was particularly successful at modelling winter temporal high δ18Op events and the phase correlation between precipitation isotopic composition and temperature.
The surface snow isotopic composition was simulated by integrating all the previous precipitation events until the width of a sample is reached (see Sect. 3.2). The modelled surface snow isotopic composition showed a correlation of R2=0.44 between 2014 and 2016 (n=181, Fig. 3). The root mean square difference between the modelled and observed isotopic composition is 2.7 ‰.
Appendix B:
Signal in the snow pits across the East Antarctic Plateau
We analysed variations in the snow pit data by manually counting successive local extremes, applying minimum amplitude difference of 1.5 ‰ for δ18ON and 10 ‰ for δDN. These thresholds were chosen to exceed measurements uncertainties while being lower than the expected annual variations in surface snow isotopic composition. Sensitivity tests showed the choice of the thresholds does not affect the results. For each snow pit, the mean cycle length was estimated by counting the number of maxima over the length of the pit profile. We present the average of the cycle length of the different pits for each site (Table 4).
MC, AL and GP prepared the field campaigns leading to the new datasets of this paper; MC, AL, GP and LA gathered and analysed the samples of NIVO; TM and TL gathered and analysed the samples from Kohnen; BS and GD gathered and analysed the samples of PRE-REC; AE gathered and analysed the samples from Vostok; JJ gathered and analysed the samples from Dome C from the 1970s; CG and LA realised the atmospheric and snow monitoring; MC, AL, TM and TL analysed the data; all authors contributed to the discussion of the results; MC, AL and TL wrote the manuscript.
The authors declare that they have no conflict of interest.
The research leading to these results has received funding from the European Research Council under the European Union's Seventh Framework Programme (FP7/2007-2013)/RC grant agreement number 306045. These results are part of the project Antarctic-SNOW from the Foundation Albert 2 de Monaco (FA2M). Thomas Münch and Thomas Laepple were supported by the Initiative and Networking Fund of the Helmholtz Association Grant VG-NH900. We acknowledge the work of Etienne Vignon and our fruitful discussions. We acknowledge the programs NIVO, CALVA and GLACIO and all the IPEV staff that made the campaigns possible; LGGE and LIPHY for providing logistic advice and support; PNRA-PRE-REC project for the 2014 surface snow data at Concordia station. We would like to thank two anonymous referees for their careful evaluation and thoughtful comments.

Edited by: Martin Schneebeli
Reviewed by: two anonymous referees
Alley, R. B.: Densification and recrystallization of firn at Dome C, East Antarctica, Institute of Polar Studies, The Ohio State University, 1980. a
Altnau, S., Schlosser, E., Isaksson, E., and Divine, D.: Climatic signals from 76 shallow firn cores in Dronning Maud Land, East Antarctica, The Cryosphere, 9, 925–944, https://doi.org/10.5194/tc-9-925-2015, 2015. a
Baroni, M., Bard, E., Petit, J. R., Magand, O., and Bourlès, D.: Volcanic and solar activity, and atmospheric circulation influences on cosmogenic 10Be fallout at Vostok and Concordia (Antarctica) over the last 60years, Geochim. Cosmochim. Ac., 75, 7132–7145, https://doi.org/10.1016/j.gca.2011.09.002, 2011. a
Berkelhammer, M., Noone, D. C., Steen-Larsen, H. C., Bailey, A., Cox, C. J., O'Neill, M. S., Schneider, D., Steffen, K., and White, J. W. C.: Surface-atmosphere decoupling limits accumulation at Summit, Greenland, Sci. Adv., 2, e1501704, https://doi.org/10.1126/sciadv.1501704, 2016. a
Calonne, N., Geindreau, C., and Flin, F.: Macroscopic modeling of heat and water vapor transfer with phase change in dry snow based on an upscaling method: Influence of air convection, J. Geophys. Res.-Earth, 120, 2476–2497, https://doi.org/10.1002/2015JF003605, 2015. a
Casado, M., Landais, A., Masson-Delmotte, V., Genthon, C., Kerstel, E., Kassi, S., Arnaud, L., Picard, G., Prie, F., Cattani, O., Steen-Larsen, H.-C., Vignon, E., and Cermak, P.: Continuous measurements of isotopic composition of water vapour on the East Antarctic Plateau, Atmos. Chem. Phys., 16, 8521–8538, https://doi.org/10.5194/acp-16-8521-2016, 2016. a, b, c, d, e, f, g, h, i
Casey, K. A., Fudge, T. J., Neumann, T. A., Steig, E. J., Cavitte, M. G. P., and Blankenship, D. D.: The 1500 m South Pole ice core: recovering a 40 ka environmental record, Ann. Glaciol., 55, 137–146, 2014. a
Ciais, P. and Jouzel, J.: Deuterium and oxygen 18 in precipitation: Isotopic model, including mixed cloud processes, J. Geophys. Res.-Atmos, 99, 16793–16803, https://doi.org/10.1029/94JD00412, 1994. a, b
Criss, R. E.: Principles of stable isotope distribution, vol. 254, Oxford University Press, New York, 1999. a
Dansgaard, W.: Stable isotopes in precipitation, Tellus, 16, 436–468, https://doi.org/10.1111/j.2153-3490.1964.tb00181.x, 1964. a
Delaygue, G., Jouzel, J., Masson, V., Koster, R. D., and Bard, E.: Validity of the isotopic thermometer in central Antarctica: limited impact of glacial precipitation seasonality and moisture origin, Geophys. Res. Lett., 27, 2677–2680, 2000. a
Ebner, P. P., Steen-Larsen, H. C., Stenni, B., Schneebeli, M., and Steinfeld, A.: Experimental observation of transient δ18O interaction between snow and advective airflow under various temperature gradient conditions, The Cryosphere, 11, 1733–1743, https://doi.org/10.5194/tc-11-1733-2017, 2017. a, b
Ekaykin, A.: Meteorological regime of central Antarctica and its role in the formation of isotope composition of snow thickness, PhD thesis, Geography Faculty of Saint Petersbourg, 2003. a
Ekaykin, A. A. and Lipenkov, V. Y.: Formation of the ice core isotopic composition, Physics of ice core records, Low Temp. Sci., 68, 299–314, 2009. a, b
Ekaykin, A. A., Lipenkov, V. Y., Barkov, N. I., Petit, J. R., and Masson-Delmotte, V.: Spatial and temporal variability in isotope composition of recent snow in the vicinity of Vostok station, Antarctica: implications for ice-core record interpretation, Ann. Glaciol., 35, 181–186, https://doi.org/10.3189/172756402781816726, 2002. a, b, c, d, e
Ekaykin, A. A., Lipenkov, V. Y., Kuzmina, I. N., Petit, J. R., Masson-Delmotte, V., and Johnsen, S. J.: The changes in isotope composition and accumulation of snow at Vostok station, East Antarctica, over the past 200 years, Ann. Glaciol., 39, 569–575, https://doi.org/10.3189/172756404781814348, 2004. a, b
Ekaykin, A. A., Kozachek, A. V., Lipenkov, V. Y., and Shibaev, Y. A.: Multiple climate shifts in the Southern Hemisphere over the past three centuries based on central Antarctic snow pits and core studies, Ann. Glaciol., 55, 259–266, 2014. a
EPICA: Eight glacial cycles from an Antarctic ice core, Nature, 429, 623–628, 2004. a
EPICA: One-to-one coupling of glacial climate variability in Greenland and Antarctica, Nature, 444, 195–198, 2006. a
Fisher, D. A., Reeh, N., and Clausen, H. B.: Stratigraphic noise in time series derived from ice cores, Ann. Glaciol, 7, 76–83, 1985. a
Fujita, K. and Abe, O.: Stable isotopes in daily precipitation at Dome Fuji, East Antarctica, Geophys. Res. Lett., 33, L18503, https://doi.org/10.1029/2006GL026936, 2006. a, b, c
Genthon, C., Six, D., Favier, V., Lazzara, M., and Keller, L.: Atmospheric Temperature Measurement Biases on the Antarctic Plateau, J. Atmos. Ocean. Tech., 28, 1598–1605, https://doi.org/10.1175/jtech-d-11-00095.1, 2011. a
Genthon, C., Six, D., Gallée, H., Grigioni, P., and Pellegrini, A.: Two years of atmospheric boundary layer observations on a 45-m tower at Dome C on the Antarctic plateau, J. Geophys. Res.-Atmos., 118, 3218–3232, https://doi.org/10.1002/jgrd.50128, 2013. a, b
Genthon, C., Six, D., Scarchilli, C., Ciardini, V., and Frezzotti, M.: Meteorological and snow accumulation gradients across Dome C, East Antarctic plateau, Int. J. Climatol., 36, 455–466, https://doi.org/10.1002/joc.4362, 2015. a, b, c
Genthon, C., Piard, L., Vignon, E., Madeleine, J.-B., Casado, M., and Gallée, H.: Atmospheric moisture supersaturation in the near-surface atmosphere at Dome C, Antarctic Plateau, Atmos. Chem. Phys., 17, 691–704, https://doi.org/10.5194/acp-17-691-2017, 2017. a, b
Gkinis, V., Simonsen, S. B., Buchardt, S. L., White, J. W. C., and Vinther, B. M.: Water isotope diffusion rates from the NorthGRIP ice core for the last 16,000 years-Glaciological and paleoclimatic implications, Earth Planet. Sc. Lett., 405, 132–141, 2014. a
Groot Zwaaftink, C. D., Cagnati, A., Crepaz, A., Fierz, C., Macelloni, G., Valt, M., and Lehning, M.: Event-driven deposition of snow on the Antarctic Plateau: analyzing field measurements with SNOWPACK, The Cryosphere, 7, 333–347, https://doi.org/10.5194/tc-7-333-2013, 2013. a
Johnsen, S. J.: Stable isotope homogenization of polar firn and ice, in: Isotopes and impurities in snow and ice, Proceedings of the Grenoble Symposium, IAHS, 1, 210–219, 1977. a, b
Johnsen, S. J., Clausen, H. B., Cuffey, K. M., Hoffmann, G., and Creyts, T. T.: Diffusion of stable isotopes in polar firn and ice: the isotope effect in firn diffusion, Physics of ice core records, Hokkaido University Press, Sapporo, Japan, 121–140, 2000. a
Jouzel, J. and Masson-Delmotte, V.: Paleoclimates: what do we learn from deep ice cores?, WIRES Clim. Change, 1, 654–669, https://doi.org/10.1002/wcc.72, 2010. a
Jouzel, J. and Merlivat, L.: Deuterium and oxygen 18 in precipitation: Modeling of the isotopic effects during snow formation, J. Geophys. Res.-Atmos., 89, 11749–11757, https://doi.org/10.1029/JD089iD07p11749, 1984. a
Jouzel, J., Merlivat, L., Petit, J. R., and Lorius, C.: Climatic information over the last century deduced from a detailed isotopic record in the south pole snow, J. Geophys. Res.-Oceans, 88, 2693–2703, https://doi.org/10.1029/JC088iC04p02693, 1983. a, b, c
Kawamura, K., Abe-Ouchi, A., Motoyama, H., Ageta, Y., Aoki, S., Azuma, N., Fujii, Y., Fujita, K., Fujita, S., and Fukui, K.: State dependence of climatic instability over the past 720,000 years from Antarctic ice cores and climate modeling, Sci. Adv., 3, e1600446, https://doi.org/10.1126/sciadv.1600446, 2017. a
Koster, R. D., Jouzel, J., Suozzo, R. J., and Russell, G. L.: Origin of July Antarctic precipitation and its influence on deuterium content: a GCM analysis, Clim. Dynam., 7, 195–203, https://doi.org/10.1007/BF00206861, 1992. a
Krinner, G., Genthon, C., and Jouzel, J.: GCM analysis of local influences on ice core delta signals, Geophys. Res. Lett., 24, 2825–2828, https://doi.org/10.1029/97gl52891, 1997. a
Küttel, M., Steig, E. J., Ding, Q., Monaghan, A. J., and Battisti, D. S.: Seasonal climate information preserved in West Antarctic ice core water isotopes: relationships to temperature, large-scale circulation, and sea ice, Clim. Dynam., 39, 1841–1857, https://doi.org/10.1007/s00382-012-1460-7, 2012. a
Laepple, T., Hörhold, M., Münch, T., Freitag, J., Wegner, A., and Kipfstuhl, S.: Layering of surface snow and firn at Kohnen Station, Antarctica: Noise or seasonal signal?, J. Geophys. Res.-Earth, 121, 1849–1860, 2016. a, b
Laepple, T., Münch, T., Casado, M., Hoerhold, M., Landais, A., and Kipfstuhl, S.: On the similarity and apparent cycles of isotopic variations in East Antarctic snow pits, The Cryosphere, 12, 169–187, https://doi.org/10.5194/tc-12-169-2018, 2018. a, b
Landais, A., Barkan, E., and Luz, B.: Record of δ18O and 17O-excess in ice from Vostok Antarctica during the last 150,000 years, Geophys. Res. Lett., 35, L02709, https://doi.org/10.1029/2007GL032096, 2008. a
Landais, A., Ekaykin, A., Barkan, E., Winkler, R., and Luz, B.: Seasonal variations of 17O-excess and d-excess in snow precipitation at Vostok station, East Antarctica, J. Glaciol., 58, 725–733, https://doi.org/10.3189/2012JoG11J237, 2012. a, b, c, d, e
Langway, C. C.: Stratigraphic analysis of a deep ice core from Greenland, GSA Special Papers, vol. 125, Geological Society of America, https://doi.org/10.1130/SPE125, 1970. a
Lazzara, M. A., Keller, L. M., Markle, T., and Gallagher, J.: Fifty-year Amundsen-Scott South Pole station surface climatology, Atmos. Res., 118, 240–259, https://doi.org/10.1016/j.atmosres.2012.06.027, 2012. a
Libois, Q., Picard, G., Arnaud, L., Morin, S., and Brun, E.: Modeling the impact of snow drift on the decameter-scale variability of snow properties on the Antarctic Plateau, J. Geophys. Res.-Atmos., 119, 11662–11681, https://doi.org/10.1002/2014JD022361, 2014. a
Libois, Q., Picard, G., Arnaud, L., Dumont, M., Lafaysse, M., Morin, S., and Lefebvre, E.: Summertime evolution of snow specific surface area close to the surface on the Antarctic Plateau, The Cryosphere, 9, 2383–2398, https://doi.org/10.5194/tc-9-2383-2015, 2015. a, b
Lorius, C., Merlivat, L., and Hagemann, R.: Variation in the mean deuterium content of precipitations in Antarctica, J. Geophys. Res., 74, 7027–7031, https://doi.org/10.1029/JC074i028p07027, 1969. a
Markle, B. R., Steig, E. J., Buizert, C., Schoenemann, S. W., Bitz, C. M., Fudge, T. J., Pedro, J. B., Ding, Q., Jones, T. R., and White, J. W. C.: Global atmospheric teleconnections during Dansgaard-Oeschger events, Nat. Geosci., 10, 36–40, 2017. a
Masson-Delmotte, V., Delmotte, M., Morgan, V., Etheridge, D., Van Ommen, T., Tartarin, S., and Hoffmann, G.: Recent southern Indian Ocean climate variability inferred from a Law Dome ice core: New insights for the interpretation of coastal Antarctic isotopic records, Clim. Dynam., 21, 153–166, 2003. a
Morgan, V. I.: An oxygen isotope-climate record from the Law Dome, Antarctica, Clim. Change, 7, 415–426, 1985. a
Münch, T., Kipfstuhl, S., Freitag, J., Meyer, H., and Laepple, T.: Regional climate signal vs. local noise: a two-dimensional view of water isotopes in Antarctic firn at Kohnen Station, Dronning Maud Land, Clim. Past, 12, 1565-1581, https://doi.org/10.5194/cp-12-1565-2016, 2016. a, b, c, d, e
Münch, T., Kipfstuhl, S., Freitag, J., Meyer, H., and Laepple, T.: Constraints on post-depositional isotope modifications in East Antarctic firn from analysing temporal changes of isotope profiles, The Cryosphere, 11, 2175-2188, https://doi.org/10.5194/tc-11-2175-2017, 2017. a, b, c
NEEM Community members: Eemian interglacial reconstructed from a Greenland folded ice core, Nature, 493, 489–494, 2013. a
Nicolas, J. P. and Bromwich, D. H.: New Reconstruction of Antarctic Near-Surface Temperatures: Multidecadal Trends and Reliability of Global Reanalyses, J. Climate, 27, 8070–8093, https://doi.org/10.1175/JCLI-D-13-00733.1, 2014. a
North Greenland Ice Core Project members: High-resolution record of Northern Hemisphere climate extending into the last interglacial period, Nature, 431, 147–151, 2004. a
Nyquist, H.: Certain Factors Affecting Telegraph Speed, Bell. Syst. Tech. J., 3, 324–346, 1924. a
Oerter, H., Wilhelms, F., Jung-Rothenhäusler, F., Göktas, F., Miller, H., Graf, W., and Sommer, S.: Accumulation rates in Dronning Maud Land, Antarctica, as revealed by dielectric-profiling measurements of shallow firn cores, Ann. Glaciol., 30, 27–34, 2000. a
Papritz, L., Pfahl, S., Rudeva, I., Simmonds, I., Sodemann, H., and Wernli, H.: The Role of Extratropical Cyclones and Fronts for Southern Ocean Freshwater Fluxes, J. Climate, 27, 6205–6224, https://doi.org/10.1175/JCLI-D-13-00409.1, 2014. a
Petit, J. R., Jouzel, J., Pourchet, M., and Merlivat, L.: A detailed study of snow accumulation and stable isotope content in Dome C (Antarctica), J. Geophys. Res.-Oceans, 87, 4301–4308, https://doi.org/10.1029/JC087iC06p04301, 1982. a
Petit, R. J., Raynaud, D., Basile, I., Chappellaz, J., Ritz, C., Delmotte, M., Legrand, M., Lorius, C., Pe, L., Petit, J. R., Jouzel, J., Raynaud, D., Barkov, N. I., Barnola, J. M., Basile, I., Bender, M., Chappellaz, J., Davis, M., Delaygue, G., Delmotte, M., Kotlyakov, V. M., Legrand, M., Lipenkov, V. Y., Lorius, C., Pepin, L., Ritz, C., Saltzman, E., and Stievenard, M.: Climate and atmospheric history of the past 420,000 years from the Vostok ice core, Antarctica, Nature, 399, 429–436, 1999. a
Picard, G., Domine, F., Krinner, G., Arnaud, L., and Lefebvre, E.: Inhibition of the positive snow-albedo feedback by precipitation in interior Antarctica, Nat. Clim. Change, 2, 795–798, 2012. a, b, c, d, e, f, g
Picard, G., Arnaud, L., Panel, J.-M., and Morin, S.: Design of a scanning laser meter for monitoring the spatio-temporal evolution of snow depth and its application in the Alps and in Antarctica, The Cryosphere, 10, 1495–1511, https://doi.org/10.5194/tc-10-1495-2016, 2016a. a
Picard, G., Libois, Q., Arnaud, L., Verin, G., and Dumont, M.: Development and calibration of an automatic spectral albedometer to estimate near-surface snow SSA time series, The Cryosphere, 10, 1297–1316, https://doi.org/10.5194/tc-10-1297-2016, 2016b. a
Pol, K., Masson-Delmotte, V., Cattani, O., Debret, M., Falourd, S., Jouzel, J., Landais, A., Minster, B., Mudelsee, M., Schulz, M., and Stenni, B.: Climate variability features of the last interglacial in the East Antarctic EPICA Dome C ice core, Geophys. Res. Lett., 41, 4004–4012, https://doi.org/10.1002/2014GL059561, 2014. a
Ricaud, P., Carminati, F., Courcoux, Y., Pellegrini, A., Attié, J.-L., El Amraoui, L., Abida, R., Genthon, C., August, T., and Warner, J.: Statistical analyses and correlation between tropospheric temperature and humidity at Dome C, Antarctica, Antarct. Sci., 26, 290–308, 2014. a, b
Ritter, F., Steen-Larsen, H. C., Werner, M., Masson-Delmotte, V., Orsi, A., Behrens, M., Birnbaum, G., Freitag, J., Risi, C., and Kipfstuhl, S.: Isotopic exchange on the diurnal scale between near-surface snow and lower atmospheric water vapor at Kohnen station, East Antarctica, The Cryosphere, 10, 1647–1663, https://doi.org/10.5194/tc-10-1647-2016, 2016. a, b, c, d, e, f, g
Schlosser, E., Reijmer, C., Oerter, H., and Graf, W.: The influence of precipitation origin on the δ18O–T relationship at Neumayer station, Ekströmisen, Antarctica, Ann. Glaciol., 39, 41–48, 2004. a
Schmidt, G. A., LeGrande, A. N., and Hoffmann, G.: Water isotope expressions of intrinsic and forced variability in a coupled ocean/atmosphere model, J. Geophys. Res.-Atmos., 112, D10103, https://doi.org/10.1029/2006JD007781, 2007. a
Shannon, C. E.: Communication in the presence of noise, Proc. IRE, 37, 10–21, 1949. a
Sime, L. C., Wolff, E. W., Oliver, K. I. C., and Tindall, J. C.: Evidence for warmer interglacials in East Antarctic ice cores, Nature, 462, 342–345, 2009. a, b
Sodemann, H. and Stohl, A.: Asymmetries in the moisture origin of Antarctic precipitation, Geophys. Res. Lett., 36, L22803, https://doi.org/10.1029/2009GL040242, 2009. a
Sokratov, S. A. and Golubev, V. N.: Snow isotopic content change by sublimation, J. Glaciol., 55, 823–828, https://doi.org/10.3189/002214309790152456, 2009. a, b
Steen-Larsen, H. C., Masson-Delmotte, V., Hirabayashi, M., Winkler, R., Satow, K., Prié, F., Bayou, N., Brun, E., Cuffey, K. M., Dahl-Jensen, D., Dumont, M., Guillevic, M., Kipfstuhl, S., Landais, A., Popp, T., Risi, C., Steffen, K., Stenni, B., and Sveinbjörnsdottír, A. E.: What controls the isotopic composition of Greenland surface snow?, Clim. Past, 10, 377–392, https://doi.org/10.5194/cp-10-377-2014, 2014. a, b, c
Stenni, B., Scarchilli, C., Masson-Delmotte, V., Schlosser, E., Ciardini, V., Dreossi, G., Grigioni, P., Bonazza, M., Cagnati, A., Karlicek, D., Risi, C., Udisti, R., and Valt, M.: Three-year monitoring of stable isotopes of precipitation at Concordia Station, East Antarctica, The Cryosphere, 10, 2415–2428, https://doi.org/10.5194/tc-10-2415-2016, 2016. a, b, c, d, e, f, g, h
Touzeau, A., Landais, A., Stenni, B., Uemura, R., Fukui, K., Fujita, S., Guilbaud, S., Ekaykin, A., Casado, M., Barkan, E., Luz, B., Magand, O., Teste, G., Le Meur, E., Baroni, M., Savarino, J., Bourgeois, I., and Risi, C.: Acquisition of isotopic composition for surface snow in East Antarctica and the links to climatic parameters, The Cryosphere, 10, 837–852, https://doi.org/10.5194/tc-10-837-2016, 2016. a, b, c, d, e, f, g, h, i, j, k, l, m, n, o, p
Town, M. S., Warren, S. G., Walden, V. P., and Waddington, E. D.: Effect of atmospheric water vapor on modification of stable isotopes in near-surface snow on ice sheets, J. Geophys. Res.-Atmos., 113, D24303, https://doi.org/10.1029/2008JD009852, 2008. a
van As, D., van den Broeke, M. R., and Helsen, M. M.: Strong-wind events and their impact on the near-surface climate at Kohnen Station on the Antarctic Plateau, Antarct. Sci., 19, 507–519, https://doi.org/10.1017/S095410200700065X, 2007. a
Van Den Broeke, M. R.: The semi-annual oscillation and Antarctic climate, Part 1: Influence on near surface temperatures (1957–79), Antarct. Sci., 10, 175–183, 1998. a
Vignon, E., van de Wiel, B. J. H., van Hooijdonk, I. G. S., Genthon, C., van der Linden, S. J. A., van Hooft, J. A., Baas, P., Maurel, W., Traullé, O., and Casasanta, G.: Stable boundary layer regimes at Dome C, Antarctica: observation and analysis, Q. J. Roy. Meteor. Soc., 143, 1241–1253, 2017. a, b
Vimeux, F., Masson, V., Jouzel, J., Stievenard, M., and Petit, J. R.: Glacial-interglacial changes in ocean surface conditions in the Southern Hemisphere, Nature, 398, 410–413, 1999. a
Vinther, B. M., Jones, P. D., Briffa, K. R., Clausen, H. B., Andersen, K. K., Dahl-Jensen, D., and Johnsen, S. J.: Climatic signals in multiple highly resolved stable isotope records from Greenland, Quaternary Sci. Rev., 29, 522–538, https://doi.org/10.1016/j.quascirev.2009.11.002, 2010. a
WAIS Divide Project members: Onset of deglacial warming in West Antarctica driven by local orbital forcing, Nature, 500, 440–444, 2013. a
Wendler, G. and Kodama, Y.: On the climate of Dome C, Antarctica, in relation to its geographical setting, J. Climatol, 4, 495–508, 1984.  a
Whillans, I. M. and Grootes, P. M.: Isotopic diffusion in cold snow and firn, J. Geophys. Res.-Atmos., 90, 3910–3918, https://doi.org/10.1029/JD090iD02p03910, 1985. a
Whitlow, S., Mayewski, P. A., and Dibb, J. E.: A comparison of major chemical species seasonal concentration and accumulation at the South Pole and Summit, Greenland, Atmos. Environ. A-Gen., 26, 2045–2054, 1992. a, b
Winkler, R.: Triple-oxygen isotopic composition of meteoric waters: 17 O-excess a new tracer of the hydrological cycle, 2012. a
Winkler, R., Landais, A., Sodemann, H., Dümbgen, L., Prié, F., Masson-Delmotte, V., Stenni, B., and Jouzel, J.: Deglaciation records of 17O-excess in East Antarctica: reliable reconstruction of oceanic normalized relative humidity from coastal sites, Clim. Past, 8, 1–16, https://doi.org/10.5194/cp-8-1-2012, 2012. a, b, c