Articles | Volume 17, issue 2
https://doi.org/10.5194/tc-17-889-2023
© Author(s) 2023. This work is distributed under
the Creative Commons Attribution 4.0 License.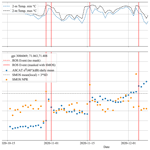 Towards long-term records of rain-on-snow events across the Arctic from satellite data
Rain-on-snow (ROS) events occur across many regions of the terrestrial Arctic in mid-winter. Snowpack properties are changing, and in extreme cases ice layers form which affect wildlife, vegetation and soils beyond the duration of the event. Specifically, satellite microwave observations have been shown to provide insight into known events. Only Ku-band radar (scatterometer) has been applied so far across the entire Arctic. Data availability at this frequency is limited, however. The utility of other frequencies from passive and active systems needs to be explored to develop a concept for long-term monitoring. The latter are of specific interest as they can be potentially provided at higher spatial resolution. Radar records have been shown to capture the associated snow structure change based on time-series analyses. This approach is also applicable when data gaps exist and has capabilities to evaluate the impact severity of events. Active as well as passive microwave sensors can also detect wet snow at the timing of an ROS event if an acquisition is available. The wet snow retrieval methodology is, however, rather mature compared to the identification of snow structure change since ambiguous scattering behaviour needs consideration. C-band radar is of special interest due to good data availability including a range of nominal spatial resolutions (10 m–12.5 km). Scatterometer and SAR (synthetic aperture radar) data have therefore been investigated. The temperature dependence of C-band backscatter at VV (V – vertical) polarization observable down to −40 ∘C is identified as a major issue for ROS retrieval but can be addressed by a combination with a passive microwave wet snow indicator (demonstrated for Metop ASCAT – Advanced Scatterometer – and SMOS – Soil Moisture and Ocean Salinity). Results were compared to in situ observations (snowpit records, caribou migration data) and Ku-band products. Ice crusts were found in the snowpack after detected events (overall accuracy 82 %). The more crusts (events) there are, the higher the winter season backscatter increase at C-band will be. ROS events captured on the Yamal and Seward peninsulas have had severe impacts on reindeer and caribou, respectively, due to ice crust formation. SAR specifically from Sentinel-1 is promising regarding ice layer identification at better spatial details for all available polarizations. The fusion of multiple types of microwave satellite observations is suggested for the creation of a climate data record, but the consideration of performance differences due to spatial and temporal cover, as well as microwave frequency, is crucial. Retrieval is most robust in the tundra biome, where results are comparable between sensors. Records can be used to identify extremes and to apply the results for impact studies at regional scale.
Received: 08 Sep 2022 – Discussion started: 14 Sep 2022 – Revised: 30 Dec 2022 – Accepted: 17 Jan 2023 – Published: 21 Feb 2023
Rain-on-snow (ROS) events modify snow properties and can lead to the formation of ice crusts which impact wildlife (including musk ox, reindeer, fox, crows;  Putkonen and Roe, 2003; Forbes et al., 2016; Sokolov et al., 2016; Ehrich et al., 2017) and vegetation (Bjerke et al., 2017) and related fluxes (Treharne et al., 2020). Water percolates through the snowpack impacting energy fluxes, warming the soil beneath (Putkonen and Roe, 2003; Westermann et al., 2011). Events occur across many regions of the Arctic in mid-winter and are sometimes documented through observations of local residents (Forbes et al., 2016). Quantitative accounts are challenging as they require measurements of liquid precipitation and snow properties at the same time (Serreze et al., 2021). Snowpit data which detail layers and hardness can document events, but these are made manually at comparably only very few sites. Air temperature and general precipitation measurements from automatic weather stations usually serve as proxy instead. Such data relate to the trigger of snow structure change but do not reflect the impact. Satellite observations based on microwaves can document the event itself (wet snow) or the change in snow conditions following an ROS event (Bartsch, 2010b), as grain size increases, and often ice crusts form which alter the signal–snow interaction. Such changes occur within a short time compared to general snow metamorphism and compaction throughout the winter season. Short-term snow structure change can be frequently observed with satellites specifically over Scandinavia, northern European Russia and western Siberia, as well as Alaska (Bartsch, 2010b; Serreze et al., 2021). Wet snow (associated with ROS events) detection with satellite data requires dense sampling intervals, as events can be rather short. The mapping of snow structure changes as a result of events instead of wet snow during an event circumvents this issue but requires the use of wavelengths which are sensitive to changes in snow properties (e.g. Tsang et al., 2022); this means a comparably short wavelength. Ku-band scatterometer data (2.3 cm wavelength) have been shown to reflect snow conditions well in this context (Bartsch et al., 2010a; gridded to 10 km nominal resolution), but C-band (5.6 cm) acquisitions are much more common and to date operationally available. Forbes et al. (2016) document an ROS event where changes in C-band backscatter (12.5 km nominal resolution) resemble the patterns of a specific event reported through local communities in western Siberia, southern Yamal Peninsula. Events which had severe impacts for reindeer herding have occurred in this region several times in the last 2 decades. They are suggested to be linked to specific sea ice conditions (longer open-water season; Forbes et al., 2016).
Ku-band radar-derived potential ROS events are readily available for 2000 to 2009, reflecting the availability period of data from SeaWinds on QuikSCAT (Bartsch, 2010b). This is to date the only circumpolar satellite-based record available (Serreze et al., 2021). The Indian OceanSat-2 and ScatSat-1 provide similar records for 2009 to 2013 and from 2017 onward, respectively, but have not been used for this purpose to date. Readily gridded backscatter data for OceanSat-2 are available through BYU (Brigham Young University; https://www.scp.byu.edu/data.html, last access: 1 September 2021) for 2009–2015 (enhanced resolution version 2.2 km). C-band radar data from ASCAT (Advanced Scatterometer) have been operationally available on multiple platforms (Metop-A to Metop-C) since 2007 (e.g. Naeimi et al., 2012; 12.5 km gridding) and are thus of great interest for recent and future monitoring. The C-band scatterometer regional test by Forbes et al. (2016) indicated the applicability of the structure change approach, but neither has the parameter adjustment to this wavelength been justified so far nor have such data been applied to circumpolar retrieval. The continuation with C-band would be beneficial as it has the advantage that similar information is also available from synthetic aperture radar (SAR) with much higher spatial resolution (starting at 10 m as is, for example, accessible through the Copernicus Sentinel-1 mission). Temporal sampling of SAR is much lower, but its complementary value for documenting related snow hardness increase should be explored. Wet snow detection with C-band SAR is comparably mature (e.g. Nagler and Rott, 2000; Nagler et al., 2016) and has been investigated in the context of ROS events for sites with exceptionally good data availability (Vickers et al., 2022). Temperature decrease, however, has also been found to increase C-band backscatter at VV (V – vertical) polarization (as is operationally available from ASCAT) during frozen conditions (Bergstedt et al., 2018), but so far only the impact of air and soil temperature has been assessed. Comparisons to snow temperature and structure associated with ROS events are still lacking. The implications when using the same methodology as for Ku-band (Bartsch et al., 2010a) for ROS detection need to be quantified and method adaptions explored. This includes the combination with data from other sensors and wet snow detection.
Snow surface melting associated with ROS events has been shown to be captured by passive microwave missions with a focus on the detection of an event itself in several case studies (Serreze et al., 2021). Such records are partially of much coarser spatial resolution than the above-mentioned scatterometer records but go comparably far back in time. Special Sensor Microwave Imager (SSMI) records (25 km) go back to 1979. They have been used so far only for the description of events on selected Canadian high-Arctic islands (e.g. Grenfell and Putkonen, 2008; Langlois et al., 2017). Langlois et al. (2017) also derive potential ice-crust-forming events, but validation in the context of ROS events is so far unavailable. Advanced Microwave Scanning Radiometer for EOS 2 (AMSR-E2) provides higher spatial resolution (12.5 km, available since 2002) and has therefore been applied in several cases for regional wet snow detection in an ROS context in the past (Semmens et al., 2013; Dolant et al., 2016; Sokolov et al., 2016; Pan et al., 2018; Langlois et al., 2017). The wavelengths used by SSMI and AMSR-E2 are even shorter than Ku-band (0.8–1.6 cm versus 2.3 cm). L-band passive microwave observations such as those provided by SMOS (Soil Moisture and Ocean Salinity; 2010-present, L-band, 23 cm, 50 km) have not been used so far in this context but have been shown to be applicable for wet snow detection (Mousavi et al., 2021, 2022).
The overall aim of this study is to identify ROS events which alter snow conditions. Specifically, the advantages and disadvantages of using C-band radar are assessed. The objectives are (1) to gain better insight into recent occurrences of specific ROS events across the Arctic, (2) to explore the potential of radar data for building circumpolar long-term data records, (3) to investigate the impact of events on snow properties and (4) to assess the added value of L-band passive microwave observations for ROS detection. Objective (2) is enabled through the modification of a Ku-band scheme for C-band. In situ data not only encompass standard air temperature and snow depth records from an automatic weather station, as used in previous studies (Bartsch et al., 2010a; Semmens et al., 2013; Wilson et al., 2012; Sokolov et al., 2016; Pan et al., 2018), but are extended to snowpit observations (layer thickness and hardness, snow surface temperature), as well as automatic liquid precipitation measurements. For the first time also L-band passive microwave observations are considered in this context. The added value of the combination of passive and active microwave records is investigated. One previously documented event on Yamal (2013) is revisited, and two recent ROS series are analysed in detail with a C-band scatterometer, as well as L-band passive microwave observations (Yamal and Alaska in 2020 and 2021, respectively). The series of ROS events which occurred over Yamal in late 2020 is documented through a dedicated in situ campaign and is in addition analysed with C-band SAR. The potential to provide a measure of severity of an ROS event for wildlife is explored in addition based on caribou migration patterns in Alaska in the case of the December 2021 events.
2
 Satellite microwave data
2.1

 Ku-band scatterometer

The QuikSCAT (Ku-band) product of potential ROS events (Bartsch, 2010a) is based on HH (H – horizontal) polarization acquisitions and starts with winter (November to February) 2000/2001 and ends in winter 2008/2009 (Fig. 1) due to instrument failure. The pencil beam antenna design allowed for several measurements per day (Bartsch et al., 2010c) compared to Metop ASCAT (C-band), which provides 80 % global coverage only every day in the case of one satellite. OceanSat-2 (also referred to as OSCAT) theoretically provides continuity for QuikSCAT, but the processing used for the ROS product is based on a different scheme (Technical University Vienna) than that publicly available for OSCAT (through BYU). The type of gridding (full footprint resampling versus partial footprint resampling) differs, leading also to a different nominal resolution. A transfer of the QuikSCAT approach has been nevertheless tested in order to investigate the potential for the production of a longer data record. The so-called "egg" product has been selected (4.4 km nominal resolution; Long, 2017). The OceanSat-2 (OSCAT BYU) product starts on 5 November 2010 and ends on 20 February 2014. The first and last winter (as defined for the QuikSCAT ROS product) is therefore incomplete. HH polarization is in both QuikSCAT and OceanSat-2 cases available from the inner beam acquisitions. Incidence angles differ slightly with 46 and 48.6∘, respectively.
2.2

 C-band scatterometer and synthetic aperture radar

The Advanced Scatterometer (ASCAT) instrument on board the Metop satellites provides C-band (5.2 GHz) VV-polarized backscatter datasets at a spatial resolution of 25–50 km (Figa-Saldaña et al., 2002). Metop A, B and C were launched in 2006, 2012 and 2018, respectively. The first records suitable for use start in 2007. The data provided by EUMETSAT come in a hexagonal grid (nominal resolution 12.5 km) as part of the soil moisture data product (Naeimi et al., 2009). The provided backscatter value is normalized to a 40∘ incidence angle. Data are continuously available from 2007 onwards, providing global coverage with a temporal resolution of approximately daily observations.

The two earth observation satellites, Sentinel-1A (launched in April 2014) and Sentinel-1B (launched in April 2016), have an identical C-band SAR sensor on board (Schubert et al., 2017). Most land area is monitored with Interferometric Wide Swath (IW) mode (10 m nominal resolution). Near-coastal Arctic tundra regions are, however, only covered in Enhanced Wide Swath (EW) mode in medium resolution (40 m) due to requirements for sea ice monitoring. This is specifically the case for the Yamal Peninsula, a focus area of this study. Information can be captured in dual polarization (HH+HV or VV+VH). Mostly HH+HV is available for EW mode in high-latitude areas, including Yamal. VV+VH is acquired in IW mode for Scandinavia. GRD (ground-range-detected) products were used for this study. GRD products are detected, multi-looked and projected to ground range using an Earth ellipsoid model (Potin et al., 2014; Potin, 2013).
2.3

 L-band radiometer

The SMOS (Soil Moisture and Ocean Salinity) satellite payload instrument MIRAS (Microwave Imaging Radiometer with Aperture Synthesis) observes the Earth at L-band, specifically at the bandwidth reserved for radio astronomy (1404–1423 MHz). The instrument uses two-dimensional aperture synthesis to provide a series of snapshot images reconstructed from simultaneous measurements of multiple receivers. SMOS observes the target areas at a wide incidence angle range (0–60∘) and provides fully polarized brightness temperatures at a spatial resolution of 35 to 50 km depending on the measurement geometry. SMOS started the continuous observations in 2010, but the recorded use for this study starts, however, only in winter 2011/2012 due to data gaps during the first winter. Data used here are from Centre Aval de Traitement des Données SMOS (CATDS), the French ground segment for the SMOS Level 3 and 4 data. CATDS Level 3 daily brightness temperatures (L3TB) form the basis for this study. CATDS data are processed from the SMOS L1B products from ESA. The data are binned and averaged into fixed incidence angle classes at 5∘ intervals from 0–5 to 60–65∘ and available on the EASE2 (Equal-Area Scalable Earth) grid projections. The CATDS product includes flags for potential man-made radio frequency interferences (RFIs) and sun contamination for users to discard data not suitable for their use.

The vertically and horizontally polarized brightness temperature data are used at the incidence angle range of 45 to 50∘ in this study. Due to the measurement geometry, most data are typically available at incidence angles between 25 and 40∘. However, at the 50∘ incidence angle the effect of a dry snow cover to the observed signal at vertical polarization is minimum (see Sect. 4.1; Schwank et al., 2015; Lemmetyinen et al., 2016). The selected incidence angle range was a trade-off: it provided a good daily coverage and was close to the optimal incidence angle for L-band observations over the snow areas.
3
 In situ observations and auxiliary data
In situ data comparison and the discussion of specific rain-on-snow events focus on northern Scandinavia (Finland and Norway), the Yamal Peninsula (Russia) and Seward Peninsula (Alaska). The Sodankylä site in Finland is characterized by boreal forest, and all others mostly represent shrub tundra (1 in Fig. 2).
The utility of standardized snowpit records, specifically information on ice crusts, has been demonstrated for the first time for the evaluation of satellite-derived rain-on-snow events. The presence of crusts (pencil/knife test) coincides with events detected with the ASCAT–SMOS fusion approach throughout the winter season. In cases without events, no crusts or only thin ones are observed. Below-average regional sea ice concentration at the time of events can be observed for all examples (Yamal and Alaska events), but the number of studied events is too low to infer any linkage.
C-band scatterometer-based retrieval at VV polarization has been shown to be feasible, but it requires post-processing to reduce false detection in the case of dropping temperature. The combination of snow structure change and wet snow information provides a solution in this case. The potential and limitations of the use of L-band passive microwave observations have been demonstrated. The combination with SMOS is, however, recommended only for application north of 65∘ N due to coverage issues. Other passive microwave sensors with better spatio-temporal coverage may allow an extension of the results. The magnitude of specific known extreme ROS events, however, can be documented by the use of ASCAT alone, which allows the inclusion of regions south of 65∘ N and the years before SMOS availability. Such results can be used for the documentation of impacts, as we demonstrated for caribou migration patterns in Alaska.
Initial results of the SAR analyses indicate the potential of C-band SAR at all polarization combinations. Both HH–HV (Yamal) and VV–VH (Finland) SAR records show similar behaviour like ASCAT VV. This is crucial since SAR data are not acquired with consistent polarization across the Arctic. A fusion of scatterometer and SAR records for the detection of the snow structure change might allow for a more detailed impact assessment than with ASCAT alone.
Discrepancies between C-band and Ku-band radar in boreal regions for the detection of snow structure change can be observed, which may relate to issues with both data types. Frequency and polarization may play a role, which should be considered in future studies. Nevertheless, similarity regarding the number of events and spatial patterns between different products (QuikSCAT, OceanSat-2 and ASCAT–SMOS) can be observed for tundra regions, which allows analyses over more than 20 years. Trends for the Arctic cannot be derived, but extremes can be identified and documented.
AB developed the concept for the study, analysed all results and wrote the first draft of the manuscript. HB contributed to satellite data processing and writing of the manuscript. GP and XM contributed to the satellite data processing. KR pre-processed SMOS data and contributed to the manuscript. LL, AS and PO collected in situ snow data and contributed to manuscript writing. DE and EMS provided expertise on snowpit observations and contributed to the writing of the manuscript. KJ processed collar records and contributed to the writing of the manuscript.
The contact author has declared that none of the authors has any competing interests.
Publisher's note: Copernicus Publications remains neutral with regard to jurisdictional claims in published maps and institutional affiliations.
OceanSat-2 data are obtained from the NASA-sponsored Scatterometer Climate Record Pathfinder at Brigham Young University courtesy of David G. Long.
Yamal campaign data were collected during an expedition organized by the Yamal Government. We thank Aleksandr Volkovitskiy for help in sampling along the snowpit transect during the Yamal campaign.
Rolf A. Ims, Nigel Yoccoz, Hanna Böhner and Jan Erik Knutsen from UiT respectively initiated the collection of snow profiles (Rolf A. Ims and Nigel Yoccoz), cleaned the data (Nigel Yoccoz and Hanna Böhner), provided logistics help (Jan Erik Knutsen) and participated in the fieldwork (Rolf A. Ims, Nigel Yoccoz and Jan Erik Knutsen).
This research has been supported by the European Commission, Horizon 2020 Framework Programme (CHARTER project grant no. 869471) and the European Space Agency (grant no. 4000123681/18/I-NB).
This paper was edited by Vishnu Nandan and reviewed by two anonymous referees.
Al Bitar, A., Mialon, A., Kerr, Y. H., Cabot, F., Richaume, P., Jacquette, E., Quesney, A., Mahmoodi, A., Tarot, S., Parrens, M., Al-Yaari, A., Pellarin, T., Rodriguez-Fernandez, N., and Wigneron, J.-P.: The global SMOS Level 3 daily soil moisture and brightness temperature maps, Earth Syst. Sci. Data, 9, 293–315, https://doi.org/10.5194/essd-9-293-2017, 2017. a
Bartsch, A.: Spring snowmelt and midwinter thaw and refreeze north of 60∘ N based on Seawinds QuikScat 2000–2009, supplement to: Bartsch, Annett (2010): Ten Years of SeaWinds on QuikSCAT for Snow Applications, Remote Sens., 2, 1142–1156, PANGAEA [data set], https://doi.org/10.1594/PANGAEA.834198, 2010a. a
Bartsch, A.: Ten Years of SeaWinds on QuikSCAT for Snow Applications, Remote Sens., 2, 1142–1156, https://doi.org/10.3390/rs2041142, 2010b. a, b, c, d, e, f
Bartsch, A.: Monitoring of Terrestrial Hydrology at High Latitudes with Scatterometer Data, in: Geoscience and Remote Sensing, New Achievements, edited by: Imperatore, P. and Riccio, D., Intechweb, Vokuvar, 247–262, ISBN 9789537619978, 2010c. a
Bartsch, A., Kidd, R. A., Wagner, W., and Bartalis, Z.: Temporal and Spatial Variability of the Beginning and End of Daily Spring Freeze/Thaw Cycles Derived from Scatterometer Data, Remote Sens. Environ., 106, 360–374, https://doi.org/10.1016/j.rse.2006.09.004, 2007. a, b
Bartsch, A., Kumpula, T., Forbes, B., and Stammler, S.: Detection of Snow Surface Thawing and Refreezing in the Eurasian Arctic Using QuikSCAT: Implications for Reindeer Herding, Ecological Applications, 20, 2346–2358, 2010a. a, b, c, d, e, f, g, h
Bartsch, A., Wagner, W., and Kidd, R.: Remote Sensing of Spring Snowmelt in Siberia, in: Environmental Change in Siberia, Earth Observation, Field Studies and Modelling, edited by: Balzter, H., Springer, 135–155, https://doi.org/10.1007/978-90-481-8641-9_9, 2010b. a
Bartsch, A., Wagner, W., and Naeimi, V.: The Legacy of 10 Years QuikScat Land Applications – Possibilities and Limitations for a Continuation with Metop ASCAT, in: ESA Living Planet Symposium, Bergen, ISBN 9789292212506, ISBN 9292212508, 2010c. a, b, c, d, e, f, g
Bartsch, A., Höfler, A., Kroisleitner, C., and Trofaier, A. M.: Land Cover Mapping in Northern High Latitude Permafrost Regions with Satellite Data: Achievements and Remaining Challenges, Remote Sens., 8, 979, https://doi.org/10.3390/rs8120979, 2016. a
Bartsch, A., Widhalm, B., Leibman, M., Ermokhina, K., Kumpula, T., Skarin, A., Wilcox, E. J., Jones, B. M., Frost, G. V., Hofler, A., and Pointner, G.: Feasibility of tundra vegetation height retrieval from Sentinel-1 and Sentinel-2 data, Remote Sens. Environ., 237, 111515, https://doi.org/10.1016/j.rse.2019.111515, 2020. a
Bartsch, A., Pointner, G., Bergstedt, H., Widhalm, B., Wendleder, A., and Roth, A.: Utility of Polarizations Available from Sentinel-1 for Tundra Mapping, in: 2021 IEEE International Geoscience and Remote Sensing Symposium IGARSS, IEEE, Brussels, Belgium, 2021, 1452–1455, https://doi.org/10.1109/igarss47720.2021.9553993, 2021. a
Bartsch, A., Bergstedt, H., Pointner, G., Muri, X., and Rautiainen, K.: Circumpolar mid-winter thaw and refreeze based on fusion of Metop ASCAT and SMOS, 2011/2012–2021/2022, Zenodo [data set], https://doi.org/10.5281/zenodo.7575927, 2023. a
Bergstedt, H., Zwieback, S., Bartsch, A., and Leibman, M.: Dependence of C-Band Backscatter on Ground Temperature, Air Temperature and Snow Depth in Arctic Permafrost Regions, Remote Sens., 10, 142, https://doi.org/10.3390/rs10010142, 2018. a, b
Bergstedt, H., Bartsch, A., Neureiter, A., Hofler, A., Widhalm, B., Pepin, N., and Hjort, J.: Deriving a Frozen Area Fraction From Metop ASCAT Backscatter Based on Sentinel-1, IEEE Transactions on Geoscience and Remote Sensing, 58, 6008–6019, https://doi.org/10.1109/tgrs.2020.2967364, 2020. a, b, c
Bjerke, J. W., Treharne, R., Vikhamar-Schuler, D., Karlsen, S. R., Ravolainen, V., Bokhorst, S., Phoenix, G. K., Bochenek, Z., and Tømmervik, H.: Understanding the drivers of extensive plant damage in boreal and Arctic ecosystems: Insights from field surveys in the aftermath of damage, Sci. Total Environ., 599–600, 1965–1976, https://doi.org/10.1016/j.scitotenv.2017.05.050, 2017. a
Derksen, C., Xu, X., Dunbar, R. S., Colliander, A., Kim, Y., Kimball, J. S., Black, T. A., Euskirchen, E., Langlois, A., Loranty, M. M., Marsh, P., Rautiainen, K., Roy, A., Royer, A., and Stephens, J.: Retrieving landscape freeze/thaw state from Soil Moisture Active Passive (SMAP) radar and radiometer measurements, Remote Sens. Environ., 194, 48–62, https://doi.org/10.1016/j.rse.2017.03.007, 2017. a, b
Dolant, C., Langlois, A., Montpetit, B., Brucker, L., Roy, A., and Royer, A.: Development of a rain-on-snow detection algorithm using passive microwave radiometry, Hydrol. Process., 30, 3184–3196, https://doi.org/10.1002/hyp.10828, 2016. a, b, c
Ehrich, D., Cerezo, M., Rodnikova, A. Y., Sokolova, N. A., Fuglei, E., Shtro, V. G., and Sokolov, A. A.: Vole abundance and reindeer carcasses determine breeding activity of Arctic foxes in low Arctic Yamal, Russia, BMC Ecology, 17, 32, https://doi.org/10.1186/s12898-017-0142-z, 2017. a, b
Figa-Saldaña, J., Wilson, J., Attema, E., Gelsthorpe, R., Drinkwater, M., and Stoffelen, A.: The advanced scatterometer (ASCAT) on the meteorological operational (MetOp) platform: A follow on for European wind scatterometers, Can. J. Remote Sens., 28, 404–412, https://doi.org/10.5589/m02-035, 2002. a
Forbes, B. C., Kumpula, T., Meschtyb, N., Laptander, R., Macias-Fauria, M., Zetterberg, P., Verdonen, M., Skarin, A., Kim, K.-Y., Boisvert, L. N., Stroeve, J. C., and Bartsch, A.: Sea ice, rain-on-snow and tundra reindeer nomadism in Arctic Russia, Biol. Lett., 12, 20160466, https://doi.org/10.1098/rsbl.2016.0466, 2016. a, b, c, d, e, f, g, h, i, j, k, l
Freund, K. and Bartsch, A.: Midwinter thaw events over Greenland derived from Seawinds QuikScat 2000–2008, Pangaea [data set], https://doi.org/10.1594/PANGAEA.911298, 2020. a
Grenfell, T. C. and Putkonen, J.: A Method for the Detection of the Severe Rain-on-Snow Event on Banks Island, October 2003, Using Passive Microwave Remote Sensing, Water Resour. Res., 44, W03425, https://doi.org/10.1029/2007WR005929, 2008. a, b
Hallikainen, M., Ulaby, F., and Abdelrazik, M.: Dielectric properties of snow in the 3 to 37 GHz range, IEEE T. Antenn. Propag., 34, 1329–1340, https://doi.org/10.1109/tap.1986.1143757, 1986. a
Joly, K., Couriot, O., Cameron, M. D., and Gurarie, E.: Behavioral, Physiological, Demographic and Ecological Impacts of Hematophagous and Endoparasitic Insects on an Arctic Ungulate, Toxins, 12, 334, https://doi.org/10.3390/toxins12050334, 2020. a
Lamarche, C., Santoro, M., Bontemps, S., d'Andrimont, R., Radoux, J., Giustarini, L., Broc kmann, C., Wevers, J., Defourny, P., and Arino, O.: Compilation and Validation of SAR and Optical Data Products for a Complete and Global Map of Inland/Ocean Water Tailored to the Climate Modeling Community, Remote Sens., 9, 36, https://doi.org/10.3390/rs9010036, 2017. a
Langlois, A., Johnson, C.-A., Montpetit, B., Royer, A., Blukacz-Richards, E., Neave, E., Dolant, C., Roy, A., Arhonditsis, G., Kim, D.-K., Kaluskar, S., and Brucker, L.: Detection of rain-on-snow (ROS) events and ice layer formation using passive microwave radiometry: A context for Peary caribou habitat in the Canadian Arctic, Remote Sens. Environ., 189, 84–95, https://doi.org/10.1016/j.rse.2016.11.006, 2017. a, b, c, d, e
Lemmetyinen, J., Schwank, M., Rautiainen, K., Kontu, A., Parkkinen, T., Mätzler, C., Wiesmann, A., Wegmüller, U., Derksen, C., Toose, P., Roy, A., and Pulliainen, J.: Snow density and ground permittivity retrieved from L-band radiometry: Application to experimental data, Remote Sens. Environ., 180, 377–391, https://doi.org/10.1016/j.rse.2016.02.002, 2016. a, b
Leppänen, L., Kontu, A., Hannula, H.-R., Sjöblom, H., and Pulliainen, J.: Sodankylä manual snow survey program, Geoscientific Instrumentation, Methods and Data Systems, 5, 163–179, https://doi.org/10.5194/gi-5-163-2016, 2016. a
Lindsley, R. D. and Long, D. G.: Enhanced-Resolution Reconstruction of ASCAT Backscatter Measurements, IEEE T. Geosci. Remote, 54, 2589–2601, https://doi.org/10.1109/tgrs.2015.2503762, 2016. a
Long, D. G.: Comparison of SeaWinds Backscatter Imaging Algorithms, IEEE J. Sel. Top. Appl., 10, 2214–2231, https://doi.org/10.1109/jstars.2016.2626966, 2017. a
Maetzler, C.: Dieletric properties of natural media, in: Thermal Microwave Radiation: Applications for Remote Sens., edited by: Clarricoats, P. J. B. and Jull, E. V., vol. 52 of IET Electromagn. Wave Ser., Inst. Eng. Technol., Stevenage, UK, 427–495, SBN 9780863415739, 2006. a, b
Mousavi, M., Colliander, A., Miller, J. Z., Entekhabi, D., Johnson, J. T., Shuman, C. A., Kimball, J. S., and Courville, Z. R.: Evaluation of Surface Melt on the Greenland Ice Sheet Using SMAP L-Band Microwave Radiometry, IEEE J. Sel. Top. Appl., 14, 11439–11449, https://doi.org/10.1109/jstars.2021.3124229, 2021. a, b, c
Mousavi, M., Colliander, A., Miller, J., and Kimball, J. S.: A Novel Approach to Map the Intensity of Surface Melting on the Antarctica Ice Sheet Using SMAP L-Band Microwave Radiometry, IEEE J. Sel. Top. Appl., 15, 1724–1743, https://doi.org/10.1109/jstars.2022.3147430, 2022. a, b, c, d, e
Naeimi, V., Scipal, K., Bartalis, Z., Hasenauer, S., and Wagner, W.: An Improved Soil Moisture Retrieval Algorithm for ERS and METOP Scatterometer Observations, IEEE Trans. Geosci. Remote Sens., 47, 1999–2013, https://doi.org/10.1109/tgrs.2008.2011617, 2009. a, b
Naeimi, V., Paulik, C., Bartsch, A., Wagner, W., Kidd, R., Park, S. E., Elger, K., and Boike, J.: ASCAT Surface State Flag (SSF): Extracting Information on Surface Freeze/Thaw Conditions From Backscatter Data Using an Empirical Threshold-Analysis Algorithm, IEEE Trans. Geosci. Remote Sens., 50, 2566–2582, https://doi.org/10.1109/TGRS.2011.2177667, 2012. a, b, c
Nagler, T. and Rott, H.: Retrieval of Wet Snow by Means of Multitemporal SAR Data, IEEE Trans. Geosci. Remote Sens., 38, 754–765, https://doi.org/10.1109/36.842004, 2000. a, b
Nagler, T., Rott, H., Ripper, E., Bippus, G., and Hetzenecker, M.: Advancements for Snowmelt Monitoring by Means of Sentinel-1 SAR, Remote Sens., 8, 348, https://doi.org/10.3390/rs8040348, 2016. a
Pan, C. G., Kirchner, P. B., Kimball, J. S., Kim, Y., and Du, J.: Rain-on-snow events in Alaska, their frequency and distribution from satellite observations, Environ. Res. Lett., 13, 075004, https://doi.org/10.1088/1748-9326/aac9d3, 2018. a, b, c, d, e, f
Pellarin, T., Mialon, A., Biron, R., Coulaud, C., Gibon, F., Kerr, Y., Lafaysse, M., Mercier, B., Morin, S., Redor, I., Schwank, M., and Völksch, I.: Three years of L-band brightness temperature measurements in a mountainous area: Topography, vegetation and snowmelt issues, Remote Sens. Environ., 180, 85–98, https://doi.org/10.1016/j.rse.2016.02.047, 2016. a
Potin, P.: Sentinel-1 User Handbook, ESA, issue 1, https://sedas.satapps.org/wp-content/uploads/2015/07/Sentinel-1_User_Handbook.pdf (last access: 6 February 2023), 2013. a
Potin, P., Rosich, B., Roeder, J., and Bargellini, P.: Sentinel-1 Mission operations concept, in: 2014 IEEE Geosci. Remote Se., 1465–1468, https://doi.org/10.1109/IGARSS.2014.6946713, 2014. a
Putkonen, J. and Roe, G.: Rain-on-Snow Events Impact Soil Temperatures and Affect Ungulate Survival, Geophys. Res. Lett., 30, 1188, https://doi.org/10.1029/2002GL016326, 2003. a, b, c
Rautiainen, K., Parkkinen, T., Lemmetyinen, J., Schwank, M., Wiesmann, A., Ikonen, J., Derksen, C., Davydov, S., Davydova, A., Boike, J., Langer, M., Drusch, M., and Pulliainen, J.: SMOS prototype algorithm for detecting autumn soil freezing, Remote Sens. Environ., 180, 346–360, https://doi.org/10.1016/j.rse.2016.01.012, 2016. a
Raynolds, M. K., Walker, D. A., Balser, A., Bay, C., Campbell, M., Cherosov, M. M., Daniëls, F. J., Eidesen, P. B., Ermokhina, K. A., Frost, G. V., Jedrzejek, B., Jorgenson, M. T., Kennedy, B. E., Kholod, S. S., Lavrinenko, I. A., Lavrinenko, O. V., Magnússon, B., Matveyeva, N. V., Metúsalemsson, S., Nilsen, L., Olthof, I., Pospelov, I. N., Pospelova, E. B., Pouliot, D., Razzhivin, V., Schaepman-Strub, G., Šibík, J., Telyatnikov, M. Y., and Troeva, E.: A raster version of the Circumpolar Arctic Vegetation Map (CAVM), Remote Sens. Environ., 232, 111297, https://doi.org/10.1016/j.rse.2019.111297, 2019. a, b, c, d
Schubert, A., Miranda, N., Geudtner, D., and Small, D.: Sentinel-1A/B Combined Product Geolocation Accuracy, Remote Sens., 9, 607, https://doi.org/10.3390/rs9060607, 2017. a
Schwank, M., Mätzler, C., Wiesmann, A., Wegmäller, U., Pulliainen, J., Lemmetyinen, J., Rautiainen, K., Derksen, C., Toose, P., and Drusch, M.: Snow Density and Ground Permittivity Retrieved from L-Band Radiometry: A Synthetic Analysis, IEEE J. Sel. Top. Appl., 8, 3833–3845, https://doi.org/10.1109/jstars.2015.2422998, 2015. a, b
Semmens, K. A., Ramage, J., Bartsch, A., and Liston, G. E.: Early snowmelt events: detection, distribution, and significance in a major sub-arctic watershed, Environ. Res. Lett., 8, 014020, https://doi.org/10.1088/1748-9326/8/1/014020, 2013. a, b, c, d, e
Serreze, M. C., Gustafson, J., Barrett, A. P., Druckenmiller, M. L., Fox, S., Voveris, J., Stroeve, J., Sheffield, B., Forbes, B. C., Rasmus, S., Laptander, R., Brook, M., Brubaker, M., Temte, J., McCrystall, M. R., and Bartsch, A.: Arctic rain on snow events: bridging observations to understand environmental and livelihood impacts, Environ. Res. Lett., 16, 105009, https://doi.org/10.1088/1748-9326/ac269b, 2021. a, b, c, d, e
Sokolov, A. A., Sokolova, N. A., Ims, R. A., Brucker, L., and Ehrich, D.: Emergent Rainy Winter Warm Spells May Promote Boreal Predator Expansion into the Arctic, ARCTIC, 69, 121–129, https://doi.org/10.14430/arctic4559, 2016. a, b, c, d, e, f, g, h
Spreen, G., Kaleschke, L., and Heygster, G.: Sea ice remote sensing using AMSR-E 89-GHz channels, J. Geophys. Res., 113, C02S03, https://doi.org/10.1029/2005jc003384, 2008. a, b, c, d
Tao, S., Ao, Z., Wigneron, J.-P., Saatchi, S., Ciais, P., Chave, J., Le Toan, T., Frison, P.-L., Hu, X., Chen, C., Fan, L., Wang, M., Zhu, J., Zhao, X., Li, X., Liu, X., Su, Y., Hu, T., Guo, Q., Wang, Z., Tang, Z., Liu, Y., and Fang, J.: C-band Scatterometer (CScat): the first global long-term satellite radar backscatter data set with a C-band signal dynamic, Earth Syst. Sci. Data Discuss. [preprint], https://doi.org/10.5194/essd-2022-264, in review, 2022. a
Treharne, R., Bjerke, J. W., Tømmervik, H., and Phoenix, G. K.: Extreme event impacts on CO2 fluxes across a range of high latitude, shrub-dominated ecosystems, Environ. Res. Lett., 15, 104084, https://doi.org/10.1088/1748-9326/abb0b1, 2020. a
Tsang, L., Durand, M., Derksen, C., Barros, A. P., Kang, D.-H., Lievens, H., Marshall, H.-P., Zhu, J., Johnson, J., King, J., Lemmetyinen, J., Sandells, M., Rutter, N., Siqueira, P., Nolin, A., Osmanoglu, B., Vuyovich, C., Kim, E., Taylor, D., Merkouriadi, I., Brucker, L., Navari, M., Dumont, M., Kelly, R., Kim, R. S., Liao, T.-H., Borah, F., and Xu, X.: Review article: Global monitoring of snow water equivalent using high-frequency radar remote sensing, The Cryosphere, 16, 3531–3573, https://doi.org/10.5194/tc-16-3531-2022, 2022. a
Ulaby, F. T., Moore, R. K., and Fung, A. K.: Microwave Remote Sensing, Active and Passive, Vol. III, Artech House, Inc, ISBN 0890061920, 1986. a
Vickers, H., Malnes, E., and Eckerstorfer, M.: A Synthetic Aperture Radar Based Method for Long Term Monitoring of Seasonal Snowmelt and Wintertime Rain-On-Snow Events in Svalbard, Front. Earth Sci., 10, 868945, https://doi.org/10.3389/feart.2022.868945, 2022.  a
Westermann, S., Boike, J., Langer, M., Schuler, T. V., and Etzelmüller, B.: Modeling the impact of wintertime rain events on the thermal regime of permafrost, The Cryosphere, 5, 945–959, https://doi.org/10.5194/tc-5-945-2011, 2011. a
Wilson, R. R., Bartsch, A., Joly, K., Reynolds, J. H., Orlando, A., and Loya, W. M.: Frequency, timing, extent, and size of winter thaw-refreeze events in Alaska 2001–2008 detected by remotely sensed microwave backscatter data, Polar Biol., 36, 419–426, https://doi.org/10.1007/s00300-012-1272-6, 2012. a, b, c, d
Woodhouse, I. H.: Introduction to Microwave Remote Sensing, Taylor & Francis, New York, p. 400, https://doi.org/10.1201/9781315272573, 2006. a