Research article | 05 Aug 2022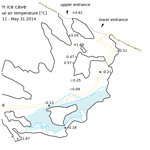 1

Department of Atmospheric and Cryospheric Sciences, University of Innsbruck, 6020 Innsbruck, Austria

2

Institute of Geology, University of Innsbruck, 6020 Innsbruck, Austria
Correspondence: Maria Wind (maria.wind@uibk.ac.at)
Received: 15 Mar 2022 – Discussion started: 05 Apr 2022 – Revised: 09 Jul 2022 – Accepted: 19 Jul 2022 – Published: 05 Aug 2022
Ice caves are, similar to mountain glaciers, threatened by the warming climate. To better understand the response of perennial ice in caves to a changing climate, we analysed the thermal characteristics of a sag-type ice cave in the Austrian Alps (Hundsalm ice cave), based on long-term temperature measurements for the period 2008–2021. Observations show a warming trend in all parts of the cave as well as a distinct seasonal pattern with two main regimes, i.e. an open (winter) and a closed (summer) period. During the closed period, a persistent stable stratification prevails that largely decouples the cave from the external atmosphere. The open period is characterised by unstable to neutral stratification, which is an effect of convection during episodes when cold air can penetrate into the cave. Criteria to detect corresponding periods are investigated. Vertical temperature profiles also provide hints on corresponding circulation patterns and the spatial temperature variability in the cave. The positive air temperature trend is reflected in a decrease in perennial cave ice, derived from stake measurements. Besides surface melting, we find compelling evidence of basal melting of ice. The observed ablation rates can be well reproduced by applying a modified degree-day model, which, however, is less feasible regarding mass balance. Overall, we conclude that Hundsalm ice cave is highly impacted by regional warming, which will lead to the disappearance of its perennial ice deposits within the next decades.
Hidden below the Earth's surface, ice caves represent a small but fascinating part of the cryosphere. Per definition, ice caves are "rock-hosted caves containing perennial ice or snow, or both" (Luetscher and Jeannin, 2004b). Similar to mountain glaciers, their larger surface counterparts, ice caves are threatened by global warming. Unlike glaciers, however, underground ice deposits can be located far outside the boundaries of the permafrost zone in areas with mean annual air temperatures well above 0 ∘C (Perşoiu et al., 2011; Obleitner and Spötl, 2011), rendering them particularly vulnerable to any warming trend (Kern and Perşoiu, 2013). The recently observed decrease in cave ice deposits (e.g. Kern and Thomas, 2014; Perşoiu et al., 2021; Securo et al., 2022) highlights the urgency to reinforce efforts of studying these subterranean archives.
Differentiation between ice caves is usually based on the origin of cave ice (snow-derived firn or in-situ-formed congelation ice) and cave air dynamics (Bögli, 1980; Luetscher and Jeannin, 2004b), both of which are determined by the cave morphology (e.g. number and elevation of cave entrances, vertical and horizontal extent). Sag-type caves represent one idealised endmember of the cave morphology spectrum. Having one or more entrances at similar elevation and showing a (near-)vertical geometry, they are characterised by a natural, seasonally controlled ventilation pattern. In the summer months (closed period) the cave atmosphere is largely decoupled from the outside, while in the winter months (open period) the cave serves as a trap for cold air (Perşoiu, 2018).
The scientific interest in sag-type ice caves is linked to the great potential of their perennial ice deposits for the reconstruction of past climate and environmental change, reaching back several hundred to locally a few thousand years (e.g. Gradziński et al., 2016; Luetscher et al., 2007; Munroe, 2021; Spötl et al., 2014). For a robust interpretation of these archives, however, it is crucial to assess and understand the microclimatic and glaciological conditions inside ice caves and their coupling to the outside atmosphere. In this respect, studying temperature already yields major insights as it incorporates information about relevant processes controlling the cave climate. The thermal disequilibrium between the cave and the outside was found to control the rate and direction of airflow (de Freitas et al., 1982; Faimon and Lang, 2013; Meyer et al., 2016), which is a major player in the energy balance of a cave system (Luetscher et al., 2008). The strong correlation of positive temperature sums with several components of the energy balance furthermore serves as the basis for modelling glacier melt rates and has been widely applied in glaciological studies (e.g. Braithwaite, 1995; Hock, 2003; Kuhn et al., 1999; Lang and Braun, 1990). Although temperature is most commonly measured in ice caves around the world, studies are mostly based on short time periods, leaving a gap for long-term investigations of ice cave temperature. Furthermore, the spatial distribution and temporal consistency of these measurements are mostly insufficient to allow comprehensive analyses of the full spatio-temporal characteristics. This also limits the validation of respective numerical models (e.g. Bertozzi et al., 2019).
We aim to fill this gap by analysing long-term data (2008 to 2021) from a network of temperature logger and ablation stakes at a sag-type ice cave in the Austrian Alps, Hundsalm ice cave. Similar to other well-studied ice caves, e.g. Eisriesenwelt (Obleitner and Spötl, 2011; Schöner et al., 2011), Dachstein Rieseneishöhle (Saar, 1956) and Scǎrişoara ice cave (Racovita and Onac, 2000), Hundsalm ice cave is not a purely natural system because it is used as a touristic show cave. Most human interference is, however, well documented, and the main analyses of this work are not affected. Otherwise, studying special cases such as the winter 2011/12, when the door to the cave accidentally fell shut, can help to better understand the cave dynamics and investigate their response to disturbances (natural or artificial). Corresponding results are not only of scientific interest but also important for regional tourism with regard to show cave management and preservation of this special habitat. Previous studies of this cave already showed snapshots of the data presented here but focused on other aspects like seasonal ice growth (Spötl, 2018) and past climate reconstruction (Spötl et al., 2014). In this work, we perform a thorough analysis of the thermal conditions at Hundsalm ice cave over more than 1 decade, elaborating on average conditions as well as spatial and temporal temperature variations. We further investigate the link of the cave atmosphere to the outside environment by means of vertical profiles and stability analysis. Finally, we explore the relationship between temperature (in- and outside the cave) and cave ice dynamics and address the potential of modelling cave ice evolution based on temperature information. Results of this study should serve as a scientific baseline for further, more detailed studies of the cave's micrometeorology as well as future modelling approaches.
Despite not being a purely natural system due to show cave operations, HIC is a unique study object that provides the opportunity to extensively study the microclimate of sag-type ice caves. The long and spatially distributed continuous series of temperature measurements inside the cave show a clear warming trend. In the main chamber, the calculated trend even exceeds the outside warming trend, rendering the cave and its perennial ice deposits particularly vulnerable to climate change. External winter conditions strongly impact the cave temperature as they not only control the extent of cooling of the cave atmosphere and the surrounding rock in winter but subsequently also influence the cave temperature in the following summer. Hence, consistently cold winters would be necessary to maintain thermal conditions that are favourable for preserving cave ice deposits. Observations, however, show a dramatic decrease in cave ice within the observation period. There is strong evidence that, apart from melting at the surface, basal melting is another important factor at HIC. First efforts of relating the cave ice development (ablation and total mass balance) with cave and outside air temperatures by applying a degree-day model show promising results. The strong impact of the preceding winter on summer conditions enabled us to make a simplified prediction of summer ablation based on winter temperature. Given the availability of calibration data, we are optimistic that this approach is transferable to other sag-type ice caves. Further work is needed to better assess accumulation processes to improve the model and eventually extend it to study the longer-term cave ice evolution. Overall, we have provided an extensive analysis of the thermal conditions in HIC, whose perennial ice body is threatened by climate change and, if warming continues, is prone to disappear within the next decades.
Data are available from the authors upon request.
Measurements were commonly designed and carried out by CS and FO. FO and MW designed the concept for the manuscript. TR prepared the cave map. MW performed the data analysis and wrote the manuscript with input and feedback from all co-authors.
The contact author has declared that none of the authors has any competing interests.
Publisher's note: Copernicus Publications remains neutral with regard to jurisdictional claims in published maps and institutional affiliations.
We thank Mathias Rotach for his valuable comments, the members of the local caving club (Landesverein für Höhlenkunde Tirol) for their continued interest and support, and the Austrian national weather service (ZAMG) and the Austrian Hydrological Service for providing additional data. Furthermore, we thank Ben Marzeion, Aurel Perşoiu and one anonymous reviewer for helping to improve the manuscript with their comments.
This project was supported by FWF grant P318740 and the Gottfried and Vera Weiss Prize to Christoph Spötl and by additional funding by the Faculty of Geo- and Atmospheric Sciences of the University of Innsbruck.
This paper was edited by Ben Marzeion and reviewed by Aurel Perşoiu and one anonymous referee.
Belmonte-Ribas, Á., Sancho, C., Moreno, A., Lopez-Martinez, J., and Bartolome, M.: Present-day environmental dynamics in ice cave A294, central Pyrenees, Spain, Geografia Fisica e Dinamica Quaternaria, 37, 131–140, https://doi.org/10.4461/GFDQ.2014.37.12, 2014. a
Bergmann, L. and Schaefer, C.: Bergmann ⋅ Schaefer Lehrbuch der Experimentalphysik, De Gruyter, Berlin, https://doi.org/10.1515/9783110198027, 2001. a
Bertozzi, B., Pulvirenti, B., Colucci, R. R., and Di Sabatino, S.: On the interactions between airflow and ice melting in ice caves: A novel methodology based on computational fluid dynamics modeling, Sci. Total Environ., 669, 322–332, 2019. a
Bögli, A.: Karst hydrology and physical speleology, Springer, Berlin, 1980. a
Braithwaite, R. J.: Calculation of degree-days for glacier-climate research., Zeitschrift für Gletscherkd. Glazialgeol., 20, 1–8, 1984. a
Braithwaite, R. J.: Positive degree-day factors for ablation on the Greenland ice sheet studied by energy-balance modelling, J. Glaciol., 41, 153–160, https://doi.org/10.1017/S0022143000017846, 1995. a
Colucci, R. R. and Guglielmin, M.: Climate change and rapid ice melt: Suggestions from abrupt permafrost degradation and ice melting in an alpine ice cave, Prog. Phys. Geogr., 43, 561–573, https://doi.org/10.1177/0309133319846056, 2019. a
Colucci, R. R., Fontana, D., Forte, E., Potleca, M., and Guglielmin, M.: Response of ice caves to weather extremes in the southeastern Alps, Europe, Geomorphology, 261, 1–11, https://doi.org/10.1016/j.geomorph.2016.02.017, 2016. a
de Freitas, C. R., Littlejohn, R. N., Clarkson, T. S., and Kristament, I.: Cave climate: assessment of airflow and ventilation, J. Climatol., 2, 383–397, 1982. a
Faimon, J. and Lang, M.: Variances in airflows during different ventilation modes in a dynamic U-shaped cave, Int. J. Speleol., 42, 115–122, https://doi.org/10.5038/1827-806X.42.2.3, 2013. a
Gradziński, M., Hercman, H., Peresviet-Soltan, A., Zelinka, J., and Jelonek, M.: Radiocarbon dating of fossil bats from Dobšina ice cave (Slovakia) and potential palaeoclimatic implications, Ann. Soc. Geol. Pol., 86, 341–350, https://doi.org/10.14241/asgp.2016.016, 2016. a
Hock, R.: Temperature index melt modelling in mountain areas, Journal of Hydrology, 282, 104–115, https://doi.org/10.1016/S0022-1694(03)00257-9, 2003. a, b, c
Hunter, J. D.: Matplotlib: A 2D graphics environment, Comput. Sci. Eng., 9, 90–95, https://doi.org/10.1109/MCSE.2007.55, 2007. a
Hussain, M. and Mahmud, I.: pyMannKendall: a python package for non parametric Mann Kendall family of trend tests., J. Open Source Softw., 4, 1556, https://doi.org/10.21105/joss.01556, 2019. a
Kern, Z. and Perşoiu, A.: Cave ice - the imminent loss of untapped mid-latitude cryospheric palaeoenvironmental archives, Quaternary Sci. Rev., 67, 1–7, https://doi.org/10.1016/j.quascirev.2013.01.008, 2013. a, b
Kern, Z. and Thomas, S.: Ice level changes from seasonal to decadal time-scales observed in lava tubes, Lava Beds National Monument, NE California, USA, Geografia Fisica e Dinamica Quaternaria, 37, 151–162, https://doi.org/10.4461/GFDQ.2014.37.14, 2014. a
Kuhn, M., Dreiseitl, E., Hofinger, S., Markl, G., Span, N., and Kaser, G.: Measurements and models of the mass balance of Hintereisferner, Geografiska Annaler, Ser. A, 81, 659–670, https://doi.org/10.1111/1468-0459.00094, 1999. a, b
Lang, H. and Braun, L.: On the information content of air temperature in the context of snow melt estimation, IAHS Publ., 190, 347–354, 1990. a
Luetscher, M.: Processes in ice caves and their significance for paleoenvironmental reconstructions, PhD thesis, University of Zurich, https://doi.org/10.5167/uzh-163383, 2005. a, b
Luetscher, M. and Jeannin, P. Y.: The role of winter air circulations for the presence of subsurface ice accumulations: an example from Monlési ice cave (Switzerland), Theor. Appl. Karst., 17, 19–25, 2004a. a, b
Luetscher, M. and Jeannin, P. Y.: A process-based classification of alpine ice caves, Theor. Appl. Karst., 17, 5–10, 2004b. a, b
Luetscher, M., Bolius, D., Schwikowski, M., Schotterer, U., and Smart, P. L.: Comparison of techniques for dating of subsurface ice from Monlesi ice cave, Switzerland, J. Glaciol., 53, 374–384, https://doi.org/10.3189/002214307783258503, 2007. a
Luetscher, M., Lismonde, B., and Jeannin, P. Y.: Heat exchanges in the heterothermic zone of a karst system: Monlesi cave, Swiss Jura Mountains, J. Geophys. Res., 113, 1–13, https://doi.org/10.1029/2007JF000892, 2008. a, b
Mann, H. B.: Nonparametric Tests Against Trend, Econometrica, 13, 245–259, https://doi.org/10.2307/1907187, 1945. a
May, B., Spötl, C., Wagenbach, D., Dublyansky, Y., and Liebl, J.: First investigations of an ice core from Eisriesenwelt cave (Austria), The Cryosphere, 5, 81–93, https://doi.org/10.5194/tc-5-81-2011, 2011. a
Meyer, C., Meyer, U., Pflitsch, A., and Maggi, V.: Analyzing airflow in static ice caves by using the calcFLOW method, The Cryosphere, 10, 879–894, https://doi.org/10.5194/tc-10-879-2016, 2016. a, b
Munroe, J. S.: First investigation of perennial ice in Winter Wonderland Cave, Uinta Mountains, Utah, USA, The Cryosphere, 15, 863–881, https://doi.org/10.5194/tc-15-863-2021, 2021. a, b
Obleitner, F. and Spötl, C.: The mass and energy balance of ice within the Eisriesenwelt cave, Austria, The Cryosphere, 5, 245–257, https://doi.org/10.5194/tc-5-245-2011, 2011. a, b
Ohmura, A.: Physical basis for the temperature-based melt-index method, J. Appl. Meteorol., 40, 753–761, https://doi.org/10.1175/1520-0450(2001)040<0753:PBFTTB>2.0.CO;2, 2001. a
Perşoiu, A.: Ice Caves Climate, in: Ice Caves, edited by Perşoiu, A. and Lauritzen, S.-E., Elsevier, 21–31, https://doi.org/10.1016/B978-0-12-811739-2.00003-6, 2018. a
Perşoiu, A., Onac, B. P., and Perşoiu, I.: The interplay between air temperature and ice mass balance changes in Scǎrişoara ice cave, Romania, Acta Carsologica, 40, 445–456, https://doi.org/10.3986/ac.v40i3.4, 2011. a
Perşoiu, A., Buzjak, N., Onaca, A., Pennos, C., Sotiriadis, Y., Ionita, M., Zachariadis, S., Styllas, M., Kosutnik, J., Hegyi, A., and Butorac, V.: Record summer rains in 2019 led to massive loss of surface and cave ice in SE Europe, The Cryosphere, 15, 2383–2399, https://doi.org/10.5194/tc-15-2383-2021, 2021. a, b
Perşoiu, A.: Evidence of basal melting of the ice block from Scărişoara Ice Cave, in: Glacier Caves and Glacial Karst in High Mountains and Polar Regions, edited by: Mavlyudov, B., 109–112, Institute of Geography of the Russian Academy of Sciences, Moscow, ISBN 9785896580287, 2005. a
Racine, T. M., Spötl, C., Reimer, P. J., and Čarga, J.: Radiocarbon constraints on periods of positive cave ice mass balance during the last millennium, Julian Alps (NW Slovenia), Radiocarbon, 64, 333–356, https://doi.org/10.1017/RDC.2022.26, 2022. a
Racovita, G. and Onac, B. P.: Scǎrişoara Glacier Cave, Monographic study, Carpatica, Cluj-Napoca, edited by: Onac, I., Bogdan Petroniu Editura Carpatica, ISBN 973-98752-1-1, 2000. a
Saar, R.: Eishöhlen. Ein Meteorologisch-geophysikalisches Phänomen (Untersuchungen an der Rieseneishöhle (R. E. H.) im Dachstein, Oberösterreich, Geografiska Annaler, 38, 1–63, 1956. a
Schöner, W., Weyss, G., and Mursch-Radlgruber, E.: Linkage of cave-ice changes to weather patterns inside and outside the cave Eisriesenwelt (Tennengebirge, Austria), The Cryosphere, 5, 603–616, https://doi.org/10.5194/tc-5-603-2011, 2011. a
Seabold, S. and Perktold, J.: statsmodels: Econometric and statistical modeling with python, in: 9th Python in Science Conference, 28 June–3 July 2010, Austin, Texas, edited by: van der Walt, S. and Millman, J., 92–96, https://doi.org/10.25080/Majora-92bf1922-011, 2010. a
Securo, A., Forte, E., Martinucci, D., Pillon, S., and Colucci, R. R.: Long-term mass-balance monitoring and evolution of ice in caves through structure from motion–multi-view stereo and ground-penetrating radar techniques, Prog. Phys. Geogr.-Earth and Environment, 0, 1–19, https://doi.org/10.1177/03091333211065123, 2022. a
Spötl, C.: Die Entdeckungsgeschichte und der ursprüngliche Zustand der Hundsalm Eis- und Tropfsteinhöhle, Höhlenkundliche Mitteilungen des Landesvereins für Höhlenkunde in Tirol, 65, 22–33, 2013. a
Spötl, C.: Aktuelle Wachstumsdynamik der Eisstalagmiten in der Hundsalm Eis- und Tropfsteinhöhle (Tirol), Die Höhle, 69, 84–89, 2018. a
Spötl, C., Reimer, P. J., and Luetscher, M.: Long-term mass balance of perennial firn and ice in an Alpine cave (Austria): Constraints from radiocarbon-dated wood fragments, The Holocene, 24, 165–175, https://doi.org/10.1177/0959683613515729, 2014. a, b, c, d, e
The pandas development team: pandas-dev/pandas: Pandas, Zenodo [code], https://doi.org/10.5281/zenodo.3509134, 2020. a
Tulis, J. and Novotný, L.: Changes of glaciation in the Dobšinská Ice Cave, Aragonit, 8, 7–9, 2003. a
Waskom, M. L.: seaborn: statistical data visualization, J. Open Source Softw., 6, 3021, https://doi.org/10.21105/joss.03021, 2021. a
Wimmer, M.: Eis- und Lufttemperaturmessungen im Schönberg-Höhlensystem (1626/300) und Modellvorstellungen über den Eiszyklus, Die Höhle, 59, 13–25, 2008. a
Yang, S. and Shi, Y.: Numerical simulation of formation and preservation of Ningwu ice cave, Shanxi, China, The Cryosphere, 9, 1983–1993, https://doi.org/10.5194/tc-9-1983-2015, 2015. a