Articles | Volume 16, issue 1
https://doi.org/10.5194/tc-16-1-2022
© Author(s) 2022. This work is distributed under
the Creative Commons Attribution 4.0 License.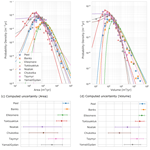 Assessing volumetric change distributions and scaling relations of retrogressive thaw slumps across the Arctic
Arctic ice-rich permafrost is becoming increasingly vulnerable to terrain-altering thermokarst, and among the most rapid and dramatic of these changes are retrogressive thaw slumps (RTSs). They initiate when ice-rich soils are exposed and thaw, leading to the formation of a steep headwall which retreats during the summer months. The impacts and the distribution and scaling laws governing RTS changes within and between regions are unknown. Using TanDEM-X-derived digital elevation models, we estimated RTS volume and area changes over a 5-year time period from winter 2011/12 to winter 2016/17 and used for the first time probability density functions to describe their distributions. We found that over this time period all 1853 RTSs mobilized a combined volume of 17×106 m3 yr−1, corresponding to a volumetric change density of 77 m3 yr−1 km−2. Our remote sensing data reveal inter-regional differences in mobilized volumes, scaling laws, and terrain controls. The distributions of RTS area and volumetric change rates follow an inverse gamma function with a distinct peak and an exponential decrease for the largest RTSs. We found that the distributions in the high Arctic are shifted towards larger values than at other study sites We observed that the area-to-volume scaling was well described by a power law with an exponent of 1.15 across all study sites; however the individual sites had scaling exponents ranging from 1.05 to 1.37, indicating that regional characteristics need to be taken into account when estimating RTS volumetric changes from area changes. Among the terrain controls on RTS distributions that we examined, which included slope, adjacency to waterbodies, and aspect, the latter showed the greatest but regionally variable association with RTS occurrence. Accounting for the observed regional differences in volumetric change distributions, scaling relations, and terrain controls may enhance the modelling and monitoring of Arctic carbon, nutrient, and sediment cycles.
Received: 06 May 2021 – Discussion started: 29 Jun 2021 – Revised: 11 Nov 2021 – Accepted: 18 Nov 2021 – Published: 03 Jan 2022
About 15 % of the land mass in the Northern Hemisphere is underlain by permafrost (Obu, 2021). With climate warming these permafrost regions become increasingly vulnerable to thaw. This thaw manifests itself first in a slow but gradual deepening of the seasonally thawed active layer (press disturbances) and secondly in a more rapid and local way by the development of thermokarst features (pulse disturbances) (Grosse et al., 2011; Schuur et al., 2015). Both forms of permafrost degradation have major impacts by changing ecosystem and hydrological equilibria, and they impact the Earth system on a global scale by reinforcing climate change with the additional mobilization of organic carbon that was previously stored in the frozen soil. One important thermokarst feature arising from pulse disturbances are retrogressive thaw slumps (RTSs). These RTSs initiate by the exposure of ice-rich soils with a subsequent thaw and the formation of a steep headwall (Burn and Lewkowicz, 1990; Kokelj et al., 2009). During the summer, the ice in the headwall melts, which leads to a continuous retreat. This process can mobilize vast quantities of sediments on a timescale of years. In the context of recent climate warming, an increase in the number and sizes of RTSs in permafrost regions has been found (Lantz and Kokelj, 2008; Lantuit and Pollard, 2008; Gooseff et al., 2009; Kokelj et al., 2009; Lewkowicz and Way, 2019). However, the inter-regional differences in the rates of thaw slumping in terms of their magnitude, distribution, and controls remain poorly constrained and so are the implications for carbon and nutrient cycles.
For the investigation of landslides in temperate climate zones, frequency distributions and scaling laws of various forms have been used to quantify hazards and ecosystem impacts as well as to improve the process understanding of landslide activity (Tebbens, 2020). The variability and similarities of these laws in terms of landslides properties and area characteristics have played an important role. The soil properties (ice content) as well as timescales (single event vs. polycyclic multi-year retreat) are different for RTSs than for other landslides, but nevertheless the methods used as well as the universality of landslide characteristics could provide valuable insights into RTS drivers and controls. Furthermore, due to the strong spatial variability in soil-carbon densities as well as RTS activity, past model estimates of the impacts of RTSs on the carbon cycle have large uncertainties (Turetsky et al., 2020). Quantifying the RTS frequency distributions and scaling laws as well as their variability across regions has the potential to greatly improve future carbon release rates. However, to the best of our knowledge there is only one study quantifying the area frequency distributions of RTSs, where orthophotos were used to measure an area disturbed by RTSs at a study site on Svalbard (Nicu et al., 2021), and there are no studies that quantify RTS volume frequency distributions.
Two of the most common methods to describe landslides are the frequency distribution and the area-to-volume scaling. For the frequency distribution, the area (or volume) change in the erosion site showing elevation loss is used. In this distribution typically two parts can be distinguished, an exponential-decay part describing larger landslides and a deviation from this power law for smaller events with a distinct peak, indicating the most common landslides in the region. The exponential-decay part is well explained by models that merge closely proximal landslides. The attribution of the deviation from the power law is more controversial and is attributed either to an under-sampling of small events or to real physical processes (Tanyaş et al., 2018). The second scaling law, namely the area-to-volume scaling, is based on an observational relation between landslide area and volumetric change. Many studies of landslides inventories that include different sizes, slope failure mechanisms, and locations show that area-to-volume scaling follows a power law relation V∝Aα with α ranging from 1 to 1.5. (Larsen et al., 2010). In a purely mathematical sense, an α of 1.5 corresponds to a situation where objects scale in an invariant way, meaning that if the height dimension is increased by a certain amount, the horizontal (area) dimension is increased by the same. Consequently a scaling coefficient smaller than 1.5 corresponds to a situation where an increase in area leads to a smaller but proportional increase in height (Klar et al., 2011). The ability to estimate the volumetric change from area measurements can especially be useful for estimating the amount of mobilized material if only area measurements are available. Additionally, differences in α between regions may suggest different physical drivers of RTS development.
To quantify these relations for RTSs, remote sensing techniques are the most feasible due to the remote landscape and the severe climate conditions. Digital elevation models (DEMs) that cover the pan-Arctic permafrost terrain with a high enough resolution to study RTSs have only become available in the last few years. One of these high-resolution DEMs is based on single-pass interferometric synthetic aperture radar (InSAR) observations taken by the TanDEM-X satellites. TanDEM-X is a high-resolution single-pass interferometry satellite mission that was launched by the German Aerospace Center (DLR) with the purpose of generating a high-resolution global DEM (Krieger et al., 2007). The satellite pair started observations in 2010 and have now observed the global land mass two to three times. The expected spatial resolution of about 10 to 12 m and vertical height resolutions of the order of about 2 to 3 m are smaller than typical RTS change rates and can thus provide accurate estimates of the thaw slump topography as well as related controls on RTS processes like aspect, slope, and location (Bernhard et al., 2020).
In this study we use DEMs generated from TanDEM-X observations to derive the volume and area change rates of RTSs of several Arctic regions. Additionally we derive several terrain controls, namely the aspect, slope, and location. This work focuses on answering the following questions:
Do the area and volume change probability density function of RTSs follow the typical landslide distribution, and to what extent does the function vary across the study sites?

What are the area-to-volume scaling law coefficients for the study sites, and are they different?

Do the terrain controls vary between the study sites, and if so, is the variation related to RTS size?
The large number of RTSs in our sample and the diverse nature of our study sites allow for a robust statistical inference in answering these questions. The results should provide valuable insights concerning susceptibility modelling and will further improve our understanding of the processes that govern RTS initiation and growth as well as their future impacts on ecological and hydrological systems.
We chose 10 different study sites located in permafrost regions across the Arctic (Fig. 1). We based our selection first on sites where previous studies have shown RTS activity: the Peel Plateau and Richardson Mountains ("Peel"), Banks Island ("Banks"), the western Mackenzie River delta uplands and Tuktoyaktuk Coastlands ("Tuktoyaktuk") and Ellesmere Island ("Ellesmere"), which are all located in northern Canada; the Noatak Basin ("Noatak") in Alaska; and the Yamal and Gydan peninsulas in Siberia (Lacelle et al., 2010; Balser et al., 2014; Segal et al., 2016; Nitze et al., 2017; Jones et al., 2019; Nesterova et al., 2020). Additionally, we chose three study sites in Siberia that exhibit RTS activity but are not well studied, namely on the Taymyr Peninsula ("Taymyr 1 and 2") and on the Chukotka Peninsula ("Chukotka").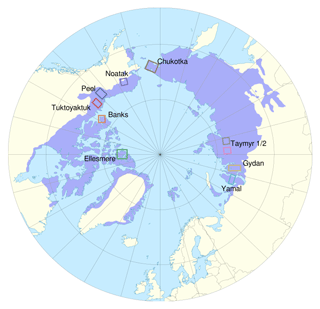 The study sites are located in the Arctic tundra and the boreal–tundra transition regions within the continuous permafrost zone (Brown et al., 2002). These regions have different environmental properties including permafrost type, topography lake-abundance, and vegetation type, so we selected representative locations for our study sites. We based the exact outline of the study sites on the Sentinel-2 tiling to facilitate the data processing steps.
The amount of ground ice on a pan-Arctic scale has not been well characterized, but estimations on a coarse scale report ground ice contents of >10 % for all study sites (Brown et al., 2002). On large scales, high ground ice content is associated with the climatic history (e.g. syngenetic ice wedges) and the associated extent of past glacial ice (e.g. buried glacial ice). On small scales ground ice content can vary due to, for example, soil type (Lacelle et al., 2004).
The study sites on Peel, Banks, Ellesmere, Noatak, and Chukotka show strong variation in topography with elevation changes of several hundred metres inside the study sites. The remaining sites show only small variation in elevation (<100 m). Another difference between the study sites is in the number of lakes present. The study sites with the highest number of lakes are in Tuktoyaktuk and Taymyr 2. We found only a small number of lakes on Ellesmere and in Noatak (Table 1).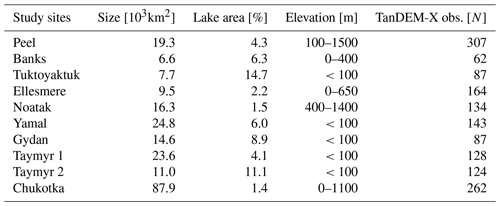 Note that we calculated the lake area percentage using the generated waterbody mask. Here we did not include open waterbodies in the calculation.
We investigated 10 different study sites and measured the area and volumetric change rates of 1854 RTSs over a 4- to 5-year timeframe. Due to the low density of RTSs in Yamal and Gydan and the two study sites in Taymyr, we combined these pairs of sites into one study site each (in the following "Yamal/Gydan" and "Taymyr") according to their geographical and geophysical proximity.
The number of RTSs per study site and the obtained volumetric change rates in terms of the total volume, density, and changes per RTS are shown in Table 2. We found the largest RTSs in terms of average volumetric change rates per RTS at Ellesmere, Peel, and Banks with yearly average change rates of 13 200, 12 200, and 10 700 m3 yr−1. The other areas show much smaller yearly average volumetric change rates in the range of 2400 (Tuktoyaktuk) to 3600 m3 yr−1 (Taymyr). Compared to the other study sites, RTSs at Ellesmere, Peel, and Banks also show higher volumetric change in terms of overall change both per study site size (density) and per individual RTS. Furthermore, these three sites also contain the largest overall size of RTSs of the investigated study sites (Fig. 3).
In the following paragraphs we will present (1) a characterization of the area and volumetric changes rates with special emphasis on the probability density functions with the estimation of the rollover, cutoff, and exponential-decay components; (2) the estimated area-to-volume scaling laws; and (3) several terrain controls that could potentially be related to RTS size and frequency. To compare the quantities estimated in the next three sections, we computed the correlation coefficients between them.
4.1

 RTS volume and area distributions

The estimated PDFs are shown in Fig. 4a and b. For most areas the quality of fit of the inverse gamma function was good, as indicated by R2 values >0.75. Exceptions were the Noatak and Chukotka study sites with R2 values between 0.6 and 0.7. These two sites also have the lowest number of RTSs in the sample with only 26 (Noatak) and 51 (Chukotka) RTSs (Fig. 4c and d).

The modes of the volume change distributions (rollover points) differ between sites. The two study sites located in the high Arctic (Ellesmere and Banks) show rollover values that are an order of magnitude higher. The range of measured volumetric and area change rates show large variations for the Tuktoyaktuk and Peel study sites, whereas the other study sites show smaller variations.

The PDFs above the cutoff value and the relation between rollover and cutoff as well as the exponential-decay values differ between sites (Fig. 5). For the PDF based on the volumetric change, a high rollover value is moderately associated with high cutoff values, indicated by a correlation coefficient of 0.72. By contrast, the PDF based on the area change rate shows a much stronger separation between the high-Arctic sites and the other study sites and consequently also shows a high correlation factor of 0.96. For the power law exponent for RTSs above the cutoff values, no large difference between the areas is visible (β is approximately 2 to 3, and correlation coefficients are <0.64). All correlation coefficients are shown in the Supplement (Fig. S5). It is of note that for the yearly area and volumetric change rates the cutoff value for the Peel study site is relatively small but the distribution continues to high values with yearly area change rates of up to 6×104 m2 yr−1 and 3×105 m3 yr−1 (mega-slumps). The computed values of the rollover, cutoff, and exponential-decay coefficients as well as the fit parameters for the inverse gamma function are reported in Tables S1 and S2 in the Supplement.
4.2

 Area-to-volume scaling

The estimated area-to-volume scaling law based on all data points in log–log space shows a clear relationship that spans over 4 orders of magnitude between the area and volumetric change rates (Fig. 6a). The estimated scaling exponent across all study sites was . The quality of fit was decent, with an R2 value of 0.81, RMSE of 0.21 m3 yr−1, and p value smaller than 10−6, showing a strong dependency between RTS area and volumetric change rates. This is remarkable considering that RTSs in the sample occurred in different topographic and geomorphological settings. Nevertheless we found a moderate inter-region variability in the scaling coefficient. The α coefficients for the individual sites was in the range of 1.05 to 1.25 with the exception of RTSs in the Banks site with a high coefficient of 1.37 (Fig. 6b). The data points and fitted lines for each study site individually can be seen in the Supplement Fig. S6. The strong association between area and volume change rates can facilitate the estimation of volume changes from multispectral satellite images.
4.3

 Terrain controls

Among the investigated terrain controls, aspect shows the greatest variability between the study sites. RTSs located in Siberia as well as on Ellesmere tend to favour a south-west-facing orientation (Fig. 7a). The very small number of RTSs in the Noatak study site showed a preferred orientation towards the north-west, and RTSs in Peel have a preferred orientation towards the north-east. For Tuktoyaktuk and Banks no clear trend is visible. To consider the possibility of more than one preferred orientation, we additionally looked at the initial aspect bin distribution (Supplement Fig. S7). Here only the aspect distribution of RTSs in the Noatak Valley shows two preferred orientations, but this could be related to the low number of RTSs in the study site. Additionally to the number of RTSs in each aspect bin, we weighted the aspect by the volumetric change rates. This only slightly alters the preferred orientation, and large RTSs do not occur at different aspects.

The slope of the pre-disturbed area shows some difference between the study sites (Fig. 7c). In general all RTSs evolve at slopes ranging from 2 to 3∘ up to slopes of 20∘. Interestingly, in the study site of the largest RTSs on Banks, they tend to favour lower slopes with values below 12∘.

We investigated the dependency of RTS locations in terms of their occurrence. We distinguished two types of location, either at a shore (including lake and coastal) or at hillslopes with no large waterbodies close by. Several study sites have mostly one type of RTS location. The RTSs in Ellesmere (99 % hillslope), Peel (96 % hillslope), and Noatak (88 % hillslope) have mostly RTSs at hillslope locations. On the contrary, RTSs in the Tuktoyaktuk site are nearly all located at lakeshores (99 %). All other study sites have a mixture of hillslope and shoreline RTS locations: Banks (66 % hillslope), Chukotka (52 % hillslope), Taymyr (27 % hillslope), and Yamal/Gydan (26 % hillslope). In the study sites with both types of RTS location, no significant difference between the distributions is visible (Fig. 7c). Furthermore, we did not find a significant correlation between RTS size and the percentage of hillslope or shoreline RTS locations (Supplement Fig. S5).

To estimate the volumetric change rate density of RTSs within the RTS-affected regions of each study site, we gridded them into tiles of size 10 km by 10 km. Figure 8a shows the volumetric change rates per square kilometre using only the tiles with RTSs present. The volumetric change densities over the total study site strongly depend on the exact outline of study sites, and removing tiles without RTSs present gives a more consistent and comparable volumetric change rate density. To make this more visible, the number of tiles with RTSs present and without can be seen in Fig. 8b. Here for example, the Chukotka Peninsula has only a small number of tiles with RTSs present.
In this study we quantified the yearly volumetric and area change rates of RTSs over a 5-year timeframe in 10 study sites across the Arctic with a total study size of 220 000 km2 and a total number of 1868 RTSs. We found that the frequency distributions of the volumetric and area change rates are well described by an inverse gamma distribution (R2>0.5) with the distinct features of a rollover, cutoff, and exponential decay for large RTSs. This kind of behaviour is well known for landslides in temperate climate regions with very different trigger mechanisms and soil properties and could provide valuable insights into modelling future RTS evolution on a pan-Arctic scale.
The comparison between study sites showed that the distribution of RTSs in northern Canada (Peel Plateau and Richardson Mountains, Banks Island, Ellesmere Island) is shifted towards higher change rates in volume and area than elsewhere in the Arctic. Nevertheless, the exponential-decay rates for large RTSs in all study sites were similar.
Our analyses revealed consistent but regionally variable area-to-volume scaling behaviour. For the total dataset we found a scaling coefficient of with some variance between the study sites (α between 1.05 to 1.37).
We examined terrain controls on RTS distributions, including slope, and adjacency to waterbodies, but aspect showed the greatest association with RTS occurrence, though it varies regionally. We found diverse preferred orientations of RTSs between the study sites from no dominant orientation for Tuktoyaktuk and Banks Island, a north-east orientation for the Peel Plateau and Richardson Mountains, east-facing RTSs in the Noatak Valley, and a strong south-west orientation of all study sites in Siberia and the study site on Ellesmere Island.
Our regionally variable RTS scaling relations may be used to constrain large-scale estimates of carbon, sediment, and nutrient budgets. By capturing the variability in RTS change rates across scales, remote sensing is a vital tool for predicting hazards and attendant ecosystem changes in a rapidly changing Arctic.
PB conducted the DEM processing, analysed the data and drafted the initial manuscript. SZ provided critical guidance and contributed to the writing of the manuscript. NB and PB conducted the manual RTS mapping. IH provided guidance and corrections to the final paper.
The contact author has declared that neither they nor their co-authors have any competing interests.
Publisher's note: Copernicus Publications remains neutral with regard to jurisdictional claims in published maps and institutional affiliations.
The authors are very thankful to the two reviewers, Jon Tunnicliffe and one anonymous, as well as the associate editor Peter Morse, who were essential in improving the manuscript and providing insightful comment and suggestions. In addition we would like to thank the German Aerospace Center for the provision of the data taken from the TanDEM-X mission and the European Space Agency for the Sentinel-2 data provision.
This paper was edited by Peter Morse and reviewed by Jon Tunnicliffe and one anonymous referee.
Bachmann, M., Borla Tridon, D., Martone, M., Sica, F., Buckreuss, S., and Zink, M.: How to update a global DEM – acquisition concepts for TanDEM-X and Tandem-L, in: Proceedings of the European Conference on Synthetic Aperture Radar, Aachen, Germany, 4–7 June 2018, 1–5, 2018. a
Bak, P. and Tang, C.: Earthquakes as a self-organized critical phenomenon, J. Geophys. Res.-Sol. Ea., 94, 15635–15637, 1989. a
Balser, A. W., Jones, J. B., and Gens, R.: Timing of retrogressive thaw slump initiation in the Noatak Basin, northwest Alaska, USA, J. Geophys. Res.-Earth, 119, 1106–1120, https://doi.org/10.1002/2013JF002889, 2014. a
Bennett, G., Molnar, P., Eisenbeiss, H., and McArdell, B.: Erosional power in the Swiss Alps: characterization of slope failure in the Illgraben, Earth Surf. Proc. Land., 37, 1627–1640, https://doi.org/10.1002/esp.3263, 2012. a
Bernhard, P.: Dataset for Assessing volumetric change distributions and scaling relations of thaw slumps across the Arctic, ETH Zurich [data set], https://doi.org/10.3929/ethz-b-000482449, 2021. a
Bernhard, P., Zwieback, S., Leinss, S., and Hajnsek, I.: Mapping Retrogressive Thaw Slumps Using Single-Pass TanDEM-X Observations, IEEE J. Sel. Top. Appl., 13, 3263–3280, https://doi.org/10.1109/JSTARS.2020.3000648, 2020. a, b, c, d
Boggs, P. T. and Rogers, J. E.: Orthogonal Distance Regression, Statistical analysis of measurement error models and applications: proceedings of the AMS-IMS-SIAM joint summer research conference held June 10–16, 1989, Humboldt State University, Arcata, California, USA, 112, 186, 1990. a
Brown, J., Ferrians, O., Heginbottom, J. A., and Melnikov, E.: Circum-Arctic Map of Permafrost and Ground-Ice Conditions, Version 2, National Snow and Ice Data Center (NSIDC), Boulder, Colorado, USA, https://doi.org/10.7265/skbg-kf16, 2002. a, b, c
Burn, C. R. and Lewkowicz, A.: Canadian landform examples-17 retrogressive thaw slumps, Can. Geogr., 34, 273–276, https://doi.org/10.1111/j.1541-0064.1990.tb01092.x, 1990. a
Burn, C. R., Michel, F. A., and Smith, M. W.: Stratigraphic, isotopic, and mineralogical evidence for an early Holocene thaw unconformity at Mayo, Yukon Territory, Can. J. Earth Sci., 23, 794–803, https://doi.org/10.1139/e86-081, 1986. a
Clauset, A., Shalizi, C. R., and Newman, M. E.: Power-law distributions in empirical data, SIAM Rev., 51, 661–703, 2009. a
Dai, C., Jones, M., Howat, I., Liljedahl, A., Lewkowicz, A., and Freymueller, J.: Using ArcticDEM to identify and quantify pan-Arctic retrogressive thaw slump activity, EGU General Assembly 2020, Online, 4–8 May 2020, EGU2020-12142, https://doi.org/10.5194/egusphere-egu2020-12142, 2020. a
European Space Agency (ESA): Copernicus Open Access Hub, ESA [data set], available at: https://scihub.copernicus.eu, last access: 22 December 2021. a
Fritz, T., Rossi, C., Yague-Martinez, N., Rodriguez-Gonzalez, F., Lachaise, M., and Breit, H.: Interferometric processing of TanDEM-X data, in: 2011 Int. Geosci. Remote Se., Vancouver, BC, Canada, 24–29 July 2011, 2428–2431, https://doi.org/10.1109/IGARSS.2011.6049701, 2011. a
German Space Agency (DLR): DLR EOWEB GeoPortal, DLR [data set], available at: https://eoweb.dlr.de, last access: 22 December 2021. a
Gooseff, M. N., Balser, A., Bowden, W. B., and Jones, J. B.: Effects of hillslope thermokarst in northern Alaska, Eos, 90, 29–30, 2009. a
Grosse, G., Harden, J., Turetsky, M., McGuire, A. D., Camill, P., Tarnocai, C., Frolking, S., Schuur, E. A., Jorgenson, T., Marchenko, S., Romanovsky, V., Wickland, K. P., French, N., Waldrop, M., Bourgeau-Chavez, L., and Striegl, R. G.: Vulnerability of high-latitude soil organic carbon in North America to disturbance, J. Geophys. Res.-Biogeo., 116, G4, https://doi.org/10.1029/2010JG001507, 2011. a
Jones, M. K. W., Pollard, W. H., and Jones, B. M.: Rapid initialization of retrogressive thaw slumps in the Canadian high Arctic and their response to climate and terrain factors, Environ. Res. Lett., 14, 055006, https://doi.org/10.1088/1748-9326/ab12fd 2019. a, b, c
Kang-tsung, C. and Bor-wen, T.: The Effect of DEM Resolution on Slope and Aspect Mapping, Cartogr. and Geogr. Inform., 18, 69–77, https://doi.org/10.1559/152304091783805626, 1991. a
Kaplan, G. and Avdan, U.: Object-based water body extraction model using Sentinel-2 satellite imagery, Eur. J. Remote Sens., 50, 1, https://doi.org/10.1080/22797254.2017.1297540, 2017. a
Kaufman, D., Ager, T., Anderson, N., Anderson, P., Andrews, J., Bartlein, P., Brubaker, L., Coats, L., Cwynar, L., Duvall, M., Dyke, A., Edwards, M., Eisner, W., Gajewski, K., Geirsdóttir, A., Hu, F., Jennings, A., Kaplan, M., Kerwin, M., Lozhkin, A., MacDonald, G., Miller, G., Mock, C., Oswald, W., Otto-Bliesner, B., Porinchu, D., Rühland, K., Smol, J., Steig, E., and Wolfe, B.: Holocene thermal maximum in the western Arctic (0–180∘ W), Quaternary Sci. Rev., 23, 529–560, https://doi.org/10.1016/j.quascirev.2003.09.007, 2004. a
Klar, A., Aharonov, E., Kalderon-Asael, B., and Katz, O.: Analytical and observational relations between landslide volume and surface area, J. Geophys. Res.-Earth, 116, F2, https://doi.org/10.1029/2009JF001604, 2011. a, b
Kokelj, S. V. and Jorgenson, M. T.: Advances in thermokarst research, Permafrost Periglac., 24, 108–119, https://doi.org/10.1002/ppp.1779, 2013. a
Kokelj, S. V., Lantz, T. C., Kanigan, J., Smith, S. L., and Coutts, R.: Origin and polycyclic behaviour of tundra thaw slumps, Mackenzie Delta region, Northwest Territories, Canada, Permafrost Periglac., 20, 173–184, https://doi.org/10.1002/ppp.642, 2009. a, b, c
Kokelj, S. V., Lantz, T. C., Tunnicliffe, J., Segal, R., and Lacelle, D.: Climate-driven thaw of permafrost preserved glacial landscapes, northwestern Canada, Geology, 45, 371–374, https://doi.org/10.1130/G38626.1, 2017. a, b
Kokelj, S. V., Kokoszka, J., van der Sluijs, J., Rudy, A. C. A., Tunnicliffe, J., Shakil, S., Tank, S. E., and Zolkos, S.: Thaw-driven mass wasting couples slopes with downstream systems, and effects propagate through Arctic drainage networks, The Cryosphere, 15, 3059–3081, https://doi.org/10.5194/tc-15-3059-2021, 2021. a
Krieger, G., Moreira, A., Fiedler, H., Hajnsek, I., Werner, M., Younis, M., and Zink, M.: TanDEM-X: A satellite formation for high-resolution SAR interferometry, IEEE T. Geosci. Remote, 45, 3317–3340, https://doi.org/10.1109/TGRS.2007.900693, 2007. a
Lacelle, D., Bjornson, J., Lauriol, B., Clark, I., and Troutet, Y.: Segregated-intrusive ice of subglacial meltwater origin in retrogressive thaw flow headwalls, Richardson Mountains, NWT, Canada, Quaternary Sci. Rev., 23, 681–696, https://doi.org/10.1016/j.quascirev.2003.09.005, 2004. a
Lacelle, D., Bjornson, J., and Lauriol, B.: Climatic and geomorphic factors affecting contemporary (1950–2004) activity of retrogressive thaw slumps on the Aklavik plateau, Richardson mountains, NWT, Canada, Permafrost Periglac., 21, 1–15, https://doi.org/10.1002/ppp.666, 2010. a, b
Lacelle, D., Brooker, A., Fraser, R. H., and Kokelj, S. V.: Distribution and growth of thaw slumps in the Richardson Mountains-Peel Plateau region, northwestern Canada, Geomorphology, 235, 40–51, https://doi.org/10.1016/j.geomorph.2015.01.024, 2015. a, b
Lantuit, H. and Pollard, W. H.: Fifty years of coastal erosion and retrogressive thaw slump activity on Herschel Island, southern Beaufort Sea, Yukon Territory, Canada, Geomorphology, 95, 84–102, https://doi.org/10.1016/j.geomorph.2006.07.040, 2008. a, b
Lantuit, H., Pollard, W. H., Couture, N., Fritz, M., Schirrmeister, L., Meyer, H., and Hubberten, H.-W.: Modern and Late Holocene Retrogressive Thaw Slump Activity on the Yukon Coastal Plain and Herschel Island, Yukon Territory, Canada, Permafrost Periglac., 23, 39–51, https://doi.org/10.1002/ppp.1731, 2012. a
Lantz, T. C. and Kokelj, S. V.: Increasing rates of retrogressive thaw slump activity in the Mackenzie Delta region, N. W. T., Canada, Geophys. Res. Lett., 35, 6, https://doi.org/10.1029/2007GL032433, 2008. a, b
Larsen, I. J., Montgomery, D. R., and Korup, O.: Landslide erosion controlled by hillslope material, Nat. Geosci., 3, 247–251, 2010. a, b
Leinss, S. and Bernhard, P.: TanDEM-X: Deriving InSAR height changes and velocity dynamics of great aletsch glacier, IEEE J. Sel. Top. Appl., 14, 4798–4815, 2021. a, b
Lewkowicz, A. G.: Headwall retreat of ground-ice slumps, Banks Island, Northwest Territories, Can. J. Earth Sci., 24, 6, https://doi.org/10.1139/e87-105, 1987a. a
Lewkowicz, A. G.: Nature and Importance of Thermokarst Processes, Sand Hills Moraine, Banks Island, Canada, Geogr. Ann. A, 69, 321–327, https://doi.org/10.1080/04353676.1987.11880218, 1987b. a
Lewkowicz, A. G. and Way, R. G.: Extremes of summer climate trigger thousands of thermokarst landslides in a High Arctic environment, Nat. Commun., 10, 1, https://doi.org/10.1038/s41467-019-09314-7, 2019. a, b
Malamud, B. D., Turcotte, D. L., Guzzetti, F., and Reichenbach, P.: Landslide inventories and their statistical properties, Earth Surf. Proc. Land., 29, 687–711, https://doi.org/10.1002/esp.1064, 2004. a
Markovsky, I. and Van Huffel, S.: Overview of total least-squares methods, Signal Process., 87, 2283–2302, https://doi.org/10.1016/j.sigpro.2007.04.004, 2007. a
Martone, M., Bräutigam, B., Rizzoli, P., Gonzalez, C., Bachmann, M., and Krieger, G.: Coherence evaluation of TanDEM-X interferometric data, ISPRS J. Photogramm., 73, 21–29, https://doi.org/10.1016/j.isprsjprs.2012.06.006, 2012. a
McFeeters, S. K.: The use of the Normalized Difference Water Index (NDWI) in the delineation of open water features, Int. J. Remote Sens., 17, 7, https://doi.org/10.1080/01431169608948714, 1996. a
Millan, R., Dehecq, A., Trouvé, E., Gourmelen, N., and Berthier, E.: Elevation changes and X-band ice and snow penetration inferred from TanDEM-X data of the Mont-Blanc area, in: 2015 8th International Workshop on the Analysis of Multitemporal Remote Sensing Images (Multi-Temp), Annecy, France, 22–24 July 2015, 1–4, https://doi.org/10.1109/Multi-Temp.2015.7245753, 2015. a
Nesterova, N., Khomutov, A., Kalyukina, A., and Leibman, M.: The specificity of thermal denudation feature distribution on Yamal and Gydan peninsulas Russia, in: EGU General Assembly 2020 Online, 4–8 May 2020, EGU2020-746, https://doi.org/10.5194/egusphere-egu2020-746, 2020. a, b
Nicu, I. C., Lombardo, L., and Rubensdotter, L.: Preliminary assessment of thaw slump hazard to Arctic cultural heritage in Nordenskiöld Land, Svalbard, Landslides, 18, 1–13, https://doi.org/10.1007/s10346-021-01684-8, 2021. a
Nitze, I., Grosse, G., Jones, B. M., Arp, C. D., Ulrich, M., Fedorov, A., and Veremeeva, A.: Landsat-based trend analysis of lake dynamics across Northern Permafrost Regions, Remote Sens.-Basel, 9, 640, https://doi.org/10.3390/rs9070640, 2017. a
Nitze, I., Grosse, G., Jones, B., Romanovsky, V., and Boike, J.: Remote sensing quantifies widespread abundance of permafrost region disturbances across the Arctic and Subarctic, Nat. Commun., 9, 1–11, 2018. a
Obu, J.: How Much of the Earth's Surface is Underlain by Permafrost?, J. Geophys. Res.-Earth, 126, e2021JF006123, https://doi.org/10.1029/2021JF006123, 2021. a
Ohtani, K.: Bootstrapping R2 and adjusted R2 in regression analysis, Econ. Model., 17, 473–483, https://doi.org/10.1016/S0264-9993(99)00034-6, 2000. a
Parker, R., Hancox, G., Petley, D., Massey, C., Densmore, A., and Rosser, N.: Spatial distributions of earthquake-induced landslides and hillslope preconditioning in northwest South Island, New Zealand, Earth Surf. Dynam., 3, 501–525, 2015. a
Planet-Team: Planet Application Program Interface: In Space for Life on Earth, available at: https://api.planet.com (last access: 22 December 2021), 2018. a
Ramage, J. L., Irrgang, A. M., Herzschuh, U., Morgenstern, A., Couture, N., and Lantuit, H.: Terrain Controls on the Occurrence of Coastal Retrogressive Thaw Slumps along the Yukon Coast, Canada, J. Geophys. Res.-Earth, 122, 9, https://doi.org/10.1002/2017JF004231, 2017. a, b
Rudy, A. C., Lamoureux, S. F., Kokelj, S. V., Smith, I. R., and England, J. H.: Accelerating Thermokarst Transforms Ice-Cored Terrain Triggering a Downstream Cascade to the Ocean, Geophys. Res. Lett., 44, 21, https://doi.org/10.1002/2017GL074912, 2017. a
Schuur, E. A. G., McGuire, A. D., Schädel, C., Grosse, G., Harden, J. W., Hayes, D. J., Hugelius, G., Koven, C. D., Kuhry, P., Lawrence, D. M., Natali, S. M., Olefeldt, D., Romanovsky, V. E., Schaefer, K., Turetsky, M. R., Treat, C. C., and Vonk, J. E.: Climate change and the permafrost carbon feedback, Nature, 520, 171–179, https://doi.org/10.1038/nature14338, 2015. a
Segal, R. A., Lantz, T. C., and Kokelj, S. V.: Acceleration of thaw slump activity in glaciated landscapes of the Western Canadian Arctic, Environ. Rese. Lett., 11, 034025, https://doi.org/10.1088/1748-9326/11/3/034025, 2016. a
Swanson, D. K. and Nolan, M.: Growth of retrogressive thaw slumps in the Noatak Valley, Alaska, 2010–2016, measured by airborne photogrammetry, Remote Sens., 10, 983, https://doi.org/10.3390/rs10070983, 2018. a, b
Tanyaş, H., Allstadt, K. E., and van Westen, C. J.: An updated method for estimating landslide-event magnitude, Earth Surf. Proc. Land., 43, 1836–1847, https://doi.org/10.1002/esp.4359, 2018. a, b
Tebbens, S. F.: Landslide Scaling: A Review, Earth Space Sci., 7, e2019EA000662, https://doi.org/10.1029/2019EA000662, 2020. a, b
Turcotte, D. L.: Self-organized criticality, Rep. Prog. Phys., 62, 1377–1429, 1999. a
Turetsky, M. R., Abbott, B. W., Jones, M. C., Anthony, K. W., Olefeldt, D., Schuur, E. A., Grosse, G., Kuhry, P., Hugelius, G., Koven, C., Lawrence, D. M., Gibson, C., Sannel, B., and McGuire, D.: Carbon release through abrupt permafrost thaw, Nat. Geosci., 13, 138–143, 2020.  a
Van der Sluijs, J., Kokelj, S. V., Fraser, R. H., Tunnicliffe, J., and Lacelle, D.: Permafrost terrain dynamics and infrastructure impacts revealed by UAV photogrammetry and thermal imaging, Remote Sens., 10, 1734, https://doi.org/10.3390/rs10111734, 2018. a
Wang, B., Paudel, B., and Li, H.: Retrogression characteristics of landslides in fine-grained permafrost soils, Mackenzie Valley, Canada, Landslides, 6, 121–127, 2009. a
Wang, B., Paudel, B., and Li, H.: Behaviour of retrogressive thaw slumps in northern Canada – three-year monitoring results from 18 sites, Landslides, 13, 1–8, https://doi.org/10.1007/s10346-014-0549-y, 2016. a
Werner, C., Wegmueller, U., Strozzi, T., and Wiesmann, A.: GAMMA SAR and interferometric processing software, in: European Space Agency (Special Publication) ESA SP, 461, 211–219, 2000. a
Zwieback, S., Kokelj, S. V., Günther, F., Boike, J., Grosse, G., and Hajnsek, I.: Sub-seasonal thaw slump mass wasting is not consistently energy limited at the landscape scale, The Cryosphere, 12, 549–564, https://doi.org/10.5194/tc-12-549-2018, 2018. a, b
Zwieback, S., Boike, J., Marsh, P., and Berg, A.: Debris cover on thaw slumps and its insulative role in a warming climate, Earth Surf. Proc. Land., 45, 2631–2646, https://doi.org/10.1002/esp.4919, 2020. a