Articles | Volume 9, issue 3
https://doi.org/10.5194/tc-9-1223-2015
© Author(s) 2015. This work is distributed under
the Creative Commons Attribution 3.0 License.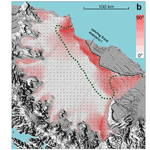 Brief Communication: Newly developing rift in Larsen C Ice Shelf presents significant risk to stability
Abstract. An established rift in the Larsen C Ice Shelf, formerly constrained by a suture zone containing marine ice, grew rapidly during 2014 and is likely in the near future to generate the largest calving event since the 1980s and result in a new minimum area for the ice shelf. Here we investigate the recent development of the rift, quantify the projected calving event and, using a numerical model, assess its likely impact on ice shelf stability. We find that the ice front is at risk of becoming unstable when the anticipated calving event occurs.
Received: 05 Feb 2015 – Discussion started: 11 Feb 2015 – Revised: 19 May 2015 – Accepted: 23 May 2015 – Published: 15 Jun 2015