Articles | Volume 17, issue 5
https://doi.org/10.5194/tc-17-2021-2023
© Author(s) 2023. This work is distributed under
the Creative Commons Attribution 4.0 License.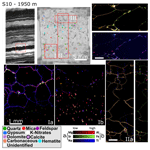 Chemical and visual characterisation of EGRIP glacial ice and cloudy bands within
Impurities in polar ice play a critical role in ice flow, deformation, and the integrity of the ice core record. Especially cloudy bands, visible layers with high impurity concentrations, are prominent features in ice from glacial periods. Their physical and chemical properties are poorly understood, highlighting the need to analyse them in more detail. We bridge the gap between decimetre and micrometre scales by combining the visual stratigraphy line scanner, fabric analyser, microstructure mapping, Raman spectroscopy, and laser ablation inductively coupled plasma mass spectrometry 2D impurity imaging. We classified approximately 1300 cloudy bands from glacial ice from the East Greenland Ice-core Project (EGRIP) ice core into seven different types. We determine the localisation and mineralogy of more than 1000 micro-inclusions at 13 depths. The majority of the minerals found are related to terrestrial dust, such as quartz, feldspar, mica, and hematite. We further found carbonaceous particles, dolomite, and gypsum in high abundance. Rutile, anatase, epidote, titanite, and grossular are infrequently observed. The 2D impurity imaging at 20 µm resolution revealed that cloudy bands are clearly distinguishable in the chemical data. Na, Mg, and Sr are mainly present at grain boundaries, whereas dust-related analytes, such as Al, Fe, and Ti, are located in the grain interior, forming clusters of insoluble impurities. We present novel vast micrometre-resolution insights into cloudy bands and describe the differences within and outside these bands. Combining the visual and chemical data results in new insights into the formation of different cloudy band types and could be the starting point for future in-depth studies on impurity signal integrity and internal deformation in deep polar ice cores.
Received: 13 Dec 2022 – Discussion started: 17 Jan 2023 – Revised: 31 Mar 2023 – Accepted: 17 Apr 2023 – Published: 12 May 2023
Deep ice cores from the polar regions revealed vast amounts of information regarding the climate of the past and processes taking place inside the ice. Pioneering deep ice cores were drilled almost 70 years ago at Camp Century, Greenland, or at Byrd Station, Antarctica. Over the last few decades, a variety of locations in Greenland and Antarctica were chosen for drilling operations (for an overview see Jouzel, 2013; Brook and Buizert, 2018). Considering different polar ice cores, most of the physical and chemical properties of ice and its impurities vary depending on several parameters that are different at each drilling site. Concurrently some features seem recurrent, such as the presence of the so-called "cloudy bands" in glacial ice.
Cloudy bands are horizontal, greyish-white stratigraphic layers with thicknesses between 1 mm and several centimetres (Fig. A1) (Gow and Williamson, 1976; Faria et al., 2010). They are characterised by a much finer ice grain size (∼1 mm) (in this study grain size refers to the ice crystal) than the surrounding ice and contain a very high concentration of micro-inclusions and other impurities (e.g. Ram and Koenig, 1997; Barnes et al., 2002; Svensson et al., 2005; Faria et al., 2010; Eichler et al., 2017). Gow and Williamson (1971, 1976) were among the first to describe cloudy bands in the Byrd ice core, where they observed dirt bands and the much more abundant cloudy bands. Dirt bands contained large particles, detectable by the eye, and were classified as volcanic ash bands. Cloudy bands, however, were not composed of visible debris but of a greyish-white appearance, hence the name (Gow and Williamson, 1971, 1976). The preferred crystal orientation within these bands is clustered about the vertical indicating strong horizontal shearing. Cloudy bands were thus associated with dust and deformation and provisionally interpreted as shear bands (Gow and Williamson, 1971, 1976).
Cloudy bands vary in thickness, brightness, and shape and are thus hard to constrain (Winstrup et al., 2012), but they have been discussed for a variety of reasons, ranging from climatic to deformation aspects (e.g. Svensson et al., 2005; Andersen et al., 2006; Faria et al., 2010; Winstrup et al., 2012; Westhoff et al., 2021). Svensson et al. (2005) show that, in most cases, the brightness variations of visual stratigraphy and cloudy bands match the seasonal cycles of tracers, especially of dust, derived by continuous flow analysis (CFA) (Fig. 5 in Svensson et al., 2005). Regularly appearing cloudy bands from visual stratigraphy were further used to date the Last Glacial Period (Andersen et al., 2006). Cloudy bands showing visible evidence of stratigraphic disturbances and even folding were declared the most significant optical stratigraphy feature helping to examine the integrity of deep ice cores, thus impacting scales larger than their size (Faria et al., 2010). The fine grains within cloudy bands could enable a more efficient diffusion due to the higher availability of impurity diffusion paths, such as veins along triple junctions and planes and interfaces along grain boundaries (Faria et al., 2010). Faria et al. (2010) concluded that cloudy bands are important for the disturbance of stratigraphic records on the micro-scale, indicating anomalies in the ice rheology. Impurity-enhanced ice flow in cloudy bands could impact ice core dating by enabling heterogeneous layer thinning (e.g. Paterson, 1991; Faria et al., 2006). Compression tests indicated that cloudy bands increase the flow enhancement factor in the flow law description by increasing the ratio of the observed strain rate to the strain rate produced on isotropic ice under the same stresses, and they thus affect the bulk deformation rate of ice softening it (Miyamoto et al., 1999). In these particular layers, microshear, i.e. the enhancement of dislocation creep by an accommodating mechanism involving grain boundary sliding (Kuiper et al., 2020) and microshear boundary formation (Bons and Jessell, 1999; Faria et al., 2006), could be a relevant microstrain mechanism. Developing a better understanding of the interplay between impurities and the microstructure in cloudy bands is thus necessary for a holistic understanding of deformation in polar ice (Stoll et al., 2021b).
Studies suggesting particulate matter as the main reason for the visibility of cloudy bands (Svensson et al., 2005; Faria et al., 2010) opposed speculations about their appearance due to micro-bubbles forming around impurities (Dahl-Jensen et al., 1997; Shimohara et al., 2003). Visual stratigraphy, dust, and Ca concentration correlate well in the NGRIP ice core (Svensson et al., 2005), similar to results of 90∘ laser-light scattering and dust concentration in the GISP2 ice core (Ram and Koenig, 1997). Svensson et al. (2005) explain cloudy bands by the increased transport of mainly insoluble dust to the ice sheets. Each cloudy band thus represents a deposition event, i.e. precipitation or wind-driven sastrugi formation. Thin and bright bands could originate from low precipitation–dry deposition events or strong and early scavenging during snowfalls (Svensson et al., 2005).
High-resolution microstructural data are needed to truly investigate the origin, chemistry, and localisation of impurities in cloudy bands. Della Lunga et al. (2014) analysed a cloudy band with laser ablation inductively coupled plasma mass spectrometry (LA-ICP-MS), but the implementable resolution limited microstructural insights. Recent methodological progress now enables state-of-the-art LA-ICP-MS 2D chemical imaging of the total impurity content at the scale of a few tens of micrometres (Bohleber et al., 2020, 2021), in particular when focusing also on dust-related elemental species (Bohleber et al., 2023). Furthermore, cryo-Raman spectroscopy (e.g. Ohno et al., 2005; Sakurai et al., 2009) coupled with microstructure mapping (Eichler et al., 2017, 2019; Stoll et al., 2021a, 2022) was established as a powerful tool to localise and identify solid micro-inclusions in the microstructure of ice.
This study aims to investigate glacial ice from the East Greenland Ice-core Project (EGRIP) ice core and cloudy bands within, applying Raman spectroscopy and microstructure mapping complemented by visual stratigraphy, grain size, and LA-ICP-MS 2D imaging analyses. These methods cover several spatial scales, ranging from decimetres to micrometres, enabling a holistic analysis of the EGRIP ice core, whose visual stratigraphy was measured continuously (Westhoff et al., 2021, 2022) and whose shallower part was investigated regarding its microstructure, and the distribution, quantity, and quality of impurities (Stoll et al., 2021a, 2022; Bohleber et al., 2023). In the upper 1340 m of the core, i.e. the Holocene, Younger Dryas, and the Bølling–Allerød, micro-inclusions are mainly in the grain interior and show a strong heterogeneity in distribution. Inclusions are mainly gypsum, quartz, feldspar, and mica, and mineral diversity decreases slightly with depth, while the upper 900 m is characterised by various sulfate minerals, such as Mg, Na, and K sulfates or bloedite. In this study, we analyse the mean grain size evolution of the glacial and classify different cloudy bands and their abundance using visual stratigraphy. We explore different cloudy band types and discuss possible origins. To increase our understanding of impurity-related processes in ice, we locate and identify the mineralogy of more than 1000 micro-inclusions using Raman spectroscopy, focusing on cloudy bands. To explore future possibilities, we conduct LA-ICP-MS 2D chemical imaging on a subset of these previously analysed samples to obtain spatial information on the major soluble and insoluble elements, such as Na, Mg, Sr, Al, Ti, and Fe. Together, this results in a detailed study of the chemical and visual properties of EGRIP glacial ice with an emphasis on cloudy bands.
Cloudy bands are the main visible feature in glacial ice from deep polar ice cores. They are important but poorly understood factors regarding climatic reconstruction and the internal deformation of ice. With this study, we conducted the first systematic analysis of cloudy bands both in general and specifically in detail using ice from the East Greenland Ice-core Project (EGRIP) ice core accompanied by an analysis of the grain size evolution. We combine visual techniques such as visual stratigraphy, fabric analyser, microstructure mapping, and chemical methods such as Raman spectroscopy and laser ablation inductively coupled plasma mass spectrometry to bridge different spatial scales resulting in new insights into glacial ice, and especially cloudy bands. We identified seven categories of cloudy bands. Single cloudy bands are by far the most abundant ones. However, the relative abundance of cloudy band types differs with depth and the prevailing period (stadial or interstadial). The main minerals in EGRIP glacial ice are quartz, mica, feldspar, gypsum, and carbonaceous particles, which we identified at every depth. The mineralogy is slightly less diverse than in EGRIP Holocene ice. Some cloudy bands show a dominant mineral species (e.g. hematite or carbonaceous particles), indicating a strong deposition event preserved with depth. Laser ablation inductively coupled plasma mass spectrometry 2D imaging shows that cloudy bands are distinguishable from the surrounding ice, and bulk results agree well with other methods. Dissolved analytes, such as Na, are mainly at the grain boundaries; insoluble analytes, such as Fe and Al, are arranged in particle clusters similar to Raman spectroscopy observations. Finally, we elaborate on theories about the origin of cloudy bands based on our chemical and visual observations, thus laying the foundation for future work tackling their direct impact on deformation. Our method can be systematically used in ice core sciences and will provide information on impurity-related processes in the ice, internal stratigraphy, and the dynamics of snow depositions. We demonstrated that the synergetic combination of different analytical techniques is a powerful tool that should be further explored and applied to other ice cores.
The initial manuscript idea was created by NS and JW. NS performed microstructure mapping and Raman spectroscopy analyses and data processing and analysis. JW, NS, and AS performed visual stratigraphy measurements. Visual stratigraphy data were analysed by JW and NS. PB and NS acquired and analysed LA-IPC-MS data. The manuscript was written by NS, JW, and PB with the assistance of all co-authors.
The contact author has declared that none of the authors has any competing interests.
Publisher's note: Copernicus Publications remains neutral with regard to jurisdictional claims in published maps and institutional affiliations.
We thank the editor Joel Savarino, Giovanni Baccolo, and an anonymous reviewer for their constructive feedback, which certainly improved the manuscript. This work was carried out as part of the Helmholtz Junior Research group "The effect of deformation mechanisms for ice sheet dynamics" (VH-NG-802). Nicolas Stoll gratefully acknowledges additional funding from the graduate school POLMAR. This work was further supported by a fellowship of the German Academic Exchange Service (DAAD) and by Chronologies for Polar Paleoclimate Archives – Italian-German Partnership (PAIGE) and the "Initiative and Networking Fund of the Helmholtz Association". We especially thank the EGRIP physical properties team, for example, Jan Eichler, Johanna Kerch, Ina Kleitz, Daniela Jansen, Sebastian Hellmann, Wataru Shigeyama, Ernst-Jan Kuiper, Tomoyuki Homma, Steven Franke, and David Wallis. We thank all EGRIP participants for logistical support, ice processing, and fruitful discussions. EGRIP is directed and organised by the Centre for Ice and Climate at the Niels Bohr Institute, University of Copenhagen. It is supported by funding agencies and institutions in Denmark (A. P. Møller Foundation, University of Copenhagen), the USA (US National Science Foundation, Office of Polar Programs), Germany (Alfred Wegener Institute, Helmholtz Centre for Polar and Marine Research), Japan (National Institute of Polar Research and Arctic Challenge for Sustainability), Norway (University of Bergen and Trond Mohn Foundation), Switzerland (Swiss National Science Foundation), France (French Polar Institute Paul-Emile Victor, Institute for Geosciences and Environmental research), Canada (University of Manitoba), and China (Chinese Academy of Sciences and Beijing Normal University). Pascal Bohleber gratefully acknowledges funding from the European Union's Horizon 2020 research and innovation programme under Marie Skłodowska–Curie grant agreement no. 101018266. Julien Westhoff and Dorthe Dahl-Jensen thank the Villum Foundation, as this work was supported by the Villum Investigator Project IceFlow (no. 16572).
This research has been supported by the Helmholtz Association (grant no. VH-NG-802), Horizon 2020 (grant no. 815384), the H2020 Marie Skłodowska–Curie grant (grant no. 101018266), and the Villum Fonden (grant no. 16572).

The article processing charges for this open-access publication were covered by the Alfred Wegener Institute, Helmholtz Centre for Polar and Marine Research (AWI).
This paper was edited by Joel Savarino and reviewed by Giovanni Baccolo and one anonymous referee.
Alley, R., Perepezko, J., and Bentley, C. R.: Grain Growth in Polar Ice: I. Theory, J. Glaciol., 32, 415–424, https://doi.org/10.3189/S0022143000012132, 1986. a
Amory, C.: Drifting-snow statistics from multiple-year autonomous measurements in Adélie Land, East Antarctica, The Cryosphere, 14, 1713–1725, https://doi.org/10.5194/tc-14-1713-2020, 2020. a, b
Andersen, K. K., Svensson, A., Johnsen, S. J., Rasmussen, S. O., Bigler, M., Röthlisberger, R., Ruth, U., Siggaard-Andersen, M.-L., Peder Steffensen, J., and Dahl-Jensen, D.: The Greenland Ice Core Chronology 2005, 15–42ka. Part 1: constructing the time scale, Quaternary Sci. Rev., 25, 3246–3257, https://doi.org/10.1016/j.quascirev.2006.08.002, 2006. a, b, c
Baccolo, G., Delmonte, B., Albani, S., Baroni, C., Cibin, G., Frezzotti, M., Hampai, D., Marcelli, A., Revel, M., Salvatore, M. C., Stenni, B., and Maggi, V.: Regionalization of the Atmospheric Dust Cycle on the Periphery of the East Antarctic Ice Sheet Since the Last Glacial Maximum, Geochem. Geophy. Geosy., 19, 3540–3554, https://doi.org/10.1029/2018GC007658, 2018. a
Baccolo, G., Delmonte, B., Di Stefano, E., Cibin, G., Crotti, I., Frezzotti, M., Hampai, D., Iizuka, Y., Marcelli, A., and Maggi, V.: Deep ice as a geochemical reactor: insights from iron speciation and mineralogy of dust in the Talos Dome ice core (East Antarctica), The Cryosphere, 15, 4807–4822, https://doi.org/10.5194/tc-15-4807-2021, 2021. a, b, c, d
Barnes, P. R. F., Mulvaney, R., Robinson, K., and Wolff, E. W.: Observations of polar ice from the Holocene and the glacial period using the scanning electron microscope, Ann. Glaciol., 35, 559–566, 2002. a
Birnbaum, G., Freitag, J., Brauner, R., König-Langlo, G., Schulz, E., Kipfstuhl, S., Oerter, H., Reijmer, C. H., Schlosser, E., Faria, S. H., Ries, H., Loose, B., Herber, A., Duda, M. G., Powers, J. G., Manning, K. W., and Van Den Broeke, M. R.: Strong-wind events and their influence on the formation of snow dunes: observations from Kohnen station, Dronning Maud Land, Antarctica, J. Glaciol., 56, 891–902, https://doi.org/10.3189/002214310794457272, 2010. a
Bohleber, P., Roman, M., Šala, M., and Barbante, C.: Imaging the impurity distribution in glacier ice cores with LA-ICP-MS, J. Anal. Atom. Spectrom., 35, 2204–2212, https://doi.org/10.1039/D0JA00170H, 2020. a, b
Bohleber, P., Roman, M., Šala, M., Delmonte, B., Stenni, B., and Barbante, C.: Two-dimensional impurity imaging in deep Antarctic ice cores: snapshots of three climatic periods and implications for high-resolution signal interpretation, The Cryosphere, 15, 3523–3538, https://doi.org/10.5194/tc-15-3523-2021, 2021. a, b
Bohleber, P., Stoll, N., Rittner, M., Roman, M., Weikusat, I., and Barbante, C.: Geochemical Characterization of Insoluble Particle Clusters in Ice Cores Using Two-Dimensional Impurity Imaging, Geochem. Geophy. Geosy., 24, e2022GC010595, https://doi.org/10.1029/2022GC010595, 2023. a, b, c, d, e, f
Bons, P. D. and Jessell, M. W.: Micro-shear zones in experimentally deformed octachloropropane, J. Struct. Geol., 21, 323–334, https://doi.org/10.1016/S0191-8141(98)90116-X, 1999. a
Bory, A. J.-M., Biscaye, P. E., and Grousset, F. E.: Two distinct seasonal Asian source regions for mineral dust deposited in Greenland (NorthGRIP), Geophys. Res. Lett., 30, 1–4, https://doi.org/10.1029/2002GL016446, 2003. a
Brook, E. J. and Buizert, C.: Antarctic and global climate history viewed from ice cores, Nature, 558, 200–208, https://doi.org/10.1038/s41586-018-0172-5, 2018. a
Dahl-Jensen, D., Thorsteinsson, T., Alley, R., and Shoji, H.: Flow properties of the ice from the Greenland Ice Core Project ice core: The reason for folds?, J. Geophys. Res.-Oceans, 102, 26831–26840, https://doi.org/10.1029/97JC01266, 1997. a
Della Lunga, D., Müller, W., Rasmussen, S. O., and Svensson, A.: Location of cation impurities in NGRIP deep ice revealed by cryo-cell UV-laser-ablation ICPMS, J. Glaciol., 60, 970–988, https://doi.org/10.3189/2014JoG13J199, 2014. a, b
Delmonte, B., Winton, H., Baroni, M., Baccolo, G., Hansson, M., Andersson, P., Baroni, C., Salvatore, M. C., Lanci, L., and Maggi, V.: Holocene dust in East Antarctica: Provenance and variability in time and space, Holocene, 30, 546–558, https://doi.org/10.1177/0959683619875188, 2020. a
Durand, G., Gagliardini, O., Thorsteinsson, T., Svensson, A., Kipfstuhl, S., and Dahl-Jensen, D.: Ice microstructure and fabric: an up-to-date approach for measuring textures, J. Glaciol., 52, 619–630, 2006. a, b
Duval, P. and Castelnau, O.: Dynamic Recrystallization of Ice in Polar Ice Sheets, J. Phys. IV, 05, C3–197–C3–205, https://doi.org/10.1051/jp4:1995317, 1995. a
Eichler, J., Kleitz, I., Bayer-Giraldi, M., Jansen, D., Kipfstuhl, S., Shigeyama, W., Weikusat, C., and Weikusat, I.: Location and distribution of micro-inclusions in the EDML and NEEM ice cores using optical microscopy and in situ Raman spectroscopy, The Cryosphere, 11, 1075–1090, https://doi.org/10.5194/tc-11-1075-2017, 2017. a, b, c
Eichler, J., Weikusat, C., Wegner, A., Twarloh, B., Behrens, M., Fischer, H., Hörhold, M., Jansen, D., Kipfstuhl, S., Ruth, U., Wilhelms, F., and Weikusat, I.: Impurity Analysis and Microstructure Along the Climatic Transition From MIS 6 Into 5e in the EDML Ice Core Using Cryo-Raman Microscopy, Front. Earth Sci., 7, 1–16, https://doi.org/10.3389/feart.2019.00020, 2019. a, b, c, d, e, f, g
Fahnestock, M., Bindschadler, R., Kwok, R., and Jezek, K.: Greenland Ice Sheet Surface Properties and Ice Dynamics from ERS-1 SAR Imagery, Science, 262, 1530–1534, https://doi.org/10.1126/science.262.5139.1530, 1993. a
Faria, S. H., Hamann, I., Kipfstuhl, S., and Miller, H.: Is Antarctica like a birthday cake?, Tech. rep., Max-Planck-Institut für Mathematik in den Naturwissenschaften, Leipzig, August, 2006. a, b
Faria, S. H., Freitag, J., and Kipfstuhl, S.: Polar ice structure and the integrity of ice-core paleoclimate records, Quaternary Sci. Rev., 29, 338–351, https://doi.org/10.1016/j.quascirev.2009.10.016, 2010. a, b, c, d, e, f, g
Faria, S. H., Weikusat, I., and Azuma, N.: The microstructure of polar ice. Part II: State of the art, J. Struct. Geol., 61, 21–49, https://doi.org/10.1016/j.jsg.2013.11.003, 2014. a
Faria, S. H., Kipfstuhl, S., and Lambrecht, A.: The EPICA-DML deep ice core: A visual record, Springer, Frontiers in Earth Sciences, ISSN 1863463X, 2018. a, b
Gabrielli, P., Wegner, A., Petit, J. R., Delmonte, B., De Deckker, P., Gaspari, V., Fischer, H., Ruth, U., Kriews, M., Boutron, C., Cescon, P., and Barbante, C.: A major glacial-interglacial change in aeolian dust composition inferred from Rare Earth Elements in Antarctic ice, Quaternary Sci. Rev., 29, 265–273, https://doi.org/10.1016/j.quascirev.2009.09.002, 2010. a
Gerber, T. A., Hvidberg, C. S., Rasmussen, S. O., Franke, S., Sinnl, G., Grinsted, A., Jansen, D., and Dahl-Jensen, D.: Upstream flow effects revealed in the EastGRIP ice core using Monte Carlo inversion of a two-dimensional ice-flow model, The Cryosphere, 15, 3655–3679, https://doi.org/10.5194/tc-15-3655-2021, 2021. a, b, c, d, e, f, g
Gerber, T. A., Lilien, D. A., and Rathmann, N. M. et al.: Crystal orientation fabric anisotropy causes directional hardening of the Northeast Greenland Ice Stream, Nat. Commun., 14, 2653, https://doi.org/10.1038/s41467-023-38139-8, 2023. a
Gkinis, V., Vinther, B. M., Popp, T. J., Quistgaard, T., Faber, A.-K., Holme, C. T., Jensen, C.-M., Lanzky, M., Lütt, A.-M., Mandrakis, V., Ørum, N.-O., Pedersen, A.-S., Vaxevani, N., Weng, Y., Capron, E., Dahl-Jensen, D., Hörhold, M., Jones, T. R., Jouzel, J., Landais, A., Masson-Delmotte, V., Oerter, H., Rasmussen, S. O., Steen-Larsen, H. C., Steffensen, J.-P., Sveinbjörnsdóttir, Ã.-E., Svensson, A., Vaughn, B., and White, J. W. C.: A 120,000-year long climate record from a NW-Greenland deep ice core at ultra-high resolution, Sci. Data, 8, 141, https://doi.org/10.1038/s41597-021-00916-9, 2021. a
Gow, A. J. and Williamson, T.: Volcanic ash in the Antarctic Ice Sheet and its possible climatic implications, Earth Planet. Sc. Lett., 13, 210–218, 1971. a, b, c
Gow, A. J. and Williamson, T.: Rheological implications of the internal structure and crystal fabrics of the West Antarctic ice sheet as revealed by deep core drilling at Byrd Station, GSA Bulletin, 87, 1665–1677, https://doi.org/10.1130/0016-7606(1976)87<1665:RIOTIS>2.0.CO;2, 1976. a, b, c, d
Han, Y., An, Z., Marlon, J. R., Bradley, R. S., Zhan, C., Arimoto, R., Sun, Y., Zhou, W., Wu, F., Wang, Q., Burr, G. S., and Cao, J.: Asian inland wildfires driven by glacial-interglacial climate change, P. Natl. Acad. Sci. USA, 117, 5184–5189, https://doi.org/10.1073/pnas.1822035117, 2020. a
Humphrey, F. J. and Hatherly, M.: Recrystallization and Related Annealing Phenomena, Pergamon Press, Oxford, https://doi.org/10.1016/B978-0-08-044164-1.X5000-2, 1996. a
Hvidberg, C. S., Grinsted, A., Dahl-Jensen, D., Khan, S. A., Kusk, A., Andersen, J. K., Neckel, N., Solgaard, A., Karlsson, N. B., Kjær, H. A., and Vallelonga, P.: Surface velocity of the Northeast Greenland Ice Stream (NEGIS): assessment of interior velocities derived from satellite data by GPS, The Cryosphere, 14, 3487–3502, https://doi.org/10.5194/tc-14-3487-2020, 2020. a
Iizuka, Y., Horikawa, S., Sakurai, T., Johnson, S., Dahl-Jensen, D., Steffensen, J. P., and Hondoh, T.: A relationship between ion balance and the chemical compounds of salt inclusions found in the Greenland Ice Core Project and Dome Fuji ice cores, J. Geophys. Res., 113, 1–11, https://doi.org/10.1029/2007JD009018, 2008. a, b, c, d, e
Jouzel, J.: A brief history of ice core science over the last 50 yr, Clim. Past, 9, 2525–2547, https://doi.org/10.5194/cp-9-2525-2013, 2013. a
Kuiper, E.-J. N., Weikusat, I., de Bresser, J. H. P., Jansen, D., Pennock, G. M., and Drury, M. R.: Using a composite flow law to model deformation in the NEEM deep ice core, Greenland – Part 1: The role of grain size and grain size distribution on deformation of the upper 2207 m, The Cryosphere, 14, 2429–2448, https://doi.org/10.5194/tc-14-2429-2020, 2020. a
Lafuente, B., Downs, R. T., Yang, H., and Stone, N.: 1. The power of databases: The RRUFF project, in: Highlights in Mineralogical Crystallography, edited by: Armbruster, T. and Danisi, R. M., 1–30, De Gruyter, Berlin, https://doi.org/10.1515/9783110417104-003, 2015. a, b
Mayewski, P. A., Meeker, L. D., Whitlow, S., Twickler, M. S., Morrison, M. C., Alley, R. B., Bloomfield, P., and Taylor, K.: The Atmosphere During the Younger Dryas, Science, 261, 195–197, https://doi.org/10.1126/science.261.5118.195, 1993. a, b
Miyamoto, A., Narita, H., Hondoh, T., Shoji, H., Kawada, K., Watanabe, O., Dahl-Jensen, D., Gundestrup, N. S., Clausen, H. B., and Duval, P.: Ice-sheet flow conditions deduced from mechanical tests of ice core, in: Annals of Glaciology, vol. 29, 179–183, https://doi.org/10.3189/172756499781820950, 1999. a
Mojtabavi, S., Wilhelms, F., Cook, E., Davies, S. M., Sinnl, G., Skov Jensen, M., Dahl-Jensen, D., Svensson, A., Vinther, B. M., Kipfstuhl, S., Jones, G., Karlsson, N. B., Faria, S. H., Gkinis, V., Kjær, H. A., Erhardt, T., Berben, S. M. P., Nisancioglu, K. H., Koldtoft, I., and Rasmussen, S. O.: A first chronology for the East Greenland Ice-core Project (EGRIP) over the Holocene and last glacial termination, Clim. Past, 16, 2359–2380, https://doi.org/10.5194/cp-16-2359-2020, 2020. a, b
Montagnat, M., Azuma, N., Dahl-Jensen, D., Eichler, J., Fujita, S., Gillet-Chaulet, F., Kipfstuhl, S., Samyn, D., Svensson, A., and Weikusat, I.: Fabric along the NEEM ice core, Greenland, and its comparison with GRIP and NGRIP ice cores, The Cryosphere, 8, 1129–1138, https://doi.org/10.5194/tc-8-1129-2014, 2014. a, b
Ohno, H., Igarashi, M., and Hondoh, T.: Salt inclusions in polar ice core: Location and chemical form of water-soluble impurities, Earth Planet. Sci. Lett., 232, 171–178, https://doi.org/10.1016/j.epsl.2005.01.001, 2005. a, b, c
Ohno, H., Igarashi, M., and Hondoh, T.: Characteristics of salt inclusions in polar ice from Dome Fuji, East Antarctica, Geophys. Res. Lett., 33, L08501, https://doi.org/10.1029/2006GL025774, 2006. a
Paterson, W. S. B.: Why ice-age ice is sometimes "soft", Cold Reg. Sci. Technol., 20, 75–98, 1991. a
Ram, M. and Koenig, G.: Continuous dust concentration profile of pre-Holocene ice from the Greenland Ice Sheet Project 2 ice core: Dust stadials, interstadials, and the Eemian, J. Geophys. Res.-Oceans, 102, 26641–26648, https://doi.org/10.1029/96JC03548, 1997. a, b
Rasmussen, S. O., Abbott, P. M., Blunier, T., Bourne, A. J., Brook, E., Buchardt, S. L., Buizert, C., Chappellaz, J., Clausen, H. B., Cook, E., Dahl-Jensen, D., Davies, S. M., Guillevic, M., Kipfstuhl, S., Laepple, T., Seierstad, I. K., Severinghaus, J. P., Steffensen, J. P., Stowasser, C., Svensson, A., Vallelonga, P., Vinther, B. M., Wilhelms, F., and Winstrup, M.: A first chronology for the North Greenland Eemian Ice Drilling (NEEM) ice core, Clim. Past, 9, 2713–2730, https://doi.org/10.5194/cp-9-2713-2013, 2013. a
Rasmussen, S. O., Bigler, M., Blockley, S. P., Blunier, T., Buchardt, S. L., Clausen, H. B., Cvijanovic, I., Dahl-Jensen, D., Johnsen, S. J., Fischer, H., Gkinis, V., Guillevic, M., Hoek, W. Z., Lowe, J. J., Pedro, J. B., Popp, T., Seierstad, I. K., Steffensen, J. P., Svensson, A. M., Vallelonga, P., Vinther, B. M., Walker, M. J. C., Wheatley, J. J., and Winstrup, M.: A stratigraphic framework for abrupt climatic changes during the Last Glacial period based on three synchronized Greenland ice-core records: refining and extending the INTIMATE event stratigraphy, Quaternary Sci. Rev., 106, 14–28, https://doi.org/10.1016/j.quascirev.2014.09.007, 2014. a
Röthlisberger, R., Hutterli, M. A., Wolff, E. W., Mulvaney, R., Fischer, H., Bigler, M., Goto-Azuma, K., Hansson, M. E., Ruth, U., Siggaard-Andersen, M.-L., and Steffensen, J. P.: Nitrate in Greenland and Antarctic ice cores: a detailed description of post-depositional processes, Ann. Glaciol., 35, 209–216, https://doi.org/10.3189/172756402781817220, 2002. a
Sakurai, T., Ilzuka, Y., Horlkawa, S., Johnsen, S., Dahl-Jensen, D., Steffensen, J. P., and Hondoh, T.: Direct observation of salts as micro-inclusions in the Greenland GRIP ice core, J. Glaciol., 55, 777–783, https://doi.org/10.3189/002214309790152483, 2009. a, b
Schwertmann, U.: Occurrence and formation of iron oxides in various pedoenvironments, Iron in soils and clay minerals, edited by: Stucki, J. W., Goodman, B. A., and Schwertmann, U., https://doi.org/10.1007/978-94-009-4007-9_11, 1988. a
Schwertmann, U. and Murad, E.: Effect of pH on the Formation of Goethite and Hematite from Ferrihydrite, Clay. Clay Miner., 31, 277–284, https://doi.org/10.1346/CCMN.1983.0310405, 1983. a
Shimohara, K., Miyamoto, A., Hyakutake, K., Shoji, H., Takata, M., and Kipfstuhl, S.: Cloudy band observations for annual layer counting on the GRIP and NGRIP, Greenland, deep ice core samples, Mem. Natl. Inst. Polar Res., Spec. Issue, 57, 161–167, 2003. a
Smith, C. S.: Grains, phases, and interfaces: An introduction of microstructure, Trans. AIME, 175, 15–51, 1948. a
Stoll, N. and Weikusat, I.: Micro-inclusions identified with Raman spectroscopy in thirteen samples (1360–2115 m) from the EastGRIP ice core, PANGAEA [data set], https://doi.org/10.1594/PANGAEA.957036, 2023. a
Stoll, N., Eichler, J., Hörhold, M., Erhardt, T., Jensen, C., and Weikusat, I.: Microstructure, micro-inclusions, and mineralogy along the EGRIP ice core – Part 1: Localisation of inclusions and deformation patterns, The Cryosphere, 15, 5717–5737, https://doi.org/10.5194/tc-15-5717-2021, 2021a. a, b, c, d, e, f, g, h
Stoll, N., Eichler, J., Hörhold, M., Shigeyama, W., and Weikusat, I.: A Review of the Microstructural Location of Impurities and Their Impacts on Deformation, Front. Earth Sci., 8, https://doi.org/10.3389/feart.2020.615613, 2021b. a, b
Stoll, N., Hörhold, M., Erhardt, T., Eichler, J., Jensen, C., and Weikusat, I.: Microstructure, micro-inclusions, and mineralogy along the EGRIP (East Greenland Ice Core Project) ice core – Part 2: Implications for palaeo-mineralogy, The Cryosphere, 16, 667–688, https://doi.org/10.5194/tc-16-667-2022, 2022. a, b, c, d, e, f, g, h, i, j, k, l, m, n, o, p, q
Stoll, N., Westhoff, J., Bohleber, P., Svensson, A., Dahl-Jensen, D., Barbante, C., and Weikusat, I.: Supporting data for manuscript "Chemical and visual characterisation of EGRIP glacial ice and cloudy bands within", Zenodo [data set], https://doi.org/10.5281/zenodo.7900544, 2023. a
Svensson, A., Biscaye, P. E., and Grousset, F. E.: Characterization of late glacial continental dust in the Greenland Ice Core Project ice core, J. Geophys. Res.-Atmos., 105, 4637–4656, https://doi.org/10.1029/1999JD901093, 2000. a, b
Svensson, A., Nielsen, S. W., Kipfstuhl, S., Johnsen, S. J., Steffensen, J. P., Bigler, M., Ruth, U., and Röthlisberger, R.: Visual stratigraphy of the North Greenland Ice Core Project (NorthGRIP) ice core during the last glacial period, Jo. Geophys. Res., 110, 1–11, https://doi.org/10.1029/2004JD005134, 2005. a, b, c, d, e, f, g, h, i, j, k, l, m
Vallelonga, P., Christianson, K., Alley, R. B., Anandakrishnan, S., Christian, J. E. M., Dahl-Jensen, D., Gkinis, V., Holme, C., Jacobel, R. W., Karlsson, N. B., Keisling, B. A., Kipfstuhl, S., Kjær, H. A., Kristensen, M. E. L., Muto, A., Peters, L. E., Popp, T., Riverman, K. L., Svensson, A. M., Tibuleac, C., Vinther, B. M., Weng, Y., and Winstrup, M.: Initial results from geophysical surveys and shallow coring of the Northeast Greenland Ice Stream (NEGIS), The Cryosphere, 8, 1275–1287, https://doi.org/10.5194/tc-8-1275-2014, 2014. a
Weikusat, I., Westhoff, J., Kipfstuhl, S., and Jansen, D.: Visual stratigraphy of the EastGRIP ice core (14 m – 2021 m depth, drilling period 2017–2019), PANGAEA [data set], https://doi.org/10.1594/PANGAEA.925014, 2020. a, b
Weikusat, I., Stoll, N., Kerch, J., Eichler, J., Jansen, D., and Kipfstuhl, S.: Grain size section mean data between 1340–2121 m of the EGRIP ice core derived with the Fabric Analyzer G50, PANGAEA [data set], https://doi.org/10.1594/PANGAEA.957032, 2023.  a
Westhoff, J., Stoll, N., Franke, S., Weikusat, I., Bons, P., Kerch, J., Jansen, D., Kipfstuhl, S., and Dahl-Jensen, D.: A stratigraphy-based method for reconstructing ice core orientation, Ann. Glaciol., 62, 191–202, https://doi.org/10.1017/aog.2020.76, 2021. a, b, c
Westhoff, J., Sinnl, G., Svensson, A., Freitag, J., Kjær, H. A., Vallelonga, P., Vinther, B., Kipfstuhl, S., Dahl-Jensen, D., and Weikusat, I.: Melt in the Greenland EastGRIP ice core reveals Holocene warm events, Clim. Past, 18, 1011–1034, https://doi.org/10.5194/cp-18-1011-2022, 2022. a, b, c
Wilson, C. J., Russell-Head, D. S., and Sim, H. M.: The application of an automated fabric analyzer system to the textural evolution of folded ice layers in shear zones, Ann. Glaciol., 37, 7–17, https://doi.org/10.3189/172756403781815401, 2003. a
Winstrup, M., Svensson, A. M., Rasmussen, S. O., Winther, O., Steig, E. J., and Axelrod, A. E.: An automated approach for annual layer counting in ice cores, Clim. Past, 8, 1881–1895, https://doi.org/10.5194/cp-8-1881-2012, 2012. a, b, c
Zolotov, M. Y. and Mironenko, M. V.: Timing of acid weathering on Mars: A kinetic-thermodynamic assessment, J. Geophys. Res.-Planet., 112, E07006, https://doi.org/10.1029/2006JE002882, 2007. a
Újvári, G., Klötzli, U., Stevens, T., Svensson, A., Ludwig, P., Vennemann, T., Gier, S., Horschinegg, M., Palcsu, L., Hippler, D., Kovács, J., Di Biagio, C., and Formenti, P.: Greenland Ice Core Record of Last Glacial Dust Sources and Atmospheric Circulation, J. Geophys. Res.-Atmos., 127, e2022JD036597, https://doi.org/10.1029/2022JD036597, 2022. a