Articles | Volume 15, issue 6
https://doi.org/10.5194/tc-15-2511-2021
© Author(s) 2021. This work is distributed under
the Creative Commons Attribution 4.0 License.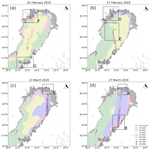 Estimation of degree of sea ice ridging in the Bay of Bothnia based on geolocated photon heights from ICESat-2
We present a comparison of Ice, Cloud and land Elevation Satellite-2 (ICESat-2) geolocated photon heights and operational ice charts from the Finnish Ice Service in the Bay of Bothnia in spring 2019. We show that ICESat-2 (IS2) retrievals from ice areas with different ridging characteristics, more precisely the degree of ice ridging (DIR), differ significantly. DIR is a particularly useful parameter for ice navigators, as it provides information on how difficult it is to navigate through an area based on e.g. sail heights and distribution of sea ice ridges. DIR estimates are included in ice charts of the Baltic Sea and are based primarily on in situ observations from an active icebreaker fleet. We show that DIR may potentially be estimated from IS2. We also present a comparison of IS2 measurements and Sentinel-1 synthetic aperture radar frames, discussing several individual cases of IS2 photon elevation behaviour over Baltic sea ice. We suggest that IS2 data can be of benefit to international ice services, especially if a time-critical photon height product were to be made available. Furthermore, we show that the difference between highest and mean photon elevations (elevation anomalies) of IS2 correspond to expected ridge sail heights in our study area. Our study is one of the first steps in creating sea ice applications beyond the traditional goal of freeboard and thickness retrieval for IS2.
Received: 23 Oct 2020 – Discussion started: 29 Oct 2020 – Revised: 23 Apr 2021 – Accepted: 30 Apr 2021 – Published: 02 Jun 2021
Rapid changes in the sea ice conditions cause challenges to ship navigation (Duncan et al., 2018). Thus, the ability to provide users with reliable and timely information on the ice conditions is time-critical and of high priority (Gegiuc et al., 2018). Some of the most important sea ice parameters for ice navigation are the ice extent, stage of development, concentration, and thickness, as well as the amount and location of ridged ice. The amount and location of ridged ice is important, since navigation through heavily ridged sea ice is difficult and potentially dangerous (e.g. Kovacs et al., 1973; Gegiuc et al., 2018; Goerlandt et al., 2017; Ronkainen et al., 2018).
The Baltic Sea extends from 54 to 66∘ N with a total area of 422 000 km2 (Ronkainen et al., 2018). The seasonal ice cover usually appears in early November and persists until mid-May with the largest extent between January and March (Goerlandt et al., 2017). Wintertime shipping through the ice-covered sea into northern harbours requires timely and accurate ice information provided by the Finnish and Swedish ice services. This information is provided in the form of daily operational ice charts. Generally, the sea ice in the Baltic Sea is divided into fast and drift ice. Fast ice occurs in coastal regions and archipelagos and grows thermodynamically as it is attached to the coast where it remains stationary (Ronkainen et al., 2018). Wind and currents drive the drift ice by moving the ice floes. Divergent motion forms cracks and leads in the ice cover, and convergent motion results in formation of rafted ice and ice ridges (Gegiuc et al., 2018).
Daily ice charts of the Baltic Sea ice are prepared by Finnish Ice Service (FIS) analysts and provide a source of information on the ice conditions. The charts partition the ice cover into polygons to which ice types and other properties are assigned. Parameters assigned to each polygon are ice concentration, average level-ice thickness, maximum and minimum level thickness, and the degree of ice ridging (DIR). Satellite synthetic aperture radar (SAR) imagery is the main data source for ice charts, but DIR is based mostly on visual icebreaker observations. This is because DIR is designed to be a representative description of the navigational difficulties from the point of view of the navigator (Ronkainen et al., 2018).
The National Aeronautics and Space Administration (NASA) Ice, Cloud and land Elevation Satellite-2 (ICESat-2) was launched on 15 September 2018 and builds upon the heritage of the Ice, Cloud and land Elevation Satellite (ICESat) mission (Neumann et al., 2019b; Abdalati et al., 2010). One of the primary mission objectives for ICESat-2 (IS2) is to estimate the thickness of sea ice and monitor any changes therein (Markus et al., 2017). The main payload of IS2 is the Advanced Topographic Laser Altimeter System (ATLAS), a photon-counting laser system operated at 532 nm with a pulse-repetition frequency of 10 kHz (Kwok et al., 2019b). The ATLAS instrument employs a multi-beam configuration consisting of three pairs of beams (strong and weak beams) separated across-track by approximately 3 km and a pair spacing of 90 m (Brunt et al., 2019). The individual footprints of ∼ 17 m are separated by ∼ 0.7 m (Kwok et al., 2019a). The novel beam-pair photon-counting approach overcomes the limitations of its predecessor ICESat, as it allows for the determination of local across-track variations, e.g. sea surface height measurements in open, often narrow, leads required for sea ice freeboard and ice thickness retrievals (Markus et al., 2017). The dense surface coverage also allows for pressure ridge detection based on e.g. studies that have used the photon elevations from the Multiple Altimeter Beam Experimental Lidar (MABEL), an airborne simulator used to test the instrument theory and strategy of IS2 (Farrell et al., 2015). Furthermore, the first study using IS2 to estimate surface topography and ridges in the Arctic has recently been published (Farrell et al., 2020). IS2 is a novel instrument, and we expect that there is a vast amount of information on sea ice in the data products not currently used due to lack of methodology. Developing such novel methodology is the key driver of this study.
This paper presents a feasibility study demonstrating the use of IS2 data (granules) to estimate sea ice ridging information relevant for ice navigation. Our study is based on four IS2 passes from early 2019 in the Baltic Sea. We compare IS2's Global Geolocated Photon Data (ATL03) product to ice charts from the FIS. We have chosen the Baltic Sea as our test area, since this is, to our knowledge, the only area covered by a dense time series of ice charts where ice ridging estimates are based on frequent reports from an active icebreaker fleet (WMO, 2010). We discuss the potential of IS2 to complement satellite SAR imagery, which is widely used by ice services, and the potential benefits of a time-critical IS2 product to international ice services.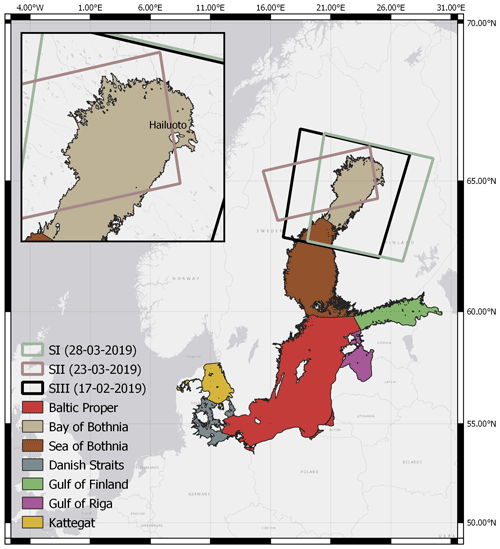 Our study area (Fig. 1) is the northernmost basin of the Baltic Sea, the Bay of Bothnia, north of the sound of Quark at 63.5∘ N, during the ice season 2018/19. The ice winter of 2018/19 was mild with a maximum extent of the ice cover in the Baltic of 88 000 km2 reached on 27 January. FIS classifies the winters as mild in the Baltic if the ice extent is below 115 000 km2 (Ronkainen et al., 2018; BIM, 2019). The ship traffic was dense, where according to Baltic Icebreaking Management (BIM), 1428 vessels were assisted during the 2018/19 ice season (27 December–5 May) in the Bay of Bothnia (BIM, 2019). Even though the winter was mild, icebreakers frequently reported heavily ridged ice areas and rubble fields in February and March.
In this study, we have presented the correspondence between FIS DIR, satellite SAR data, and elevation anomalies using geolocated photons heights (ATL03) measured by IS2 during spring 2019 in the Bay of Bothnia. DIR derived from IS2 using our methodology follows the general expectations in the Baltic. This is the first time the feasibility of IS2 has been studied from the viewpoint of winter navigation and operational ice charting. DIR is one of the most important parameters used in ice navigation as it indicates whether or not a vessel can safely pass through an ice-covered area. In the Baltic, daily ice charts provided by the FIS include information on DIR based primarily on in situ icebreaker observations and partly derived from SAR imagery.
Furthermore, we find that in some cases (in particular three out of the five highlighted areas) along-track densities of relative elevations (elevation anomaly, ha) above a threshold cut-off height of 0.4 m are consistent with the distributions of the FIS DIR areas. Heavy deformation is found on sea ice close to the coast and/or fast-ice regions. This is expected due to the sea ice drift pattern in the Baltic pushing ice floes towards the coast causing deformation. Typical ridge densities and sail heights expected in the Bay of Bothnia correspond well to the elevation anomalies.
In addition, this study demonstrates how much surface topography information of small-scale roughness (< 1 m) is measured by IS2 and kept, even when applying the high-confidence flag of the onboard filtering scheme. Thus, even over the thin sea ice areas of the Baltic Sea, one can benefit from the high-density surface sampling and information that IS2 provides. Compared with S1 SAR images, the elevation anomalies follow the deformation observed in the SAR images. We note that this methodology of estimating IS2 DIR is based on the highest 5 % of the elevation anomalies, and that while the IS2 DIR follows the deformation seen in the SAR frames (qualitative assessment), the IS2 DIR only follows FIS DIR for some cases. To develop a reliable DIR level classification algorithm from IS2, more FIS DIR observations or quantitative SAR data should be included. We conclude that a time-critical IS2 product would be of benefit to ice services around the world complementing widely used satellite SAR data.
Code and data availability
RFH, ER, and HS conceived the concept of the study. Processing and computing was performed by RFH. RFH, ER, and HS jointly analysed the data, and SF joined in on discussions in relation to these analyses. RFH wrote the initial manuscript, and all authors contributed to the editing of the text.
The authors declare that they have no competing interests.
We thank the FIS for providing their ice charts and expert advice, the Polar Oceanography and Sea Ice group at the Finnish Meteorological Institute for a great discussion and for interesting questions relevant to this study, and Kyle Duncan for useful insights into using IS2 for ridge detection in the Arctic. We thank the two anonymous reviewers and our editor for valuable comments that improved the manuscript.
This paper was edited by Stephen Howell and reviewed by two anonymous referees.
Abdalati, W., Zwally, H. J., Bindschadler, R., Csatho, B., Farrell, S. L., Fricker, H. A., Harding, D., Kwok, R., Lefsky, M., Markus, T., Marshak, A., Neumann, T., Palm, S., Schutz, B., Smith, B., Spinhirne, J., and Webb, C.: The ICESat-2 Laser Altimetry Mission, P. IEEE, 98, 735–751, https://doi.org/10.1109/JPROC.2009.2034765, 2010. a
Berglund, R. and Eriksson, P. B.: National ice service operations and products around the world, chap. 5.2, in: Cold Regions Science and Marine Technology, edited by: Shen, H., Encyclopedia of Life Support Systems, 2015. a
BIM: Baltic Sea Icebreaking Report 2018–2019, Tech. rep., Baltic Icebreaking Management (BIM), available at: http://baltice.org/app/static/pdf/BIM Final Report 2019.pdf (last access: 1 April 2020), 2019. a, b, c, d
Brown, M. E., Arias, S. D., Neumann, T., Jasinksi, M. F., Posey, P., Babonis, G., Glenn, N. F., Birkett, C. M., Escobar, V. M., and Markus, T.: Applications for ICESat-2 Data, IEEE Geosci. Remote Sens. Magazine, 24–37, https://doi.org/10.1109/MGRS.2016.2560759, 2016. a, b
Brunt, K. M., Neumann, T. A., and Smith, B. E.: Assessment of ICESat-2 Ice Sheet Surface Heights, Based on Comparisons Over the Interior of the Antarctic Ice Sheet, Geophys. Res. Lett., 46, 13072–13078, https://doi.org/10.1029/2019GL084886, 2019. a, b
Duncan, K., Farrell, S. L., Connor, L. N., Richter-Menge, J., Hutchings, J. K., and Dominguez, R.: High-resolution airborne observations of sea-ice pressure ridge sail height, Ann. Glaciol., 59, 137–147, https://doi.org/10.1017/aog.2018.2, 2018. a
Farrell, S., Duncan, K., Buckley, E., Richter-Menge, J., and Li, R.: Mapping Sea Ice Surface Topography in High Fidelity with ICESat-2, Geophy. Res. Lett., 47, e2020GL090708, https://doi.org/10.1029/2020GL090708, 2020. a
Farrell, S. L., Brunt, K. M., Ruth, J. M., Kuhn, J. M., Connor, L. N., and Walsh, K. M.: Sea-ice freeboard retrieval using digital photon counting laser altimetry, Ann. Glaciol., 56, 167–174, https://doi.org/10.3189/2015AoG69A686, 2015. a
Fredensborg Hansen, R. M.: reneefredensborg/DIR-from-IS2: Estimating elevation anomalies (ridge sails) and degree of ice ridging (DIR) from ICESat-2 (IS2) (Version v1.1), Zenodo, https://doi.org/10.5281/zenodo.4636435, 2021. a
Gegiuc, A., Similä, M., Karvonen, J., Lensu, M., Mäkynen, M., and Vainio, J.: Estimation of degree of sea ice ridging based on dual-polarized C-band SAR data, The Cryosphere, 12, 343–364, https://doi.org/10.5194/tc-12-343-2018, 2018. a, b, c, d, e, f, g, h, i, j
Goerlandt, F., Goite, H., Banda, O. A. V., Höglund, A., Ahonen-Rainio, P., and Lensu, M.: An analysis of wintertime navigational accidents in the Northern Baltic Sea, Safety Science, 92, 66–84, https://doi.org/10.1016/j.ssci.2016.09.011, 2017. a, b
HELCOM: HELCOM Map And Data Service, available at: http://maps.helcom.fi/website/mapservice/ (last access: 21 October 2020), 2021. a
Horvat, C., Blanchard-Wrigglesworth, E., and Petty, A.: Observing Waves in Sea Ice With ICESat-2, Geophys. Res. Lett., 47, e2020GL087629, https://doi.org/10.1029/2020GL087629, 2020. a
IMO: International code for ships operating in polar waters (Polar Code), Tech. rep., Internatinal Maritime Organisation (IMO), Marine Environment Protection Committee (MEPC), available at: http://www.imo.org/en/MediaCentre/HotTopics/polar/Documents/POLAR CODE TEXT AS ADOPTED.pdf, last access: 17 August 2020. a
Karvonen, J.: Operational SAR-based sea ice drift monitoring over the Baltic Sea, Ocean Sci., 8, 473–483, https://doi.org/10.5194/os-8-473-2012, 2012. a, b
Karvonen, J., Heiler, I., Seniä, A., and Hackett, B.: Product User Manual: For Baltic Sea – Sea Ice Observations SEAICE_BAL_SEAICE_L4_NRT_OBSERVATIONS_011_004/011, copernicus Marine Service, available at: https://resources.marine.copernicus.eu/documents/PUM/CMEMS-SI-PUM-011-004-011.pdf (last access: 12 March 2021), 2020. a
Klotz, B. W., Neuenschwander, A., and Magruder, L. A.: High-Resolution Ocean Wave and Wind Characteristics Determined by the ICESat-2 Land Surface Algorithm, Geophys. Res. Lett., 47, e2019GL085907, https://doi.org/10.1029/2019GL085907, 2020. a
Kovacs, A., Weeks, W., Ackley, S., and Hibler, W.: Structure of a Multi-Year Pressure Ridge, Arctic, 26, 22–31, https://doi.org/10.14430/arctic2893, 1973. a
Kwok, R., Kacimi, S., Markus, T., Kurtz, N. T., Studinger, M., Sonntag, J. G., Manizade, S. S., Boisvert, L. N., and Harbeck, J. P.: ICESat-2 Surface Height and Sea Ice Freeboard Assessed with ATM Lidar Acquisitions From Operation IceBridge, Geophys. Res. Lett., 46, 11228–11236, https://doi.org/10.1029/2019GL084976, 2019a. a, b
Kwok, R., Markus, T., Kurtz, N. T., Neumann, T. A., Farrell, S. L., Cunningham, C. F., Hancock, D. W., Ivanoff, A., and Wimert, J. T.: Surface Height and Sea Ice Freeboard of the Arctic Ocean from ICESat-2: Characteristics and Early Results, J. Geophys. Res.-Oceans, 124, 6942–6959, https://doi.org/10.1029/2019JC015486, 2019b. a, b
Kwok, R., Petty, A. A., Bagnardi, M., Kurtz, N. T., Cunningham, G. F., Ivanoff, A., and Kacimi, S.: Refining the sea surface identification approach for determining freeboards in the ICESat-2 sea ice products, The Cryosphere, 15, 821–833, https://doi.org/10.5194/tc-15-821-2021, 2021. a, b
Lewis, J., Leppäranta, M., and Granberg, H.: Statistical properties of sea ice surface topography in the Baltic Sea, Tellus A, 45, 127–142, 1993. a, b
Leys, C., Ley, C., Klein, O., Bernard, P., and Licata, L.: Detecting outliers: Do not use standard deviation around the mean, use absolute deviation around the median, J. Exp. Soc. Psychol., 49, 764–766, https://doi.org/10.1016/j.jesp.2013.03.013, 2013. a
Manninen, A.: Multiscale Surface Roughness and Backscattering, Prog. Electromagn. Res., 16, 175–203, https://doi.org/10.2528/PIER96060700, 1997. a
Markus, T., Neumann, T., Martino, A., Abdalati, W., Brunt, K., Csatho, B., Farrell, S., Fricker, H., Gardner, A., Harding, D., Jasinksi, M., Kwok, R., Magruder, L., Lubin, D., Lutchke, S., Morison, J., Nelson, R., Neuenschwander, A., Palm, S., Popescu, S., Schum, C., Schutz, B. E., Smith, B., Yang, Y., and Zwally, J.: The Ice, Cloud and land Elevation Satellite-2 (ICESat-2): Science requirements, concept and implementation, Remote Sens. Environ., 190, 260–273, https://doi.org/10.1016/j.rse.2016.12.029, 2017. a, b
Melia, N., Haines, K., and Hawkins, E.: Sea ice decline and 21st century trans-Arctic shipping routes, Geophys. Res. Lett., 43, 9720–9728, https://doi.org/10.1002/2016GL069315, 2016. a
NASA EarthData: ASF Data Search, available at: https://search.asf.alaska.edu/#/, last access: 18 February 2021. a
Neumann, T., Brenner, A., Hancock, D., Lutchke, S., Lee, J., Robbins, J., Harbeck, K., Saba, J., Brunt, K., Gibbons, A., Saba, J., Brunt, K., and ICESat-2 Science Team: ATLAS/ICESat-2 L2A Global Geolocated Photon Data, Version 2, NSIDC, National Snow and Ice Data Center Boulder, CO, USA, https://doi.org/10.5067/ATLAS/ATL03.002, 2019a. a, b, c
Neumann, T., Martino, A. J., Markus, T., Bae, S., Bock, M. R., Brenner, A. C., Brunt, K. M., Cavanaugh, J., Fernandes, S. T., Hancock, D. W., Harbeck, K., Lee, J., Kurtz, N. T., Luers, P. J., Lutchke, S. B., Magruder, L., Pennington, T. A., Ramos-Izquierdo, L., Rebold, T., Skoog, J., and Thomas, T. C.: The Ice, Cloud and Land Elevation Satellite – 2 mission: A global geolocated photon product derived from the Advanced Topographic Laser Altimeter System, Remote Sens. Environ., 233, 111325, https://doi.org/10.1016/j.rse.2019.111325, 2019b. a, b, c, d
Neumann, T., Brenner, A., Hancock, D., Robbins, J., Saba, J., Harbeck, K., Gibbons, A., Lee, J., Lutchke, S., and Rebold, T.: Algorithm Theoretical Basis Document (ATBD) for Global Geolocated Photons (ATL03), Goddard Space Flight Center, Release 003, Tech. rep., https://doi.org/10.5067/ESL18THQ8RNT, 2020.  a, b, c
Petty, A. A., Bagnardi, M., Kurtz, N. T., Tilling, R., Fons, S., Armitage, T., Horvat, C., and Kwok, R.: Assessment of ICESat-2 Sea Ice Surface Classification with Sentinel-2 Imagery: Implications for Freeboard and New Estimates of Lead and Floe Geometry, Earth Space Sci., 8, e2020EA001491, https://doi.org/10.1029/2020EA001491, 2021. a
Ronkainen, I., Lehtiranta, J., Lensu, M., Rinne, E., Haapala, J., and Haas, C.: Interannual sea ice thickness variability in the Bay of Bothnia, The Cryosphere, 12, 3459–3476, https://doi.org/10.5194/tc-12-3459-2018, 2018. a, b, c, d, e, f
Schweiger, A. J.: Changes in seasonal cloud cover over the Arctic seas from satellite and surface observations, Geophys. Res. Lett., 31, L12207, https://doi.org/10.1029/2004GL020067, 2004. a
Stasolla, K. and Neyt, X.: An Operation Tool for the Automatic Detection and Removal of Border Noise in Sentinel-1 GRD Products, Sensors, 18, 3454, https://doi.org/10.3390/s18103454, 2018. a
Tilling, R., Kurtz, N. T., Bagnardi, M., Petty, A. A., and Kwok, R.: Detection of Melt Ponds on Arctic Summer Sea Ice From ICESat-2, Geophys. Res. Lett., 47, e2020GL090644, https://doi.org/10.1029/2020GL090644, 2020. a
WMO: Sea-Ice Information Services in the World, vol. 574, 2010 edn., World Meteorological Organisation (WMO), 2010. a