Articles | Volume 10, issue 6
https://doi.org/10.5194/tc-10-2603-2016
© Author(s) 2016. This work is distributed under
the Creative Commons Attribution 3.0 License.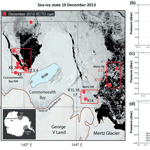 Brief communication: Impacts of a developing polynya off Commonwealth Bay, East Antarctica, triggered by grounding of iceberg B09B
Abstract. The dramatic calving of the Mertz Glacier tongue in 2010, precipitated by the movement of iceberg B09B, reshaped the oceanographic regime across the Mertz Polynya and Commonwealth Bay, regions where high-salinity shelf water (HSSW) – the precursor to Antarctic bottom water (AABW) – is formed. Here we present post-calving observations that suggest that this reconfiguration and subsequent grounding of B09B have driven the development of a new polynya and associated HSSW production off Commonwealth Bay. Supported by satellite observations and modelling, our findings demonstrate how local icescape changes may impact the formation of HSSW, with potential implications for large-scale ocean circulation.
Received: 22 Jan 2016 – Discussion started: 07 Mar 2016 – Revised: 23 Sep 2016 – Accepted: 14 Oct 2016 – Published: 04 Nov 2016